April 05, 2023
Reading Time:
4
min
Gitex Capital Review: Do Not Deal With This Scam Broker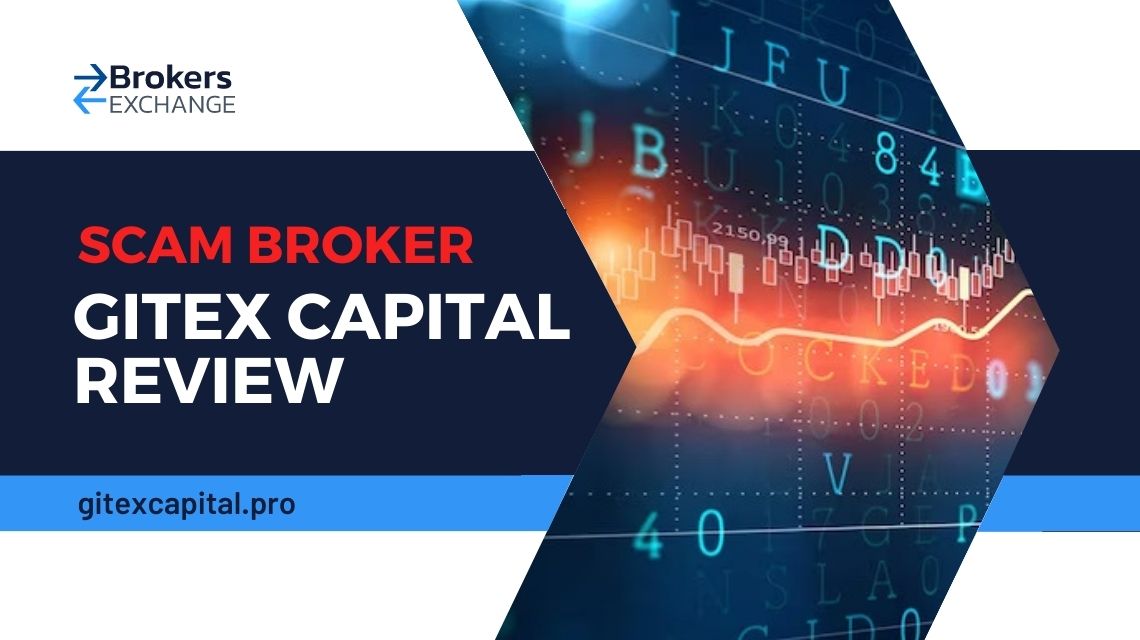 Gitex Capital starts with its claims of being regulated by SVGFSA, the financial authority of Saint Vincent and the Grenadines. But registration doesn't equal regulation. FSA in SVG has refused to license the broker agencies in the area. Thus, this small and beautiful country has, unfortunately, become a scammer haven. 
The absence of any form of regulation is pretty much the sole reason why you should never think of investing here. Here's another confirmation of this broker being another scam among thousands of others. You can read the warning issued on 26th July 2022 by the Spanish regulatory body (CNMV) here: 
But our Gitex Capital review has a lot more evidence, enough to make you avoid this swindler for good. So stay with us as we explore the grim reality behind the name of Gitex Capital.
Also, we recommend you not to invest in the fraudulent brokers Marlpark LTD, Duvaro, and TradersHive.
| | |
| --- | --- |
| Company | Sanguine Solutions Ltd |
| Website | GitexCapital.Pro |
| Address | SVG |
| Email | N/A |
| Phone | N/A |
| Minimum Deposit | $250 |
| Leverage | 1:100 |
| Bonuses | Yes |
| Regulation | Unregulated |
| Warning | CNMV |
Gitex Capital Regulation and Fund Security 
The owner of Gitex Capital is the notorious Sanguine Solutions Ltd, known for operating the blacklisted RevolutExpert. And although they are registered in SVG, that doesn't mean they have the license and permission to offer online financial services. 
As a matter of fact, the FSA of SVG has publicly declared to be opting out from regulating broker houses in that country. This has caused countless scam companies to start registering overnight.
Gitex Capital and its suspicious activities in Spain have caught the attention of the jurisdictional regulator – CNMV, which is one of the leading EU financial authorities. The warning that CNMV has issued against Gitex Capital clearly explains that this agency is selling its products and services without regulation.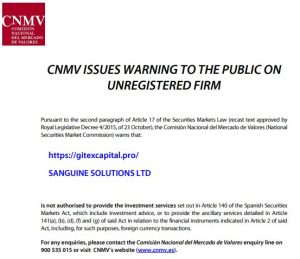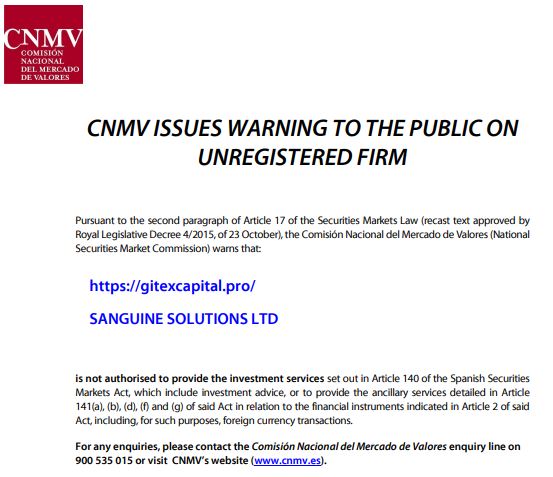 Since a major regulatory body has blacklisted them, Gitex Capital is a confirmed scam. So, how are they a threat to retail traders? First off, your investments are not placed in segregated bank accounts, separately from the company's own capital. This gives Gitex Capital the freedom to access your funds and use them as they please. And believe us, they will not use them to your benefit. 
The leverage cap that has to be respected by every broker operating in the EU, AU, UK and US is either 1:30 or 1:50. Gitex Capital does offer their services to European clients yet offers the leverage of up to 1:100. EEA brokers also cannot provide bonuses, but Gitex Capital does. Their lack of transparency is utterly suspicious and against all ESMA rules combined into MiFID directive. This screams scam. 
Trading Software Overview 
Basic, common and ridiculously useless, the broker trading terminal is nothing we haven't already seen in other obvious scammers. All the swindlers of this caliber will gravitate towards such simple and easily manipulated software. 
By altering and modifying it to display only the numbers they wish to show the trader helps them strengthen their influence over the investors. This way, they gain more power to influence the trader's investment decisions and keep them interested. 
Far from any advanced software, rich in features and options, this broker terminal doesn't actually allow you to trade and earn. You will live in an illusion of trading while the system simply eats up your money.
Account Types Available
Making their offer as attractive as possible, this broker has designed several account types:
Simple – $250

Standard – $1,000

Advanced – $10,000

Professional – $25,000

Partner – $100,000
It is evident that the broker cannot really provide you with a personal account manager, guaranteed returns, super tight spreads and ultra fast order execution. Even if they could, their offer would hardly justify the amount of money they demand you to invest. 
Above all, reputable brokerage powerhouses will offer conditions within the law and regulation and provide you with a trading environment far better equipped than Gitex Capital.
Deposits and Withdrawals Procedure
Quite surprisingly and atypical for scammers, Gitex Capital actually allows funding through credit cards. This is a convenient circumstance as credit cards are the safest channel for monetary transactions in online trading. 
Visa, MasterCard and Maestro allow you to issue a chargeback within the first 540 days of depositing. In case you suspect of being scammed, you can request a refund through your credit card issuer.
Besides the initial deposit having to be $250, Gitex Capital doesn't disclose any other info concerning deposits and withdrawals. This level of secrecy is what you find in every scammer. 
How Is the Fraud Carried Out?
Gitex Capital is a scam through and through. As many other unscrupulous schemes we have investigated before, this one uses several common techniques. First one of them is lies, manipulation of information and anonymity. In a desperate attempt to seem reliable and believable, Gitex Capital doesn't present their detailed company info. 
The scam agents quickly persuade the unsuspecting victims that all investments have guaranteed success and novice traders start investing. Their enthusiasm is fed with fictitious numbers shown in the trading terminal, reshaped by the swindler. The deposits keep coming in and withdrawals are suddenly suspended until the trading volume requirements are reached. 
In the case of Gitex Capital, the trader has to make a turnover that is at least 25 times bigger than deposit and bonus combined. 
Gitex Capital
Summary
Unscrupulous tendencies, lies and false promises mark the illegal business that's Gitex Capital. Our review today makes an attempt to point out all their devious methods and scam techniques. 
However, you can never be sure with these shady offshore agencies. They are free to change the pricing and trading conditions whenever they please. So don't be surprised to see additional fees and commissions you didn't originally sign up for.
Your best bet is a regulated broker like the ones we proposed in the previous section.  
FAQs About
Gitex Capital
Broker
How Secure is the Gitex Capital Trading Platform?
The trading terminal that Gitex Capital offers is manipulated by the broker and does not show accurate data, so you cannot rely on it.
Does Gitex Capital offer a Demo Account?
No, if you want to become their customer you have to pay at least $250 first.
Are Payouts Subject to Taxes at Gitex Capital?
Not only taxes but changeable commissions and trading volume requirements are something that follows every withdrawal attempt.