May 27, 2023
Reading Time:
4
min
GMA Pros Review: Details Regarding the Scammer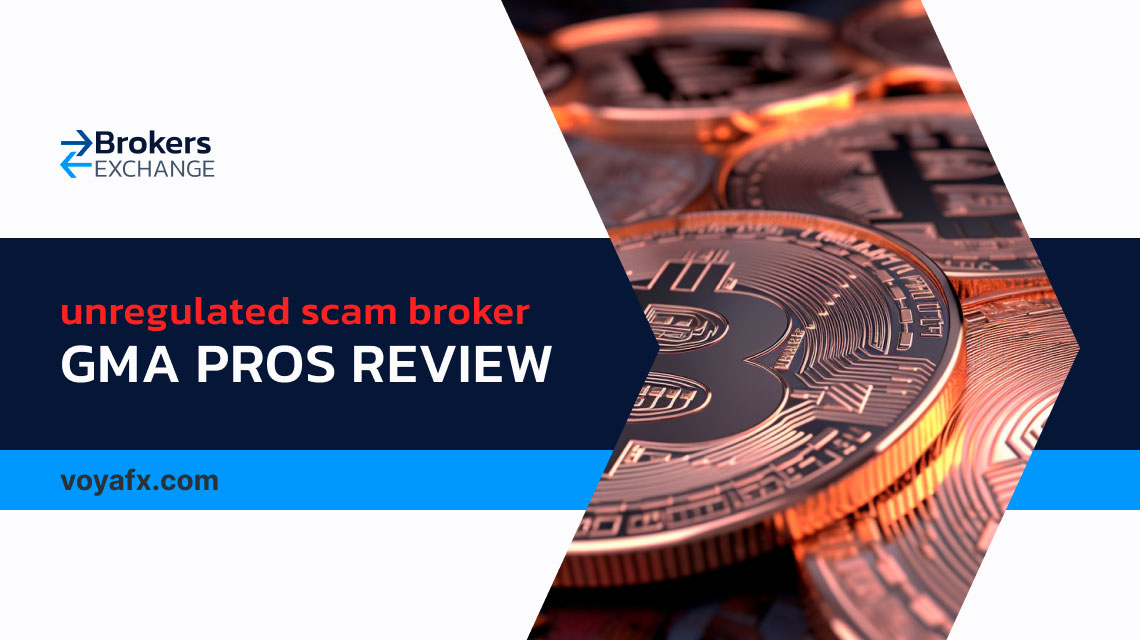 It is surprising how many scam brokers are trying to make them look presentable and of course, advertise themselves as award-winning brokerages. And the GMA Pros aren't lacking in that field. This broker is claiming to be a regulated broker that also holds many awards and cutting-edge technology trading software. 
But don't fall for their lies as they are just that, a bunch of fabricated stories they use just to get you to invest with them. And this GMA Pros review is here to bring all of that down, so you know how to avoid it. 
| | |
| --- | --- |
| Company | N/A |
| Regulation | Unregulated scam broker. |
| Warning | N/A |
| Website | gmapros.co |
| Address | St. Vincent and Grenadines |
| Email | [email protected] |
| Phone | +44-1288693002 |
| Minimum Deposit | $250 |
| Leverage | 1:150 |
| Bonuses | 20-120% |
GMA Pros
Regulation and Fund Security
After checking the GMA Pros website, we saw that their address is stated as St. Vincent and Grenadines, which is a scam haven. This is mainly because the regulatory body SVGFSA doesn't actually overlook any forex or CFD trading and actually states that the companies should get a license from the country they are from. 
On top of that, we also don't even know who owns the GMA Pros or any other details about the brokerage owner information. But we also wanted to check the Tier 1 regulators' registers to see if there is any mention of them there, but yet again, nothing. 
So to sum it all up, GMA Pros is an offshore-based broker that holds no regulation and offers no security for you or your funds. Additionally, we also want to inform you to avoid Virtual Fxtrade, as they also pose a big threat to your funds.

Trading Platform Overview
While advertising "ground-breaking web-based GMA Pros xStation," the reality is a bit different. Yes, the GMA Pros trading platform is indeed a WebTrader, but a pretty basic one.

There is nothing award-winning or cutting-edge technology here as they so proudly claim and advertise. Besides Stop Loss and Take Profit, the software is missing all other features. It lacks all the amazing features that both the MetaTrader4 and MetaTrader5 have to offer.

On top of that, because it's just a Web Trader, there are no options to use it on your phone or tablet.

Account Types Available
In the account types section, we saw that the GMA Pros offer five different account types. Those are: 
Silver – €10,001 

Gold – €20,001 

Platinum – €100,001 

Diamond – €200,001 

VIP – €500,000+ 
Allegedly, the higher you upgrade, the quicker your withdrawal approval, which is a bit sketchy. As for the leverage, it ranges from 1:20 to 1:150, while the company offers 20-120% of bonuses.
Even though the leverage doesn't go over the ESMA limit of 1:30, they still offer bonuses that are prohibited. The good thing is that the GMA Pros does offer a Demo account and that lets the users test out the services before even depositing. 
Deposit and Withdrawal
GMA Pros only offers two deposit methods which are: 
Visa or Master credit or debit card

Sepa 
This is a very basic offering of the funding methods. It's best to work with a broker that is regulated and actually offers better funding methods. As for the withdrawals, they state there are no fees, but there is no mention of how long it takes. 
How the Scheme Was Put Into Practice
You probably have heard of these types of scams like Bullquote or GMA Pros. And it all starts once you leave your personal data on some sketchy website. Once they get a hold of it, the non-stop calls will begin, all in order for you to give them your money.
Not only do they hide the most basic info like the necessary documentation, but they also do not give any trading software you can use for actual trading. On top of that, there is no mention of any fees anywhere.
If you make some profit on their so-called platform, their agents will give you a call saying you need to invest more and if you do so there will be an enormous profit you will likely make. There is also the story that if you don't invest more, you will lose all of your profits, which of course would never happen with a legit broker.
In case you have been scammed by this or any other fraudulent broker, getting your money back is possible! We would also be thankful if you can share your experience with us since we can help you report your scammers to the authorities. 
GMA Pros
Summary
To summarize everything we already mentioned, GMA Pros is an offshore broker based in SVG, like many other scammers. It comes as no surprise that they do not possess any licenses for providing forex trading and only exist with the sole purpose of scamming you.
The minimum deposit is $250, the same as many other scammers set, and the leverage is 1:150, unreasonably high as well. In regards to trading platforms, even though they promise some ground-breaking thing, it is only a web trader. Due to everything we said it would be best if you avoid this scammer altogether and work with some of the leading forex brokers that we mentioned. 
Lastly, in case you have ever fallen victim to this or any other illicit brokers, be sure to contact us, as we can help you.
FAQs About
GMA Pros
Broker
Is It Safe to Use GMA Pros for Trading?
No, it is not safe to use GMA Pros as your chosen broker as it is an unregulated scam company.
Does GMA Pros Offer a Demo Account?
GMA Pros allegedly does offer a demo account but many complain it does not even work.
What Is The Funding Method of GMA Pros?
Available funding methods at GMA Pros are Sepa, Visa, and Mastercard credit and debit cards.