October 30, 2023
Reading Time:
5
min
IMAcademy Review: This Firm Is Not Even Close to an Academy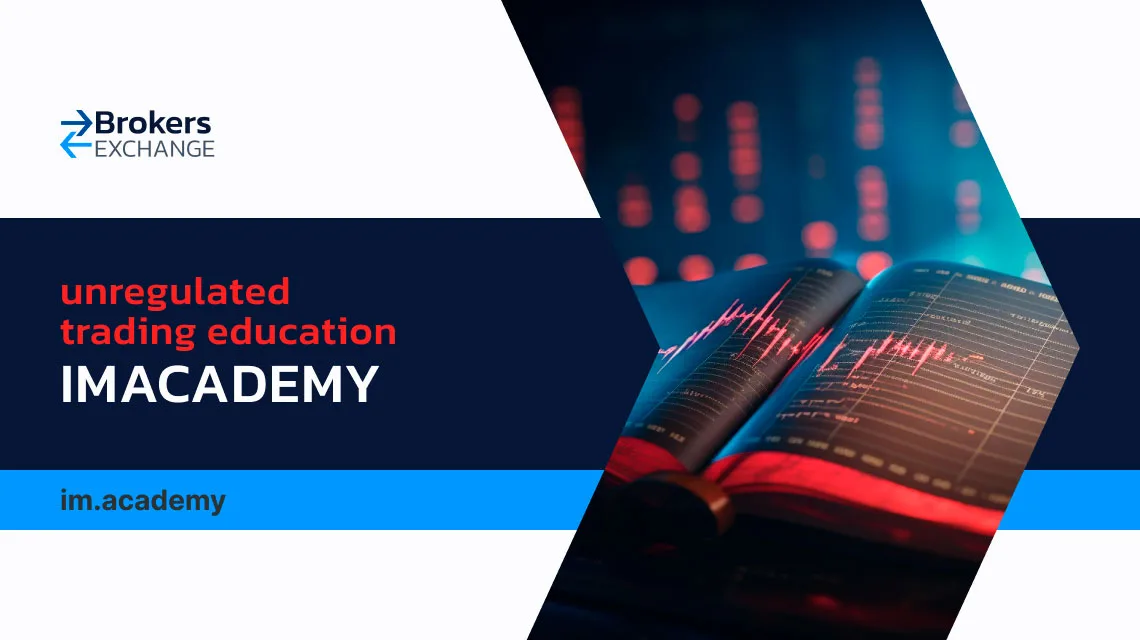 The firm seems like a sham even at first glance and even after giving them the benefit of the doubt, they didn't rise to our expectations. From operating without a license to not paying affiliates, this company seems like the worst choice for traders. Our IMAcademy review will uncover even the slightest details of why this firm is unreliable. 
IM Academy is an MLM platform. MLM, or Multi Level Marketing, has you make money through recruiting. However, the point with companies like this is to confirm their track record and confirm they have a history of paying their affiliates so you can avoid getting scammed. 
Stay tuned and read our IMAcademy review to learn more, and don't forget to check our Secured FX evaluation for a broker you should never use. 
Who Is IMAcademy?
IMAcademy is supposed to be a reliable platform where you can learn more about trading and elevate your skills. However, our IMAcademy review will prove that they are nothing but another unregulated pyramid scheme trying to scam investors. According to their website, they are a registered entity in the US but no information has been found about them in the US register. 
Furthermore, the platform praises itself for paying its affiliates and tries to present itself as a reliable and beneficial platform that you can use to profit. Profits are usually not guaranteed, however, according to IMAcademy, they are a surefire way to get rich, which brings us to our first red flag. Further research will find even more disturbing factors about this company. 
Company Type
Trading Education
Legal name
IM Mastery Academy, IMarketsLive
Regulation
No
Registered in
303 S Broadway Suite 450, Tarrytown, NY 10591
Established
2019-01-03
Website

im. academy

Financial Authorities Warnings

FSC
FTC
AMF
CMF
IOSCO
CSSF

Contacts
Fees

$274.95 IM Powered
$499.95 All-In
$149 E-commerce course

If Active on Social Media:
Yes
Investor Protection:
None
Activity areas
United States; Germany; United Kingdom; Mexico; Spain
Main threats
Unregulated, Pyramid Scheme
Main perks
None
Regulation Info
There was no doubt that IMAcademy is operating without a license, despite their numerous claims. To make things even worse, several financial authorities alert the public, advising investors to stay away from this firm to ensure the safety of their funds. The first authority warning we found was from the FSC Mauritius. 
Soon after, other authorities started supporting the warning and some published their own. Like the CMF in Chile, AMF in France, IOSCO in Canada, the CSSF, and even the FTC in the US, where they claim to be registered. 
With so many warnings, no company can be a reliable choice for traders. Avoiding IMAcademy is in your best interest if you want to profit from your trades. Not only that they won't teach you anything but they will also take your money and time. 
IMAcademy Broker Profile
You may be curious about iMarketslive. IMarketslive.com and the IM Academy appear to be educational websites and forex trading software that aid users in developing their forex trading skills. However, there are no skills this platform will teach you, and investing $275 for 28 days seems excessive and unnecessary. 
This company is nothing more than a pyramid scheme, which is confirmed once you take a look at the features they offer. Depending on the asset you want to trade, you will gain access to various courses, or at least that is what the firm claims. Each course has its price and only after paying you can see what the course is about. Pretty suspicious, don't you think? 
Trading Platform

N/A

Account Types

IM Powered, All In

Financial Instruments On Offer

Foreign Exchange
Stocks & Cryptocurrency
Social Media
Personal Development
E-Commerce
Travel & Experiences
Market Tools
IMPowered
All-In

Maximum leverage

N/A

Minimum Deposit

$274.95

Commissions/Bonuses

N/A

Mobile app

No

Desktop app

No

Autotrading

No

Demo account

No

Education or Extra tools

Videos, Courses (nothing for free)
Is IMAcademy Safe?
This firm is the worst choice if you are trying to make money while trading online. First, they are an unregulated firm offering financial services. Second, several authorities issued an alert, advising them to avoid this company. Third, they lack transparency, and seems like the packages they offer are not at all worthy of your money. We can go on and on about this company and its red flags. 
Another thing to keep in mind is that this company doesn't care about paying affiliates or offering educational material. They care about gaining more clients to earn more money and don't think for a second that they will pay you. Scam companies like this are known for avoiding traders once they need help. We have an AI-powered tool for you at the end of the article, stay tuned! 
Traders Share Their Experiences
We were surprised to see that the firm's Trustpilot score is 3.9, based on 2,020 reviews. While positive reviews can be fabricated and the bad ones deleted, it's still a high score for someone who is known as a pyramid scheme. Nevertheless, there are still traders who think this platform is good for nothing. 
The perfect example of that is a trader who was charged every month for the subscription but never got the educational material. IMAcademy is not even close to an academy with educational material where you can learn how to trade; instead, they are only luring traders with the affiliate program so they can earn more money. Stay away from this company. 
Who Are the Traders They Cater To?
There are various reasons indicating you should avoid this company. We mentioned some of them previously but there is still more. The perfect explanation of how IMAcademy works can be found in this helpful Reddit discussion. Trustpilot reviews can be fabricated, however, on Reddit, people speak their minds and no one can fabricate the truth. 
You are promised the world and a dream of becoming a billionaire, however, after a while, you notice that you didn't get any educational material for a couple of weeks. Once you try to reach customer support, they will either block you or pretend you don't exist. It's not uncommon for people to fall for scams like this, so make sure to always research the company. 
Weighing the Pros and Cons
Pros
Cons

None! 

Unregulated

Lack of transparency

Hidden fees

Bad customer feedback

Pyramid scheme 

Several warnings from financial authorities 
Can I Make Money While Trading Online?
Making money while trading online is possible but it's not a sure-fire way to get rich. That said, it's vital to approach trading educated, disciplined, aware of risks, and with a good plan and strategy. Success lies in time, dedication, and the right tools. 
Our potent AI bot called AI.F can greatly improve your trading attempts. It is the ideal trading powerhouse because it fluidly processes billions of data points, including historical statistics, indicators, and market news. 
AI.F doesn't just trade randomly; it carefully examines asset history, spots trends in comparable historical periods, and keeps up with the most recent news, both recent and historical. Leveraging its power is the goal. When using AI.F, you work with it rather than against it to increase your chances of profits.
If you are ready to start trading profitably, reach out and begin your successful trading journey with the help of a 14-day free trial for our bot. You have to be quick because the offer is time-limited and applies to the first 100 traders who reach out. 
FAQ Section
What Is IMAcademy?
IMAcademy is an online education platform that offers training and resources related to trading and financial markets, including foreign exchange, cryptocurrency, and other investment-related topics.
Is IMAcademy Safe?
No, IMAcademy is not a legit business, instead, they are a pyramid scheme. Avoid this company at all costs.
What Are the Products of IMAcademy?
The products offered by this academy include foreign exchange, stocks, cryptocurrency, social media, personal development, E-commerce, travel and experiences, and market tools.