April 17, 2023
Reading Time:
5
min
InetMarkets Review: Learn More About This Scam Broker
InetMarkets Review, Forex for the people. Forex made simple, easy, and fast.'' That's supposedly the guiding expression of InetMarkets. We sure hope that's the way they conduct their business. But just looking at their dull website got us thinking otherwise. 
InetMarkets protect its anonymity at all costs. No location, company name, or phone number is available. The only communication channel is the email, carefully hidden in the Terms and Conditions that not many novice traders read. 
If you're thinking of investing here, pay attention to the fact that no regulatory framework protects your interests as a trader! Two warnings solidify all our doubts about InetMarkets being a bogus Forex dealer:
FCA Warning: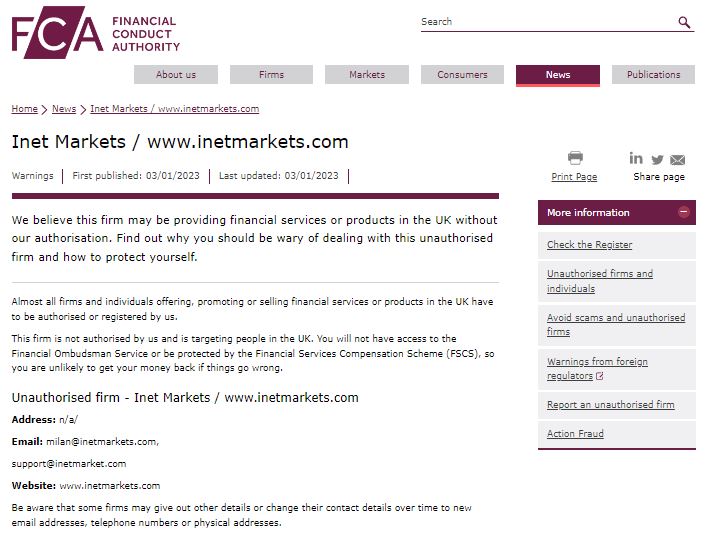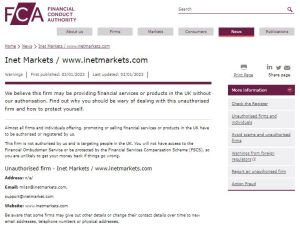 FSMA Warning: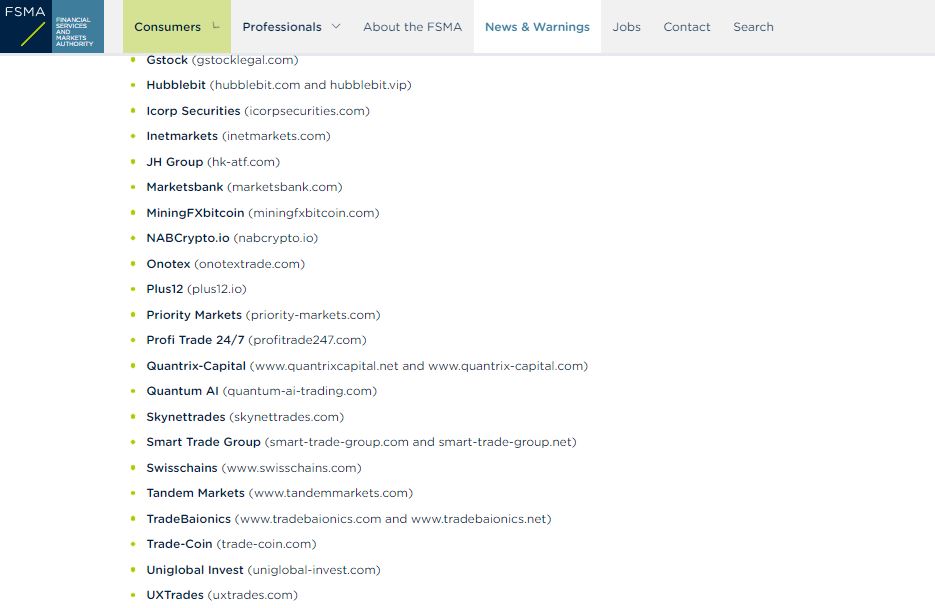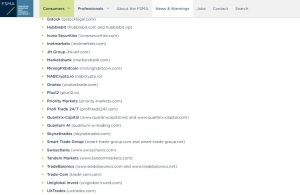 Our InetMarkets review gets to the bottom of this sophisticated scheme exclusively designed to trick traders and profit off of it.
| | |
| --- | --- |
| Broker Status: | Scam  |
| Regulated by:  | Not regulated |
| Operating Status:  | Operational |
| Scammers Websites:  | InetMarkets.Com |
| Blacklisted as a Scam by: | FCA, FSMA |
| Broker Owner:  | N/A |
| Headquarters Country: | SVG |
| Foundation Year:  | 2022 |
| Online Trading Platforms: | Web trader |
| Mobile Trading:  | Unavailable |
| InetMarkets Minimum Deposit: | N/A |
| Deposit Bonus:  | Available |
| Crypto Asset Trading: | Yes (Bitcoin, Cardano, Polkadot, Dash) |
| CFD Trading Option: | Yes (CFDs on shares, indices, commodities) |
| Available Trading Instruments: | Forex, Crypto, CFDs on shares, indices, commodities |
| Maximum Leverage: | 1:100 |
| Islamic Account:  | Unavailable |
| Free Demo Account:  | Unavailable |
| Accepts US clients: | No |
InetMarkets
Regulation and Security
InetMarkets rudely demand your deposit, and loyalty and respect the law while they show little to actually learn the trust of their clients. Since so far, they've presented zero proof of following any law or regulation, they don't really seem credible. 
Legitimate brokers don't shy away from immediately laying out all the company info and regulatory status. 
Shady business has earned InetMarkets two warnings, which alert UK and EU citizens about this unscrupulous broker selling product they're unauthorized for. In the bottom line, InetMarkets was tricking UK and EEA customers into risky investments that ended in cyber theft.
Warnings also point at the fact that InetMarkets doesn't respect the security standards in the form of keeping clients' funds in segregated bank accounts. The leverage they offer (1:100), collides with the leverage cap in the UK and EEA (1:30). 
Along those lines, this fake broker doesn't provide negative balance protection and compensation funds either. They're offering welcome bonuses, which are, by the way, completely banned in the UK and EU. 
Eventually, the dangerous lacking transparency in terms of company data and transactions performed has proven to us InetMarkets is nothing but a scam in a bad disguise. 
Broker's Trading Software Overview
It's been a while since we've seen a registration so quick and easy it's basically instant. Not even setting a password is necessary! 
InetMarkets supposedly lets you trade Forex, CFDs, Crypto, and other financial products on a unique platform with advanced trading tools. 
From what we've seen, there's nothing unique about the basic web distribution that doesn't even remotely resemble famous trading software. Not a trace of the advanced features, only primitive customization tools, stop/loss and take profit actions. 
Since we couldn't try out the trading parameters and conditions, we can't confirm this isn't another deceptive, defunct software.
Deposit and Withdrawal Process
Monetary transactions at InetMarkets are performed through credit cards (Visa, MasterCard, Maestro). At least one positive aspect in the whole dark, grim story of InetMarkets. We'd advise you to always choose this payment method, whenever available. 
It helps you get your capital back in case your broker defrauds you like InetMarkets certainly will try. 
The Terms and Conditions doc declares the clients' responsibility to pay all the fees and charges the company may ask of them. And all the additional ones that the company may come up with. One of them is the 1% fee for every executed trade. All accounts also pay a $75 quarterly fee for being maintained. 
Account Types at InetMarkets
Strangely functioning account registration didn't allow us to choose which account type we wish to open. The website also doesn't have a separate page explaining this. 
You're just opening an account you have no idea what gets you and how much it costs. But it surely won't let you trade or do anything at all unless you deposit. And until you submit personal docs for verification. 
This implies the fact that InetMarkets doesn't have a demo account. Also no customized live trading accounts are there in the offer. Not to mention Islamic or other account sorts.
How Does the Scam Implement?
Although becoming a financial hostage at InetMarkets is fairly easy, getting out of the entire scheme is borderline impossible. The sweet-talking seller will convince you to buy their services. But when you start depositing, you will see fees and commissions flying your way all the time. 
All that while moduled software shows you the information that only encourages more depositing. InetMarkets indebts you with 1% of all your profit from the performed trades. If you accept the first-deposit bonus, you will have to make a profit that equals (deposit + bonus) x 25. Unless you see that through, you won't be able to withdraw anything at all!
Recommended Forex Brokers
If investing and earning money off Forex were as easy as advertising frauds, everyone would be a successful trader. But for real profit and a quality trading career, you need a top service provider. InetMarkets surely ain't one. 
Instead, you should take a look at the brokers we suggest. All equipped with the fastest trading platforms, rich educational tools, and affordable prices, they offer the ultimate trading experience!
| | | | | |
| --- | --- | --- | --- | --- |
| Broker | Country | Rating | Min. Deposit | Website |
| FXTM Broker | Cyprus, UK, Mauritius | 4.5 | $10 | Forextime.Com |
| OctaFX Broker | Cyprus, SVG | 4.4 | $100 | OctaFX.Com |
| FP Markets Broker | Australia, Cyprus | 4.7 | $100 | FpMarkets.Com |
| XM Broker | Cyprus, Belize, Australia | 4.7 | $5 | XM.Com |
| HFM HF Markets Broker | Cyprus, UK, South Africa, UAE, Kenya | 4.3 | $5 | HfM.Com |
| FBS Broker | Cyprus, Belize, Marshall Islands | 4.85 | $100 | FBS.Com |
InetMarkets
Summary
FCA and FSMA have done well publishing the alerts about InetMarkets. Their unscrupulous intentions have earned them a place on two blacklists already. Yet, they still shamelessly advertise their services and products as something worth your time and trust. 
Well, with this InetMarkets review, we prove to you it isn't. Not only is it not worth it, but you will get nothing of value, while the scammer will get away with your funds.
FAQs About
InetMarkets
Broker
Is InetMarkets Broker Regulated?
InetMarkets is not just unregulated. They're double-blacklisted. By FCA (UK) and FSMA (Belgium).
Is My Money Safe with InetMarkets?
Funds aren't safe with an unauthorized broker-dealer such as InetMarkets. They operate to defraud you, not to help you earn money.
Does InetMarkets Offer a Demo Account?
No. To do any kind of trading you will need a live trading account, which we don't recommend you to open.