April 15, 2023
Reading Time:
4
min
Bullexo Review – The Story Behind This Scam Broker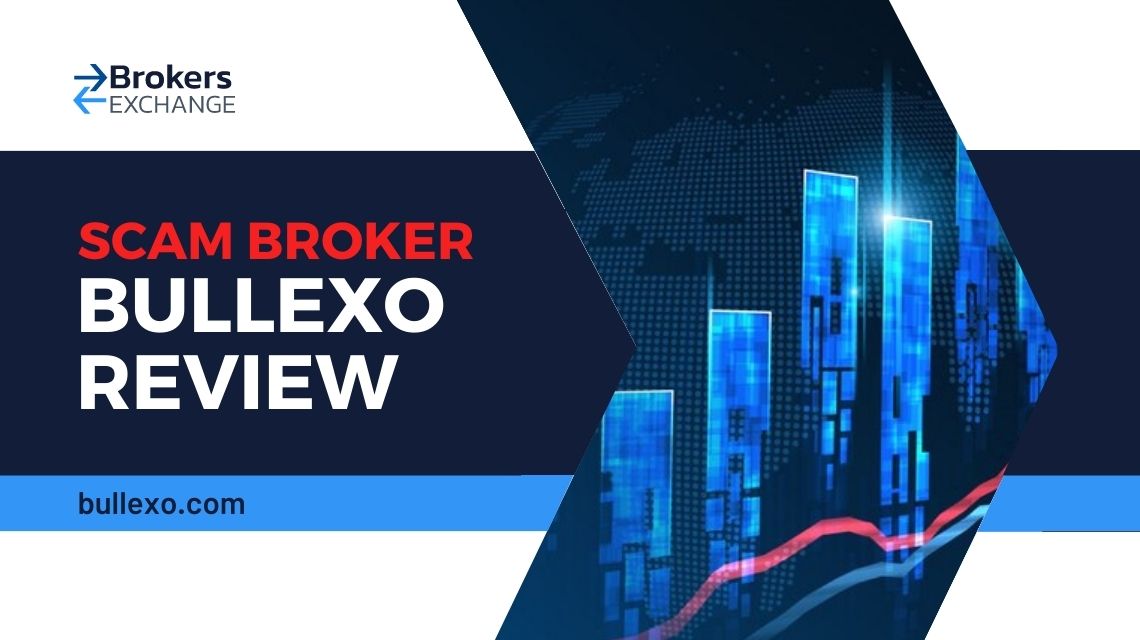 Bullexo has a world-class website, and it took us a while to understand that it's in fact a scam. Our Bullexo Review will show you what signs to look for when choosing your broker. The difference in some minute details will make or break a good business deal.
The main difference between a legitimate and a scam broker is in the regulation of their business venture. Regulated brokers must obey the law and special conditions that dictate financial rules. 
Bullexo firmly lands on the illegal side, since they have neither a company registration nor a trading license.
Additionally, we strongly advise you to avoid the fraudulent brokers TradeHUB, Finex Trader, and Opendealbroker.
| | |
| --- | --- |
| Company | Bullexo |
| Website | Bullexo.net |
| Address | N/A |
| Email | N/A |
| Phone | N/A |
| Minimum Deposit | $500 |
| Leverage | 1:100 – 1:600 |
| Bonuses | Various deposit bonuses |
| Regulation | Unregulated |
| Warning | N/A |
Bullexo
Regulation and Security of Funds
Imagine a person dressing up in a doctor's gown and going into the surgery room. If the person is a surgeon, it's his job, and all is fine. You wouldn't trust your health to some guy on the street with no medical license, though. 
This is kind of the same as Bullexo does. They have dressed up in a fancy suits and made a great website, but they are just some guys trying to impersonate a broker. Bullexo goes one step further in trying to impersonate a broker, though. On their website, we can see claims that they are regulated in St. Vincent and the Grenadines. 
To understand the risks that unregulated brokers pose, we should look into what is required from a broker in one of the developed nations. Take, for instance, regulatory standards imposed by BaFIN, a German agency:
At least 730,000€ of starting capital

Insurance scheme of 20,000€

Leverage maximum of 1:30

Client accounts can't go into a negative balance

Client funds must be in segregated bank accounts

Bonuses are forbidden

Transaction reporting is mandatory, as per the EU MiFID agreement
We have of course searched the databases of different regulators, just in case Bullexo hides some other facts. After looking into company registers of the German BaFIN, the UK's FCA, as well as the US's CFTC and NFA, we found nothing.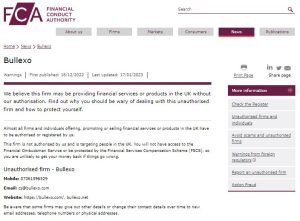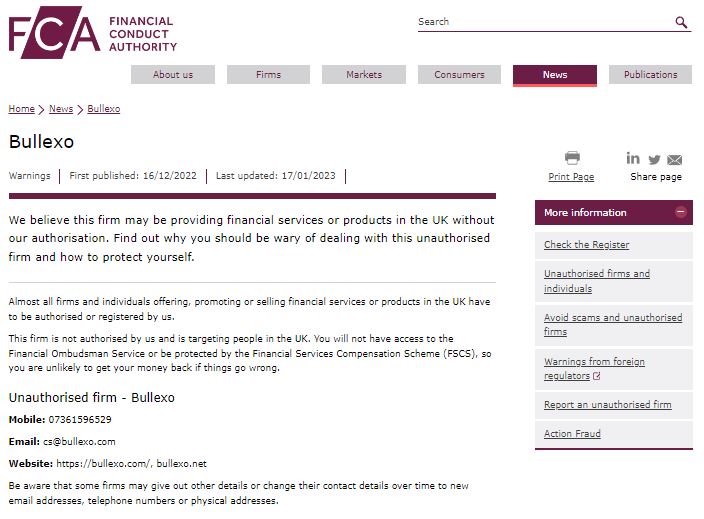 No trace of the company whatsoever. Since Bullexo does offer its services in these countries, their business is highly illegal.
Trading Platform Overview of Bullexo
There are some weird claims when it comes to trading platforms on Bullexo. The platform in question is Web Trader, and we can see that it is available on the Web, iPhone, Android, and Tablet. Aren't tablets Android or iOS in the first place? Can I use my Android refrigerator to conduct trade? This is clearly their deception strategy at work.
To begin with, Web Trader is a very limited and rudimentary web application. This obsolete software will rarely see service with regulated brokers, and even then only as a backup. It's a pot of gold for the frauds, though.
Scammers don't really show you the real market data on their Web Trader. Their trading applications will show you tailored market information with unrealistic changes in positions. The person who fell for the scam would invest more and more money, thinking they are making a very profitable business.
Account Types at Bullexo
| | | | | | | | |
| --- | --- | --- | --- | --- | --- | --- | --- |
| Broker | Bullexo | FXTM | OctaFX | FPMarkets | XM Broker | HFM | FBS Broker |
| Minimum Deposit | $500 | $10 | $100 | $100 | $5 | $5 | $100 |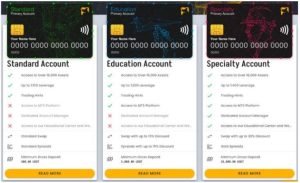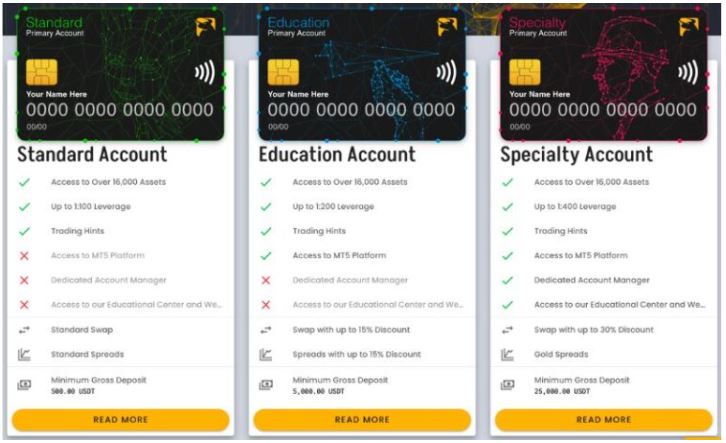 We know that Bullexo is a scam, but they have really made it obvious with their trading accounts. We say trading here very loosely, knowing what kind of a deal they are offering. Just as with other faux brokers, there is some variation with the accounts, but these are only superficial.
There are 5 account types at Bullexo, and the cheapest of these is Standard, with a $500 minimum deposit. Do you think the Education account is a demo? Nope, it's a live trading account that requires a minimum deposit of $5,000! 
These prices go up to $150,000 for Bullexo Titanium. The more expensive the account is, the more leverage is available for it. This is another fraudulent strategy – larger leverage will drain more money faster from your account.
Deposit and Withdrawal Options
Just like most other scam brokers, Bullexo only accepts cryptocurrency transfers. These are dangerous because a wallet-to-wallet transaction is nearly impossible to track. The wallet data storage drive can be turned off or put offline ("cold" wallet), which will make your funds completely inaccessible!
There is a different danger we need to discuss Bullexo, though. These frauds are offering financial credits and loans to people who have been rejected by the bank. These "leveraged" credits and loans feature a flexible interest rate and pricing. Bullexo are a bunch of loan sharks that prey on the people that are already impoverished!
How the Fraud Is Conducted
There are a few methods that scammers use to defraud their victims. Bullexo ticks many of the boxes when it comes to fraudulent strategies. Firstly, they have a professionally made website that instills confidence in their victims. 
Secondly, they accept only cryptocurrency transfers, which are difficult to track, and provide the authorities with little evidence for criminal prosecution. Thirdly, they exaggerate the urgency of investment, minimizing the time their victim has to make an educated, rational decision. 
We've seen a completely new strategy with Bullexo, though – they loan money at flexible interest rates. We can only call this absolutely appalling, loan shark predatory behavior.
Bullexo
Summary
Bullexo is an unregulated, anonymous online broker scam. The swindlers use a number of strategies to defraud their victims. These include large initial deposits, unreasonable leverages, and cryptocurrency transfers to make the transactions irreversible. 
These dangerous people even offer unlicensed loans to their victims, making their business seem like a loan sharking venture. You're advised to steer clear of these scammers!
FAQs About
Bullexo
Broker
Is Bullexo a Legit Broker or a Scam?
Bullexo is a scam broker. They are unregulated and don't have a license for their services.
What Methods Can I Use to Fund My Bullexo Account?
You may only use cryptocurrency transfers to fund an account at Bullexo.
What Trading Instruments are Available at Bullexo?
Bullexo claims over 16,000 different instruments. Knowing this is a fraudulent website, it's of little consequence what instruments are on offer.