September 14, 2023
Reading Time:
5
min
Invest24 Review: Let Us Tell You Why Not to Invest with This Broker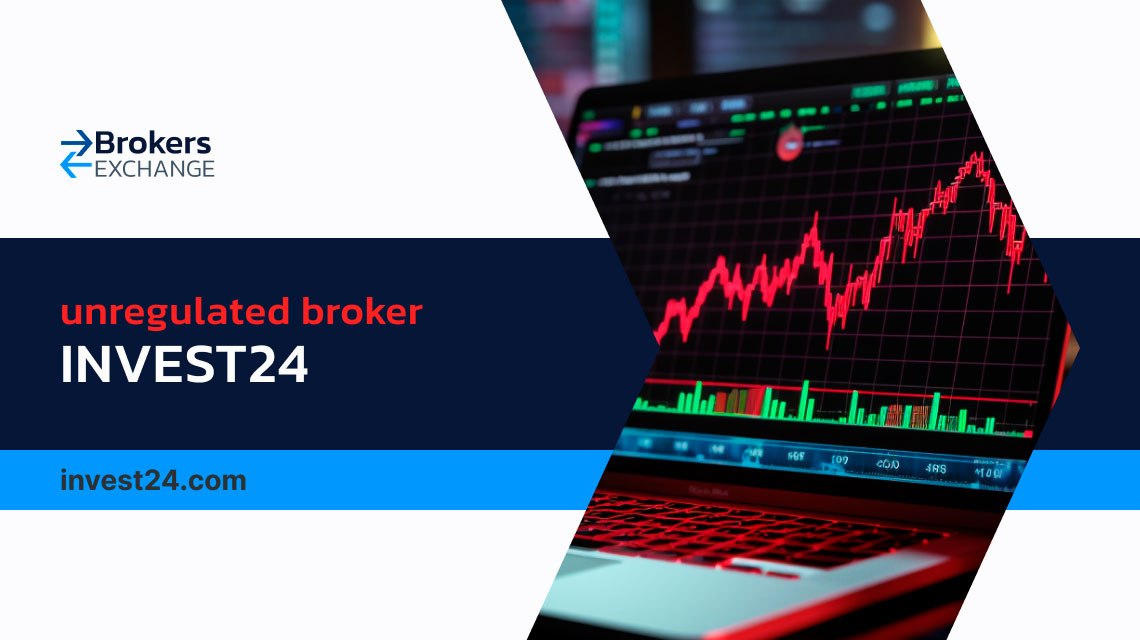 Different scammers have different ways of conning people, but it is hard to uncover shady behavior if you cannot access a broker's website in the first place. This is precisely what happened to us when we wanted to take a closer look at Invest24.
However, as they say, the show must go on, so we dug deep to bring you this Invest24 review. Here, we will discuss everything we found and most importantly, why this broker is not right for you. Let's start!
| | | |
| --- | --- | --- |
| | Broker name | Reliable Broker Must Have |
| Legal name: | INVEST24 Limited | Transparently displayed in the disclaimer or legal documents |
| Regulation: | No | Within your legal jurisdiction – local regulator |
| Registered in: | Dominicana | Your country or the country whose license applies in your legal jurisdiction  |
| Established: | N/A | The older the domain – the higher the possibility the company is trustworthy |
| Website: | http://invest24.com/ | Domain should be from local or international zones, no .xyz, etc. |
| Financial Authorities Warnings: | No | None |
| Contacts: | N/A | Phone, email, social media, web form |
| Is withdrawal possible: | Highly unlikely | Yes |
| Fees: | Hidden fees | Transparent fees – list of spread and commissions |
| If Active on Social Media: | No | Often present on social media |
| Investor Protection: | No | Compensation fund |
Regulation Info
Like any other review, we start from the regulation but since the Invest24 website is not operational, we had to find out where they come from the hard way. After some research, we discovered the broker allegedly has an office in Dominicana.
This makes Invest24 an offshore broker, which is not good. We say this mostly because offshore countries like St. Vincent and the Grenadines, the Marshall Islands, and the like are known for their lenient approach to regulation.
The brokers from those areas do not have to check many requirements and it is generally quite easy to register a brokerage in offshore areas. Since the regulators do not pay close attention to what their entities are doing, it leaves shady brokers room to manipulate clients and steal their money.
If you are looking for a reliable broker, they should have a license from a legitimate authority. Some of the better regulators come from:
Croatia

Slovenia

Pakistan

Bulgaria

Romania
Should your broker not have a license from any of these regulators, like Invest24 does not, you should not trust them!
Invest24 Profile
We know very little about the broker, only that it uses a web-based trading platform. This is always alarming and for several reasons. Firstly, no legitimate broker uses a WebTrader, since it is far inferior to the likes of MT4 and MT5. The two offer a larger set of tools and are more practical than classic WebTraders. But more importantly, web-based platforms put traders at significant risk.
Brokers can choose what you as a trader see and, in this way, they can trick you into thinking you are profiting when that is not the case. 
The only other piece of information we have is that the broker charges $250 for the entry-level account. This is not too high, but there are far better and more affordable options out there.
| | |
| --- | --- |
| Trading platforms: | WebTrader |
| Account types: | N/A |
| Financial Instruments On Offer: | Crypto (Bitcoin, Ethereum, USDT, etc.) |
| Maximum leverage: | N/A |
| Minimum Deposit: | $250 |
| Commissions/bonuses: | N/A |
| Mobile app: | N/A |
| Desktop app: | N/A |
| Autotrading: | N/A |
| Demo account: | N/A |
| Education or Extra tools: | N/A |
Is This Broker Safe?
No, Invest24 is not safe. The main concern is that their invest24 com website is unresponsive. Everyone might encounter these issues but without many other details about the company online, this situation is way too suspicious for our liking.
Additionally, the broker allegedly has headquarters in an offshore region, which is rarely a good sign. You should generally avoid doing business with those types of brokers, and Invest24 is no different.
Instead, you should contact us and we will help you get on your feet in Forex. We know many legit brokers that won't play games with you, but really show you what it takes to make it in trading, so what are you waiting for?
Trader Reviews – Sharing Experiences
The trader reviews section is one of the most valuable ones in any review. You can then imagine our dismay when we could only find one Invest24 client's comment. Although, truth be told, we did not expect a different scenario.
We found a comment about Invest24 by a woman who did not have a good experience with the broker, saying: "Hi, I have invested 3000 pounds on this platform and now they are asking me for another 3000 pounds for the taxes that they have to pay for me. This platform is a SCAM!!"
How Does the Invest24 Platform Reach Clients and Who Are They?
When there are not many reviews online, it makes it harder for us to determine where a broker's clients come from. We do not know the domain in which Invest24 operates either but you should be on the lookout wherever you live.
These scammers are only after your money and there is no way to reason with them. In that, they are not different from Up4Profit, and you should be very careful not to engage with them in any way, should they contact you.
Deposits and Withdrawal Methods
Other reviews tell us that the only payment method Invest24 accepts is Bitcoin. To veterans in this game, this comes as no surprise as scammers love crypto transactions. The reasons are twofold.
Firstly, the transfers are anonymous, meaning the fraudulent broker does not have to reveal its identity. Secondly, and more importantly for you, tracking crypto transactions is notoriously difficult and many people never see their money again. This is why using crypto to fund your account is not the best idea, and a legitimate broker would not have that as the only option for traders.
On top of everything, we do not know if traders pay any withdrawal fees or if there are any other requirements regarding that. 
Reasons To Avoid This Company
If we had to give you a short answer, it would be that this scammer does not have a license. Unregulated brokers like Invest24 or W2W Capital can simply steal your money and never be held accountable and you do not need to put yourself in that situation. Moreover, without a functioning website, you do not have the means to research Invest24 properly, which gives you no reason to trust them.
Our Safe Trading Experts' Opinion of Invest24
Having read our Invest24 Review, we hope you have seen why this broker is not a good trading partner. It showed us nothing but troubling signs that made us think of other shady brokers, which is why we are not recommending them. 
But on the other hand, there are plenty of great brokers waiting just for you, that are completely trustworthy. So send us an email today, and we will help you make the best trading decision for your future in our free consultations!
FAQ Section
Is Invest24 a Scam?
Yes, Invest24 is a scam. They allegedly operate from an offshore domain, which gives us no confidence they are legit.
How do I get into Forex trading?
Firstly, you should become knowledgeable about the market. Learn what you can trade, how trading works, and how to do it safely. After that, you should find a reliable broker to partner with, and this is where we come in. Contact us, and we will provide you with a free consultation where we work together to find you the perfect broker for your needs.
How can you help me find a good broker?
The most important service we do for you is personalizing our recommendations. When you come to us, we consider everything – your needs, skills, budget, etc. and then form a list of what we think are the best brokers for you. And the best thing of all is that our consultations are completely free.