April 07, 2023
Reading Time:
5
min
GMGroup Review: Reasons You Should Not Trust This Broker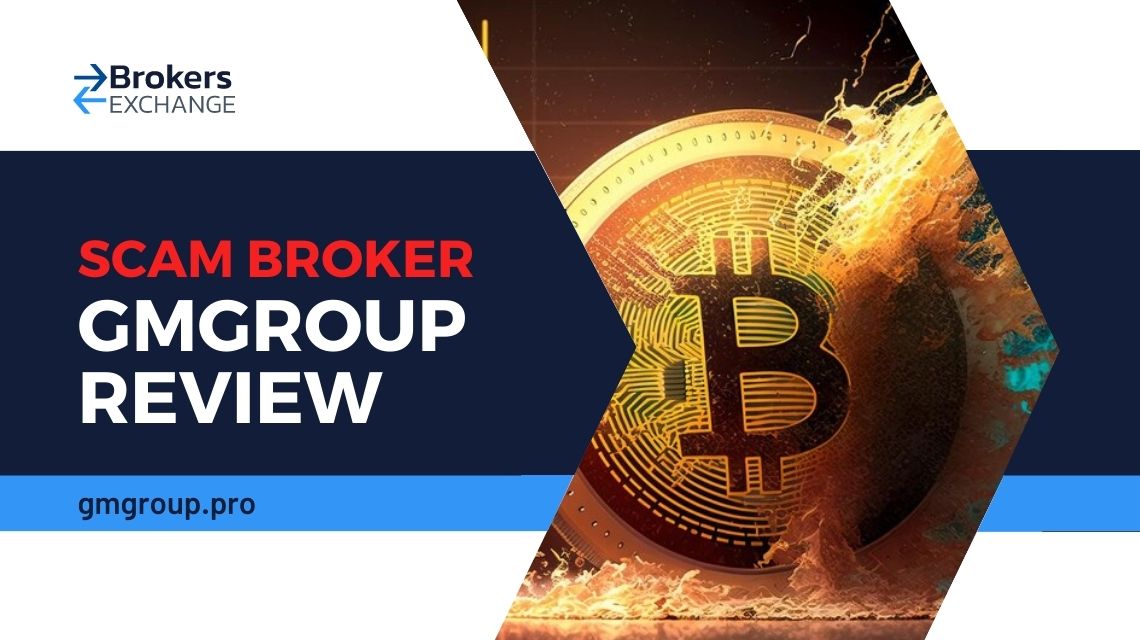 GMGroup is an offshore clone company scam. This sentence is kind of a mouthful, so we will analyze what all this means in our GMGroup Review. For starters, it's not a broker, but a scam entity that uses other companies' license data without consent.
GMGroup.pro website is owned and operated by a known fraudulent entity called Infinium Solutions LTD. 
These swindlers are known to the authorities in Spain for their fraudulent behavior, as we can see in a warning issued by CMNV. Another warning about GMGroup being a clone company was published by the UK's FCA.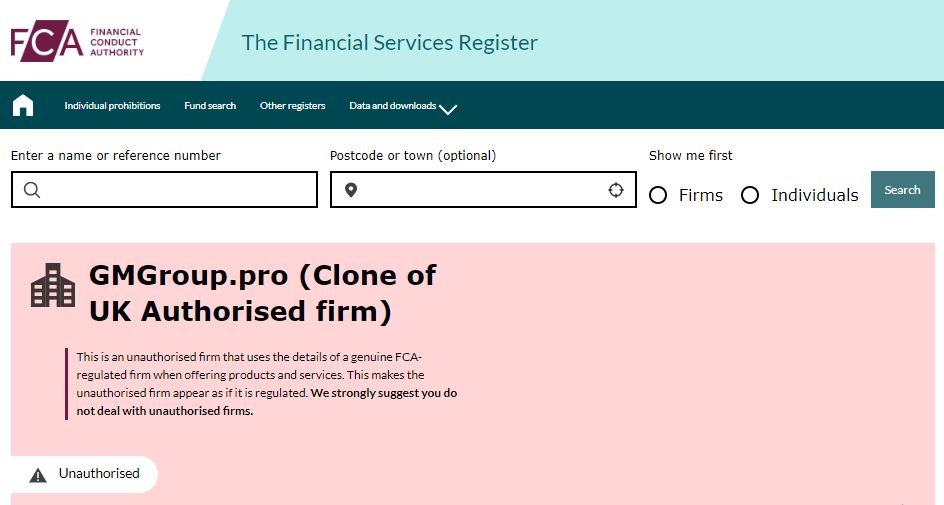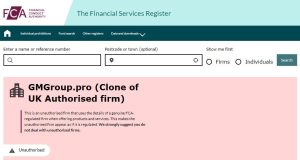 We need to point out that currently, it is impossible to access the GMGroup.pro website. It is non-functional, which has made writing our GMGroup Review a difficult affair.
Also, remember the names of the FNPMarkets, Citadelex, and 70Trades trading scams and avoid them at all costs! Moreover, always check the background of online trading companies before investing!
Company

GM Group

Infinium Solutions Ltd

Website
gmgroup.pro
Address

8 Copthall, 00152, Roseau Valley, DOMINICA

A Minshull House, 67 Wellington Road, North Cheshire, UNITED KINGDOM

Email
[email protected]
Phone

+14505542153

+61272520877

Other phone numbers available through FCA

Minimum Deposit

$250

Leverage

1:500

Bonuses

Deposit bonus 15-25%

Regulation

Unregulated

Warning

FCA, CNMV
License for GMGroup and Security of Funds
GMGroup is, on paper, legally registered in the Commonwealth of Dominica. This is quite impossible since Dominica has recently changed their International Business Company law. 
IBCs as they are called can no longer exist, as we can see on the FSU website. Apart from FSU, only a very short list of companies are allowed to provide financial services in Dominica at this moment.
This leaves GMGroup in a rather nasty position. You see, besides the empty claim of being registered and regulated in Dominica, this entity does little to instill any confidence. 
Furthermore, two very important regulators have issued a fraud warning about GMGroup and their parent, Infinium Solutions Ltd.
The UK's FCA is one of the most strict financial regulators in the world today. This agency monitors the financial conduct of more than 50,000 businesses. In order to begin a brokerage in the UK, a candidate company must provide the following:
Starting capital of 730,000 or more

Insurance scheme of 85,000

Negative balance protection

Client fund segregation

Leverage not greater than 1:30

Bonuses are not allowed

Full transaction transparency
Spanish regulator, CMNV has a similar regulatory framework. Unlike the FCA, they also apply additional rules that are dictated by the EU MiFID agreement. GMGroup breaks these rules by allowing various bonuses, as well as leverage of 1:500. Infractions like these make it impossible for such a company to receive a license in either the UK or EU.
Clone companies, as we mentioned before, fake their credentials to appear legitimate. GMGroup states that they have the licenses and authorization that belong to another company, Global Markets Group Limited, which is a lawful firm in the UK.
Trading Platform Available at
GMGroup
You'd think that with the costly minimum deposits that GMGroup requires, you would receive nothing but the best when it comes to trading software. What you get instead is a very basic Web Trader. 
There are some functions that allow for minimal chart customization and order placement, but beyond that, its only purpose is to be a gateway for depositing funds.
Metatrader4 and Metatrader5 have become somewhat of a standard in the forex industry. MT4 is an older solution that has seen incremental advances in technology. MT5 is a new development that is optimized for best market execution speeds, as well as strategy testing and even automated trading.
Options for Deposit/Withdrawal
GMGroup claims to handle deposits and withdrawals through all the popular channels, like Bank Cards, Bank Wire Transfers, E-Wallet payments, and even Cryptocurrencies. This is simply not true. The only method of payment is through a service called Cardeta. Cardeta is as shady as GMGroup themselves, they are known to provide white-label transactions for illicit businesses.
GMGroup requires an almost impossible trading volume to be met before they even allow a withdrawal to take place. In case a client satisfies all these conditions, their withdrawal is subject to a number of pricey fees. 
These include a withdrawal fee of 50€, a processing fee of 10€, as well as an additional 10% levy for any accounts that are not yet verified. Additionally, the minimum withdrawal amount is 250€.
GMGroup Account Types
| | | | | | | | |
| --- | --- | --- | --- | --- | --- | --- | --- |
| Broker | GMGroup | FXTM | OctaFX | FPMarkets | XM Broker | HFM | FBS Broker |
| Minimum Deposit | $250 | $10 | $100 | $100 | $5 | $5 | $100 |
There are 7 account types on GMGroup, and none of them is a demo. The only differentiating factor between these is the minimum deposit required. Accounts are called Basic, Bronze, Silver, Gold, Platinum, Diamond, and Black.
The minimum deposit for a Basic account is $250, which is similar to what other brokers would require. Others are much more costly. Bronze already costs $5,001, Silver is $15,001, and so on until you reach the Black account. This one costs $1,000,000, which is just insane.
How the Scam Is Executed
Clone companies try to push other firms' legal authorization as their own. They are a dangerous entity that lies to their customers in order to earn their money illicitly. GMGroup has made a convincing-looking website, to attract victims more easily. Nothing is as it seems with this lot, and the whole picture becomes clear only once a person has created an account and made an initial deposit.
The huge deposit amounts are quickly swallowed up by the rigged Web Trader. These deposits go through a 3rd party scam payment service, which makes them difficult to reverse. Withdrawals are unlikely to be approved, thanks to the trading volume requirements. Once approved, they are subject to costly fees.
Forex Broker Suggestions
We know that making the right choice for a broker can be a difficult task. For that reason, we have compiled some of the best companies in our little table below. You will find fair prices and good trading conditions with any of these brokerages.
If you are a beginner trader with a low budget, we suggest trying out firms like XM or HF Markets. Both of these feature low initial deposits, as well as a demo account where you can test your skills and strategies with no financial risk. Additionally, they provide very good education, as well as a world-class customer support team.
| | | | | |
| --- | --- | --- | --- | --- |
| Broker | Country | Rating | Min. Deposit | Website |
| FXTM Broker | Cyprus, UK, Mauritius | 4.5 | $10 | Forextime.Com |
| OctaFX Broker | Cyprus, SVG | 4.4 | $100 | OctaFX.Com |
| FP Markets Broker | Australia, Cyprus | 4.7 | $100 | FpMarkets.Com |
| XM Broker | Cyprus, Belize, Australia | 4.7 | $5 | XM.Com |
| HFM HF Markets Broker | Cyprus, UK, South Africa, UAE, Kenya | 4.3 | $5 | HFM.Com |
| FBS Broker | Cyprus, Belize, Marshall Islands | 4.85 | $100 | FBS.Com |
GMGroup
Summary
There are multiple warnings issued about the GMGroup broker scam. This fraudulent entity is what is known as a clone company. Contrary to what they claim, GMGroup is not registered or regulated anywhere in the world. 
Your financial assets are at risk the moment you deposit them, as these people conduct business through an equally shady transaction service. Feel free to contact us for any help regarding this or any other scam entity.
FAQs About
GMGroup
Broker
Is My Money Safe with GMGroup?
No, GMGroup is a dangerous firm that steals its clients finances.
Is GMGroup a Regulated Broker?
No, GMGroup is an unregulated scam known as a Clone Company.
What Is The GMGroup Minimum Deposit Amount?
The minimum deposit with this scam broker is $250.