February 02, 2023
Reading Time:
4
min
Kacapital Emporium Review: Who is Behind This Scam Broker?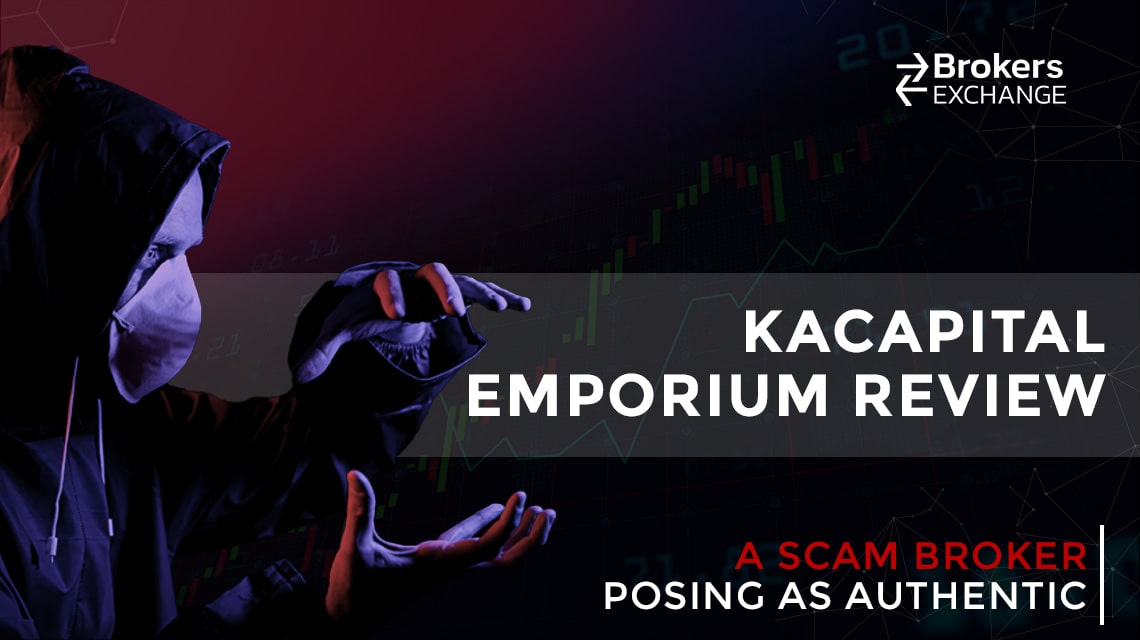 Despite what "the broker" claims, Kacapital Emporium is an anonymous, unregulated website that exhibits all the telltale signs of fraud. It is not your award-winning entrance to the world's financial markets.
When we registered, there were no problems. It was completed quickly, which could seem positive but actually shows how desperate the broker is for deposits.
The user interface offered by this broker is unlike anything we've seen before. One wonders what the broker's intentions are when they're in a puzzling user area. Is it meant to appear polished or hurried? Both apply here, and it was not impressive.
There was virtually no trading platform, hence there aren't any available or applicable trading conditions, such as spreads, leverage, or tradable assets.
With this Kacapital Emporium review, our main goal is to advise you against investing with this broker.
Moreover, you should avoid trading with fraudulent brokers like Vintage Markets, Fxtrade Platform, and Optimal Trade.
| | |
| --- | --- |
| Leverage | N/A |
| Regulation | Unregulated |
| Headquarters | N/A |
| Minimum Deposit | $250 |
| Review Rating | 1/5 |
| Broker Type | N/A |
| Platforms | Webtrader |
| Spread | N/A |
Regulation and Security of Kacapital Emporium 
Kacapital Emporium website looks to be entirely anonymous, and we have no idea who or what company is behind it or where "the broker" may be situated or incorporated. Simply looking at their contact information reveals that Kacapital Emporium is a hoax. They have no corporate address, no company history, and no precise information concerning a license or authorization.
Kacapital Emporium claims that it has licenses in both Cyprus and Hong Kong. For starters, after looking into CySec registers for this broker, there is no sign of Kacapital Emporium being licensed or registered there. In actuality, the broker flat-out lies about it.
As for the Hong Kong claim, we had to look a little deeper to see that it was also a fabrication. Kacapital Emporium is not listed in the SFC database of regulated companies, meaning that the broker does not hold a Hong Kong license. It is definitely illegal, even if it is registered there, which is quite doubtful.
Without more information, we are forced to conclude that this broker is completely unregulated and poses a serious risk to all investors and their money. Any personal information you enter here will also be lost or, in the worst case, exploited against you. Even more, reasons not to invest with Kacapital Emporium.
Kacapital Emporium Trading Software Overview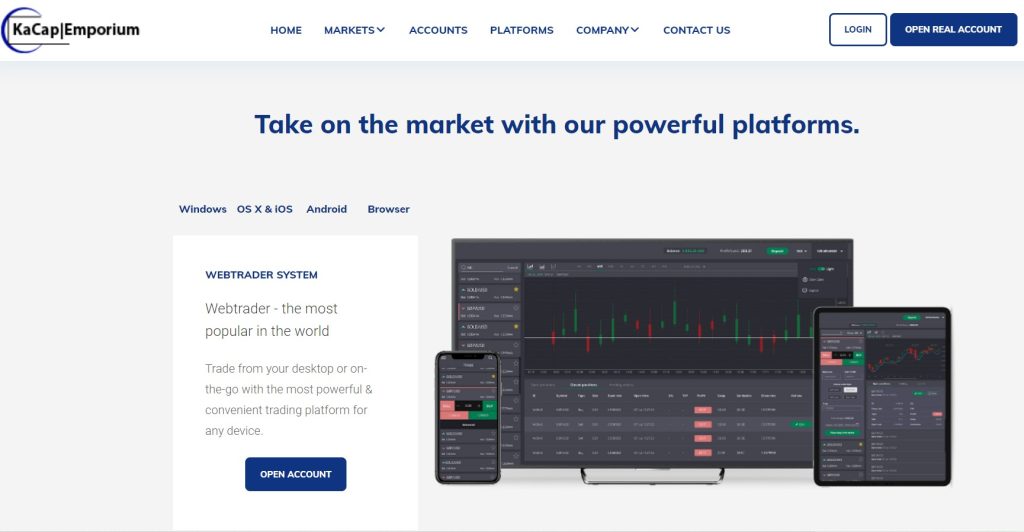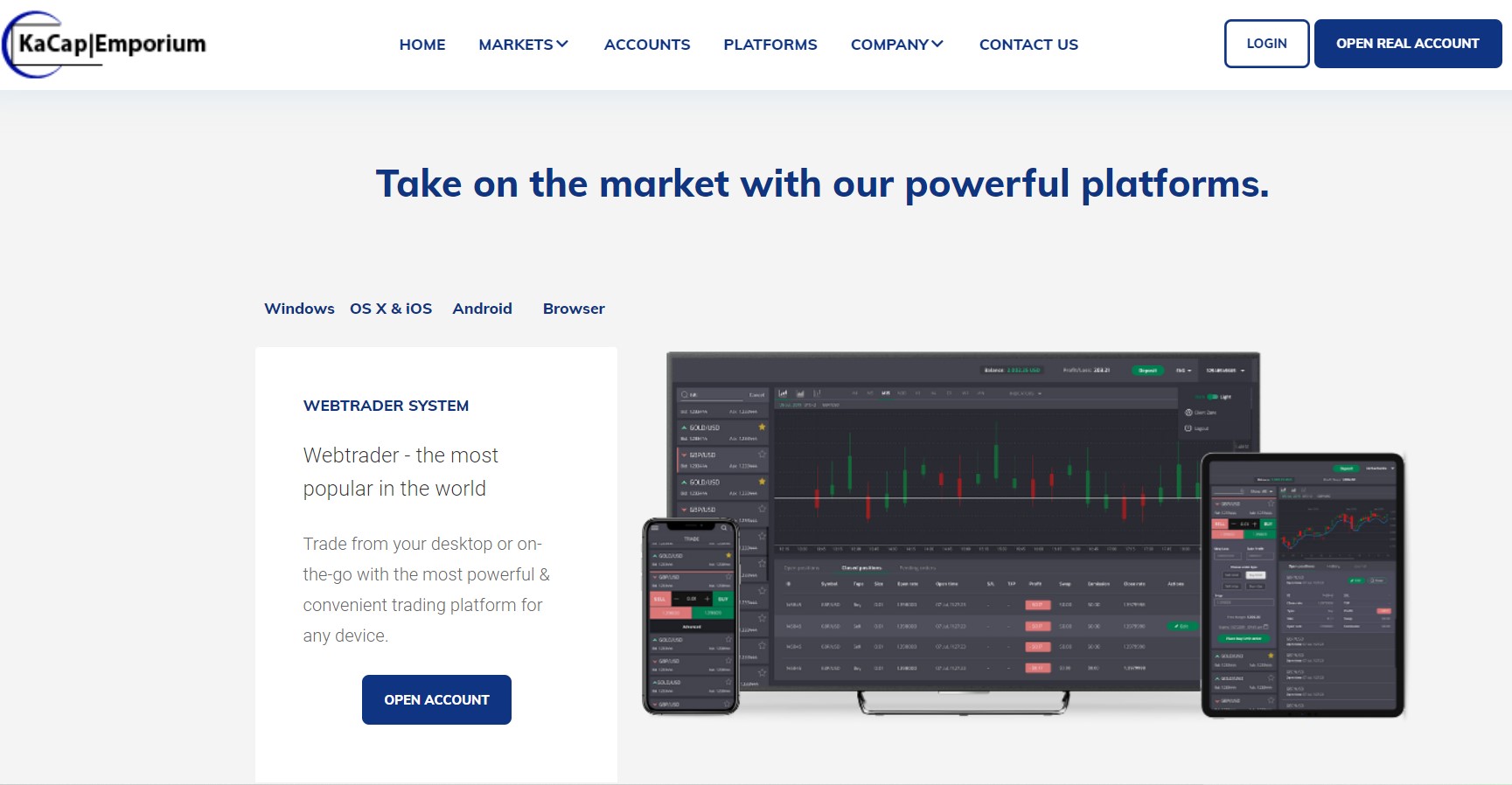 Kacapital Emporium claims to have a solid trading platform, but we were unable to use it since, in order to create our trading account, we were required to scan and transmit our ID, which we declined to do for obvious reasons.
Because neither the website nor the user area attempt to provide a platform, the company is incompetent when it comes to marketing its lies. It would be a complete waste of money to invest in this area, as there is nothing to gain.
Just keep in mind that legitimate brokers generally provide trading software like the industry standard MetaTrader4 and MetaTrader5, and the lack of any such dependable and tested trading software is a surefire sign that you are working with a scammer.
Available Account Types at Kacapital Emporium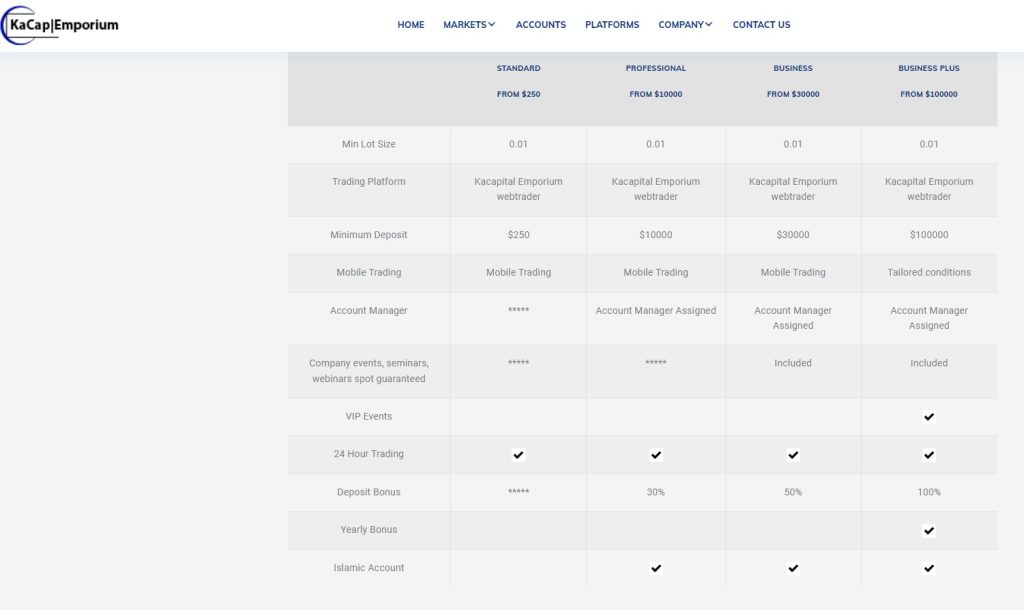 It appears that Kacapital Emporium offers four different account kinds. Account overview
Standard – $250 deposit, mobile trading, no bonuses
Professional – $10,000 deposit, mobile trading, 30% bonuses
Business – $13,000 deposit, mobile trading. 50% bonuses
Business Plus – $100,000 deposit, tailored conditions, 100% bonuses
Deposit and Withdrawal Method
VISA, Mastercard, Bitcoin, and Litecoin are listed as payment options, but it turns out that you may only use a credit or debit card through a few enigmatic third-party payment providers, like Cardpayz, Gateway, and Paypound. You must agree that this does not improve the website's reputation.
The minimum deposit amount is apparently just $250, which is roughly in line with what the majority of other brokers would require.
Only banking withdrawals are available in the withdrawal section, which is against all significant anti-money laundering rules and regulations, making Kacapital Emporium more of a risk and a scam. Even if they never mentioned fees, similar brokers have done worse.
How Does The Scam Work? 
Surprisingly little change has been made in scams over the years since they first appeared. The same basic idea is being delivered through many websites and through a wide variety of agents.
The idea stays the same. The broker tries to catch the client's attention by making false profit claims or by approaching the customer personally after he has let his guard down online and given his email address or phone number to an unknown source.
If the user is contacted, they will be directed to the investment fraud website and immediately urged to invest, either by the scam's charming reps or by the account manager, who also acts as the scam's organizer.
The final objective is to force the user to make a single investment after which the trap would be totally shut. Any additional investments are a bonus for the broker because the client has already lost money. 
Even though the broker appears to be keeping a straight face, all withdrawals will be unavailable, and this was all part of the plan.
Kacapital Emporium Summary
Kacapital Emporium is an anonymous, unregulated website that bears all the signs of fraud, despite what "the broker" states. Kacapital Emporium claims that it has licenses in both Cyprus and Hong Kong. But that's further from the truth since there is no sign of this broker being regulated in either Cyprus or Hong Kong. This further shows that Kacapital Emporium is an elaborate scam.
No trading platform existed, hence no applicable or available trading conditions, such as spreads, leverage, or tradable assets, existed.
You shouldn't feel guilty or ashamed about reporting fraud. If you could let us know about any bad experiences you may have had with dishonest brokers, we can let the authorities know who the scammer is and help you.
FAQs About Kacapital Emporium Broker
Is Kacapital Emporium Regulated?

Kacapital Emporium not regulated in Cyprus and Hong Kong.
What Are The Funding Methods for Kacapital Emporium?

Kacapital Emporium claims to accept Visa, Mastercard, Bitcoin, and Litecoin as payment methods, but only credit/debit cards are available.
What is the Minimum Deposit for Kacapital Emporium?

With Kacapital Emporium, a required minimum deposit of $250.