May 05, 2023
Reading Time:
4
min
Lionetix Review – The Story Behind This Scam Broker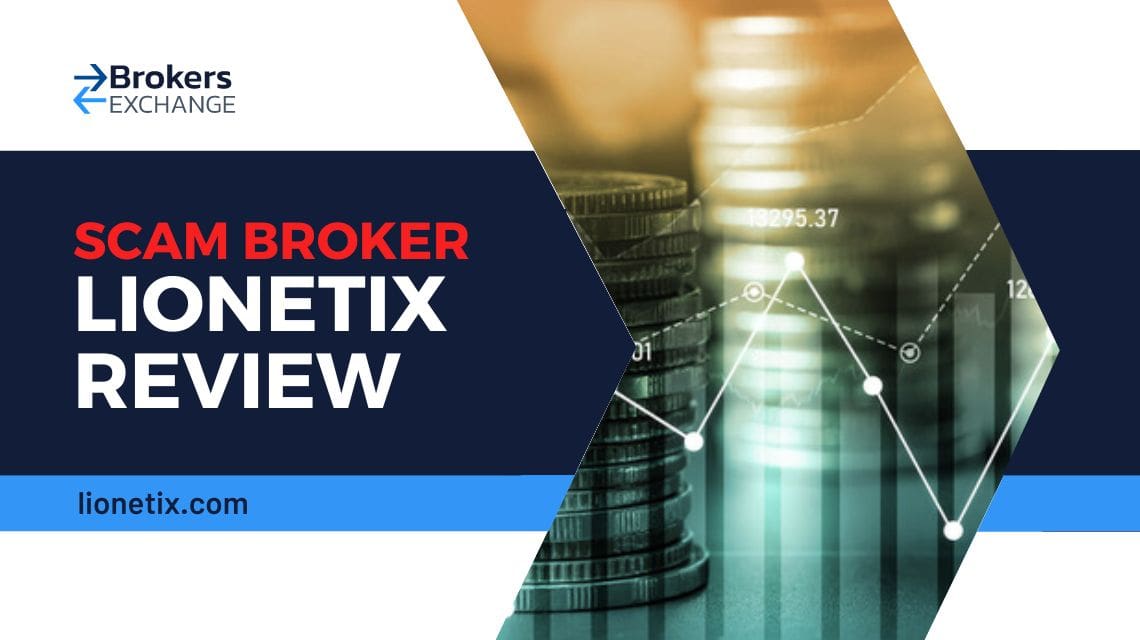 Lionetix Review, It's raining credit cards, investors. This company will lead you into a better future with innovation in crypto investing and high technology. It's just uncertain how they plan on doing that without proper regulation, a functional trading platform, and an option for the new users to register an account. Everything else seems pretty convincing. 
Lionetix operates under the ownership of MONETRIX sp. z oo, supposedly from Warsaw, Poland. Without a valid license, they may as well be located anywhere in the world, most probably offshore. This Lionetix review investigates all of that and more.
What is known is that they offer their unlicensed services to many areas in the world, New Zealand included. The jurisdictional financial authority (FMA) warns the public about the danger called Lionetix: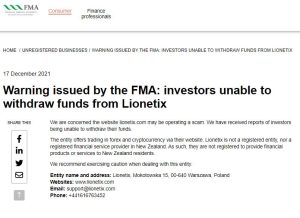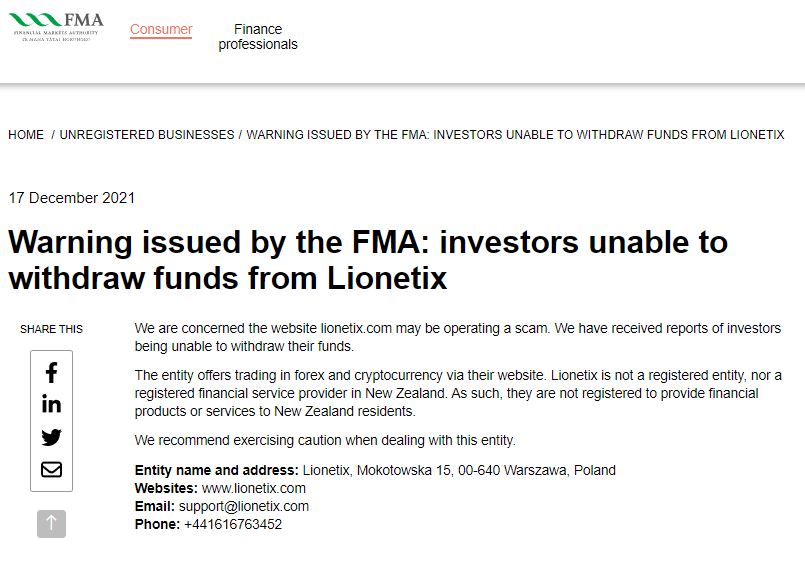 And first, read our reviews of DynamicsFx Trade and Coin2FX. They are putting your money at risk!
| | |
| --- | --- |
| Company | MONETRIX sp. z oo |
| Regulation | Unregulated |
| Warning | FMA (NZ) |
| Website | lionetix.com |
| Address | Poland (allegedly) |
| Email | N/A |
| Phone | N/A |
| Minimum Deposit | N/A |
| Leverage | N/A |
| Bonuses | N/A |
Lionetix
Regulation and Security of Funds
Poland is a member state of the European Union, which is known for the strict regulatory regime that governs brokerage activities. Because Lionetix is based in Poland (as per their claims) they should have the KNF license from the financial authority in that country. But after we've checked the public register of entities with a KNF certificate, we were sure Lionetix operates without a permit. 
We couldn't just leave it at that. Our research covered a scan of other databases, such as FCA, BaFin, CNMV, CONSOB, CySEC, and ASIC. But Lionetix doesn't appear to be known to any of the mentioned financial bodies. Except for the warning from FMA from New Zealand, Lionetix is completely anonymous. 
As we've already determined, the EEA zone is heavily regulated and the licensing standards are pretty harsh. Not only do the brokers have to be rich enough and invest at least 730 000 EUR, but they also have to provide top security measures. The most desirable one of those is a segregated bank account for all external deposits. 
EU is also well known to keep the leverage cap at 1:30, whereas Lionetix doesn't even disclose it due to a lack of transparency. Which is also mandatory, by the way. There's no way a broker could keep such important trading info secret as well as their money flow. ESMA binds all EEA brokerage houses to regularly report their transactions, as one of the AML measures that MiFID enforces. 
Another downside to trading with unregulated brokers such as Lionetix is the absence of negative balance protection to prevent you from becoming indebted to the fraudster. Traders protected by the law also have access to the Financial Ombudsman that forces payouts to scammed customers. Lionetix is not a reliable broker in any of these aspects!
Trading Platform Overview
The story that Lionetix propagates would be far more believable if they had a trading platform, to begin with. But how things are right now, we don't think Lionetix allows any kind of trading at all. 
We strongly believe so because the Lionetix registration page doesn't work. No matter how many times you request it, the server doesn't respond and the page doesn't exist. In essence, the crucial part of the entire trading process is not available. How are we supposed to trust Lionetix and hand them over our capital?
Account Types at Lionetix
The broker doesn't have a separate web presence that would explain how to account types work and what each of them brings. Since they're just a common scam and not a reputable broker, they couldn't have put much effort into designing custom accounts. 
As a matter of fact, there's not even enough info on how opening of the accounts goes and how much they cost. Everything with this broker is a shot in the dark. Except that there's no chance for you to get lucky. 
Deposit and Withdrawal Options
What's a deposit/withdrawal policy? Clearly, not a document that Lionetix has on its website. And they should. Because if any regulatory framework was present, it would obligate them to be clear with how transactions work on their site. 
This way, the con artist just keeps yapping about having a powerful team and technology that would help you make your money work for you, and yadda yadda. Practically nothing of any use or value! The presentation is so scarce it's frightening. It wouldn't surprise us if the only depositing methods available were digital currencies, followed by insane fees and trading volume requirements. More on that in the following part of this Lionetix review. 
How the Fraud Is Conducted
Earning seems so effortless and fast with Lionetix that it will surely enchant beginning traders that are just starting to explore the markets. Once they're charmed into investing, the game of cat and mouse begins and it doesn't stop until the investor goes bankrupt. 
Lionetix will give you their word on how trading has never been easier and more profitable. How their company is exactly the one that would lead you to success and wealth thanks to their account managers and bonuses. 
Sadly it's all fabrications. All are designed to force you into investing. After that, withdrawals become impossible due to high fees, crazy conditions, and trading volume requirements. Because why would the scammer give you anything back when stealing from you is how they intend to profit?
Lionetix
Summary
As numerous complaints from NZ traders can confirm, Lionetix is a bad scamming experience. Trustpilot is one place that can help you learn more about what disheartened former Lionetix customers have to say about this unscrupulous Forex dealer. 
The majority of problems appear with withdrawals, but that isn't the only type of issue. Far more negative occurrences are the only thing to expect from Lionetix. Be better than that. Make better decisions and choose real quality over empty promises.
FAQs About
Lionetix
Broker
Is Lionetix a Legit Broker or a Scam?
Lionetix is a scam through and through. They are blacklisted and have no valid license.
What Methods Can I Use to Fund My Lionetix Account?
The website doesn't offer that kind of information. It's also impossible to access the client zone and find out.
What Trading Instruments are Available at Lionetix?
It is said that Lionetix mainly focuses on cryptocurrencies, but without the ability to make an account, no trading could happen.