April 11, 2023
Reading Time:
4
min
DynamicsFx Trade Review: Do Not Deal With This Scam Broker
DynamicsFx Trade main website is currently offline, and accessing any information about this broker was quite difficult. From the little information that is left from when the site was operating, we can see that this faux broker tried to downplay the inherent dangers of online trade. To them, the global currency market was just a game.
Now, having a down website is pretty good evidence that this broker was not what it seemed. Regulated brokers are not very known for going bankrupt, or for shutting down their websites for prolonged times. 
Our DynamicsFx Trade review will show you exactly why this is the case, and why you should pay more attention when looking for a broker. This bogus broker has caught the attention of the US's main financial regulator, CFTC, who has issued the following scam warning: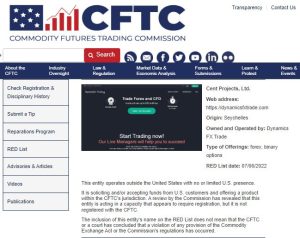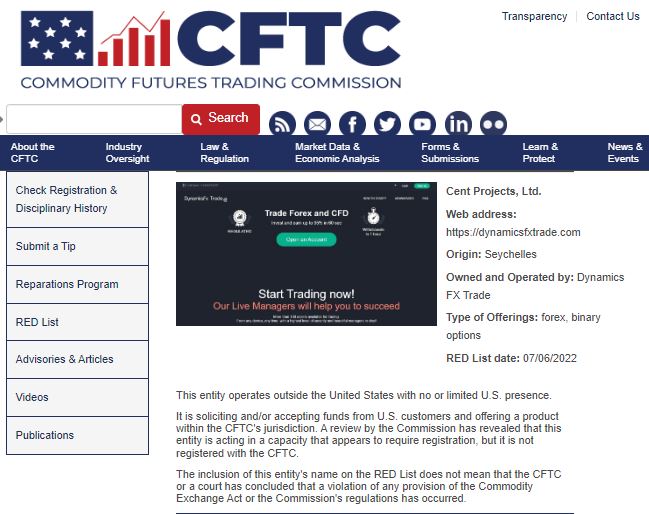 Furthermore, we highly recommend that you avoid the scam brokers XTrade Brokers, Bitcoin Trade Pro, and Top Assets Trades.
| | |
| --- | --- |
| Company | DynamicsFx Trade |
| Website | dynamicsfxtrade.com |
| Address | 309&310 Office, Albert Street Victoria, Mahe, Seychelles |
| Email | [email protected] |
| Phone | +14405704297 |
| Minimum Deposit | $5,000 |
| Leverage | N/A |
| Bonuses | N/A |
| Regulation | Unregulated |
| Warning | CFTC |
DynamicsFx Trade Regulation and Fund Security
There was a claim at DynamicsFx Trade of financial regulation. For a broker, regulation is the main means of proof when it comes to financial safety and transparency. DynamicsFx Trade has claimed that they were authorized by the financial regulator of Seychelles, an agency called the FSA.
We quickly discredited this claim by searching the FSA's database of registered companies. We found no clue about DynamicsFx Trade, which means they have no license to speak of. 
Because DynamicsFx Trade used to offer their services to international clients, we also did a check up on other regulators' databases. German BaFIN, Swiss FINRA as well as UK's FCA and Canadian IIROC gave no results either. 
The US main regulator, CFTC did return a result in the form of an outstanding scam warning about DynamicsFx Trade. In order to show you the dangers of unregulated brokers, we need to look into what it takes for a broker to receive authorization. 
CySEC issues trading licenses for entities that are based in Cyprus, which is a member state of the EU. Thanks to the low tax and rock-solid regulation, CySEC is one of the more prominent regulators in the world.
Brokers starting a business in Cyprus can expect these licensing requirements:
A starting capital of 730,000€

Client insurance fund of 20,000€

The leverage maximum is 1:30

Client's funds must be in separate bank accounts

Full transaction transparency as required by EU MiFID agreement

Client accounts must have negative balance protection

Any bonuses are forbidden
These are all very important safety implements that protect the client, the broker and the state finances. Not adhering to these conditions is not only bad business conduct, it's illegal!
DynamicsFx Trade
Trading Software Overview
It's common for a scam site to use very basic and underdeveloped software to merely attract new victims. Frauds would showcase their Web Trader as some sort of cutting edge program that defies the logic of the global market. 
DynamicsFx Trade did advertise 95% profits on the first day alone, which is quite incredible. Other than that, DynamicsFx Trade had no trading platform at all.
Authorized brokers most commonly offer MT4 and MT5 as their main trading platforms. MT4 is an older-generation program, but it has been constantly updated over the years since 2005, making it stable, versatile, and quick. 
Even though superficially similar, MT5 is a completely new solution. It's an app developed for the new hardware and features strategy testers, as well as the fastest market execution and even automated trading.
Account Types Available at DynamicsFx Trade
Reviewing something that was purposely hidden and obscured on a website that currently doesn't work is almost impossible. What we mean by that is that there was no advertisement on what conditions an account would present to the client, prior to the account verification.
It is now impossible to verify an account, but would you do it if you knew it was a scam, and you needed to give your personal ID to the scammer?
A good and honest broker would never hide account information from their potential clients. It would be like not having price tags on the merchandise in the store, and the only way to check how much something costs is by purchasing it. Scammers use this strategy intensively, as they don't offer anything in return for your investment.
Deposits and Withdrawals Procedure
DynamicsFx Trade had a claim that their withdrawals would be processed in less than 45 minutes. Financial channels that were advertised as compatible were Bank Cards, Bank Wires, and E-Wallets. This is another one that we couldn't check, unfortunately.
We know that a minimum deposit was $5,000 which is ludicrous. With a legit broker, you can fund your micro accounts usually with $10 or even less. 
We did find some information about withdrawals, too. It incurs fees of $50 for some methods, while others require 20% of the withdrawn amount. This is not pricey, it's extortion!
How Is the Fraud Carried Out?
If something seems too good to be true, it most certainly isn't. This couldn't be more right about DynamicsFx Trade, for sure. These scammers promised guaranteed profits, excellent pricing as well as good asset liquidity. None of these are true, and one of the greatest lies was about company regulation.
Frauds use the apparent urgency of incredible profits to coax their victims to deposit money. The people behind DynamicsFx Trade were not in it just for the cash, but also for personal information. They would misuse the legal ID and bank card info from their clients for other underhanded purposes.
DynamicsFx Trade
Summary
DynamicsFx Trade is a binary options scam that has a currently non-functional website. The swindlers behind this scam used all the tricks in the book. 
Among these were guaranteed profit margins, huge bonuses, and otherwise untenable market conditions. Every aspect of the trade on the website was carefully fabricated to show great profits at low costs. It's no wonder people fell for it after seeing their false claim of regulation.
FAQs About
DynamicsFx Trade 
Broker
How Secure is the DynamicsFx Trade Trading Platform?
There is no trading platform available at DynamicsFx Trade. You put all your assets at risk by simply depositing them.
Does DynamicsFx Trade offer a Demo Account?
No, there is no demo account available with DynamicsFx Trade.
Are Payouts Subject to Taxes at DynamicsFx Trade?
Yes, you may expect a $50 fixed fee for bank wires, and 20% fees with other methods.