February 23, 2023
Reading Time:
4
min
Maddex Capital Review: Fraud Behind MaddexCapital.Com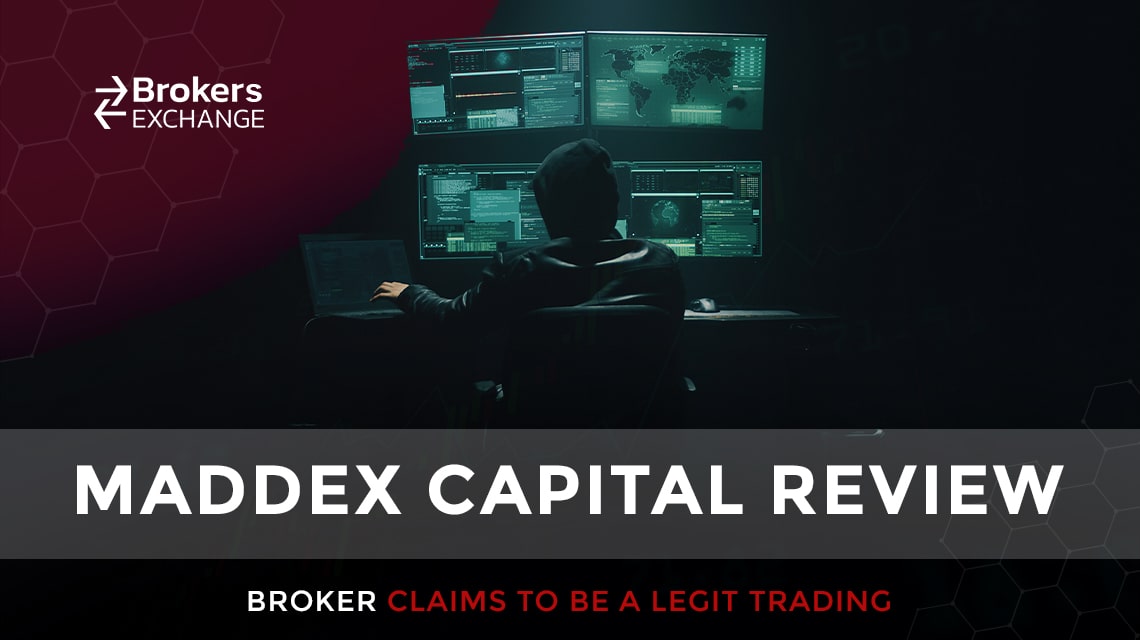 Maddex Capital review will tell you why this is a fraudulent trading company that's deceiving its users. Their website is anonymous and cheap-looking. But, most importantly they are an unlicensed broker. The things they claim on the website are all tangled and contradictory, and this seems like a scam from a mile away.
Once you start using their platform, they say that you'll be amazed by the quality of cryptocurrency pairs, the latest tools, and the largest list of assets. They promise the best out of the Forex market, and the services of their senior dedicated managers that are there for you every step of the way. In this article, we'll explain in detail why these claims are nonsense.
This also applies to dealing with dishonest brokers like the ones I've named below OnspotBNK, XCM Markets, and FlexTrading Fx.
| | |
| --- | --- |
| Company | Maddex Capital |
| Website | MaddexCapital.Com |
| Address | Not available |
| Email | [email protected] |
| Phone | +442038079020, +61370356855 |
| Minimum Deposit | $250 |
| Leverage | Not available |
| Bonuses | Not available |
| Regulation | Unregulated |
| Warning | No |
Is Maddex Capital a Reliable Broker? Regulation and Security
The first thing you need to check about a broker is whether they are licensed. Since Maddex Capital isn't, that alone should be enough to mark them as a scam. Also, there is no company name or corporate address, and there is no corporate background whatsoever, just an email and a couple of phone numbers from the United Kingdom and Australia.
We checked through the Financial Conduct Authority (FCA) and Australian Securities & Investment Commission (ASIC), and the name of Maddex Capital didn't show up. Financial swindlers rather often give false addresses and untrue statements to make customers believe they are legit.
Also, while searching through Maddex Capital's Terms and Conditions we came across some vague reference to the jurisdiction of Saint Vincent and the Grenadines, but that you should agree, does not help with Maddex Capital's credibility either. They must have used the UK and Australia addresses, to hide that they are an offshore broker company.
That is why we advise our readers to rely on European, UK, US, or Australian brokers, or any licensed entity for that matter. Licensed entities are covered by hundreds of requirements, many of which apply financial compensation schemes, and anti-fraud practices. 
Broker's Trading Platform Overview
Maddex Capital promises some top-class trading platforms, but in reality, what they offer is a simple web trader. It could be fine for rookie trades, and that's it. But since they are unregulated your investment will most likely go straight into scammer's pockets, and into a trading account.
Always bear in mind that the absence of any proven and reliable trading software like MetaTrader 4 or MetaTrader 5 is yet another sign that you are about to get scammed. MetaTrader 5 has a 4.6-star rating, over 10 million downloads, and 371 000 reviews at Google Play, as well as a 4.7-star rating and 16 500 reviews at Apple App Store.
Maddex Capital Funding Methods Available
Maddex Capital allegedly accepts deposits via VISA, Mastercard, bank wire transfers, and several unspecified forms of electronic payment. But, from the payment section of the user dashboard, we were told that to invest, the user must first contact his or her account manager. This is rather odd.
What is the story behind this, you should under no circumstances accept to make your deposit in cryptocurrencies. Almost all offshore brokers prefer this one over all other methods because it's much harder to trace it. Most importantly, it helps the scammer keep their anonymity. That's a big deal for them.
Their minimum deposit is, according to their FAQ section, set at $250. This is a much higher amount than credible trading companies ask for. Plus, that kind of money will never be spent on trading, as we explained earlier. 
Real broker companies wouldn't try to keep everything transparent and hide essential information from users.
The withdrawal area only reveals that the minimum a user can take out is $50. It seems there are no withdrawal fees, but you never know with these financial swindlers. Dishonesty is their middle name.
How Does the Scam Implement?
Maddex Capital uses a scheme that does not differ from other investment scams. Of course, you found out quite easily about them, by crossing on one of their online ads. These ads are selling you a story of low-risk and high-reward investment. If you show even slight interest, the insisting and convincing will start, and it'll not end until you deposit your money.
All you have to do is invest. Then invest again and then invest some more. As soon as you suspect anything and try to withdraw you will face difficulties impossible to overcome. Trading volume requirements, meaningless paperwork, prolonging and buying their time. 
They are aware that they will get busted, it's only a matter of time. They just need a little time to fool as many people as possible, and then they are out. Ready to start the scam all over.
If you are looking for a trustworthy broker company, we have several names for you. Reliable, experienced trader firms that do everything by the books. Read this Maddex Capital review till the end, and you will find out more about them.
Maddex Capital Summary
Maddex Capital is a scam broker that's trying to fool its customers. Their website is anonymous because it provides very few pieces of information. And the ones they do are untrue. They allegedly have offices in the UK and Australia, but searching through the FCA and ASIC we did not find their name. Also, in the Terms and Conditions section, we came across some vague references to the jurisdiction of Saint Vincent and the Grenadines. These kinds of false statements are a strong sign that we are dealing with an investment scam. They are unregulated and you shouldn't invest in them, under no circumstances. Offshore brokers, like Maddex Capital, are highly dangerous!
FAQs About Maddex Capital Broker
Is Maddex Capital Regulated?

Maddex Capital is an unregulated broker company that's frauding its users. They don't have a license for the activities they are offering.
Is my Money Safe with Maddex Capital?

Since they are unlicensed we can say that your money is not safe. Maddex Capital can shut down its business at any time, without any repercussions.
Does Maddex Capital Offer a Demo Account?

We didn't find any information about demo accounts on their website. So, we have to say that they probably don't have these kinds of accounts.