September 12, 2023
Reading Time:
5
min
Morton Finance Review: A Deep Investigation of mortonfinance.com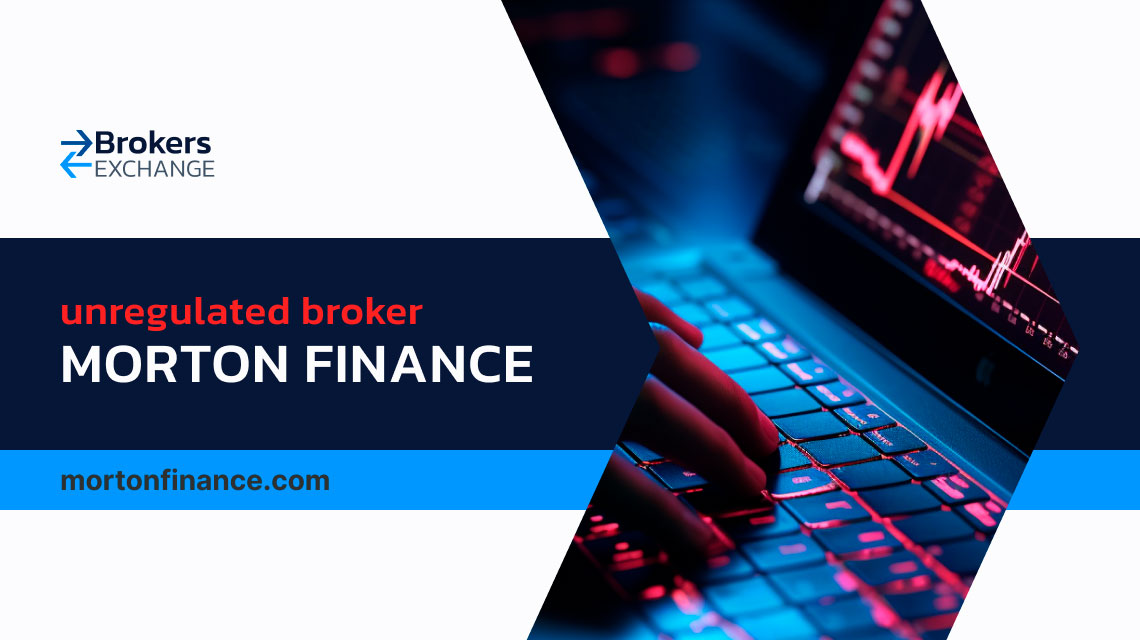 Just like Coinexx, Morton Finance was an unregulated offshore brokerage, owned by Chromex Capital LTD. Chromex was registered in the Marshall Islands, however, Morton Finance claimed they are located in the UK. Getting registration in Marshall Islands is easy as you never have to step foot there so it became headquarters for many offshore brokers. 
Overall, the broker is unreliable as we can assume from the first glance and as we delve further, more red flags will emerge, confirming our suspicion. Join us in exposing the broker in this Morton Finance review and learn how to avoid them and similar brokers in the future. 
Who Is Morton Finance?
The Morton Finance Company was established on the 13th of September 2005, by Hugh Morton, the director, hence the name Morton Finance. The broker was successfully operating until the 13th of December 2016, when it was shut down. The last accounts reports indicate they were operational up to the 31st of December 2014. 
An application to strike the company off the register was submitted in 2014. This procedure is typically started when a business stops actively trading or running its activities. The business is formally removed from the register if the application is accepted. It is therefore no longer acknowledged as a legal body.
| | | |
| --- | --- | --- |
| | Morton Finance | Reliable Broker Must Have |
| Legal name | Morton Financial Services Limited | Transparently displayed in the disclaimer or legal documents |
| Regulation | Unregulated | Within your legal jurisdiction – local regulator |
| Registered in | Marshall Islands | Your country or the country whose license applies in your legal jurisdiction  |
| Established | 2005 | The older the domain – the higher the possibility the company is trustworthy |
| Website | mortonfinance.com | Domain should be from local or international zones, no .xyz, etc. |
| Financial Authorities Warnings | | None |
| Contacts | N/A | Phone, email, social media, web form |
| If a withdrawal is possible | No | Yes |
| Fees | N/A | Transparent fees – list of spread and commissions |
| If Active on Social Media | No | Often present on social media |
| Investor Protection | None | Compensation fund |
Regulation Info
Neither Morton Finance nor Chromex Capital LTD were regulated by any financial authority. They were only registered in the Marshall Islands, however, the process of obtaining the registration is done online and doesn't require brokers to even step foot onto the Island. 
The Morton Finance broker mostly aimed at traders from the United States and the UK. It's important to remember that regulation by the SEC and CFTC in the US and FCA in the UK is necessary to operate from these nations. 
The Commodity Futures Trading Commission (CFTC) in the US placed them on the RED list because they accepted deposits from US traders. Here is the alert: 
Morton Finance Broker Profile
Morton Finance was a binary options broker. Financial contracts are known as "binary options" and have two possible outcomes: a predetermined dividend if the option expires in the money or a loss if it expires out of the money. They have drawn criticism for their high risk and likelihood of fraud, which has resulted in legislative limitations in several areas. 
Before trading with a binary options broker, make sure to do the necessary research and check if the broker is regulated. Never settle for firms such as Morton Finance or DWS Invest. That is why our Morton Finance review will come in handy because our goal is to teach you how to avoid making mistakes when choosing a broker.  
| | |
| --- | --- |
| Trading Platform | Binary Options Web Trader |
| Account Types | N/A |
| Financial Instruments On Offer | |
| Maximum leverage | N/A |
| Minimum Deposit | N/A |
| Commissions/Bonuses | N/A |
| Mobile app | N/A |
| Desktop app | N/A |
| Autotrading | No |
| Demo account | N/A |
| Education or Extra tools | N/A |
Is Morton Finance Safe To Trade With?
Luckily for traders, trading with Morton Finance is no longer possible, however, even while the company was operational it faced serious complaints for being pushy and locking people out of their accounts. Many traders were left without their funds after Morton Finance closed down and many of them also faced issues withdrawing their money while the broker was working.
All things considered, trading with MortonFinance would only bring you stress and debts so avoiding similar brokers is your best chance of securing a safe trading experience. If you were scammed by Morton Finance or any other broker, don't hesitate to reach out. Getting your money back is possible and we are only a phone call away.  
Traders Share Their Experiences
On Sitejabber, MortonFinance has a rating of 2 stars from 12 reviews, indicating that most customers are generally dissatisfied with their services. 9/12 reviews are negative, focusing on significant losses. Many traders were locked out of their accounts without any possibility to withdraw their funds. 
One trader complained of losing $100,000 and in the process of trying to recover his funds, he was directed to different managers, six in total, and all of them made him believe that depositing more money was the only way to withdraw. Make sure not to fall prey to those fake stories because no reliable broker would ever push you into depositing more money. 
How Is the Scam Carried Out?
The pushy tactics of brokers like Morton Finance and Status Markets would even make you believe that unicorns exist. By promising large profits and impossible returns, they try to make you deposit more and more each phone call, and you will willingly fall into their scam. That is why it's important to choose reliable brokers. 
The traders they serve come from countries where regulation is crucial, including the United States, the UK, Canada, and Australia. To operate from these countries, brokers would have to be regulated by the IIROC in Canada, or ASIC in Australia, which are all reputable authorities.
Deposits and Withdrawal Methods
Since the brokerage is closed, depositing or withdrawing your funds is no longer possible. Many complaints about the broker focus on withdrawal problems and their pushy technique. After you deposit your funds, the brokerage starts ignoring you and your requests, pretending like you never existed. 
Don't think for one second that you are safe while using unregulated brokers. In some cases, unregulated brokers can offer a great service, and be transparent, however, your funds are never safe with them. 
Can I Make Money While Trading Online?
We are introducing to you our new state-of-the-art AI bot, your best friend in the trading sector. By utilizing the power of complex algorithms and data analysis, our AI bot is created to change your trading experience. If you are unsure where to start, reach out! We can help improve your knowledge and ensure a safe and profitable trading journey. Book your free consultation now and don't waste any time. 
Finding a trustworthy source can be challenging so by reaching out to us, you will ensure a positive trading experience with a higher chance of profits because we prioritize you and your preferences and only then we find a reliable broker tailored to your needs. Take advantage of this amazing opportunity and use our bot to elevate your trading skills! 
FAQ Section
What Is Morton Finance?
Morton Finance was a binary options broker established in 2005 and shut down in 2016.
Is Morton Finance A Scam?
The Morton Finance scam is real according to many traders online. The fact that the brokerage is shut down is the only proof you need.
What Is Morton Finance's Website?
The domain the broker was using is mortonfinance.com, however, since the brokerage is closed, the domain is currently for sale.