June 07, 2023
Reading Time:
4
min
Pegaswiss Review – Obvious Dirty Tricks That Broker Is Using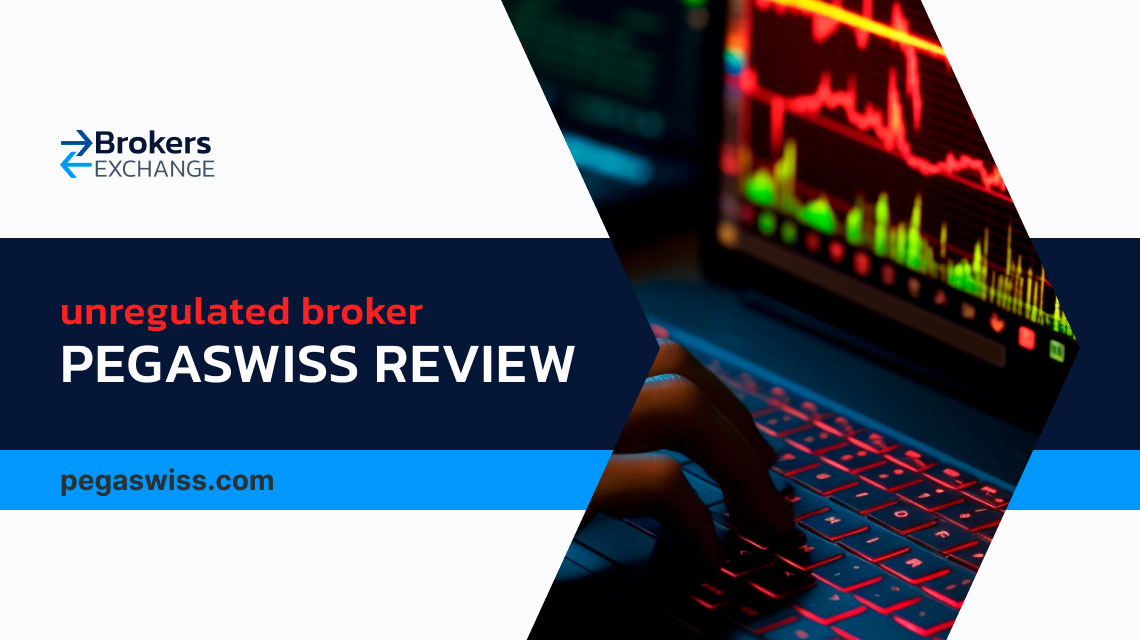 Pegaswiss Trading Services LLC is incorporated in St. Vincent and Grenadines. As they said, they don't need to have a trading license there. But if they are trading inside the borders.  But the problem starts outside of SVG borders. In this case, where they mainly operate.
Let's take a closer look at this Pegaswiss review. Afterward, don't miss the InvestTeck and Coin2FX reviews. You would be surprised how much you can learn.
| | |
| --- | --- |
| Company | Pegaswiss Trading Services LLC |
| Regulation | No regulations |
| Warning | N/A |
| Website | Pegaswiss.com |
| Address | Quai de l'Ile 13, 1204 Genève, Switzerland |
| Email | [email protected] |
| Phone | +41215303125 / +441223659573 / +61385934037 |
| Minimum Deposit | N/A |
| Leverage | 1:100 |
| Bonuses | N/A |
Pegaswiss Reliability – License and Fund Security
As mentioned above, Pegaswiss broker doesn't need a license in the borders of SVG. The FSA clearly stated that they don't provide trading licenses anymore. However, the company that is trading abroad should opt for other licenses. Such as FCA, ASIC, BaFIN or FINMA. In this case, the company has none of those.
But primarily, we were expecting to have a FINMA license since they have an address in Switzerland. Also, the broker has support numbers in the UK and Australia. This leads to the conclusion that they mainly provide services there. Thus, nowhere is to be seen any information about their licenses from ASIC or the FCA.
Therefore, anything this broker offers is highly questionable. But it's just a matter of time before regulators start issuing a warning. Especially after numerous Pegaswiss broker reviews that are not positive.
Trading Platform Overview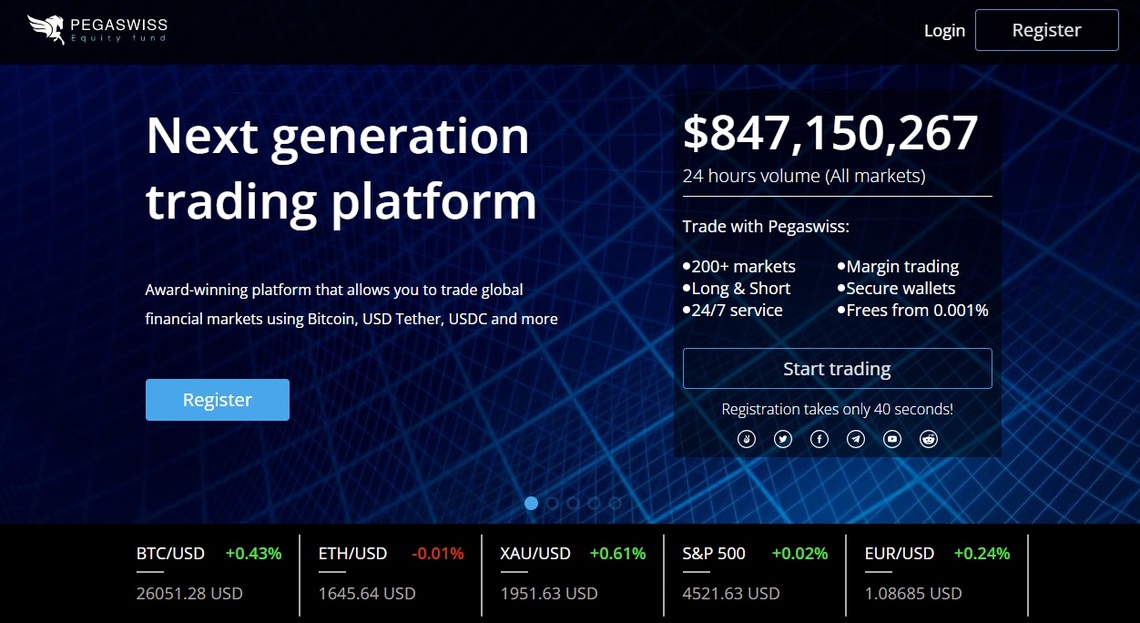 Another clear sign of something shady is the Pegaswiss trading software. According to the broker, it's an award-winning, best platform for margin trading and the best crypto app. Firstly, that's not an app at all since it's only run via browser.
Since the company doesn't offer transparent access to software we can't conclude much. Except that they have a poor presentation of the software. Most likely due to many flaws that would be discovered. On the other hand, you have trusted software like cTrader or Meta Trader. Both are fully transparent with numerous advanced features. Therefore, Pegaswiss software can't compare with those in any terms.
Important to realize is that Pegaswiss scam broker promotes its software as trusted. But also as the one "Business insider" would recommend. Thus, this is just another misleading fact about this broker. There is no such article or comment.
Pegaswiss Trading Account 
More warning signs are coming with the account types. Pegaswiss broker scam is solely based on anonymity and lack of transparency. They don't reveal much. Their only goal is to get your contact details. Once they do that, you are potentially the next victim. They don't have an account type offer, but also no demo accounts.
On top of that, they don't have any transparent legal documents to check any trading conditions. Not even an FAQ section to find the basic answers. Therefore, not a single reason to trust this investment scam.
On the other hand, you have many regulated brokers with demo and micro-accounts. Those are far better choices than this offshore broker.
Deposits and Withdrawals
This is the part that worries us the most. The company doesn't have any legal documents available. Not to mention the withdrawal policy. Therefore, you can expect the unexpected. The main reason behind such anonymity is such an obvious scam.
These brokers often promote irreversible payment methods like cryptos. Even if they accept cards, that are mainly used on lower amounts of money. Because clients can easily file for a chargeback within the first 18 months. In the case you deposited a small amount, they wouldn't care. But for $10K, believe it that they do.
How is the Scam Performed?
With such a poor website presentation there is nothing much to discover. But it's obvious that this broker solely works on recommendations or through marketing campaigns. In that case, they have a trader that is interested in their fake services that can be persuaded into depositing.
However, withdrawing those profits is practically impossible. If you check any Pegaswiss reviews you will see what we are talking about. The broker is not responding to traders once they want to withdraw the funds. The broker might be using also some other dirty tricks. Like bonuses or withdrawal fees. These are very common options that prevent you from withdrawing the funds.  
Since they are not a regulated broker, the best option is to get in touch with professionals. In fact, our fund recovery team can advise you on further steps.
Pegaswiss Summary
After all facts about this broker, there is literally none to attract you into depositing. Starting with missing regulations, shady contact information and no legal documents at all. On top of that, the company is not transparent in terms of trading software and account types. But most importantly, about the deposit and withdrawal policy.
As mentioned earlier, our specialized team is ready to assist you. Let us know what is your experience with this or any other scam broker. Once we know what bothers you we can build you a strategy for recovery. But don't let these guys get away with your money. Get in touch today and book your first consultation. Most importantly, the first consultation is free.
FAQs About
Pegaswiss
Broker
What Kinds of Accounts Does Pegaswiss Have?
There are no specific account types according to the company website presentation.
How is My Security Ensured When Using Pegaswiss?
Fund security is non-existent. The company is not regulated and doesn't have transparent legal documents.
What Funding Methods Are Accepted at Pegaswiss?
Funding methods are not disclosed by the broker. Without T&Cs it's hard to determine.