April 25, 2023
Reading Time:
4
min
Platin Markets Review: Avoid This Broker at Any Cost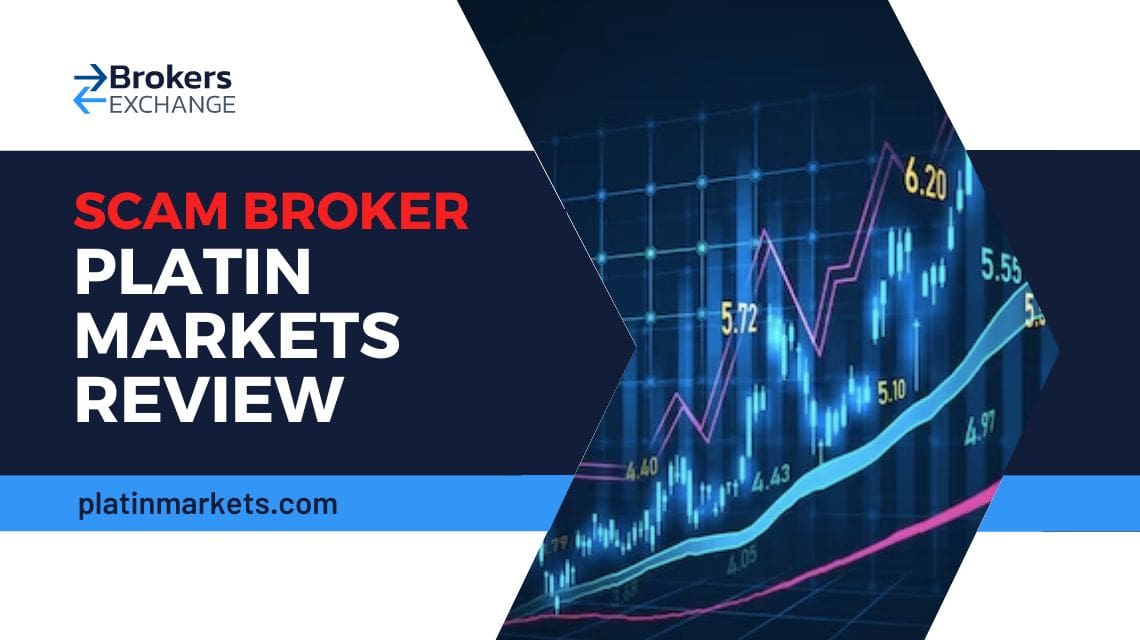 Platin Markets site is out of business. The domain is now up for sale. The first time Platin Markets set its first footprint in the digital world was back in 2021. But their reign of scam and cyber theft didn't last long. What else could you expect of a business labeled as ''Other business support service activities not elsewhere classified''?
Take a look at the warning that the Greek regulator – HCMC (Hellenic Capital Market Commission) has issued against them: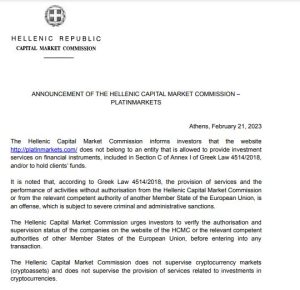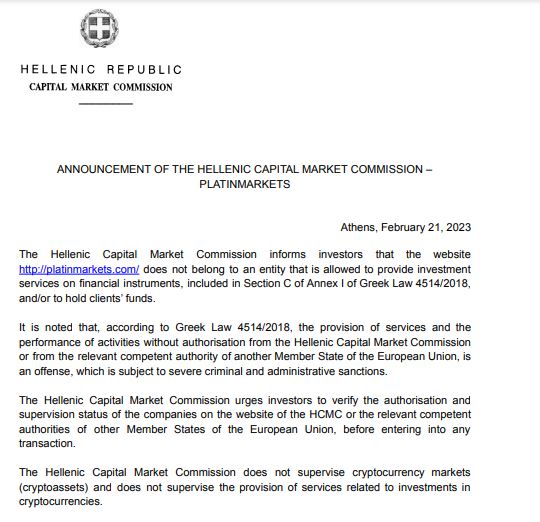 Two different addresses were given, one in the UK and one in Ireland. And guess what? Platin Markets wasn't regulated in any of the two countries. The broker forges a license but that wasn't enough to convince us of their fictional legitimacy. But more on that in the next part of this Platin Markets review, so keep reading. 
Also, we recommend you not to invest in the fraudulent brokers Eurivex and Novatech fx.
| | |
| --- | --- |
| Company | PLATIN SERVICES LTD |
| Website | PlatinMarkets.Com |
| Address | Ireland/UK |
| Email | [email protected] |
| Phone | +353 899 821 496 |
| Minimum Deposit | 250 EUR |
| Leverage | 1:1000 |
| Bonuses | Welcome bonus up to 30% |
| Regulation | Not regulated |
| Warning | HCMC (Hellenic Capital Market Commission) |
Platin Markets Financial Regulation and Safety
There's no reality in which Platin Markets would be eligible for legitimate service providing in the UK, EU, or any of the strictly regulated areas. But they still offered their suspicious services and products to the traders there. Not for long though, since as soon as the warning appeared their site was forcefully shut down. 
Let's revise the basic conditions that are required from every UK and EU brokerage: 
An initial investment of at least 730 000 EUR/GBP

Segregation of funds through separate bank accounts

Negative balance protection

Leverage ratio not higher than 1:30

Transparency and transaction reporting

Compensation fund
In EEA, brokers also comply with ESMA and MiFID, which means they provide additional security and safety of funds, as well as more AML installments. 
Platin Markets cared for none of that. With them, you'd lose your funds due to ridiculously high leverage of up to 1:1000. Due to no negative balance protection you'd become indebted faster than you know it. And when the broker disappears with your cash, no compensation fund and financial ombudsman would protect you!
Overview of
Platin Markets
Trading Platform
As soon as we saw MT4 was present in the Platin Markets offer, we had to check its truthfulness of it. Just as we suspected, MT4 provided by this cheater wasn't available on their proprietary trading server, but on an anonymous third-party one. 
Of course, there's always that oversimplified web trader. It certainly doesn't provide much comfort with its lack of purpose and functionality. Without depositing real cash you can do absolutely nothing about it. Even if you invested, the cash would directly go to the scammer's pocket anyway, so don't even consider it!
Platin Markets Account Types Available
Six sorts of accounts are offered at Platin Markets and the initial deposit requirement ranges from 250 EUR up to 100 000 EUR. We doubt the most expensive one has anything to offer to justify this crazy price. It doesn't even include 24/7 customer support, which many brokers provide for as little as $10. Either way, the account types are as follows:
Basic – 250 €

Bronze – 2 500 €

Silver – 10 000 €, includes 10% welcome bonus

Gold – 25 000 €, includes 20% welcome bonus

Platinum – 50 000 €, includes 30% welcome bonus

Diamond – 100 000 €, includes 30% welcome bonus
Payment and Funding Methods
So much confusion surrounds the funding process we don't know where to start. The site advertises many payment methods to make customers feel safe. But there are no credit cards or bank transfers or popular e-wallets available. If you attempt to invest via the client panel, you'll find two shady and totally anonymous transferring services – GameChangers and Paycent. 
The minimum amount required also differs. The so-called Basic account type asks for 250 EUR, while the user area asks for a minimum of 100 EUR. 
One thing Platin Markets is crystal clear about is withdrawal fees. A fee of up to 50 USD or equivalent is charged for all transfers, plus the 10 USD or equivalent as a processing fee. Additionally, Platin Markets takes 10% of your total deposit if you attempt a withdrawal before you've completed 200 successful turnovers!   
How Does The Fraud Work?
It definitely sounds motivating when you're immediately rewarded with 30% of your initial investment. This is what bonuses do to traders: they force them to make big investments to get larger bonuses. Then the nightmarish conditions come to stop you from ever getting your profit or initial cash back. 
Platin Markets has its own way of stopping investors from requesting payouts. The swindler can either freeze your funds until you meet the requirements or send enough docs or whatever. 200 successful turnovers is one of the unreachable conditions. 
They can also manipulate the web terminal to show a sudden and irreversible loss. Or they can simply deduct amounts from your cash pool under bizarre pretexts until there's nothing left. Either way, forget about withdrawals with Platin Markets!
Platin Markets Overall
Summary
Blacklisted, fake, lying, and deceptive. The list goes on and on. Platin Markets is all that and much more. We hope this Platin Markets review was of use to all the novice traders out there that have encountered this or similar cons. 
Let this review be your little guide on what not to accept from cybercriminals. Although being blacklisted is enough proof of a broker being a scammer, they may still offer something that attracts you. Never accept it, as it will cost you more than you're ever ready to pay. 
FAQs About
Platin Markets
Broker
Is Platin Markets a Good Broker for Beginners?
No, this broker is not good for any traders, regardless of their level of expertise. They're just an unregulated, offshore scam.
What Funding Methods Do Platin Markets Accept?
Platin Markets is very shady about this and only advertises two unreliable payment services - GameChangers and Paycent.
Does Platin Markets Charge Any Deposit or Withdrawal Fees?
It's uncertain about the deposits, but withdrawals are charged with a fee of up to 50 USD or equivalent per transaction, with a fixed 10 USD or equivalent fee for processing. There's also an instant 10% fee if you didn't reach the 200 turnovers before requesting your payout.