March 26, 2023
Reading Time:
4
min
PNL Advanced Review: Who Is Behind PNLAdvanced.Com?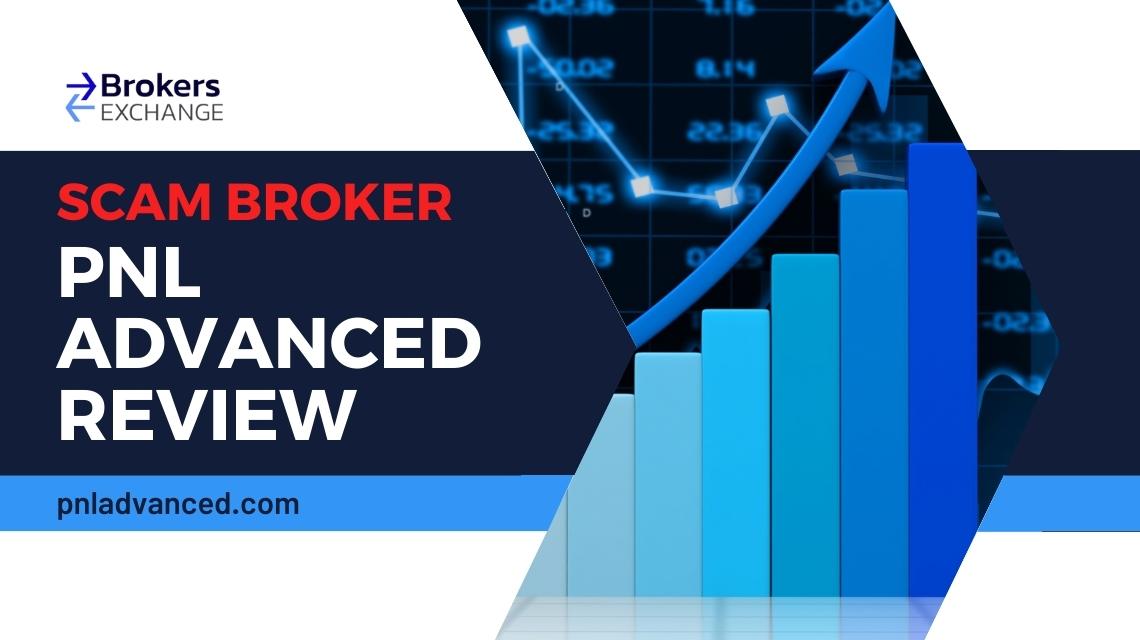 My first impression of PNL Advanced is very good. Their website appears made by a professional, and unlike most frauds, seem to be well educated on the topics of finance. Did I make a mistake, are these guys actually legit? Of course not. They are as rotten as they get.
With enough experience on the topic of online broker, you too will quickly see the problems with this bogus company. For instance, there is no actual company information of any sort on their website, not even in the "about us" tab. In my books, any company that wishes to remain anonymous has something wrong with its business model.
We can clearly see why this is the case with PNL Advanced – they do not have any trading licenses. This is very important, especially for an online entity. These licenses are the most reliable measure of a company's quality. More licenses mean a more stable enterprise with a larger international presence. Fraud will not have any, as they do not abide by any law.
In addition to the above, we recommend avoiding unregulated brokers, such as Finero, Red Finance Capital, and MarketsBank.
| | |
| --- | --- |
| Company | PNL Advanced |
| Website | pnladvanced.com |
| Address | None |
| Email | [email protected] |
| Phone | N/A |
| Minimum Deposit | US$5,000 |
| Leverage | 1:2000 |
| Bonuses | Deposit bonus, an amount not specified |
| Regulation | None |
| Warning | N/A |
Licensing and Security of PNL Advanced
We should mention right away that PNL Advances is an unregulated financial entity with no trading licenses to speak of. Nowhere on the site are any trading licenses mentioned, and no license numbers are made public. Since the firm is anonymous, it is impossible to cross-check the company name with financial regulation entities.
But why is a license so important anyway? Well, in the same way, you wouldn't let some dude with no driving license take your kid on the school bus each morning, you wouldn't invest with an unlicensed broker. Being unregulated in financial waters basically means you don't abide by any law.
This is a stark contrast to what a trustworthy company would do. Many licenses are notoriously difficult to obtain and have become somewhat of a bragging right among these circles. Let's take the UK's regulator, FCA for an example. In order to acquire a license with this regulatory body, you must have at least £730,000 of starting capital. There are additional rules, such as a leverage restriction of 1:30 and segregated bank accounts for clients, for instance.
Trading Platform Overview
One of the first cracks in the shiny new facade of PNL Advanced is the lack of trading platforms that are offered. The only one available is the Web Trader. There are no other platforms to speak of, and PNL Advanced doesn't offer any of the recommended solutions such as MetaTrader4 or MetaTrader5.
This may not seem alarming initially, because all other online brokers also use this platform. What is alarming is the fact that no online broker uses it as a main means of speculation. It is only offered as a backup.
What happens here is that by offering only a Web Trader solution, the scammers may stream doctored data to your trading platform. This way, they can manipulate charts and numbers any way they see fit, and try to squeeze out as much money as they can from their victim.
Deposits and Withdrawals Methods
PNL Advanced has adopted mimicry as its main predatory technique. They offer a wide variety of funding methods, just like a legit broker would.
We have made a list that allows a quick overview of these methods:
Bank Cards (Visa, Master Card)

Bank Wire Transfers

E-wallet transfers (Skrill, QIWI, Neteller Sofort)
Being unregulated allows PNL Advanced to come up with its own pseudo-legal documentation pertaining to deposits and withdrawals. Upon requesting a withdrawal, clients will be greeted with exorbitant fees, such as 50 EUR/UST/GBP for a Bank Wire transfer, or 25 EUR/USD/GBP for a Bank Card withdrawal.
PNL Advanced Account Types Available


Several accounts are made available with PNL Advanced. We strongly discourage any deposits with this scammer group, no matter how lucrative their business offers seem.
Here are the accounts these scammers offer:
Rookie – $5,000

Basic – $50,000 

Elite – $100,000 

Elite Plus – $250,000

VIP requires – 1 million $ 
All modern-day brokers require usually less than US$100 to begin trading, where some allow full access to their platforms with as little as US$1. These frauds at PNL Advanced go upwards of US$1,000,000! It's like Dr. Evil from Austin Powers – I want one million dollars! Ridiculous!
How Is Fraud Set Up?
It stands to reason that many people who wish to get into the online trading market have no prior knowledge of how this industry operates. For that reason, all renowned brokerage firms offer high-quality education on their website. PNL Advanced does not, and that is because they only wish to scam rookies.
By creating an account with these frauds, you accept any of the pseudo-legal rules and conditions they have set up. It is a document that allows scammers to get away scoff-free when they misuse the victim's funds. It was all outlined in the Terms and Conditions, you see.
Don't fall for this trap! And if you have, contact a legal consultant in your region. Getting your money back is possible, and with good legal leverage, these swindlers will crack under the pressure.
PNL Advanced
Summary
PNL Advanced is an anonymous unregulated broker that operates from an unspecified address. Their website is made by a professional, and certainly looks the part, but one scratch on the surface shows just how rotten the insides are.
These swindlers seem like a nice bunch, but require upwards of US$5000 to start speculating on your account. This is an exorbitantly large sum of money, and all withdrawals are subject to undisclosed fees and special rules that spell out a financial loss for the victim.
Don't fall for the trap, and stay a good distance away from these guys. Not all that shines is gold, sometimes a turd can be polished to a fine sheen as well. As an alternative, give some of the outlined renowned brokers a go.
FAQs About
PNL Advanced
Broker
Is PNL Advanced a Regulated Broker?
PNL Advanced is an unregulated broker. Take caution, and avoid any business with this entity.
Is My Money Safe with PNL Advanced?
PNL Advanced has no international trading licenses. This group does not adhere or abide by any law.
Does PNL Advanced Offer Demo Account?
No demo account is made available for users at PNL Advanced.