May 08, 2023
Reading Time:
4
min
Polarbtc Review: Don't Risk Trading with This Firm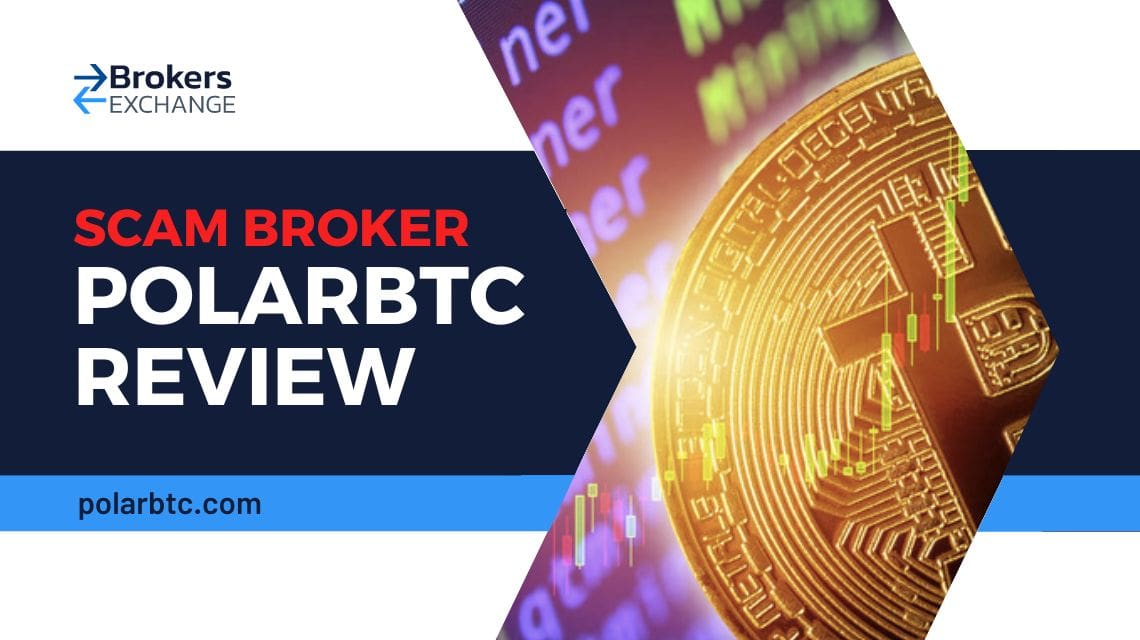 Polarbtc is anything but regulated. However, they pack a fairly comprehensive web presentation, a friendly attitude, and fake credibility. 
Several pieces of information, like address and phone numbers, suggest their HQ is in London, UK. However, the following warning informed us they're not authorized to operate in that country: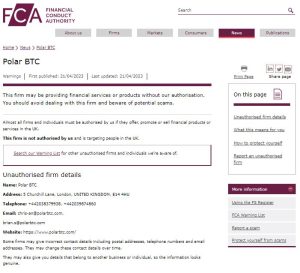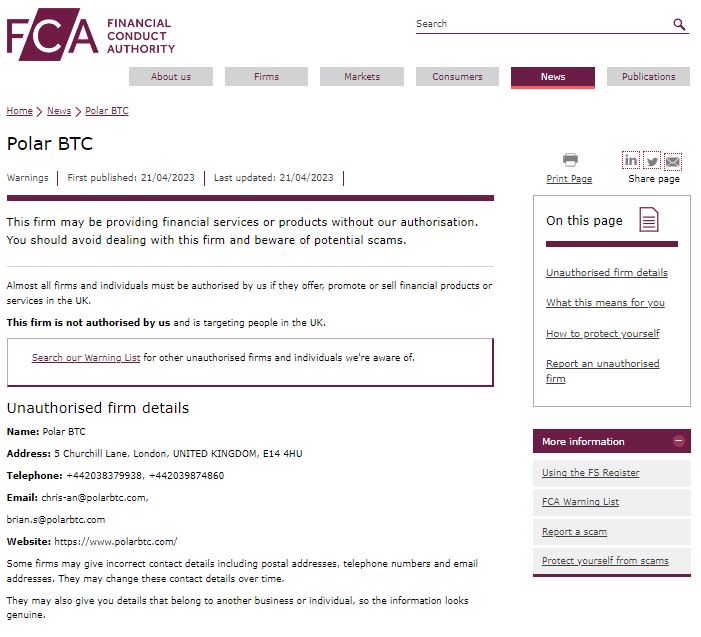 Since the site fails to mention the fake license, huge joining fees, bad web trading software, and some more inconsistencies, we discuss it all in this Polarbtc review.
Company

N/A

Regulation

Unregulated 

Warning

FCA

Website
Polarbtc.Com
Address

United Kingdom

Email
[email protected]
Phone

+442038379938 Support

+442039961868 Trading

Minimum Deposit

$10 000

Leverage

1:100

Bonuses

Hinted but undisclosed
Polarbtc Reliability – License and Fund Security 
The UK address that this dubious broker list is highly questionable. Polarbtc is not legally permitted to offer services in this country. So, they may as well fake the address for the sake of seeming convincing. 
Bullgeko is one similar broker that was blacklisted by other authorities. Besides the official FCA warning on Polarbtc, there's another concerning thing we have to mention in this Polarbtc review which refers to their license. 
In order to manipulate their investors easier, Polarbtc mentions having a license for crypto trading services. It was supposedly issued by Crypto Conduct Authority, a fake regulator. A false regulatory entity pairs up with fake brokers and offers services in return for a piece of the profit. 
So why is Polarbtc besides the obvious scamming tendencies? The strictest authority in the Tier 1 zone, FCA demands the following conditions to be met:
An initial investment of 730 000 GBP prior to applying for licensing 

Segregation of clients' funds through separate accounts in top-tier banks

Leverage restriction to 1:30

Negative insurance protection 

Compensation funds 

Transparency 
If we were to look at some of the Polarbtc prepositions, they clearly don't qualify for licensing. Their leverage is too high – 1:100. Segregation of funds and negative balance protection don't apply. The same is with compensation funds and access to the Financial Ombudsman that protects clients, helps recover funds, and ensures payouts. 
As a final step, we also checked the public lists of regulated brokers supervised by CySEC, ASIC, NFA, BaFin, and CONSOB. We found nothing on Polarbtc. 
Trading Platform Overview at
Polarbtc
Polarbtc is clearly very picky about their new clients. The only way to join their platform is by registering an account through a referral. We had no such code – opening an account wasn't allowed. Since our maneuvering through the site was only partial, we didn't access the trading terminal. 
The broker advertised their web-based terminal as some heavenly creation that would turn anyone into a millionaire. All the claims remain unverified. We highly doubt any of them were any close to the truth, to begin with. Usage of such oversimplified software helps Polarbtc and scams like Battle Trade manipulates customers.  
Polarbtc Trading Accounts 
Plain and generic names and packages are the first thing we noticed about the Polarbtc offer. These are pretty standard with every other swindler and contain nothing we haven't already seen. The prices are ridiculous and some of the supposedly attractive features are offered by reputable brokers for far better prices than these:
Bronze – $10 000

Silver – $25 000

Gold – $50 000

Platinum – $100 000

Diamond – $250 000

Premium – $500 000

VIP – $1 000 000
Just a price comparison for the cheapest account types makes your jaw drop. Take a look at what popular brokers offer in contrast to Polarbtc:
Polarbtc Deposits and Withdrawals
With the main goal of making deposits and withdrawals sound as easy as possible, Polarbtc enters the following depositing methods:
Credit cards

Wire transfers

E-wallets (Neteller, Skrill)
Note how we said they only want to make these processes sound easy and instant. They can claim whatever they wish, and we still weren't allowed to try it out. Bear in mind that Polarbtc is a cybercriminal that protects their anonymity at any cost. There's a realistic chance they're only allowing crypto payments for account funding. 
Withdrawals are just as dreadful. All makeup and no truth. Even the processing time is presented unrealistically, as Polarbtc promises to complete payouts in 15-45 minutes. 
Polarbtc Trading Instruments
Polarbtc has a preference for crypto trading. That was the main reason they tried to boost their virtual credibility with a fake license. The general trading conditions are unnamed but the instrument classes are as follows:
Forex (EUR/USD, AUD/CAD, EUR/CHF, USD/JPY, JPY/PLN)

Crypto (BTC, ADA, DOSH, ETH, LTC, DOGE, XRP)

CFDs on shares (Facebook, BMW, Ikea, Microsoft, Apple, Amazon)

CFDs on indices (Nasdaq, Dow Jones, JPN225, DE40, ES35)

CFDs on commodities (Silver, Gold, Coffee, Soybean, Sugar)
How is the Scam Performed?
Con artists of sorts cunningly present their offer as a once-in-a-lifetime opportunity and chance to become a millionaire. Especially if you're ready to invest big, they will fool you with an offer that includes high bonuses and breathtaking returns. It all seems very attractive and worth every penny. 
The ace they keep in their sleeve, which they later use to end your career as an investor are the fees and conditions upon withdrawals. Quickly you will realize the mask of friendliness has fallen off and the ruthless scammer has stepped onto the scene. Your struggles to reach the trading volume requirement and other demands will tire you. That's why they exist. 
Polarbtc Summary
To whoever it may concern, whether you are a beginner or a daily trader, we implore you to always consult authorities when it comes to dealing with bogus brokers. 
We may hope this Polarbtc review finds its way to the less experienced traders who are in the biggest peril. But we can't always guarantee it will. That's why we need your help in the form of information or experience you'd like to share. Our comms are always open and you are free to contact us. 
FAQs About
Polarbtc
Broker
What Kinds of Accounts Does Polarbtc Have?
Polarbtc has six types of different live accounts and an Islamic account. The beginning account costs $10 000. All the other ones are more expensive. There's no Demo account.
How is My Security Ensured When Using Polarbtc?
This broker doesn't provide the security standards you'd expect. Your funds aren't safe in segregated bank accounts, you can lose more than you've invested and the compensation fund won't pay you out what the broker owes you.
What Funding Methods Are Accepted at Polarbtc?
Unverified but advertised nonetheless, credit cards, wire transfers, crypto, and e-wallets are what Polarbtc claims to provide.