July 17, 2023
Reading Time:
5
min
Primelite Trade Review: Stay With Us to See Why to Avoid It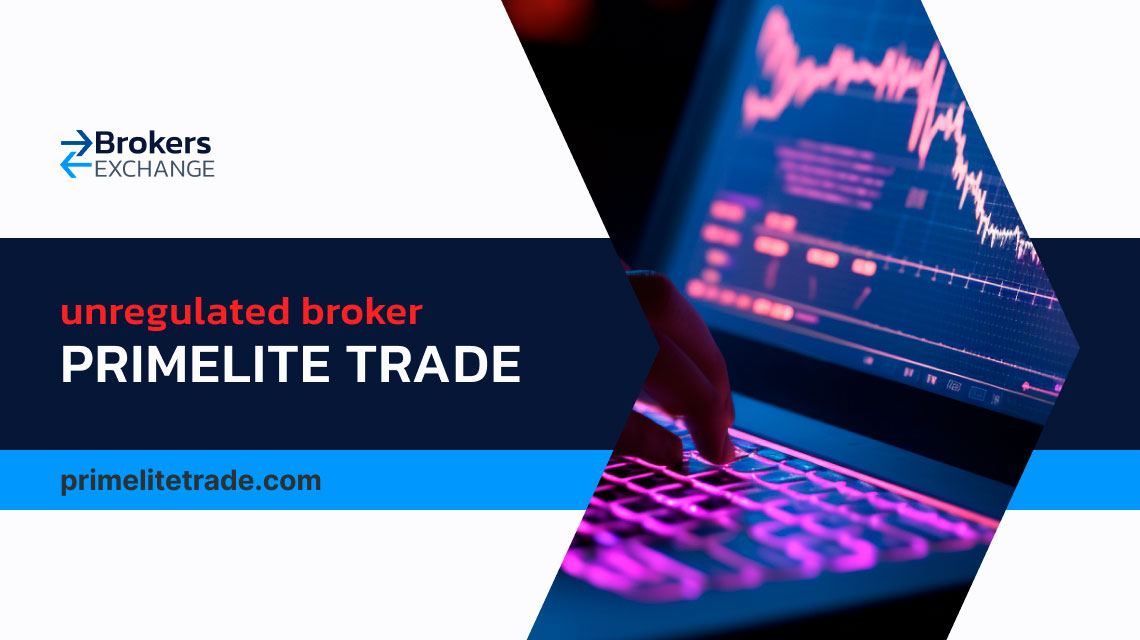 Some decisions in life are pretty easy to make – buying a sundae on a summer day, booking a holiday in the Maldives, and not investing in brokers without a license. Primelite Trade does not sell ice cream, and they do not have a Forex license either, making them dangerous for business.
We will detail why we do not recommend this broker in our Primelite Trade review, so stick around. We'll keep it short and simple.
Who is Primelite Trade?
There is very little information on PrimeliteTrade, which is immediately a bad sign. We do not know their parent company, but we do know they are registered in the US. 
The broker offers trading services for the most common assets (find below). The only other thing we know is that they were established in 2021.
Broker name
Reliable Broker Must Have
Legal name:

N/A

Transparently displayed in the disclaimer or legal documents

Regulation:

Unregulated

Within your legal jurisdiction – local regulator

Registered in:

USA

Your country or the country whose license applies in your legal jurisdiction 

Established:

2021

The older the domain – the higher the possibility the company is trustworthy

Website:

primelitetrade.com

Domain should be from local or international zones, no .xyz, etc.

Financial Authorities Warnings:

None

None

Contacts:

Email:

[email protected]

Phone: +447556757847

Phone, email, social media, web form

Is withdrawal possible:

Highly unlikely

Yes

Fees:

Hidden fees

Transparent fees – list of spread and commissions

If Active on Social Media:

Facebook

Often present on social media

Investor Protection:

No

Compensation fund
Regulation Info
As mentioned, the broker is based in the US, which would put them under the CFTC regulatory umbrella. However, after a straightforward search through the CFTC register, we found no traces of Primelite Trade. 
We cannot stress this enough – unregulated brokers are extremely dangerous. If you invest with them, it is highly unlikely you will see your money again. There is no watchdog to police the scammers, so they can just put your money in their pockets and walk away without any consequences.
Primelite Trade is not regulated by South African, Nigerian, Canadian, or Zimbabwean regulators, and without any other license, we strongly advise you to skip this broker. And while we are on the topic of brokers bad for business, here are a couple more:
Primelite Trade Profile
Primelite Trade is very secretive about many essential things. Firstly, they do not sell their platform well. The broker mentions you can use it on all devices but fails to mention what the platform is, its functionality, or any other useful info. They boast about having four chart types, eight indicators, and trend lines, which is the bare minimum and not something you should be proud of.
You have four account options at Primelite Trade:
Starter

Silver

Gold

Platinum
After signing up, you can trade in the most common instruments, including crypto, forex, energies, etc. However, you do not know what leverage to expect, at least not before opening an account.
Trading platforms:

WebTrader

Account types:

Starter – $500

Silver – $1,000

Gold – $2,500

Platinum – $15,000

Financial Instruments On Offer:

Forex (EUR/USD, USD/GBP, GBP/JPY, etc.)

Energies (gas, oil, etc.)

Indices (S&P 500, Nasdaq-100, etc.)

Cryptocurrencies (Bitcoin, Ethereum, etc.)

Shares (Apple, Tesla, Coca-Cola)

Options ()

ETFs ()

Maximum leverage:

N/A

Minimum Deposit:

$500

Commissions/bonuses:

N/A

Mobile app:

Yes

Desktop app:

Yes

Autotrading:

N/A

Demo account:

No

Education or Extra tools:

No
Is This Broker Safe?
No, Primelite Trade is not safe at all. We know we might seem like a broken record, but there really isn't a more crucial thing in trading than a license. This broker does not have it, therefore, you should not trust them with your money.
There is a huge difference between regulated and unregulated brokers that you can see even when you visit their websites. The legit ones will have all the necessary information transparently displayed on their page because they want to build trust with traders immediately. If you want to find one of these brokers, feel free to contact us for consultations.
Trader Reviews – Sharing Experiences
You have grown accustomed to our trader reviews section giving you a realistic perspective about a given broker. However, on this rare occasion, we will have to disappoint you, as we could not find any reviews online about Primelite Trade.
Having limited or no reviews commonly means not many people invested with the broker, which can be a good sign. If no one had the conviction to give their money to a broker, it is a strong indication you should not invest either.
How Does the Primelite Trade Platform Reach Clients and Who Are They?
Because there are no online testimonials for Primelite Trade, we cannot verify who the company targets. Since they are a US-based firm, we can only assume Americans are the common victims.
The broker barely has any social media presence, but when you go to the Primelite Trade Login page, a WhatsApp badge will pop up in the bottom left corner. From that, we guess the broker approaches its victims through this app and tries to steal their money, so beware. Do not believe Primelite Trade Fake promises.
Deposits and Withdrawal Methods
According to their website, there are four available payment methods:
Ethereum

Bitcoin

Litecoin

Perfect Money
Primelite Trade mostly accepts deposits in cryptocurrency, which is expected since they are scammers. Shady brokers usually deal with crypto because the transactions are anonymous and extremely hard to trace, putting you in a difficult spot.
The same methods/currencies apply for withdrawals as well. The broker does not say if there are any deposit/withdrawal fees, but you will almost undeniably have to pay some if you can withdraw your earnings in the first place.
Reasons To Avoid This Company
The list of reasons to avoid Primelite Trade is too long, but let's cover the biggest ones. The first is the lack of a license, which we covered throughout this Primelite Trade Review.
The second one is the readily available information or lack thereof. You cannot trust anyone, let alone a broker, if they do not tell you why you should trust them and back that up with legitimate proof.
Our Safe Trading Experts' Opinion of Primelite Trade
In our Primelite Trade review, we wanted to show you why you should avoid this broker, and hopefully, you will not do business with them. They have nothing going for them, and you stand to lose your entire investment.
However, all is not lost. There are reliable brokers you can trust, and we can help you find them. Book a Free Consultation about the most suitable brokers today!
FAQ Section
Are Funds Safe With Primelite Trade?
No, there is no guarantee Primelite Trade will not steal your money. They do not have a license, and you cannot trust them with your money.
How do I start forex trading?
The first step is to familiarize yourself with forex. Read on the subject, watch educational videos, and study the markets. Next, you want to find a reliable broker, and we can assist you there. We will consult with you and make sure you make the right choice, all free of charge.
How can you help me choose the best forex or crypto broker?
The best thing we do for you is personalize the offer. We analyze your needs and skills and then make our suggestions based on that.