September 01, 2023
Reading Time:
5
min
ProtraderAI Review: Let us Tell You Everything You Need to Know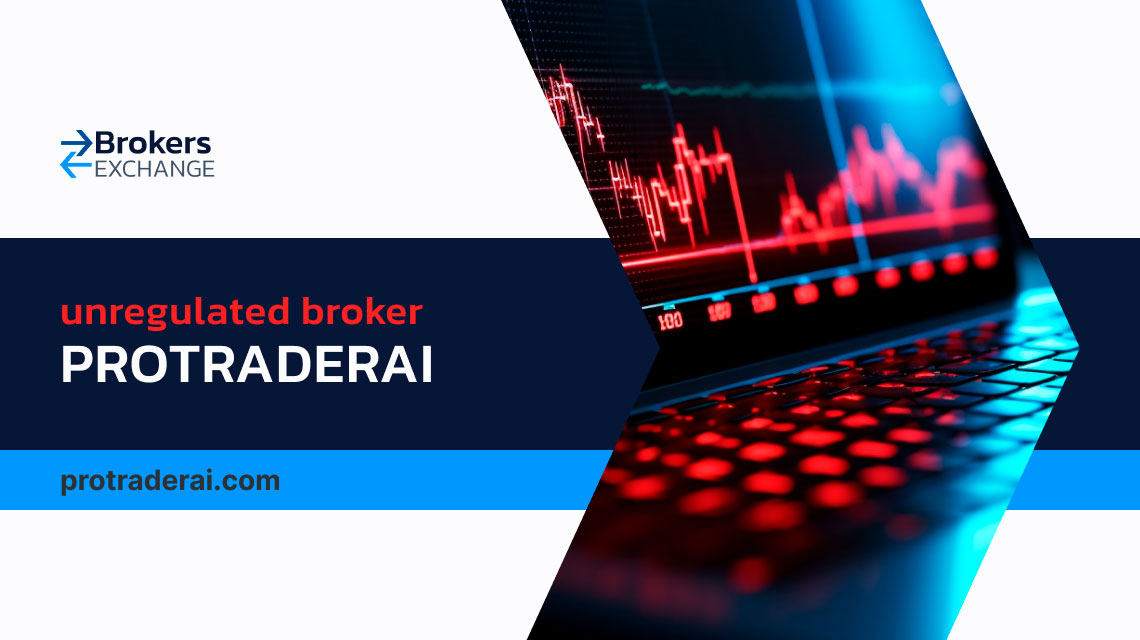 In our ProtraderAI review, we present you a scammer from an unusual place. We bet you never heard of a broker located on the Isle of Man, and this scammer is exactly that. It does not have a license nor does it have an enticing offer, which makes uncovering its scam a piece of cake. 
Come with us and let's take a deep dive into ProtraderAI's shady activities.
Broker name
Reliable Broker Must Have
Legal name:

GEL Holdings Limited

Transparently displayed in the disclaimer or legal documents

Regulation:

Unregulated

Within your legal jurisdiction – local regulator

Registered in:

Isle of Man

Your country or the country whose license applies in your legal jurisdiction 

Established:

N/A

The older the domain – the higher the possibility the company is trustworthy

Website:

protraderai.com

Domain should be from local or international zones, no .xyz, etc.

Financial Authorities Warnings:

Isle of Man FSA

,

OSC

None

Contacts:

Email:

[email protected]

Phone: 1-844-620-8761

Online form

Phone, email, social media, web form

Is withdrawal possible:

No

Yes

Fees:

Hidden fees

Transparent fees – list of spread and commissions

If Active on Social Media:

No

Often present on social media

Investor Protection:

No

Compensation fund
Regulation Info
The most essential item every broker must have if you are to trust them is a license. ProtraderAI is part of GEL Holdings Limited, located on the Isle of Man. Their location might throw you off, as you might not know where to search for ProtraderAI's license, but it is very easy.
The Isle of Man has its own regulator – the FSA, and you can check their register without much hassle. However, you will not find ProtraderAI or GEL Holdings Limited there, as they are 100% unregulated. 
And if that was not enough, that same FSA and Ontario's OSC both issued public warnings against ProtraderAI. 
ProtraderAI Profile
Found on protraderai com, this broker shows signs of a scam from the moment you see their website. Firstly, they have a proprietary platform, which is always a cause for concern. Those can be easily manipulated and used to trick traders into thinking they are achieving big gains, while nothing could be further from the truth.
The account section is what really uncovers ProtraderAI and its true intentions. Traders can choose between eight types, including:
Basic – $2,500

Student – $10,000

Bronze – $25,000

Silver – $50,000

Gold – $100,000

Platinum – $250,000

VIP – $500,000

Member – $1,000,000
The initial investment should not be high at all. You can open an account with many brokers for as little as $1. But scammers do not have the luxury of a prolonged partnership with you, so they need to steal as much money from you in one swoop. This is the reason why they ask so much and a sign they are into shady business.
Trading platforms:

Proprietary platform

Account types:

Basic – $2,500

Student – $10,000

Bronze – $25,000

Silver – $50,000

Gold – $100,000

Platinum – $250,000

VIP – $500,000

Member – $1,000,000

Financial Instruments On Offer:

Forex (USD/EUR, GBP/AUD, etc.)

Stocks (Apple, Tesla, Meta, etc.)

Metals (gold, silver, aluminum, etc.)

Crypto (Bitcoin, USDT, Litecoin, etc.)

Indices (S&P 500, US100, etc.)

Commodities (cocoa, sugar, oil, etc.)

Maximum leverage:

1:1000

Minimum Deposit:

$2,500

Commissions/bonuses:

Yes

Mobile app:

Yes

Desktop app:

Yes

Autotrading:

N/A

Demo account:

No

Education or Extra tools:

Yes
Is This Broker Safe?
If it was our money, we would not invest one cent! Much like Axe Market, Protrader AI is not safe because it does not have a legitimate license. No license means significant risk and you do not need to expose yourself to more danger; the Forex market has plenty of danger on its own. When you add to that the fact that the Isle of Man FSA and OSC put them on their blacklists, you can be sure your money will not be safe with Protrader AI.
But do not lose hope in trading. We know a lot of legitimate brokers that are the complete opposites of Protrader AI. Contact us today, and we can discuss everything about starting your Forex journey the right way.
Trader Reviews – Sharing Experiences
Unfortunately, we did not find many trader reviews about Protrader AI. We found some on a forum and they were not too flattering.
One Protrader AI victim said:
"It is a big loss. (You) make money, but when you want money, they steal your money and change the balance and then prevent you from withdrawing. On the surface they say go ahead, take it, but by tricking the system, you are not able to take it."
How Does the ProtraderAI Platform Reach Clients and Who Are They?
Since there are very few user reviews online, we could not precisely determine where the broker operates the most. ProtraderAI is mostly anonymous, so we did not find any social media profiles in their name, leading us to believe they do not contact people through those channels.
But beware of any ProtraderAI ads or email campaigns. You should not engage with their ads and do not click on anything you find in their email if they send you one. This is 100% a trap and you stand to lose a lot of money if you get into business with them.
Deposits and Withdrawal Methods
If you were looking for a comprehensive list of deposit and withdrawal methods at Protrader AI, we are sorry to disappoint. The broker did not disclose any information on acceptable payment methods, potential fees, or trading volume requirements, which is yet another sign of a scam.
Reasons To Avoid This Company
We could talk all day about the reasons to skip ProtraderAI, but for the sake of this review, we will keep it short. ProtraderAI is similar to Motion Markets in that they are both blacklisted by Forex regulators. The lack of a license is always alarming but official warnings are even more so and they are definitive proof a broker is up to no good.
The ProtraderAI's trading environment is not even a topic for discussion as engaging in any activity with this scammer would only lead you to losing money. Instead, we advise you to find a more reliable broker that can actually offer you great conditions for trading, while keeping your funds safe at the same time.
Our Safe Trading Experts' Opinion of ProtraderAI
At the end of our ProtraderAI Review, we hope you have a clearer picture of what dangers this broker poses. They are unregulated and there is no benefit to engaging them as a result. However, there are plenty of reliable brokers out there, just waiting for you. 
So send us an email today and we can advise you for free on how to start your trading adventure!
FAQ Section
Is ProtraderAI Legit?
No, ProtraderAI is not legit. They do not have a license, making them extremely dangerous.
How do I get into Forex trading?
Firstly, you should become knowledgeable about the market. Learn what you can trade, how trading works, and how to do it safely. After that, you should find a reliable broker to partner with, and this is where we come in. Contact us, and we will provide you with a free consultation where we work together to find you the perfect broker for your needs.
How can you help me find a good broker?
The most important service we do for you is personalizing our recommendations. When you come to us, we consider everything – your needs, skill, budget, etc. and then form a list of what we think are the best brokers for you. And the best thing of all is that our consultations are completely free.