July 13, 2023
Reading Time:
5
min
Quantfury Review: What We Found Out About This Platform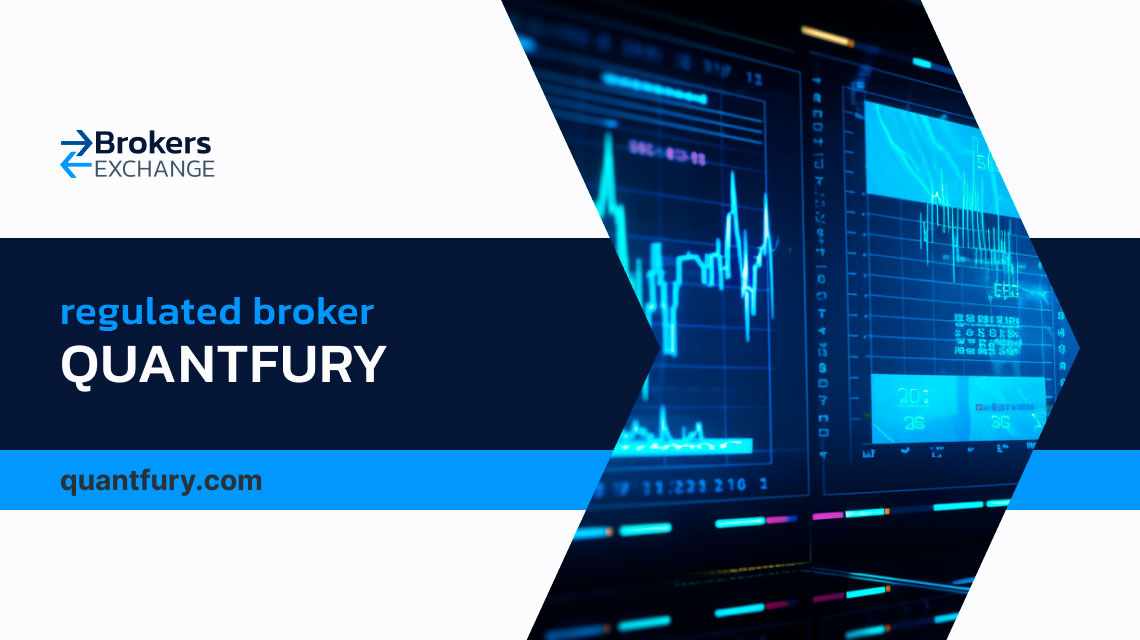 Is Quantfury Legit? That is what you are wondering and that's what our Quantfury Review will answer. What we got here is a typical case of a fraudulent offshore broker. 
Allow us to explain our conclusion and present an unbiased analysis of this platform and what it offers in terms of trading, regulations, payment methods, accounts, etc.
What Makes Quantfury Inferior To Other Brokers
Quantfury Trading limited is an offshore trading company based in the Bahamas and regulated by the local Securities Commission (SC). This platform allows traders to trade Forex currency pairs, CFDs on popular assets, ETFs, and crypto tokens.
Although Quantfury presented everything nicely on its website, it still does not make this broker legit in many aspects, which can be seen in the table below. To make matters worse, this broker was blacklisted by financial market regulators.
Broker name
Reliable Broker Must Have
Legal name:

Quantfury Trading Limited

Transparently displayed in the disclaimer or legal documents

Regulation:

Offshore Broker

Within your legal jurisdiction – local regulator

Registered in:

The Bahamas

Your country or the country whose license applies in your legal jurisdiction 

Established:

2017-01-17

The older the domain – the higher the possibility the company is trustworthy

Website:

quantfury.com

 

Domain should be from local or international zones, no .xyz etc.

Financial Authorities Warnings:

CNMV, Bank of Russia

None

Contacts:

App, email, social media

Phone, email, social media, web form

Is a withdrawal possible:

Highly unlikely

Yes

Fees:

Zero (allegedly)

Transparent fees – list of spread and commissions

If Active on Social Media:

Active

Often present on social media

Investor Protection:

No protection

Compensation fund
Regulation Info
As we mentioned, Quantfury ltd is based in the Bahamas and registered with the local regulator, the SC. So is Quantfury Safe? Not really because the Bahamas is an offshore domain with lax laws and regulations compared to other onshore jurisdictions.
Unlike the SC, top-tier regulators such as the FCA (UK), CFTC (US), ASIC (Australia), CySEC (Cyprus), BaFin (Germany), etc. require brokerage companies to possess a substantially larger operating capital (i.g. 730,000 EUR or 1,000,000 AUD), equip clients with negative balance protection, segregated funds, and even a compensation scheme (i.g. up to 20,000 EUR).
In the case of quantfury com, we found two regulatory warnings issued against this platform. The first was issued on November 16, 2020, by the Spanish cnmv, stating that Quantfury is not compliant with the regulations of the European Securities and Markets Authority (ESMA), which are in force in all EU member states. 
The second warning came from the Bank of Russia (cbr) on October 12, 2021. Therefore, we do not recommend you trade with dubious brokers such as Quantfury or FP Markets.
Quantfury Profile
Trading platforms:

WebTrader

Account types:

Single live trading account

Financial Instruments On Offer:

Forex currency pairs – EUR/USD, AUD/CAD, GBP/USD…

Crypto – BTC, ETH, LTC…

Indices – S&P 500, FTSE 100…

Commodities – gold, oil, gas…

Stocks – Apple, Tesla, Coca-Cola…

ETFs – INDA, QQQ…

Maximum leverage:

1:20

Minimum Deposit:

100 $

Commissions/bonuses:

Zero

Mobile app:

Available

Desktop app:

Available

Autotrading:

Not available

Demo account:

Not available

Education or Extra tools:

Support, Gazette
The Quantfury trading platform is web-based. It can be accessed and used on the Quantfury app, which the broker advertises. We got to see it and it was honestly nothing special. It has a unique-looking interface but lacks much-needed advanced charting and customization tools.
The broker does not support third-party software such as MT4, MT5, or cTrader, which is a disadvantage for traders since they cannot utilize any automated trading features.
There is a neat selection of available trading instruments but the trading conditions and costs were not transparently disclosed. Spreads are unknown while the Quantfury leverage cap is seemingly 1:20. This is odd since offshore brokers typically offer extremely high leverage. If you stumble upon such a provider (i.g. XM Broker), please be cautious. 
Is This Broker Safe?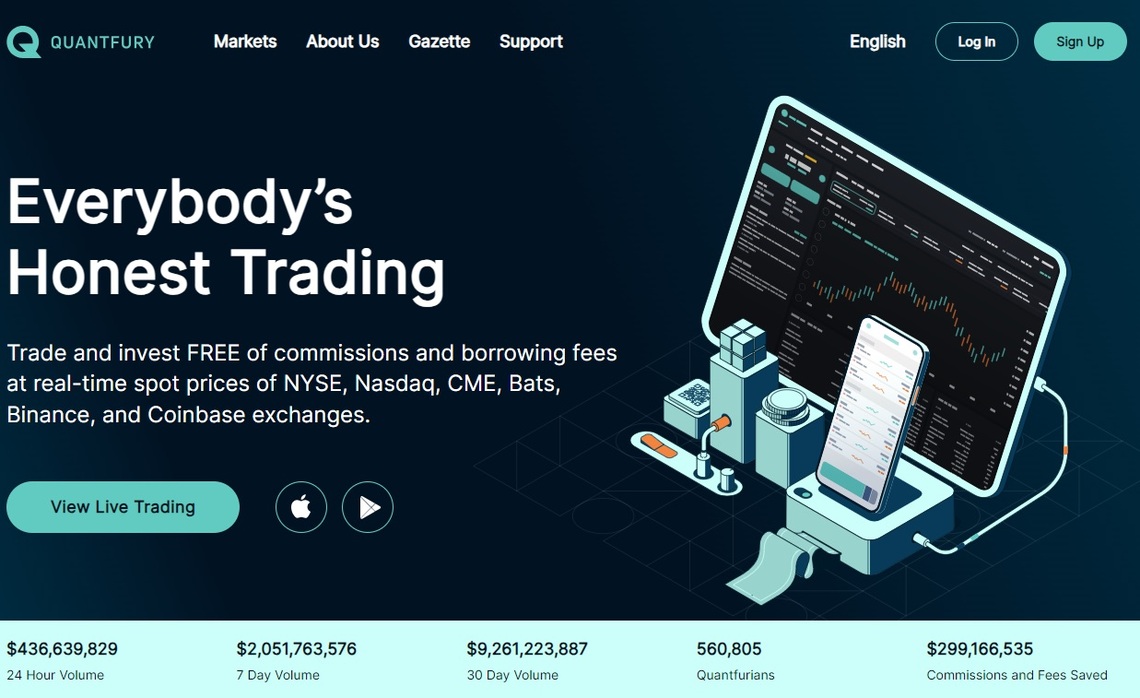 No. Quantfury is not safe and the reasons have been listed in the previous sections. To reiterate, the broker is based in an offshore domain where the regulations are not credible, traders wrote numerous complaints against the platform, which you will see in the following section, and two regulators have flagged Quantfury as illicit.
Your account could just end up frozen one morning and before you realize what's going on, your hard-earned money and profits may already be gone with the wind.
If Quantfury scammed you and stole your money, we can help you get it back. Book your consultation today.
Trader Reviews – Sharing Experiences
For this section, we decided to check out trader reviews on trustpilot.com and wikifx.com. Although there are many positive reviews, you cannot turn a blind eye to the complaints. We kept reading about hidden Quantfury fees and withdrawal issues.
The WikiFX users provided evidence of their accounts getting shut down for no obvious reason. Please heed these warnings if you're still interested in Quantfury.
 easy to deposit money. if you are lucky enough and are not negatively affected by platform being down during high tradimg volume peaks, you will still face problems to withdraw. Stay safe, think twice before using this….. please be warned
Trustpilot user, September 29, 2022.
the app is full of hidden fees, such as severe delays (up to 9 seconds till the order is executed ), large slippage, etc when I was having a good strike, they locked my account and took my funds. they took 1300usd from me
WikiFX user, August 2, 2020.
How the Quantfury Platform Reaches Clients and Who Are They?
According to godaddy.com/whois, the Quantfury website domain was created on January 17, 2017. As the license suggests, the company was registered in the Bahamas with the SC in 2019. Since then, the broker has mainly been offering services to traders from the following countries:
The Spanish regulator caught Quantfury red-handed and issued a warning against the platform in 2020. As for the main communication tools, the broker is present on social media (Twitter, Instagram, YouTube, and Telegram).
We suspect that a private Telegram channel is used to gather unsuspecting traders and lure them into the cunning cyber trap.
Deposits and Withdrawal Methods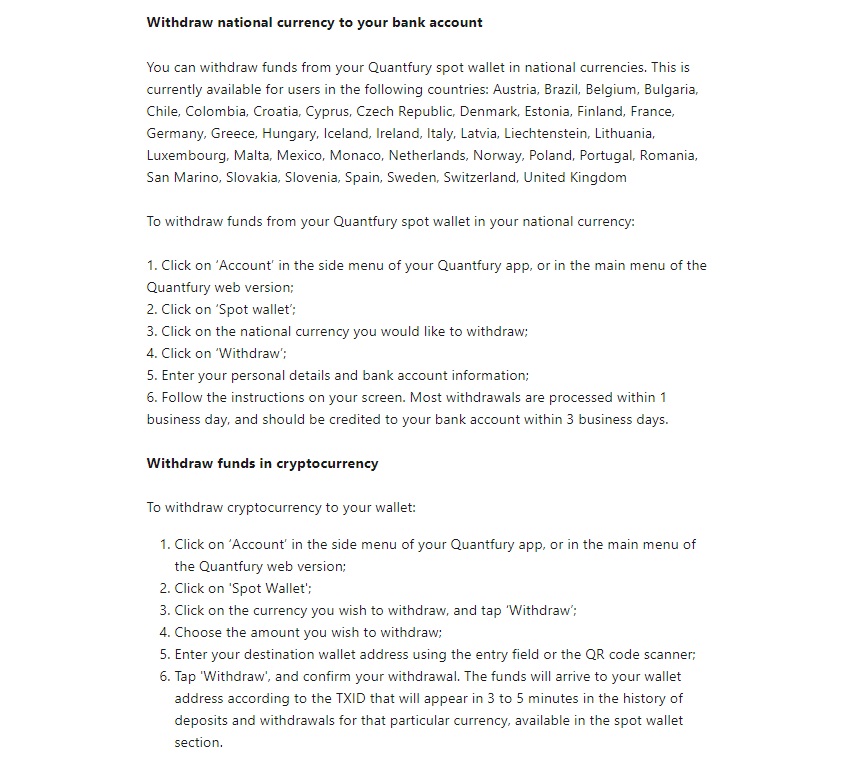 Quantfury accepts payments made via cryptocurrencies such as BTC or ETH. This is not how legit brokers go about the whole payment process. Usually, there is more than just one method (cards, wires, e-wallets).
Crypto payment does not allow traders to issue a chargeback at the bank and get a refund. Moreover, the one who receives the payment will remain anonymous. Scammers love this type of payment method. As for the deposit and withdrawal fees, Quantfury did not disclose anything.
Reasons To Avoid This Company
The obvious reason would be the fact that Quantfury is based offshore. The second big red flag is that there are warnings against this broker, plus trader complaints. We already had a similar case in Flatex Broker.
Not offering a risk-free demo account is a big issue in our book. Although the minimum deposit is somewhat lower than what other brokers charge, this provider is still not worth you risking valuable time, effort and nerves. 
We can help you recover your funds.
Our Safe Trading Experts' Opinion on Quantfury
Quantfury is an offshore trading platform based in the Bahamas. This company has been active since 2017, offering Forex, CFD, and crypto trading services mainly to traders from Spain, France, and Turkyie.
This platform is not reliable, which is why we do not recommend you trade on it. If you lost money to this scam, contact us for help by booking a free consultation. Our experts can trace your transaction using CipherTrace, an advanced crypto-tracing software.
Book your free consultation today and get your money back.
FAQ Section
Is Quantfury Regulated?
Quantfury is regulated by the Bahamas Securities Commission. However, this jurisdiction is not credible.
Who Are The Owners Of Quantfury?
The Quantfury trading platform is run by the offshore company Quantfury Trading Limited.
Where Is Quantfury Based?
Quantfury is based in the offshore domain of the Bahamas and registered with the local SC.
How Much Does Quantfury Charge?
The minimum deposit requirement for Quantfury is 100 $, with zero commissions.