April 19, 2023
Reading Time:
5
min
Quantum Trade Review: Fraud Behind QuantumTrade.Io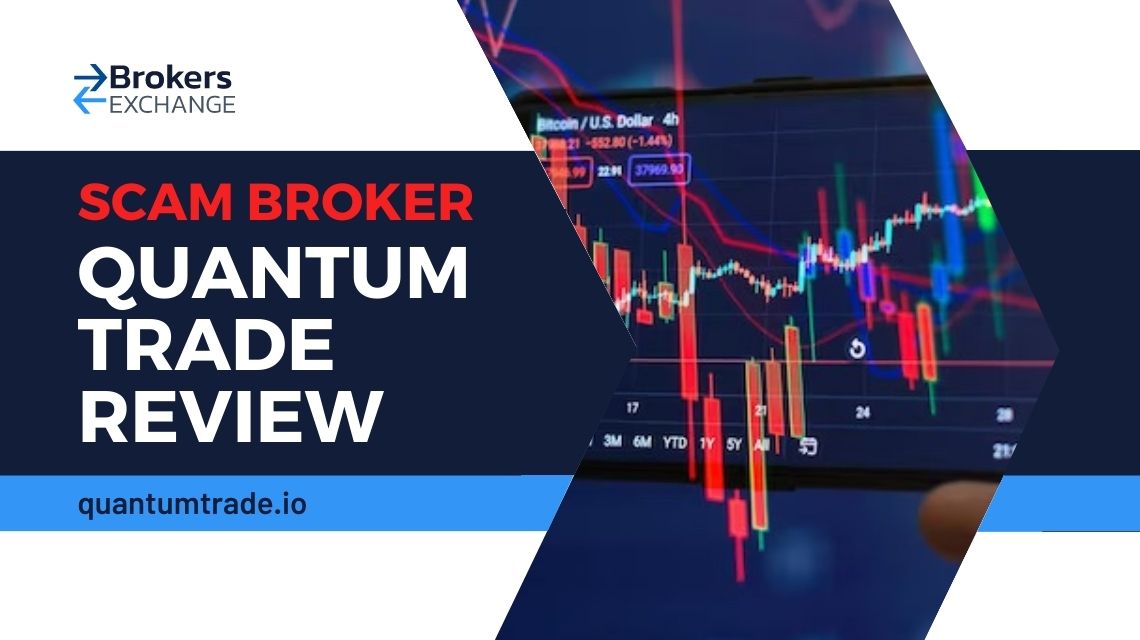 Quantum Trade operates a website that seemingly offers a lot of information when it comes to company credentials. Much of this information is completely nonsensical, however. On the same page of the website, you can see 2 different addresses in 2 parts of the world. One of these is in Dubai DMCC, and the other is in Austria. Neither of these are valid.
Another part of the website claims that Quantum Trade is owned and operated by a company named Quantum Global Trading DMCC. This is a legitimate company that specializes in trading physical commodities such as Crude Oil and Natural Gas. It is, however, in no way involved in any broker activities. They are also not affiliated with Quantum Trade in any way.
Something is very off with this broker, and our Quantum Trade Review will show you why you shouldn't trust this fraud broker.
Additionally, we strongly advise you to avoid fraudulent brokers Bullexo and FxmyTrades.
Company

Quantum Global Trading

Website
Quantumtrade.io

Cfd.quantumtrade.io

Address

Dubai Multi Commodities Center (DMCC) Free Zone

Kärntner Str. 394, 8054 Graz, Austria (alleged)

Email
[email protected]
Phone

N/A

Minimum Deposit

$250

Leverage

1:200

Bonuses

Various deposit bonuses

Regulation

Unregulated

Warning

N/A
Is
Quantum Trade
a Reliable Broker? Regulation and Security
Before we delve into the license and regulation, we need to get something out of the way. A company registration number is not valid proof that a company is regulated. Quantum Trade claims to be regulated by Legal Entity Identifier, and they offer an LEI number. This is also complete nonsense, as the LEI number is a simple way to search through a global registry of companies. It is far removed from being a financial regulator of any kind.
These scammers have tried their best to hide their intentions, but they have made one mistake that will let us debunk their operation quite quickly. They have listed not one, but two company addresses and these belong to some very strict financial regulation jurisdictions. One is in Graz, Austria and the other is in Dubai, UAE.
Austria is a member nation of the EU, and their financial regulator is called FMA. This agency is well-known for high regulatory standards, which require the following from Austrian brokers:
At least 730,000€ of starting capital

Insurance scheme of 20,000€

Max leverage is 1:30

Negative balance protection for clients

Segregated bank accounts for clients

Full transaction transparency through the EU MiFID agreement

Bonuses are not allowed
The United Arab Emirates has a similarly strict legal framework, which is enforced by DFSA. Of course, when you check the databases of these esteemed agencies, you will not find any entries pertaining to Quantum Trade. 
We are not surprised by this for one instant, seeing how Quantum Trade breaks the leverage restriction and bonus rules of the regulatory conditions.
Broker's Trading Platform Overview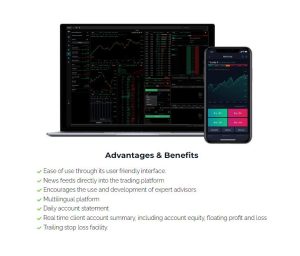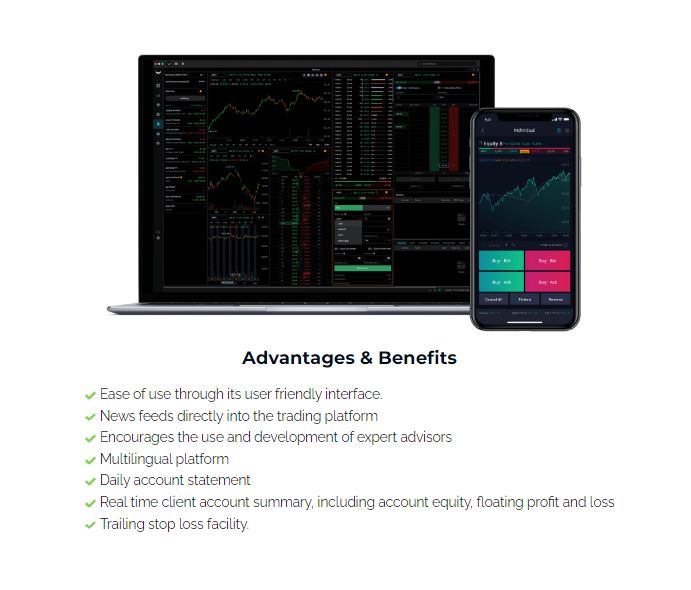 Quantum Trading is one of the leading brokers when it comes to trading technology, and that is why they offer a Web Trader as their primary trading platform… What a joke. The Web Trader is the simplest of all trading platforms. Scammers use it extensively because it is easy and cheap to set up, but also because it gives them the ability to fake market information.
The software that most regulated brokers use today is MT4 and MT5. These programs feature interactive charts and different time frames. MT4 is an older solution, but it has seen a lot of improvement over the years, which makes it run perfectly on older hardware. The next-generation software, MT5 is created to incorporate advanced features such as strategy testers and automated trading.
Quantum Trade Account Types Available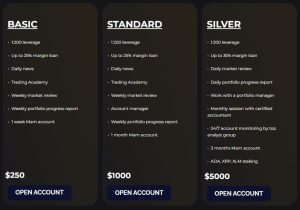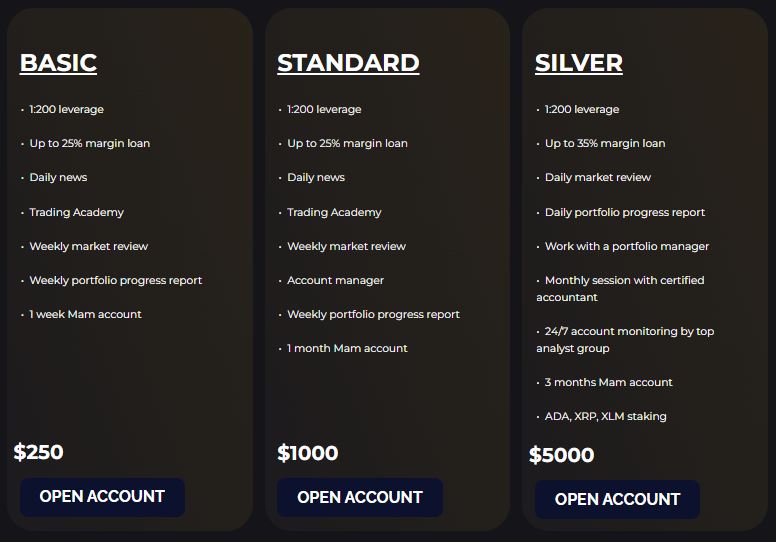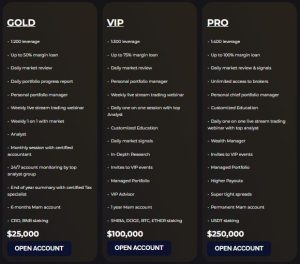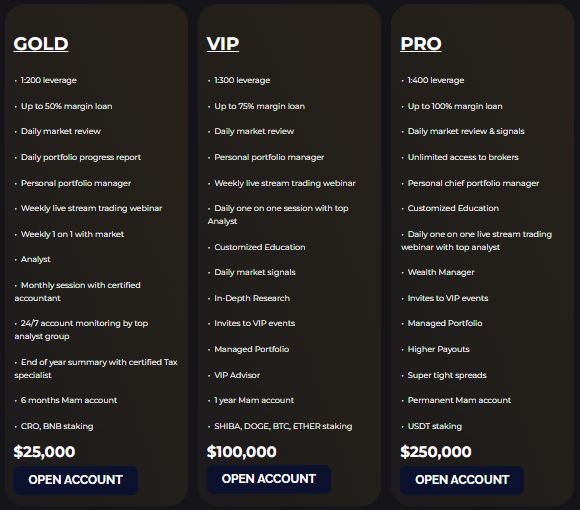 Quantum Trade dropped its mask for the first time in the account selection section of its website. The accounts that are on offer are more reminiscent of a pyramid scheme than of a brokerage. 
What we mean by this is that you may progress between different account types that offer various perks by accumulating larger deposits over time. Since we know that Quantum Trade is a scam, there aren't any real benefits, only the possibility of losing even more money! There is no demo account to speak of.
These are the account types on offer, and their minimum deposits:
Basic – minimum deposit of $250

Standard – over $1,000 deposited

Silver – over $5,000 deposited 

Gold – over $25,000 deposited

Vip – over $100,000 deposited

Pro – over $250,000 deposited
Quantum Trade Funding Methods Available
Quantum Trade says that they accept many different funding methods, with zero commission and instant updates. They mention Bank Cards payments, but once you're in the trading section of the website, it becomes clear that the only funding method is crypto transfer.
Cryptocurrencies are making great ripples in the global market, and are here to stay. Many authorized brokers have begun accepting crypto transfers lately, but they all offer more traditional and secure methods such as Bank Card payments and Bank Wire transfers. Scammers use crypto extensively due to crypto being inherently difficult to trace.
How Does the Scam Implement?
Quantum Trade scam attracts their potential victims with claims of ultra-low spreads, no commissions, and institutional-grade trading conditions. 
It is difficult to check the company credentials because of how opaque everything is on the website. On the other hand, users will see the false claim that the website is operated by a well-established trading company.
Once the victim has made their first deposit, they will notice something is off. The bonus will prevent them from withdrawing money, and all withdrawals require a personal ID to be sent to the scammers. Frauds charge great amounts on any withdrawal request, but they will also abuse the victim's personal data for other purposes.
Quantum Trade
Summary
Quantum Trade is a clone company scam broker. This fraudulent entity claims to be owned by a company that is well known, but in fact, this company is in no way affiliated with the scammers. 
The great market conditions such as low spread and high leverage are a sham made up to attract more victims. Cryptocurrency transfers are the only accepted method of payment and offer little financial security. Instead of risking your funds with these scammers, try some of the brokers we recommend.
FAQs About Quantum Trade Broker
Is Quantum Trade Regulated?
No, Quantum Trade lies about their regulation to easily defraud more people.
Is my Money Safe with Quantum Trade?
No, Quantum Trade is an unregulated broker that does not offer any safety whatsoever.
Does Quantum Trade Offer a Demo Account?
No, there is no demo account available on Quantum Trade.