June 24, 2023
Reading Time:
5
min
QZinvest Review: Analyzing the Features and Performance of this Trading Broker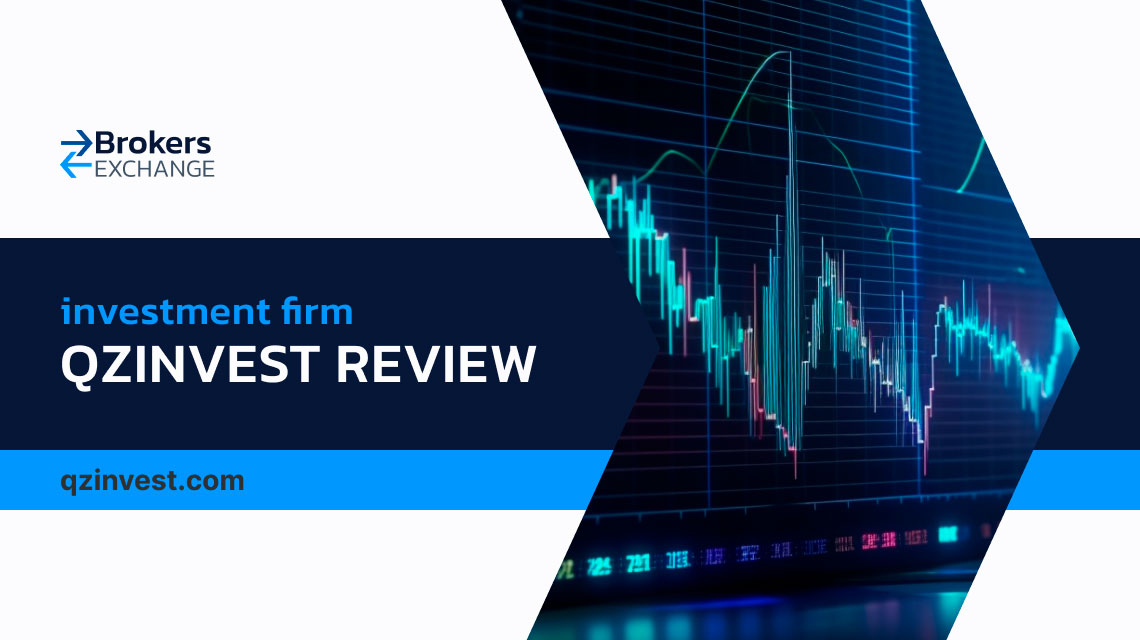 QZinvest is one of those scammers you can spot from a mile away. We will give you all the details in our in-depth QZinvest review so be sure to stick around.
You will see how we unveiled this investment firm and its tactics for stealing clients' money. We do not want to keep you waiting any longer, so let's dive right in.
Who Is QZ Asset Management?
You might be confused why we started with QZinvest, and now this QZ Asset Management appears. This firm operates under both names, and it originally started as Qianze Asset Management.
QZ Asset Management (QZAM) is an investment firm based in Guangzhou, China, operating in over 30 locations, mostly in poor countries. They do not offer tangible products or services but rather only AI-investment opportunities.
| | | |
| --- | --- | --- |
| | QZinvest | Reliable Company Must Have |
| Legal name: | QZ Global Ltd. | Transparently displayed in the disclaimer or legal documents |
| Regulation: | No | Within your legal jurisdiction – local regulator |
| Registered in: | China (allegedly) | Your country or the country whose license applies in your legal jurisdiction  |
| Established: | 2012 | The older the domain – the higher the possibility the company is trustworthy |
| Website: | qzinvest.com | Domain should be from local or international zones, no .xyz etc. |
| Financial Authorities Warnings: | FSCA, FSRA, SEC | None |
| Contacts: | [email protected] | Phone, email, social media, web form |
| If withdrawal is possible: | Yes (allegedly) | Yes |
| Fees: | 50% for certain withdrawals | Transparent fees – list of spread and commissions |
| If Active on Social Media: | Facebook, LinkedIn, Twitter | Often present on social media |
| Investor Protection: | No | Compensation fund |
Regulation Info
So, is QZ Asset Management legit? Well, as we said earlier, you cannot and should not trust this investment firm. They are not regulated by the South African FSCA, Spanish CNMV, or Indian and Nigerian financial authorities, which would give them credibility as these are some of the top GEOs.
They claim to have a license from the Asset Management Association of China (AMAC), which does not mean much since AMAC is a self-regulatory association. Companies such as QZ Asset Management need to be registered with the China Securities Regulatory Commission, and they are not.
Moreover, some financial regulators even issued public warnings against this scammer. Those include the FSCA, FSRA, and SEC which explicitly said QZ Asset Management "has the characteristics of a "Ponzi Scheme". 
After all this, we strongly suggest you avoid this firm at all costs. If you want to safely invest your money, contact us for a free consultation so we can find you the right partner.
QZ Asset Management Profile 
Trading platforms:

Big Data and AI Technology

Account types:

QZ Basic – $100

QZ Elite – $1,000

Financial Instruments On Offer:

N/A

Maximum Leverage:

N/A

Minimum Deposit:

$100

Commissions/bonuses:

Referral commission (10%) and affiliate rank bonuses (various)

Mobile app:

N/A

Desktop app:

N/A

Autotrading:

N/A

Demo account:

N/A

Education or Extra tools:

N/A
Is QZinvest Safe?
QZinvest is undeniably dangerous and not to be taken lightly. They do not have a license from a reputable regulator, and their business model looks exactly like a Ponzi scheme.
They guarantee you an outstanding Return on Investment (ROI), which is very sketchy. QZinvest claims you can get a 3.5% return in a week, but everyone can do the math and see this is impossible. 
Doubling your money in a couple of months is also unrealistic, and these empty promises are always reliable indicators you are dealing with a dangerous company.
While we're at it, we also recommend you avoid CarbonCapitalFX, FBK Markets, and DominionMarkets.
QZ Asset Management Reviews: Examining User Opinions and Feedback
We found quite a few QZ Asset Management reviews out there. Unsurprisingly, most of them were quite negative. 
One victim gave them a one-star review, saying he lost $5,000 to this scammer. Another one had a similar experience – "I invested in QZ Asset Management for the sake of the high returns that the company promised… It was Jesus' grace that I invested only $1000, but I am still waiting for my money. They don't pay."
Some figured out the scam in time and decided to warn others about it – "Don't fall for this scam! I recently got a call from QZ Asset Management where they offered an investment of $4000 for the sake of earning $10,000, which was a scam because no company will provide such a massive income on such a small investment."
Deposits and Withdrawal Methods
The minimum deposit with QZAM is $100, and you can pay in Bitcoin and USDT. They claim you do not pay anything additional for deposits, but you do for withdrawals.
And speaking of withdrawals, the minimum amount you can withdraw is $10 and they charge a $5 fee. But this is not all. You can expect exorbitant fees if you request a withdrawal too early.
If you want to get your money in the first 30 days after the initial investment, they charge you 50%. Likewise, you give 25% for a withdrawal within 31-60 days and 10% within 61-90 days.
Bonus System at QZinvest.com
There are two types of bonuses at QZinvest.com. The first one is a referral commission. The way this works is you get a certain percentage from every new person you get to invest with QZinvest. In this particular case, 10% of every downline investment is yours.
The second bonus type is the affiliate rank bonus. This one is quite simple to understand. The bigger the total downline earnings, the bigger your commission. You can get anything from $500 to a Rolex Submariner and a Mercedes-Benz GLC.
However, beware of this bonus system! It serves to lure unsuspecting investors eager to earn as much as they can, only to leave them penniless when the scheme falls apart.
QZ Asset Management: How Does This Scammer Work?
As mentioned earlier, QZAM operates in countries with poor people and where education is low. This is the general demographic they target since they are the easiest to scam.
QZAM is present in South America and Africa the most. You can clearly see that these countries fit the above characteristics perfectly. This scammer facilitates a classic Ponzi scheme that is very easy to spot. Here is the rundown.
The way for investors to earn money does not involve generating profits from business activities but bringing in more people. The more people you get to invest, the more money you will receive.
When new people join the scheme, the scammers use their money to pay back the older investors, and the customers view it as their return on investment, not suspecting anything shady. This pattern is typical for a Ponzi scheme, so the moment you have to bring in more people to get your money, you can know you are part of one.
Author's Expert Opinion on QZ Asset Management
After finishing this QZinvest Review, we can say QZinvest is a shady company that is not to be trusted. They make many false claims and empty promises to steal your money.
Therefore, we advise you to entrust your savings to a reputable investment firm. And if you are not sure how to choose the right one, do not worry. Contact us, and we will resolve all your questions free of charge.
FAQ:
What is QZ Asset Management?
QZ Asset Management is an investment firm that offers clients AI-powered investment opportunities. They claim to use their proprietary fintech solutions (QZ Big Data and Artificial Intelligence analytics) to help clients achieve enormous gains. However, this is all a scam, and you should not trust them with your money.
Is QZ Asset Management audited by KPMG?
QZ Asset Management claims to be audited by KPMG. While possible, we were not able to confirm this.
Who is the owner of QZinvest.com?
The CEO of QZinvest.com is Blake Yeung Pu Lei.
Is QZ Asset Management listed on Nasdaq?
Yes, QZ Asset Management is listed on Nasdaq. Their symbol is QZAM, but Nasdaq says they are not trading currently.