May 03, 2023
Reading Time:
4
min
RB Bitdeal Review: Reasons Why This Broker Is Bogus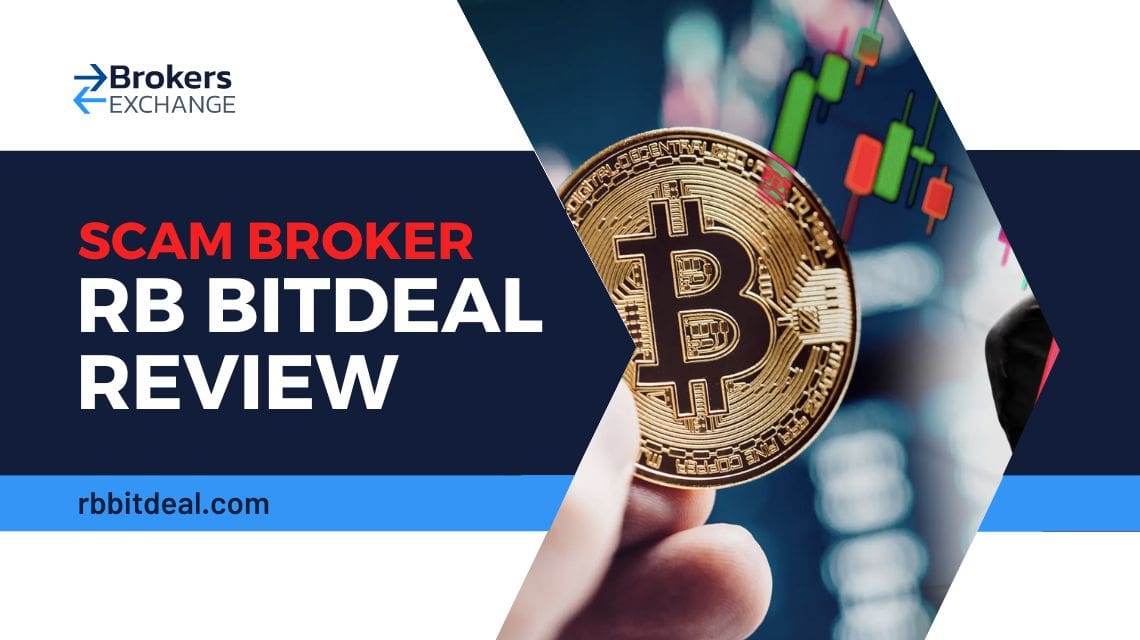 RB Bitdeal Review, It is somewhat difficult to write this RB Bitdeal Review, since the website is inoperable, and the scammers have gone the extra mile to cover their tracks. We do know, however, that these same people have used lies to instill false confidence in their victims.
RB Bitdeal used to claim that they have numerous international licenses that allow them to trade on a global level. Not only were these claims blatant lies, but one of the regulators they imply has issued a fraud warning about their website and its dangers. The agency in question is the Central Bank of Russia or CBR.
You may review the CBR warning by following this link: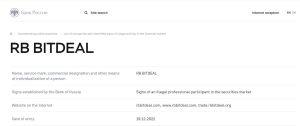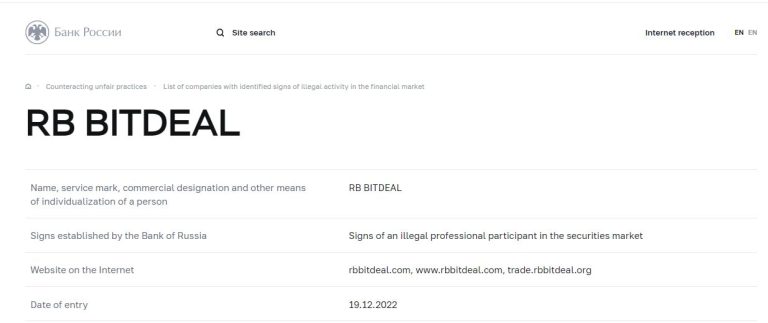 In addition to the above, we strongly advise you not to invest in ProfitiX and Finex Trader fraudulent brokers.
Company

N/A

Regulation

Unregulated

Warning

CBR

Website
Rbbitdeal.Com

Rbbitdeal.Org

Address

Cyprus (alleged)

Email

N/A

Phone

N/A

Minimum Deposit

$150

Leverage

1:500

Bonuses

N/A
Funds Security and Compliance
Over the years, many nations have developed very strict regulations when it comes to online brokers. These regulatory standards have been implemented in order to create a safe and secure investment environment. The broker knows this and has chosen to fake their legal information. They claim to be regulated, when in fact they are not.
Since RB Bitdeal claims to be regulated in the UK through FCA, we should remember these safety standards that are enforced in the UK:
The minimum starting capital is £730,000

The required insurance scheme is £85,000

Maximum leverage is 1:30

Bonuses are forbidden

Separate bank accounts are required for all clients

Client accounts must be protected from negative balance

Transaction reports must be sent to the authorities regularly
RB Bitdeal sports a very high leverage of 1:500. This unusually high rate of leverage exposes their clients unnecessarily to the market conditions, making any trading very risky in the process.
Of course, this wouldn't be much of an RB Bitdeal review if we didn't check the databases of prominent regulators. There was no information on the broker in the registries of the UK's FCA, Italian CONSOB, or German BaFIN, but when we checked the register of the Russian CBR, guess what we found? A scam warning with the RB Bitdeal name written on it!
Trading Platform They Used on Their Website
RB Bitdeal uses a very simple trading platform, called a Web Trader. This software is not uncommon when it comes to online trade. For scam brokers like this one, it's a specialty tool. Why is it so? 
Well, because the scammers can link their Web Trader to their own server, instead of the actual market it is supposed to trade with. By doing so, the frauds can manipulate the market information and make the investor believe anything – from making incredible amounts of money to losing it all in one swoop.
When the time comes for you to select a broker, find one that uses MT4 or MT5 software. These platforms are safe, secure and have a long track record that has made them the industry standard over the years.
Account Types Offered
As far as scam websites go, RB Bitdeal is not very greedy. Their cheapest account costs $150 to fund. Of course, since we know this is a scam, you're better off burning your cash in a furnace than giving it to these people.
RB Bitdeal has these accounts available to their clients:
Beginner – minimum investment $150, max leverage 1:100

Confident – minimum investment $1,000, max leverage 1:500

Expert – minimum investment $10,000, max leverage 1:500
We have already reviewed the dangers of high leverage, but we should also remember that regulated brokers require $100 or less to fund their accounts. All respectable brokers also offer a demo account that lets you practice without any financial risk. RB Bitdeal has no demo account, and in fact, they don't offer an Islamic account either.
Deposit and Withdrawal
Unfortunately, we couldn't find any information regarding the RB Bitdeal funding methods. Knowing that this is a scam, we can safely assume that the preferred method of investing in these frauds is cryptocurrency. The crypto coins are notoriously difficult to trace, and the transactions can remain hidden from the authorities.
Regulated brokers use the more traditional, but safer methods instead. These usually include Bank Card payments, Bank Wire Transfers, and E-Wallets. We, unfortunately, couldn't find much information about withdrawals with this company.
How this Brokerage Carried Out the Fraud?
We can tell for certain that the RB Bitdeal scam used its flawed trading platform to make its clients believe they are losing money rapidly. When an account is depleted, you would be urged to deposit more, only to lose it again in an unfair trading environment that has excessive leverage.
Some swindlers require impossibly high trading volume requirements to be met before they would allegedly approve a withdrawal. Others want you to send them your personal data, such as copies of your ID cards. The most widely spread scamming strategy remains to charge excessive commission or withdrawal fees. Always make sure to read the fine print in the Terms and Conditions!
RB Bitdeal Summary
RB Bitdeal is an anonymous offshore scam broker that lies to its clients. None of the information that was available on their now-defunct website was true. These scammers have fallen under the watchful eye of the Russian CBR, which has issued a warning about their website.
Don't be fooled by the incredible claims of guaranteed profits and unbelievably low pricing! If you wish to start a career in finance or advance your portfolio, see one of our recommended brokers instead.
FAQs About
RB Bitdeal
Broker
Is My Money Safe With RB Bitdeal?
No, RB Bitdeal is a dangerous entity. CBR has issued a warning about their predatory behavior.
What Is The Minimum Deposit for RB Bitdeal?
The minimum deposit for RB Bitdeal accounts is $150.
Does RB Bitdeal Offer Demo Account?
There is no free demo account on RB Bitedal.