August 11, 2023
Reading Time:
5
min
RockChainFXC Review: A Closer Look at the Broker's True Colors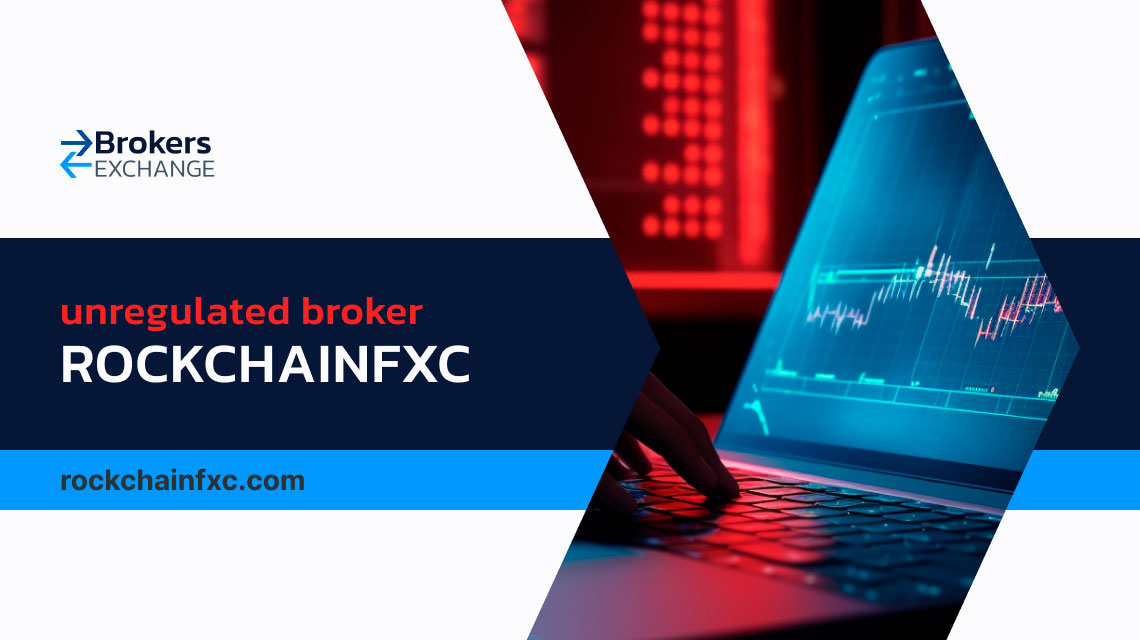 You may learn how the RockChainFXC scam is carried out, and how to tell bad brokers from good ones, and this RockChainFXC review provides you a closer look at the broker's profile so you have enough knowledge to determine whether or not to trade with them. Continue reading this RockChainFXC review to keep informed. 
The only way to understand how to spot scam brokers—both regulated and unregulated—is to conduct research, read reviews, and go through our in-depth evaluations. Make sure to read our Conalp review for a list of additional brokers you should steer clear of.
Who Is RockChainFXC? All About Rockchainfxc com
The broker offers trading in 500+ cryptocurrencies and forex at their Rockchainfx trading platform. The downside is that they aren't using MT4 or MT5 and using an unreliable trading platform can result in fraud, especially if the broker is unregulated. There is not even a registered address for the brokerage but we did find information that they were established in 2022. They are relatively new to the market so traders are advised to proceed with caution. 
RockChainFXC
Reliable Broker Must Have
Legal name
RockChainFXC

Transparently displayed in the disclaimer or legal documents

Regulation
Unregulated

Within your legal jurisdiction – local regulator

Registered in
Unregistered

Your country or the country whose license applies in your legal jurisdiction 

Established
2022

The older the domain – the higher the possibility the company is trustworthy

Website
rockchainfxc.com

Domain should be from local or international zones, no .xyz, etc.

Financial Authorities Warnings

None

Contacts
+61 756555416

Live chat

Web form

Phone, email, social media, web form

If a withdrawal is possible
Yes

Yes

Fees

Hidden withdrawal or deposit fees
Spreads from 0.4 – 2.4 pips
Commission 1% – 5%

Transparent fees – list of spread and commissions

If Active on Social Media
No

Often present on social media

Investor Protection
None

Compensation fund
Regulation Info
RockChainFXC is not regulated by any financial authority. Trading with unregulated brokers can result in losing your investments or even worse, they can get you into debt. The only thing they offer is KYC (Know Your Customer) policy and AML (Anti Money Laundering) policy, which is something most unregulated brokers offer. 
It's important to note that the broker is not regulated by the Financial Conduct Authority (FCA) in the UK, or the Investment Industry Regulatory Organization of Canada (IIROC) where it mostly operates from. Traders are advised to proceed with utmost caution. 
RockChainFXC Broker Profile
This broker only offers, well, none, in terms of features. Considering the broker's profile, we haven't yet discovered a single advantage. According to our research, they allow trading in more than 500 cryptocurrencies and forex, so that would be a bonus. Concerns are raised about their trading platform, minimal deposit, and lack of educational resources. The fact you have to deposit $2,500 to gain access to educational resources just confirms that this broker is no good. 
Trading Platform

RockChainFXC trading platform

Account Types

Basic, Silver, Gold, Platinum, VIP

Financial Instruments On Offer

Cryptocurrencies

(BTC, ETH, XRP)

Forex

(USDEUR, USDAUD, CHFEUR)

Maximum leverage

1:50 – 1:100

Minimum Deposit

$2,499

Commissions/Bonuses

1,5% – 5% commissions

Mobile app

No

Desktop app

No

Autotrading

Yes

Demo account

No

Education or Extra tools

Economic Calendar, Technical Analysis, Market Analysis
RockChainFXC Account Types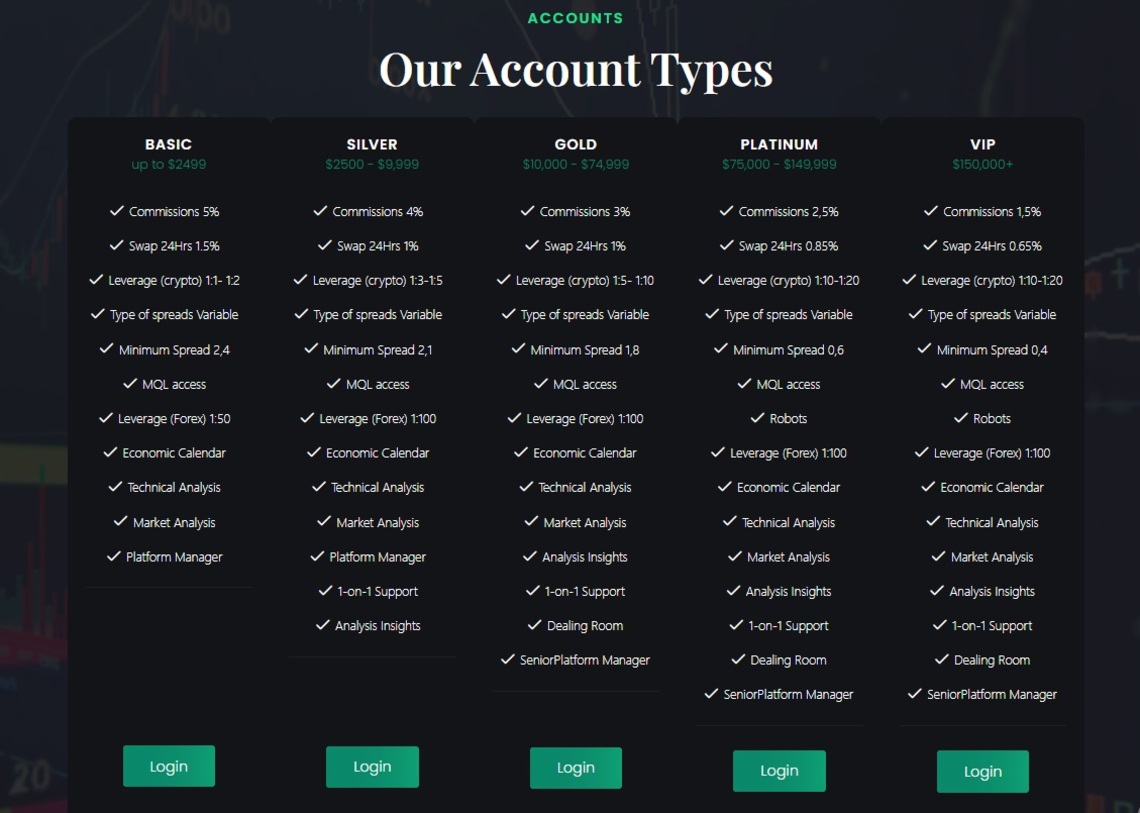 RockChainFXC offers different account types with varying features and requirements:
BASIC:
Deposit: Up to $2499

Commissions: 5%

Swap 24Hrs: 1.5%

Leverage (Crypto): 1:1 – 1:2

Spreads: Variable

Minimum Spread: 2.4

MQL Access

Leverage (Forex): 1:50
SILVER:
Deposit: $2500 – $9,999

Commissions: 4%

Swap 24Hrs: 1%

Leverage (Crypto): 1:3 – 1:5

Spreads: Variable

Minimum Spread: 2.1

MQL Access

Leverage (Forex): 1:100
GOLD:
Deposit: $10,000 – $74,999

Commissions: 3%

Swap 24Hrs: 1%

Leverage (Crypto): 1:5 – 1:10

Spreads: Variable

Minimum Spread: 1.8

MQL Access

Leverage (Forex): 1:100
PLATINUM:
Deposit: $75,000 – $149,999

Commissions: 2.5%

Swap 24Hrs: 0.85%

Leverage (Crypto): 1:10 – 1:20

Spreads: Variable

Minimum Spread: 0.6

MQL Access

Robots

Leverage (Forex): 1:100
VIP:
Deposit: $150,000+

Commissions: 1.5%

Swap 24Hrs: 0.65%

Leverage (Crypto): 1:10 – 1:20

Spreads: Variable

Minimum Spread: 0.4

MQL Access

Robots

Leverage (Forex): 1:100
PRIVATE EQUITY: 
Deposit: $400,000

Comissions 1%

Swap 24Hrs 0.5%

Leverage (crypto) 1:10-1:20

Spreads Variable

Minimum Spread 0,4

MQL access

Leverage (Forex) 1:100
Is RockChainFXC Safe To Trade With?
Given the above-mentioned red flags, we wouldn't advise using RockChainFXC as a reliable trading platform. One or more of the company's advantages, such as leverage, commissions, or spreads, do not by itself make it a wise decision. There are better possibilities for you given their lack of regulation. 
Looking for a reliable trading option? Avoid RockChainFXC because of the warning signs that have been found. We can help you find reputable, regulated brokers who prioritize your financial security. Get expert assistance from us right away and think about better possibilities. Call right away to arrange your no-obligation consultation and trade with confidence! 
RockChainFXC Review: Traders' Thoughts and Opinions
The reviews of their traders on Trustpilot shocked us. If we're being really honest, we never anticipated a nontransparent, unregulated broker to have so many ratings and a high overall rating. They have received more than 200 reviews, earning an average rating of 4.9. Unfortunately, reviews can be altered or removed, and there are other qualities to consider in a broker. 
Only 3% of evaluations are negative, and those that are centered on withdrawal troubles and concerns about traders losing all of their capital due to manipulation of the trading platform. One trader expressed his frustration, saying: "I Lost my entire Personal Retirement Savings of over £80k. If I could I would give a negative star rating I would. Please hang up your Phone to any Crypto Brokers, as they sweet talk you into getting your money with promises of large percentage returns. They use unconventional methods of money transfers since this industry is not regulated."
Another trader expressed their problems with the trading platform and how easily it can be manipulated: "There's no winning when it comes to this company. Their trades are always manipulated as if it's not enough I had all my money stuck with them for months." 
A Look at RockChainFXC's Traders They Serve
According to reports, the broker keeps phoning traders and pleading with them to make more and larger deposits. Your money is locked up with the brokerage after you deposit or make a profit, and since they are unregulated, there isn't much you can do about it. Their major trading partners are from: 
United Kingdom

Canada

New Zeland

Australia

South Africa
Even after having so many good reviews, there are still reports of the broker scamming people by calling nonstop and asking for more money. Traders should proceed with caution and look at all factors before deciding whether or not to invest with RockChainFXC. 
RockChainFXC Pros and Cons
Pros
Cons

Traders' reviews 

Spreads and commissions

Unregulated

Lack of transparency

Educational material is available only after depositing $2,500

No demo account

Hidden fees

The withdrawal process is not explained

High deposit requirements
Long Story Short – RockChainFXC
In conclusion, RockChainFXC is not a trustworthy option. Even while the company has several benefits, like as low commissions, spreads, and trader reviews, the hefty deposit requirements are excessive when compared to those of other brokers. In addition, they lack transparency and are unregulated, which are two of the most crucial characteristics to look for in a broker. At the RockChainFXC login page, there isn't even a demo account available so you can test out their services. 
Avoid falling victim to frauds like RockChainFXC or Capital Zone. Make sure you conduct research or speak with a specialist for trading guidance. If you get in touch with us, keep in mind that there is no commitment and that we can greatly improve your trading experience. 
FAQ Section
Is RockChainFXC a Reliable and Licensed Broker?
RockChainFXC is not regulated by any financial authority, hence it is not considered reliable. Traders are advised to proceed with caution.
What Are The RockChainFXC Fees?
Regarding withdrawal and deposit fees, as well as any additional broker fees, not enough information is provided. However, depending on the account type you select, the commission can range from 1% to 5%, and the spreads start at 2.4 pips for the basic account or 0.4 pips for the VIP account.
What Are The Available Account Choices On RockChainFXC?
There are five account types in total, including Basic, Silver, Gold, Platinum, VIP, and a private Equity account.