August 16, 2023
Reading Time:
5
min
ROTCH FINANCIAL LIMITED Review: Shows You the Truth About the Broker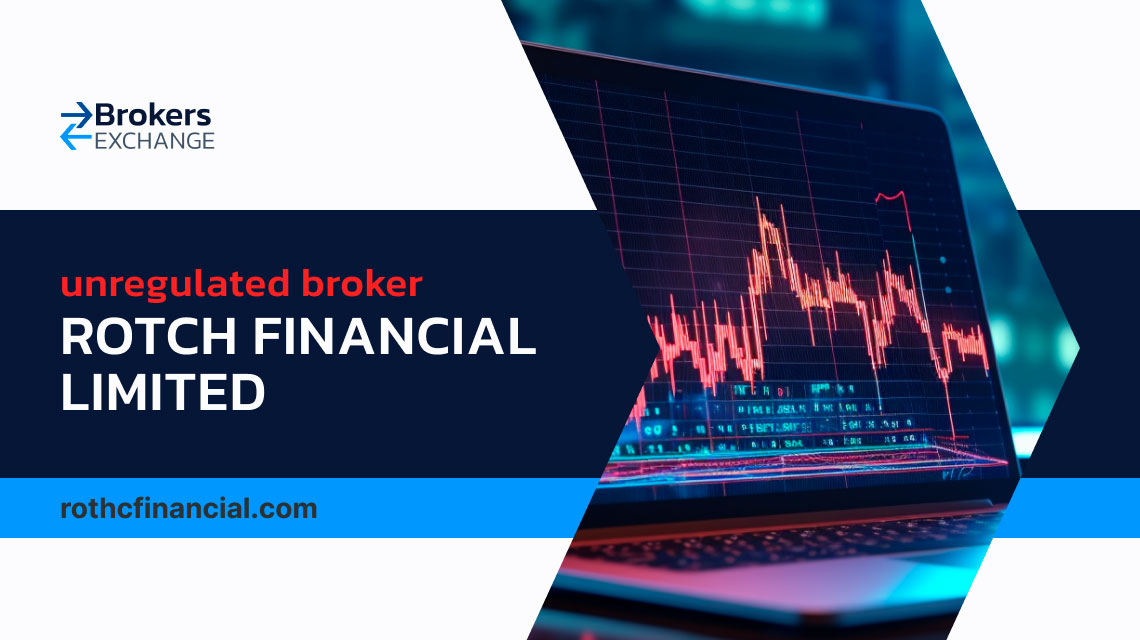 We have been in the reviewing business for quite some time and have seen a lot in that period. Some scammers try hard to convince you they are legit. They give you false info that looks true, portray a legitimate broker, etc. ROTCH FINANCIAL LIMITED is not one of those brokers, however, but a scammer nonetheless.
In our ROTCH FINANCIAL LIMITED Review, we will tell you all you need to know about the ROTCH FINANCIAL LIMITED scam and why you should avoid it. Let's start.
Broker name
Reliable Broker Must Have
Legal name:

Rotch Financial Ltd

Transparently displayed in the disclaimer or legal documents

Regulation:

Unregulated

Within your legal jurisdiction – local regulator

Registered in:

London (allegedly)

Your country or the country whose license applies in your legal jurisdiction 

Established:

2006

The older the domain – the higher the possibility the company is trustworthy

Website:

https://rotchfinancial.com/en/login

Domain should be from local or international zones, no .xyz, etc.

Financial Authorities Warnings:

No

None

Contacts:

Phone: +441977358001

Online form

Phone, email, social media, web form

Is withdrawal possible:

No

Yes

Fees:

Hidden fees

Transparent fees – list of spread and commissions

If Active on Social Media:

No

Often present on social media

Investor Protection:

No

Compensation fund
Regulation Info
ROTCH FINANCIAL LIMITED is a fraudster if ever there was one. Allegedly established in 2006, this scammer operates outside any regulatory framework and is extremely dangerous.
They claim to be registered in London, placing them under the FCA jurisdiction. However, since we never take a broker for their word, especially when the license is concerned, we decided to dig through the FCA register. Unsurprisingly, we did not find their name there, meaning ROTCH FINANCIAL LIMITED is 100% UNREGULATED.
When dealing with unregulated brokers, you need to understand where the risks lie. These brokers cannot guarantee any fund safety because they can steal your money and answer for their crime. Therefore, you should always trade with brokers with legitimate licenses from reliable authorities. Those include:
German BaFin

UK FCA

Swiss FINMA

Spanish CNMV
Since ROTCH FINANCIAL LIMITED does not have any of these licenses, we cannot recommend them and instead advise you to avoid them at all costs!
ROTCH FINANCIAL LIMITED Profile
ROTCH FINANCIAL LIMITED does very little to gain our trust with how they act about their regulation, and their offer does not help either.
Namely, one of the most important details is missing from their website, and that is their platform. We do not know whether it is a WebTrader or one of the MetaTraders, if you can use it on your phone or desktop, etc. The broker cunningly hid its platform behind a login page, so you have to deposit money to find what trading software you can use, which is something only scammers would do.
The minimum deposit is $150, which is not too high and very decent, but there are cheaper options on the market. ROTCH FINANCIAL LIMITED has four account options available:
Test – $150

Minimal – $1,500

Standard – $5,000

Progressive – $25,000
As far as instruments go, you can trade your standard set, including Forex, Indices, Commodities, Equities, Crypto, and ETFs. The leverage is 1:500, which is yet another discouraging sign, as traders are exposing themselves to great risk in that situation due to the big loss potential.
Trading platforms:

N/A

Account types:

Test – $150

Minimal – $1,500

Standard – $5,000

Progressive – $25,000

Financial Instruments On Offer:

Forex (USD/EUR, GBP/JPY, etc.)

Indices (US100, FTSE 100, etc.)

Commodities (gas, oil, sugar, etc.)

Equities (Apple, Tesla, Meta, etc.)

Crypto (Bitcoin, USDT, etc.)

ETFs (MSCI, SPDR, etc.)

Maximum leverage:

1:500

Minimum Deposit:

$150

Commissions/bonuses:

No

Mobile app:

N/A

Desktop app:

N/A

Autotrading:

N/A

Demo account:

No

Education or Extra tools:

Yes
Is This Broker Safe?
No, ROTCH FINANCIAL LIMITED is not safe! You cannot trust a broker without a license, much like you would not trust a doctor or a driver without one. You would be exposing yourself to enormous risk by dealing with this scammer, and we strongly advise against it.
If you are looking to get into Forex, ROTCH FINANCIAL LIMITED is not a good choice, but we have the information you need. Contact us today, and we can discuss your path toward the right broker.
Trader Reviews – Sharing Experiences
A crucial part of every unbiased review is the trader reviews section. It brings clarity to an otherwise dark and gloomy world, helping you see what is true and what is not.
There are not many trader reviews about ROTCH FINANCIAL LIMITED, but the ones we found were not flattering at all. One client commented on 1reviews:
"I do not advise you to contact these amateurs. You will only lose money. The swindlers themselves contacted me on VK, although I did not show any interest in trading anywhere. But I was seduced, transferred $ 2,000, and began an acquaintance. Despite the lack of experience, I understood my mistake right away…"
Another reviewer said her sister had problems with the scammer:
"My sister has been caring for her bedridden mother for several years, and she managed to stumble upon these shameless swindlers. They lured all their savings, froze the funds in the account, and limited access to the account. And now they don't know how to get even with their debts."
These bad experiences show us the real dangers of dealing with unregulated brokers and that no one can help you in those situations, so be careful!
How Does the ROTCH FINANCIAL LIMITED Platform Reach Clients and Who Are They?
As we saw from one of the reviews above, ROTCH FINANCIAL LIMITED contacts traders directly, which legitimate brokers never do. Scammers use social media as it provides the easiest access to potential victims. We could not find out where this fraudster operates, but beware if they contact you wherever you live.
Deposits and Withdrawal Methods
The accepted payment methods include the usual suspects:
Visa

MasterCard

Skrill

Neteller

Bitcoin

Webmoney
As far as other deposit or withdrawal information is concerned, we know nothing. There is no withdrawal policy, so we do not know if there are any fees involved or trading volume requirements.
Reasons To Avoid This Company
The reason you should avoid ROTCH FINANCIAL LIMITED is the same reason you should avoid Optimal Trade and Hlyton, and that is the lack of a license. No regulation means no trust and no investing, and you should not be shy or embarrassed about that.
The biggest red flag after non-existent regulation is that this scammer advertises AnyDesk as a viable option to help you with your trading needs. This is remote desktop access software, which many scammers use to get into your PC and steal everything.
Our Safe Trading Experts' Opinion of ROTCH FINANCIAL LIMITED
At the end of our ROTCH FINANCIAL LIMITED Review, we again want to urge you to avoid this scammer. You have no benefits from trading with them and stand to lose everything you invest.
On the other hand, we know plenty of legitimate brokers that can help you on your Forex journey. Contact us today, and we will work together to analyze your financial situation and goals and recommend you the perfect broker.
FAQ Section
Is ROTCH FINANCIAL LIMITED Regulated?
No, ROTCH FINANCIAL LIMITED is a virtually anonymous broker with no license. They are extremely dangerous, and you should not approach them.
How do I get into forex trading?
First and foremost, you should become knowledgeable about the market. Learn what you can trade, how trading works, and how to do it safely. After that, you should find a reliable broker to partner with, and this is where we come in. Contact us, and we will provide you with a free consultation where we work together to find you the perfect broker for your needs.
How can you help me find a good broker?
The most important service we do for you is personalizing our recommendations. When you come to us, we consider everything – your needs, skill, budget, etc. and then form a list of what we think are the best brokers for you. And the best thing of all is that our consultations are completely free.