September 01, 2023
Reading Time:
6
min
Solidary Markets Review: Facts You Should Consider Before Trading
It doesn't happen very often that we come across a brokerage like Solidary Markets, however, even though almost flawless, their lack of license deletes them from our list. This Solidary Markets review will show you how unregulated brokers can sometimes be better than regulated ones but unfortunately, without a license, they can't be trusted. 
Account types, fees, traders' reviews, pros and cons, and many other factors will be covered in this Solidary Markets review. Compared to FTM Trade, Solidary Markets offers transparency and many benefits but unfortunately, their lack of regulation makes them unsafe to trade with. Keep reading to learn everything you need about Solidary Markets. 
Who Is Solidary Markets? All About Solidarymarkets.com
The Solidary Markets Group contains two branches: Solidary Markets LLC is registered in St. Vincent and the Grenadines under registration number 376 LLC 2020 and Solidary Markets Exchange trading in cryptocurrencies, located at 125 Wólczanska Street 90-521 Tódz, Poland. 
The brokerage was established in 2020, making it relatively new in the market. Because Solidary Markets is unregulated, they don't offer any kind of investor protection, so investments are at constant risk. Be careful while trading with Solidary Markets broker. 
Solidary Markets
Reliable Broker Must Have
Legal name
Solidary Markets LLC

Transparently displayed in the disclaimer or legal documents

Regulation
Unregulated

Within your legal jurisdiction – local regulator

Registered in
Suite 305, Griffith Corporate Centre, Beachmont, Kingstown, St. Vincent and the Grenadines

Your country or the country whose license applies in your legal jurisdiction 

Established
2020

The older the domain – the higher the possibility the company is trustworthy

Website
solidarymarkets.com

Domain should be from local or international zones, no .xyz, etc.

Financial Authorities Warnings

None

Contacts

[email protected]

Web Form

Phone, email, social media, web form

If a withdrawal is possible
Yes

Yes

Fees

Spreads from 0 – 1.3 pips
2.95 – 3.95 commission
20€ – 30€ commission for Bank Transfer withdrawal
2% commission for Neteller withdrawal
1% commission for Skrill withdrawal
6% commission for FairPay deposit
17€ + 0.06% for Bank Transfer deposit
4.09% commission for Neteller deposit
3.5% commission for Skrill deposit

Transparent fees – list of spread and commissions

If Active on Social Media
Yes

Often present on social media

Investor Protection
None

Compensation fund
Regulation Info
Just like VTindex, Solidary Markets FX is based in St. Vincent and the Grenadines and holds no valid license. Even though regulation is not required for brokers based in SVG, it's still recommended to use brokers who have financial regulators overseeing their operations. Solidary Markets Exchange claims they are regulated by the Ministry of Finance in Poland, however, no license information has been found on the regulator's website.
The broker mostly aims at clients from Spain and the United States, among other nations. It's vital to note that to operate from these nations, the broker would have to be regulated by the Securities and Exchange Commission (SEC) in the US and the Comisión Nacional del Mercado de Valores (CNMV) in Spain. 
The CNMV even published a warning regarding Solidary Markets and their lack of regulation to operate from Spain: 
Solidary Markets Broker Profile
Solidary Markets LLC offers trading in forex, metals, CFDs, and cryptocurrencies. The Solidary Markets trading platform is MT4, available for both mobile and desktop. 
The leverage offered is 1:200, except for some cases where it's 1:500. There are no educational materials available and the concerning part is that the broker is reachable only via email or web form. 
Trading Platform

Meta Trader 4

Account Types

Standard, Top, Elite

Financial Instruments On Offer

Forex

(EURUSD, EURGBP, USDNOK)

Cryptocurrencies

(BTC, ETH, XRP)

Metals

(Gold, Silver, Platinum)

CFDs

Maximum leverage

1:200/1:500

Minimum Deposit

$10

Commissions/Bonuses

N/A

Mobile app

Yes

Desktop app

Yes

Autotrading

Yes

Demo account

No

Education or Extra tools

None
Solidary Markets Account Types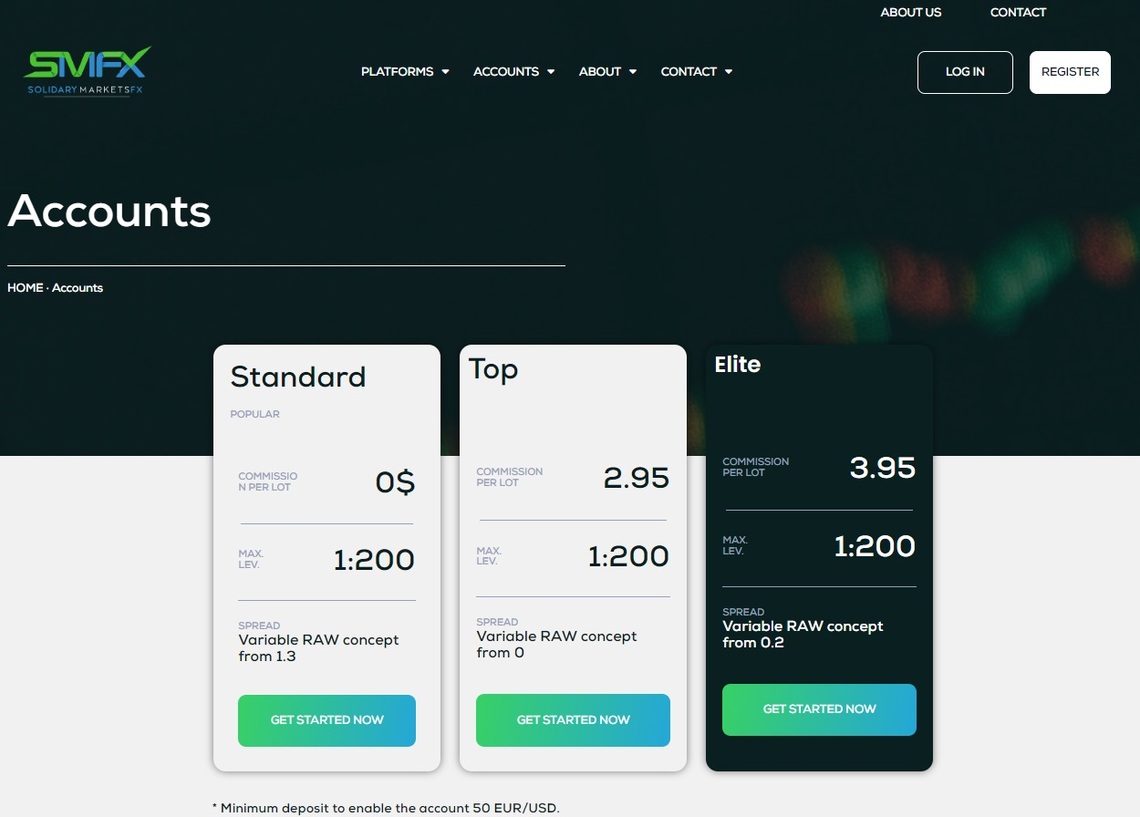 There are 3 account types offered and all of them provide different benefits. Even though the minimum deposit is only $10, to enable the account a minimum of $50 deposit is required.
Standard Account:
No commission

Spreads: Variable RAW concept from 1.3 pips

Leverage 1:200
Top Account:
2.95 commission per lot

Spreads: Variable RAW concept from 0 pips

Leverage 1:200
Elite Account: 
3.95 commission per lot

Spreads: Variable RAW concept from 0.2

Leverage 1:200
Is Solidary Markets Safe To Trade With?
Trading with SolidaryMarkets would be a constant risk of losing your funds. They are unregulated so any kind of compensation fund is out of the question and the fact that the broker could go out of business at any time is very risky and unsafe. Even though the broker offers some benefits, their lack of regulation is a serious red flag. 
In times like these, where scams are common, it's important to stay knowledgeable at all times. Avoid using unregulated brokers that are, in most cases, only after your money. Do research and seek professional advice so you can avoid getting scammed. Reach out today for a free consultation and leave worries behind you. 
Solidary Markets Review: Traders' Thoughts and Opinions
The scary part about the broker's Trustpilot reviews is that they weren't at all surprising. Over 300 reviewers expressed their positive experience with Solidary Markets and earned the broker an overall score of 4.5 stars. However, positive reviews can be faked so instead, we focused on bad reviews and what they think about the broker. 
Out of all 300 reviews, only 5% of them are negative. One review expressed frustration over losing 99% of the amount invested, saying: 
"After depositing money in one of your portfolios, I see that it is increasing slowly for 3 or 4 months and then little by little it is decreasing until at first I lose 50% of the amount invested and as of August 2022 I have already lost 99% of the amount."
A Look at Solidary Markets's Traders They Serve
Solidary Markets has very high reviews on Trustpilot, making the broker very appealing to traders. When they start trading, if they succeed, they will refer the broker to their friends, attracting more and more traders all of the time. Unfortunately, many of those traders don't check the license information or the fee structure, getting into trading without a clue. 
The majority of their clients come from Spain, the United States, Argentina, and Mexico, even though their disclaimer says they don't accept US clients. As mentioned before, the broker doesn't hold any valid license, let alone the ones necessary to operate from these nations. 
Deposits and Withdrawal Methods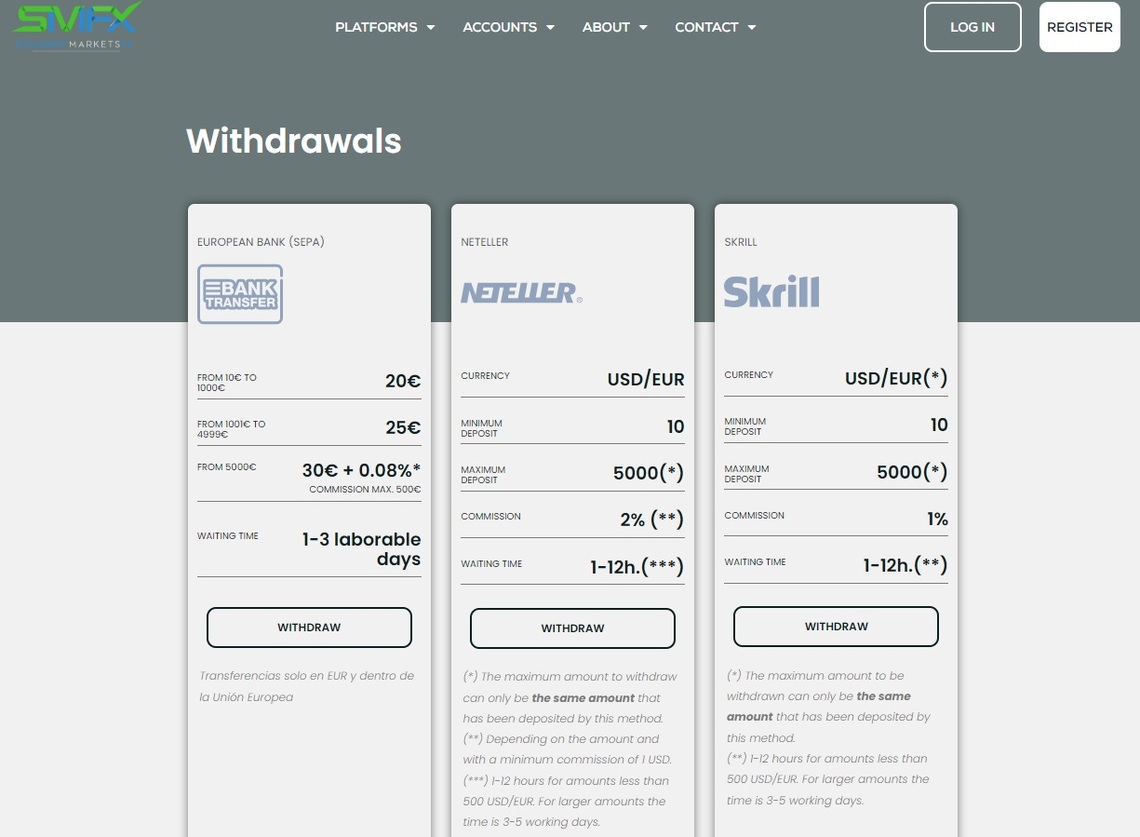 The FX branch doesn't accept credit or debit cards, instead, the payment options available for deposits are FairPay, Bank Transfer, Neteller, and Skrill. Depending on which payment option you choose, commission is charged and the wait time of the deposit going through is different. 
Withdrawals are done through Bank Transfers, Neteller, and Skrill and the maximum amount to withdraw can only be the same amount that has been deposited by this method. The wait time is 1-12 hours for amounts less than 500 USD/EUR and for larger amounts the time is 3-5 working days.
Solidary Markets Pros and Cons
Pros
Cons

MT4

Transparent

Good reviews

Low deposit of $10

Competitive spreads

Unregulated

High commission for deposits and withdrawals

No educational material

CNMV warning

Lack of contact details
Summary
There are many benefits this broker offers like the Solidary Markets MT4 platform, competitive spreads, positive reviews, low initial deposit, and overall transparency with the fee structure. However, the lack of regulation poses a threat to anyone who trades with them, due to a missing compensation fund. Unregulated brokers are unreliable no matter how many benefits they offer. 
Overall, it's important to be diligent while searching for a broker you want to trade with and make sure they check all of your boxes. Regulation, transparency, and reviews are the most important factors among many others and the safety of your investments should be your priority. Want to have a reliable broker on your side? Don't hesitate to reach out and book your obligation-free consultation and make the first step toward a successful trading journey. 
FAQ Section
What Is Solidary Markets?
Solidary Markets is a brokerage company based in St. Vincent and the Grenadines as the FX branch and the exchange branch is based in Poland.
Is Solidary Markets A Scam?
Trading with an unregulated broker is just risky, it doesn't automatically mean they are a scam. All things considered, Solidary Markets does appear as a transparent and reliable brokerage and they are not a scam.
Where Is Solidary Markets Available?
The only nations not acceptable by the broker are St. Vincent and the Grenadines, the United States, North Korea, Eritrea, Iran, Iraq, Liberia, Libya, Somalia, Sudan, Syria, Japan, Canada, the US Virgin Islands, and Puerto Rico.