June 06, 2023
Reading Time:
4
min
Solix Group Review – Dark Side Of This Crypto Broker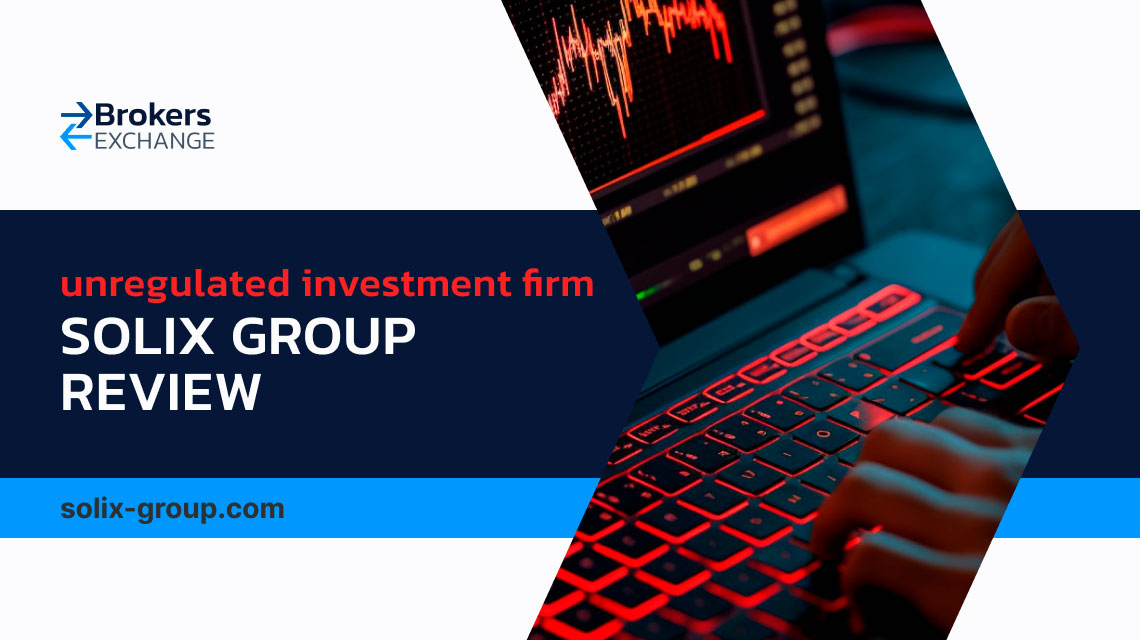 Solix Group AG is coming from Sweden. Since the company offers something that everyone burned their fingers on, we need to be cautious. With very little contact information and poor security, they are not the first choice of any experienced trader. To make it even worse, they only trade with one asset.
This Solix Group review discovers why you shouldn't leave your future in this broker's hands. If you are curious about other trading options you should expand your knowledge. Therefore, we encourage you to check on our MondialFX and Tradiso reviews.
| | |
| --- | --- |
| Company | Solix Group AG |
| Regulation | No regulations |
| Warning | N/A |
| Website | Solix-group.com |
| Address | Malmo Borshus, Skeppsbron 2 Malmo, 211 20 Sweden |
| Email | [email protected] |
| Phone | N/A |
| Minimum Deposit | $50 |
| Leverage | No leverage |
| Bonuses | N/A |
Solix Group
Regulation and Security
One of the main financial regulators in Sweden is Finansinspektionen (FI). In general, this company provides crypto trading services, therefore they should have FI's license. Unfortunately, that didn't come up as the case upon search of FI's registers. With this in mind, you can already say that your funds are not safe.
But not if they have some other regulation. For instance, BaFin, FCA or FINMA. Thus, the research of those registers brought the same results as before. Without regulation, the company is not obligated to comply with any rules. Not even with the European Securities and Markets Authority (ESMA). So, all activities that the broker performs are not monitored.
In case you get scammed, it's very hard to find a legal solution. Luckily, some experts can assist you in money recovery procedures. Generally, that's why we always suggest traders look for Tier licensed brokers. No amount of money is more important than security.  
Broker's Trading Software Overview
The company claims to provide automated Bitcoin trading services. To make it even worse, the company trades for you. But what raises the suspicion, even more, is that the broker promises profits. Let's be honest. If you really found a way to make money out of nothing, there is no reason to bother with all the issues that opening a company does.
Nevertheless, the company is not transparent in terms of trading software. They don't reveal what technology they use. Thus, traders should trust them on their word. On top of that, some Solix Group broker reviews show us exactly why not trust them. Instead, you can pick a licensed broker with Expert Advisor services and trade multiple assets.
Deposit and Withdrawal Process
Another key warning sign is the company's funding methods. Since they don't have transparent legal documents we had to dig to find some information about it. Not to mention that they don't have a withdrawal policy at all.
Nevertheless, we found that this broker only accepts two payment options

Crypto transfers (Bitcoin, Ethereum, USDT and more)

E-payments 

(PerfectMoney, WesternUnion and more)
According to the company, you can start already with $50. However, Solix Group reviews say the opposite. In fact, some traders were required to deposit $1.000. All this adds up to the bad reputation of the company. According to the company, there are no fees. Thus, the broker promises returns so why not lie about the fees as well?
Referrals at Solix Group
The referral program at Solix Group is suspicious at best. The whole idea is to make their client's network bigger. Of course, they can promise you anything they want. They are not regulated in the end. In this case, the return is 5% for every referral.
But we have seen numerous companies running similar schemes. In the trading world, it's known as the Ponzi scheme. Practically that's the only way they can promise you those returns. Practically, traders start believing they are getting something back. Until they realize it was just a tactic to make you deposit more money or bring more people in.
Account Types at Solix Group
With Solix Group scam there are 3 account type choices. Of course, every higher account on the scale requires more money from a trader. In return, traders get better return percentages. For example:

Economy package – $50 – 10% in 24h

Bumper package – $5.000 – 25% in 24h

Delux package – $50.000 – 80% in 24h
Firstly, they can't promise any profits in less than 24 hours. Unless they are running a Ponzi scheme. Secondly, the broker claims that the return is bigger with more money. But if you get better buying power that shouldn't change the percentages. Think about it for a second.
How Does the Scam Implement?
Primarily, the broker needs to convince you into investing the money. For that reason, they are luring traders everywhere. Online ads, social media and even Telegram.  
 But once you start depositing money they convince you that you have to deposit more. If you are greedy and inexperienced, most likely you will bite it. Thus, we can see from reviews that's not the case. This broker won't release any of your funds. That's exactly why they use irreversible payment options like crypto. If you were a victim of this broker, the best way is to recover your money with experts. Our specialized team is equipped with CipherTrace software that can suit you here. Get in touch today to find out more.
Solix Group
Summary
As you can see there is nothing positive about Solix Group company. Completely unregulated broker without any credibility. Limited trading instruments are a big problem. But also shady software that the company is using. If they are using anything at all.
On top of that, it all looks like a Ponzi scheme. Don't fall for their tricks. If you need any advice about trading, our expert team is available. Get in touch today.
FAQs About
Solix Group
Broker
Is Solix Group Broker Regulated?
No. They don't have domestic but also any other Tier 1 trusted regulations.
Is My Money Safe with Solix Group?
Absolutely not. The company doesn't have a transparent withdrawal policy and funds protection measures.
Does Solix Group Offer a Demo Account?
No. The company doesn't offer any risk-free choice for traders to test them out.