April 06, 2023
Reading Time:
4
min
Tradiso Review: Never Deal with Tradiso.Com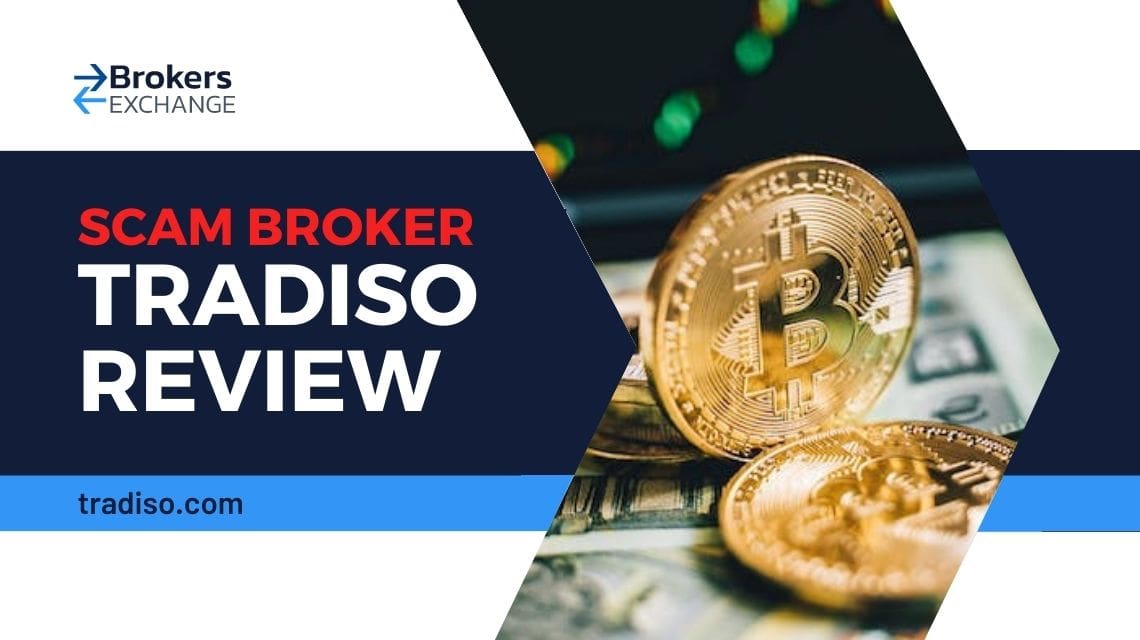 Tradiso has one of the best-looking websites when it comes to these scam brokers. At first glance, it does seem like what a regulated and well-established financial company would use. When you scratch the shiny surface, however, you are exposed to the stench of its foul rotten core.
Tradiso really did their homework when it comes to faking being legit. They can't fake licenses and company credentials, however. See our Tradiso Review to find out how we exposed these swindlers for who they truly are!
Also, we recommend you not to invest in the fraudulent brokers FTSFX, GMT Trading, and Gitex Capital.
| | |
| --- | --- |
| Company | Tradiso |
| Website | Tradiso.com |
| Address | Suite 305, Griffith Corporate Centre, Beachmont, Kingstown St. Vincent and the Grenadines |
| Email | [email protected] |
| Phone | N/A |
| Minimum Deposit | $100 in crypto counter value |
| Leverage | 1:100 |
| Bonuses | N/A |
| Regulation | Unlicensed / Unregulated |
| Warning | N/A |
Tradiso
Regulation and Fund Security
Tradiso is registered with St. Vincent and the Grenadines Financial Services Authority. It is an active Limited Liability Company, with no statement about its nature of business. Their listed address is Suite 305, Griffith Corporate Centre, Beachmont, Kingstown.
Tradiso is an International Business Company, which means they are deliberately registered as an offshore entity, with the intent to conduct business in this tax haven area. This in itself is not condemning evidence of fraud, however. Many large corporations use offshore registration as means of lowering tax rates.
St. Vincent and the Grenadines have recently stopped regulating broker companies, as their financial regulator, FSA, lacks the capacity to do so. For this reason, offshore brokers registered in SVG must be regulated elsewhere, and this is where the problems with Tradiso begin.
You see, Tradiso is not regulated at all. This means they do not adhere to any safety standards that many countries have implemented in order to protect the public from fraudulent behavior.
Here is an example of what a licensed broker must provide to their clients in Germany, through the regulator named BaFIN:
Starting capital of 730,000€

Compensation fund of 20,000€

Negative balance protection for client accounts

Segregated bank accounts for client funds

Maximum allowed leverage of 1:30

Bonuses are not allowed

All transactions must be regularly reported in accordance to EU MiFID
In order to be sure that Tradiso is not regulated, we have checked the registries of a number of regulators. Among these were the mentioned BaFIN, but also UK's FCA, Italian CONSOB, CySEC from Cyprus as well as Australian ASIC and Canadian IIROC. 
There were no mentions of Tradiso in any of them. This lack of regulation means that Tradiso can just take the client's money and run, with no legal repercussions!
Tradiso
Trading Platform Overview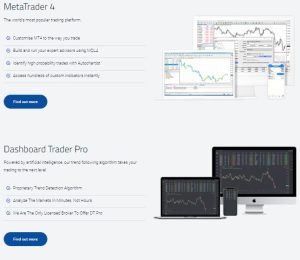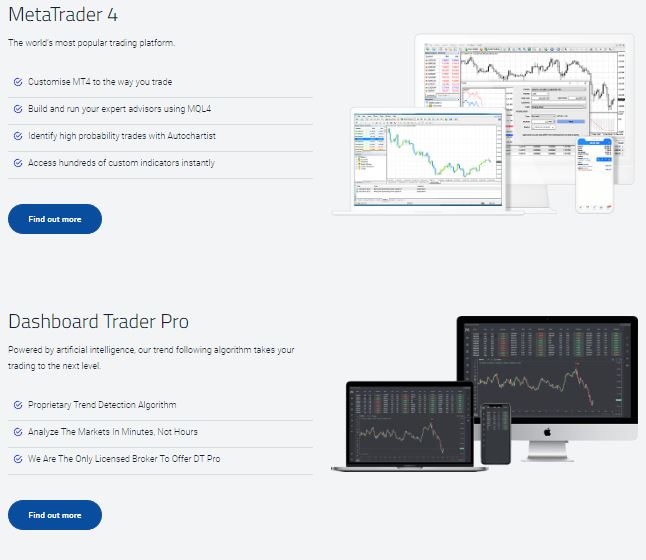 On some parts of the website, Tradiso claims to offer MT4, MT5, and Dashboard Trader Pro. In fact, MT5 is not available. Although MT4 is a trading platform of choice for many online brokers, you should not put your confidence in trading with Tradiso.
Fraud brokers can simulate trading on their platforms by allowing customers to place orders according to chart data. This data can be tailored in Web Trading platforms like Tradiso's Dashboard Trader Pro to encourage more financial spending. 
When it comes to secure trading platforms like the esteemed MT4, swindlers can instead simply elect not to execute orders on the market, making any profits merely fictitious.
Account Types Available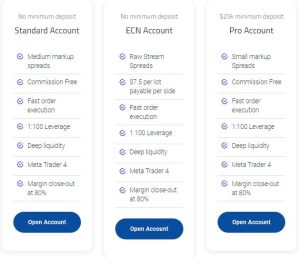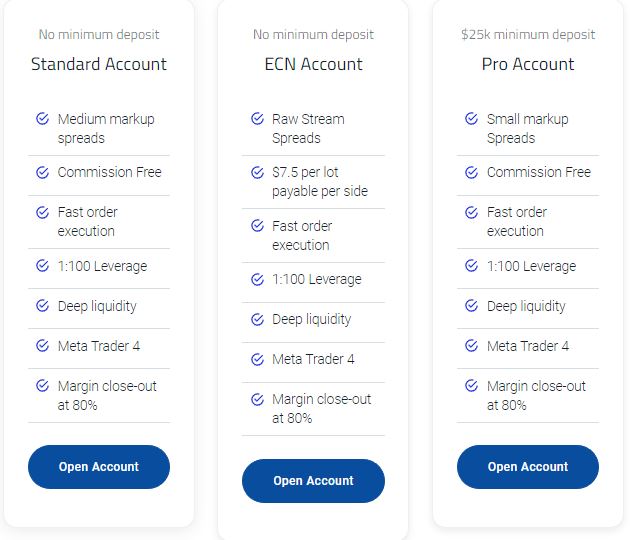 Tradiso claims that there are 3 main account types: Standard, ECN, and Pro account. They also say that there are no deposit minimums for Standard and ECN accounts. A Pro account requires a minimum deposit of $25,000. Tradiso's website also mentions a free demo account on their site.
The reality is different, unfortunately. It is impossible to create a demo account through the website. When you log in to the dashboard there are no options to use a demo, only a live trading account. These live trading accounts require at least $100 of deposited funds, which is not as it was claimed on the website properly. Something shady is going on here.
Tradiso Deposit and Withdrawal
The sole funding method for Tradiso accounts are cryptocurrencies. It is not that common for a regulated broker to accept cryptocurrencies, because of how volatile they are on the market. Scammers prefer cryptocurrency transfers because of how difficult it is to trace these transactions.
Cryptocurrency transfers are not only untraceable, but they also lack many safeties that traditional transfer methods offer. You can't use chargeback like you could with Bank Cards for instance. Crypto wallets can also become "cold", or shut off from the internet, making them inaccessible.
How the Scheme Was Put Into Practice
Unregulated brokers like Tradiso use different scamming methods to defraud their traders. Some would just steal the client's assets and cut off communication. Tradiso walks a different path, however. 
They allow their clients to indulge in what they think is trading on a good and stable market, while in fact, they are placing orders in a non-functional platform.
It is not uncommon for FX, CFD, and Crypto traders to lose some of their assets over time, and Tradiso counts on this to remain hidden. Every once in a while, there will be a trader who is either quite proficient or very lucky with their market speculation. 
These people will be greeted by unbelievable withdrawal fees that take huge chunks of their perceived earnings. Because Tradiso is unregulated, they get away with this.
Tradiso
Summary
Tradiso is an unlicensed broker that does not adhere to any financial safety standards. There are many inherent dangers to dealing with these kinds of companies. The greatest of these are not just your assets, as account verification requires personal information. 
Because this entity is not regulated, they are not subject to scrutiny by any law. Swindlers can simply run with your money scoff-free, without the fear of any legal repercussions.
FAQs About
Tradiso
Broker
Is It Safe to Use Tradiso for Trading?
We advise our readers to stay away from any unregulated brokers like Tradiso.
Do Tradiso Offer a Demo Account?
No, Tradiso does not offer any demos, only a live trading account.
What Is The Funding Method of Tradiso?
The only trading method with Tradiso is cryptocurrency transfer.