October 13, 2023
Reading Time:
5
min
Sonarlab Review: Is Using Indicators While Trading a Good Choice?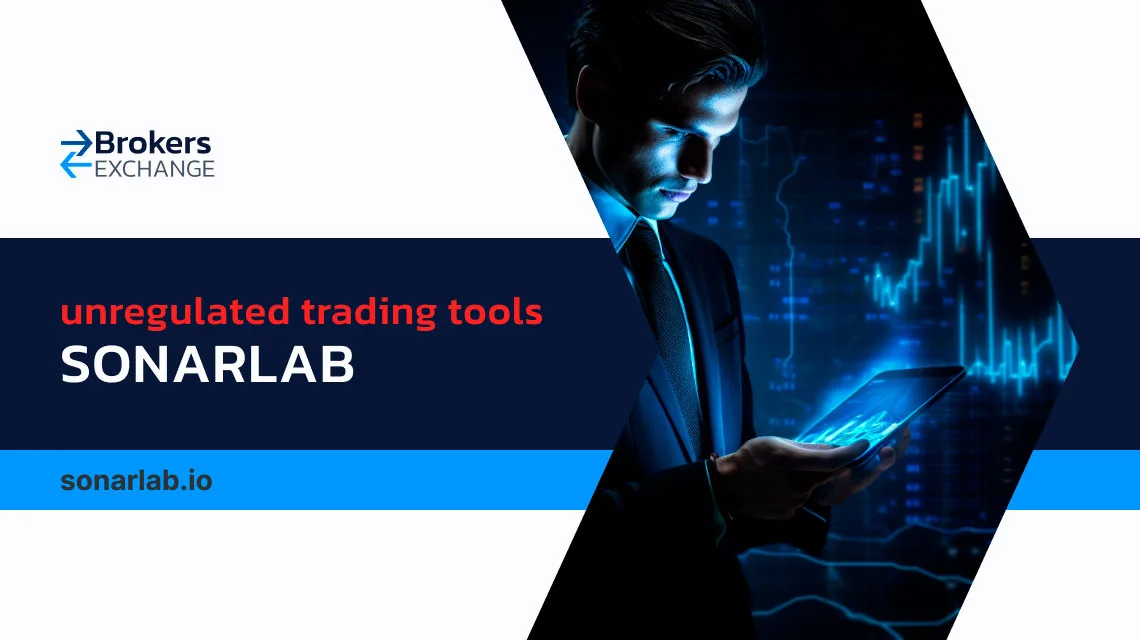 There are various platforms and AI-powered tools in today's modern age that can take you a step closer to success. However, ensuring the reliability of such platforms and tools is crucial to trade safely. Our Sonarlab review is here today to embark on the beginning of your trading journey as we examine the company thoroughly so you can make informed decisions. 
Trading is a risky business and anyone who says otherwise probably doesn't know what he's doing. Deep knowledge is required for both trading and the company you plan on using, so stay tuned to learn more about Sonarlab. Additionally, check our Caplita review as well to be well informed. 
Who Is Sonarlab?
For trading in Forex, cryptocurrencies, stocks, and ETFs, Sonarlab, a provider of trading software, creates indicators including the Smart Money Concept (SMC) indicators and the Multi Trend Tool. At first glance, the website sonarlab.io seems badly designed and not that user-friendly as it lacks crucial information. 
As we delved further, we also realized they are unregulated but still provide financial services. That is a major red flag and so far, we can't see what the traders are so excited about but we decided to give this platform the benefit of the doubt to ensure they are not as they seem. 
| | |
| --- | --- |
| Company Type | Trading Tool |
| Legal name | Sonarlab SMC |
| Regulation | Unregulated |
| Registered in | N/A |
| Established | 2023 |
| Website | www.sonarlab.io |
| Financial Authorities Warnings | |
| Contacts | |
| Fees | |
| If Active on Social Media: | Yes |
| Investor Protection: | None |
| Activity areas | India; United States; United Kingdom; South Africa; Indonesia |
| Main threats | Unregulated |
| Main perks | Good reviews and features |
Regulation Info
Sonarlab's involvement in the financial services sector is indicated by the fact that it offers trading tools and indicators for Forex, cryptocurrencies, equities, and ETFs. A financial service targeted at investors and traders is the development of trading indicators and software for these markets. Even though this requires regulatory oversight, the platform operates without a license. 
Some of their clients come from the United States and some from the United Kingdom. It's vital to note that operating from these countries while providing financial services would require regulatory oversight by the SEC in the US and FCA in the UK. Another unregulated entity you should be aware of is GP Finance. 
Sonarlab Profile
The SMC Indicator offers sophisticated methods for examining changes in character (CHoCH), breaks in structure (BOS), and shifts in market structure (MSS). This enables traders to rapidly and effectively read the market while learning more about price movement and trend shifts.
A complete liquidity analysis is provided by Sonarlab's SMC Indicator, which also provides fully automatic incentive warnings, swing liquidity, trend line liquidity, and stop search signals. Traders can better manage risk and make better decisions by recognizing critical liquidity levels.
Traders can learn more about institutional activity with the SMC Indicator by analyzing the volume profile of swing levels. For volume traders looking to pinpoint important price levels and probable market turning points, this capability is priceless. 
Trading Platform

TradingView

Account Types

Basic or Premium Package

Financial Instruments On Offer

SMC Indicator
Order blocks
Liquidity concepts
Premium Trend Confirmation Tools
Volume Profile

Maximum leverage

N/A

Minimum Deposit

$59/month

Commissions/Bonuses

20% discount on subscription plans

Mobile app

No

Desktop app

No

Autotrading

Yes

Demo account

No free trial, however, there is a 30-day money-back guarantee

Education or Extra tools

Knowledge Base
Is Sonarlab Safe To Trade With?
Whether or not this company is safe depends on how you look at it and where you're from. For example, if you are from the United States or the United Kingdom, where the majority of Sonarlab's clients come from, it would be best to choose a regulated platform instead of this one. 
The US is very strict in its regulatory rules and offering financial services without regulation can lead to a variety of bad things. Some countries, however, don't require companies like Sonarlab to be regulated. That is why it's important to always check the rules and restrictions in your jurisdiction. 
Traders Share Their Experiences
There are a variety of feelings concerning SonarLab on Trustpilot, based on 158 reviews. The majority of traders expressed success in using this company and praised them for their great service. However, there are still some, 3% of the reviews to be exact, who think this firm is not a good choice. 
One trader complained about their 30-day refund policy. He ordered an indicator he didn't like and since the firm offers a 30-day money-back guarantee, he contacted them for a refund immediately. However, there was no response and he never got his refund. Other unfavorable reviews focus on the same thing, slow customer service response and the refund policy.
Should You Avoid or Enjoy This Firm?
By taking different perspectives into account, you need to realize if you are ready to risk it and use an unregulated firm. Even though we advise against it, using Sonarlab's indicators can be the right step toward profitable trading. However, there are more risks you need to be aware of. 
If on the other hand, you don't want to risk it, we can recommend a reliable alternative, which is the AI.F bot, an amazing tool that can help you gather information from charts and provide valuable insight. Continue reading to learn more. 
Deposits and Withdrawal Methods
To subscribe to this platform you can choose between different plans. If you want to pay monthly, $59 will be charged each month until you cancel. If you prefer to be billed quarterly, $139 each quarter will be taken from your card, or eventually if you like yearly subscriptions, you can get billed $399 every year. 
Whatever option you choose, deposit methods include credit/debit cards (MasterCard, Visa, American Express) and Mollie. The platform doesn't offer a free trial, however, there is a 30-day money-back guarantee if you don't enjoy the platform. 
Weighing the Pros and Cons
Pros
Cons

30-Day Money Back Guarantee

Expensive subscription 

Amazing Reviews 

Variety of tools 

TradingView platform

Unregulated

Lack of Transparency

Lack of Educational Material

Refund Issues

Badly-designed Website
Can I Make Money While Trading Online?
Making money while trading online can be a tricky business, especially if you don't have the right knowledge, a well-thought-out plan, and awareness. The markets shift constantly and you need to make sure you are always up-to-date to ensure success. While profits can't be guaranteed, you can use various tools to boost them. 
One reliable tool you can make use of is our aforementioned AI Analysis Bot which can gather information from charts, including previous asset prices, and make insightful recommendations regarding whether to buy or sell using a technical analysis to forecast future price movements. 
If you are ready to step into the future of trading and take advantage of our amazing bot, we offer a 14-day free trial so you can experience it firsthand and increase your chances of profits. Act quickly because this trial offer is only valid for the first 100 traders to contact us.
FAQ Section
What Is Sonarlab?
Sonarlab is a trading software company that develops indicators such as Smart Money Concept (SMC) indicators, Multi Trend Tool, etc.
Is Sonarlab Regulated?
Although it provides financial services, Sonarlab operates as an unregulated entity.
How Sonarlab Works?
For trading in Forex, cryptocurrencies, stocks, and ETFs, Sonarlab, a provider of trading software, creates indicators including the Smart Money Concept (SMC) indicators and the Multi Trend Tool.