March 05, 2023
Reading Time:
5
min
Stam Capital Invest Review – Lies Behind This Scam Broker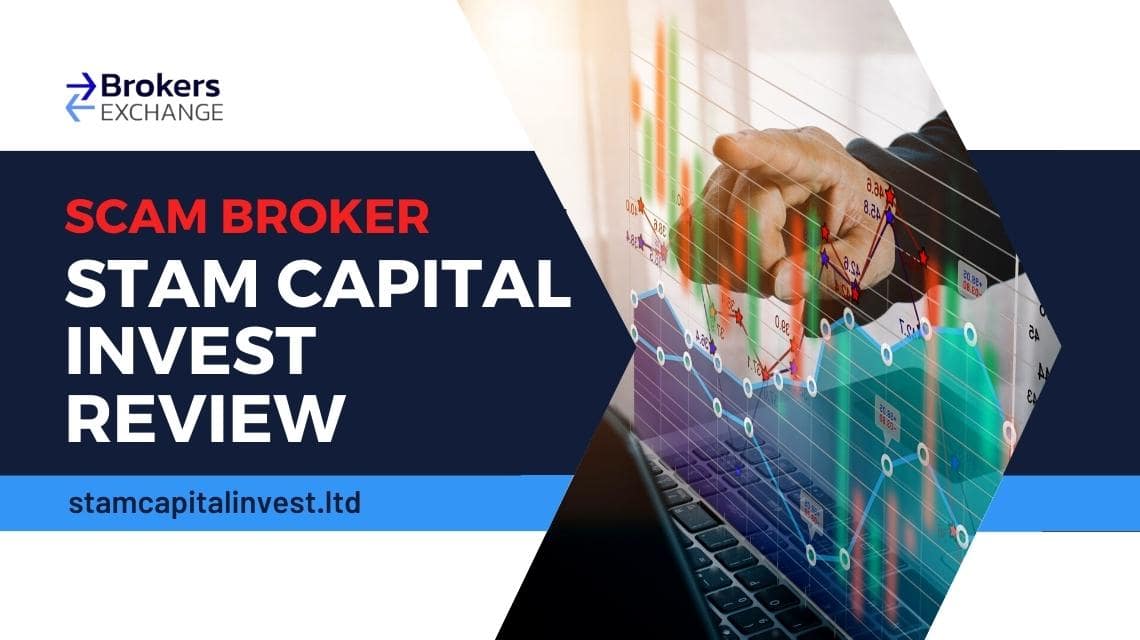 Stam Capital Invest declares they do not care about your skill level. You can be less or more experienced but their extraordinary trading conditions and marvelously fast software will make you a winner in every trading project. That is, if you disregard the fact that they're an anonymous and completely illicit business. 
The suspicious brokerage brand we're reviewing today is not providing any kind of documentation that represents a solid proof of their legitimacy. All legal docs on the website are shallow and uninformative as if copied from another site. 
This broker basically relies on empty words to convince new customers to become their long-term investors. Without a reliable source of data, license and realistic trading conditions, Stam Capital Invest doesn't seem like anything better than a fraud. 
Furthermore, we advise you to avoid fraudulent brokers like Avex Capital, OnspotBNK, and XCM Markets.
Several financial authorities have published warnings on this firm: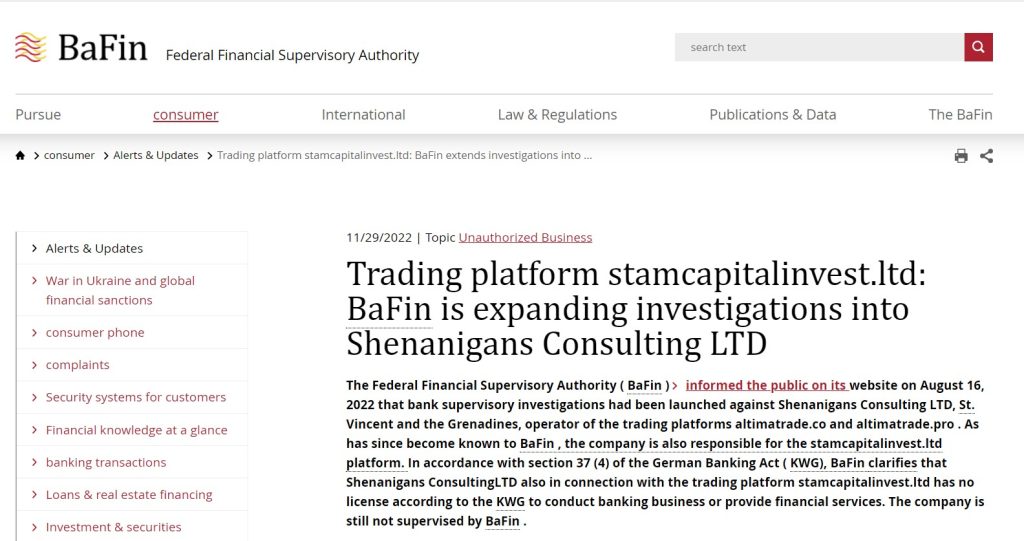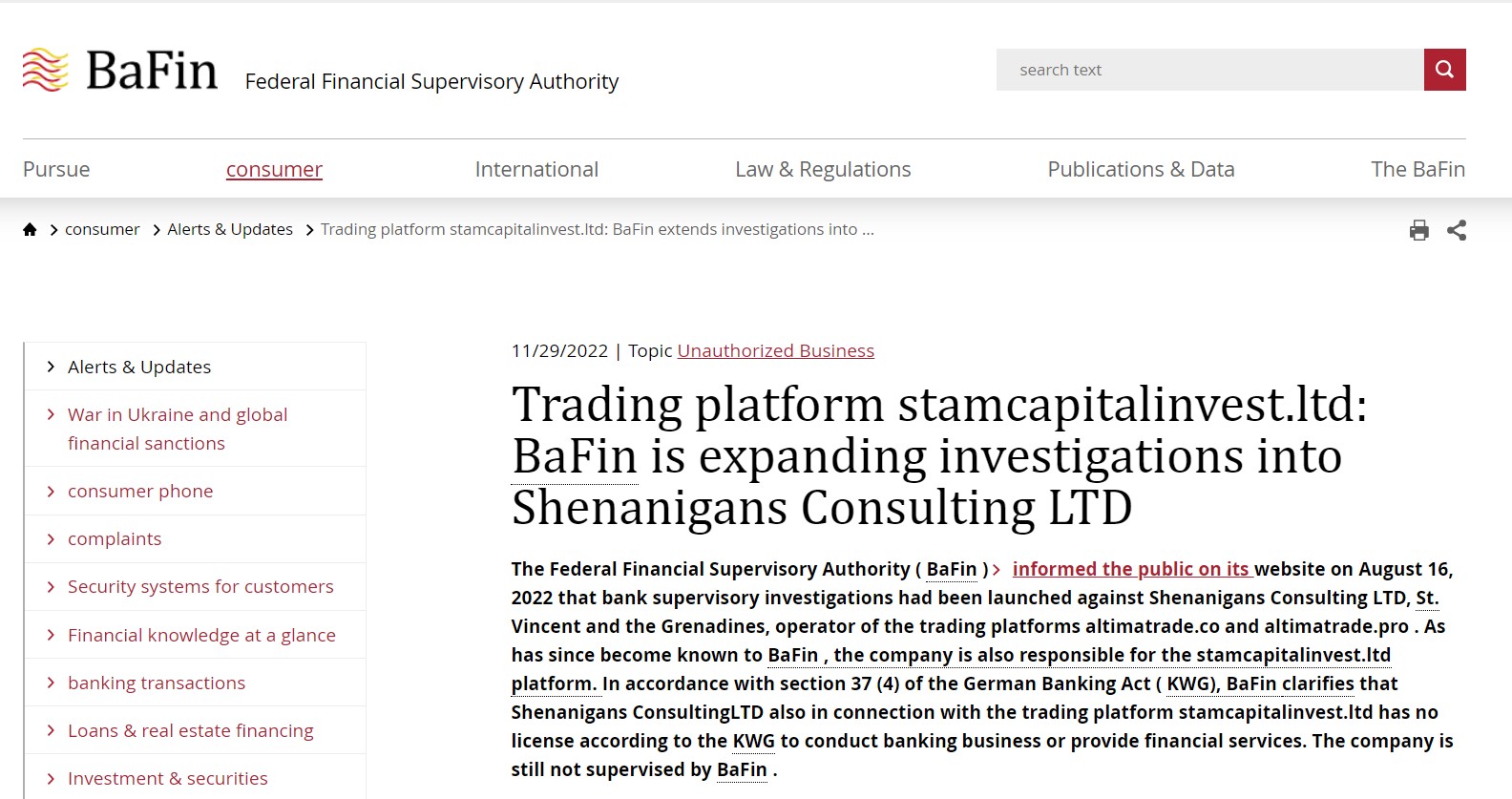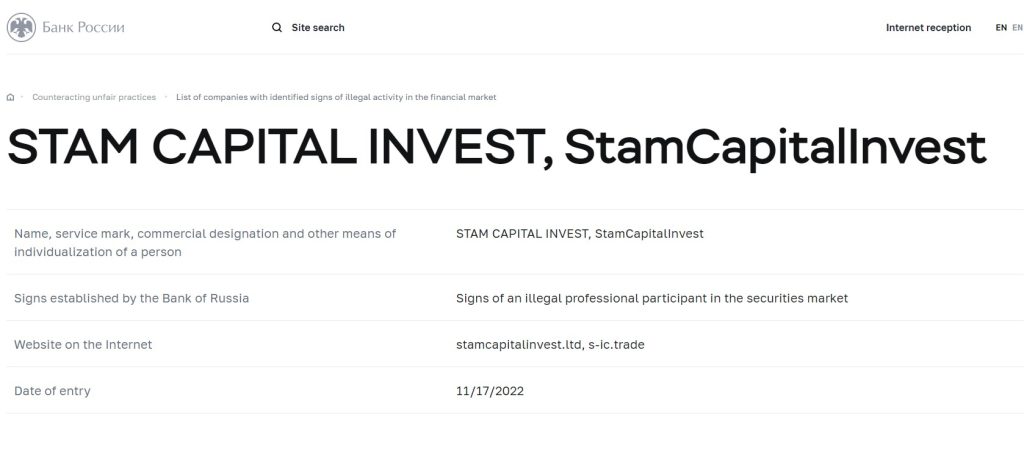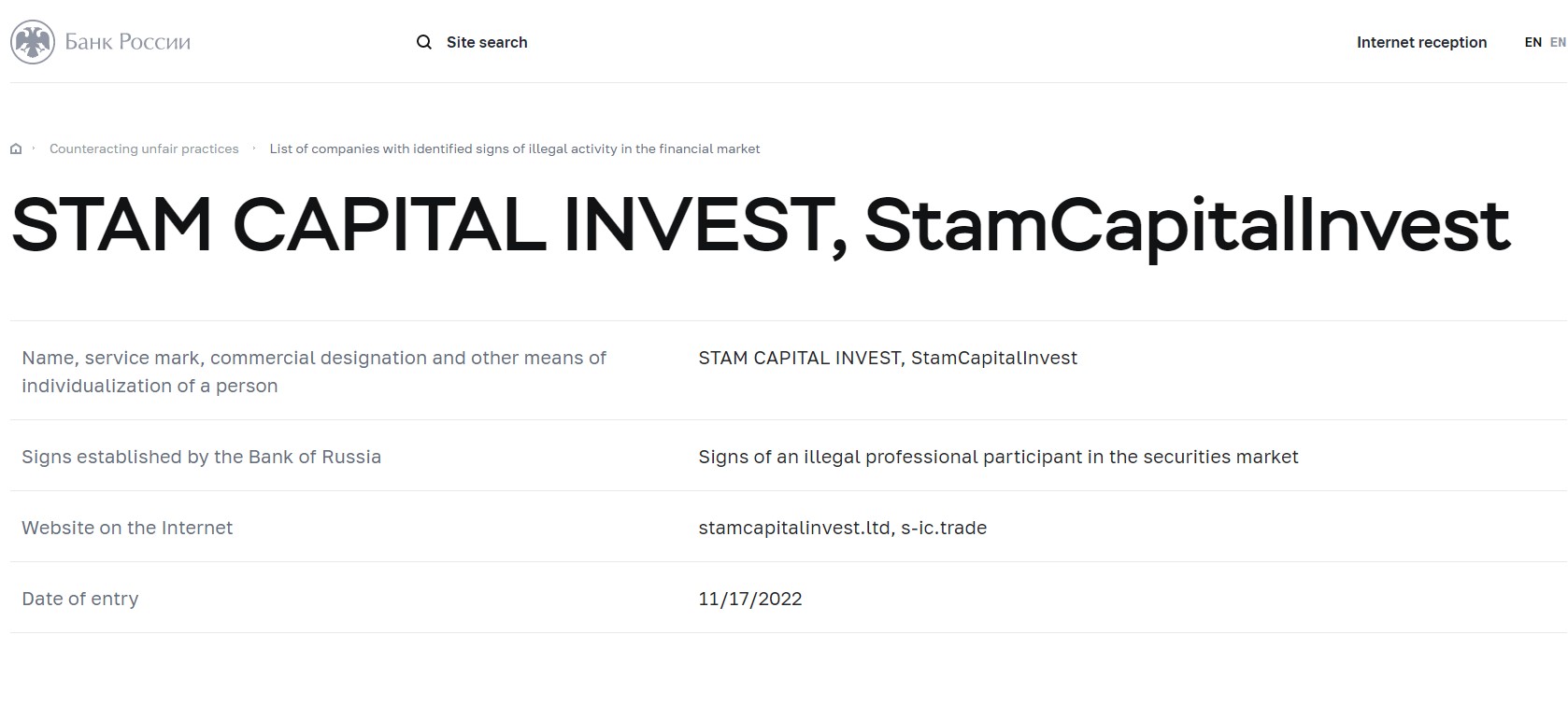 Our Stam Capital Invest review exposes this fact and deals with potential risks of investing with this foul business. 
| | |
| --- | --- |
| Company | Shenanigans Consulting Ltd |
| Website | StamCapitalInvest.LTD |
| Address | SVG |
| Email | [email protected] |
| Phone | N/A |
| Minimum Deposit | $250 |
| Leverage | Up to 1:100 |
| Bonuses | N/A |
| Regulation | Unregulated |
| Warning | BaFIN, CBR, ASF, AFM |
Regulation, and Funds Safety at Stam Capital Invest
Stam Capital Invest doesn't hide the ominous fact of having headquarters in the most notorious place in the world when it comes to online trading. You might wonder why SVG is so ill-famed, but the truth is simple. The financial authority of this country decided not to engage in regulating the brokerage agencies registered in the area. This has opened doors for illicit brokers to freely conduct their illegal business.
Since it is so, we decided to expand our search and check other registers of regulatory bodies around the world. As it turns out, Stam Capital Invest isn't registered by FCA, ASIC, IIROC, NFA, CySEC, BaFin and AMF. While there was no news on Stam Capital Invest trading license, our search provided some quite disturbing results. 
As apparent from the introduction of this Stam Capital Invest review, several financial institutions have blacklisted this company for their fraudulent tendencies. As the warnings show, Shenanigans Consulting Ltd, the owning company of Stam Capital Invest, is very well-known for their scamming schemes. After many reports and scammed clients, BaFin, Central Russian Bank, ASF and AFM have all published official warnings on Stam Capital Invest.
The fact that they're an infamous scammer, means that Stam Capital Invest doesn't abide by any regulatory rules. This further means that they don't store clients' deposits in segregated bank accounts for utmost safety. 
It is obvious that the broker doesn't limit the leverage or enable negative balance protection to stop the unexpected losses. Moreover, being completely anonymous, they show zero transparency and obligation for transaction reporting.  
Trading Platform Overview   
Seemingly simple and easy to use, with a comprehensive layout and distribution, Stam Capital Invest trading terminal could be a good starting point for beginners. However, even beginners wouldn't find it useful for too long. 
What we could conclude from testing the webtrader, all the advanced features are missing. The simplified trader we see is just a base for implementing fake data as a means of manipulation.
Widely spread among scammers, software meddling has become a top technique for deluding investors. By showing the statistics that motivate the traders to deposit more, Stam Capital Invest can continue to rob unsuspecting investors.
To protect yourself from such risks, we advise you to try renowned brokerage enterprises that enforce the best software in the industry, such as MT4, MT5 and cTrader.
Deposits and Withdrawals
The client area at Stam Capital Invest revealed what we feared the most. Expectedly, the only ways of funding your live trading account is by buying digital currencies. Several accepted crypto bills are BTC, USDT, USDC and ETH.
There's nothing wrong with investing in crypto, but the risks of depositing in crypto currencies with frauds are tremendous. You see, these transactions are very hard to backtrace so the process can turn out irreversible. Your money goes to the scammer who, thanks to their anonymity undamaged, remains safe from legal pursuit. 
As all other practically useless legal documents on the site, Deposits and Withdrawals Policy is a bunch of useless and fake information. Stam Capital Invest mentions the period of 4 to 7 days to be needed for completion of a withdrawal request. 
By scammer's words, no fees appear except the inactivity fee of 10% that applies to dormant accounts with more than 6 months of inactivity. 
Account Type Available
The offer of account types at Stam Capital Invest doesn't seem like anything overly different than what you see on other unscrupulous sites. The pricey accounts don't clearly state everything they offer and it seems like nothing they include justifies the costing. 
Stam Capital Invest has the following accounts to provide:
Silver – 250$
Gold – 1.000$
Platinum – 5.000$
VIP – 10.000%
Super tight spreads of no one knows how much and leverage of up to 1:100 are there, along with supposed account managers for more expensive account options. 
How the Scam Is Carried Out
Stam Capital Invest falls under the scammer category for several reasons. Due to missing the legal regulations, this con artist can freely implement cheats of sorts to deceive and manipulate clients. 
Certainly, one of the most used techniques by scammers is the friendly and invasive strategy of approaching new victims. Building a friendly relationship with the next target is how they earn trust and access to your funds. 
Blinding you with illusions of quick money-making, boiler room agents stuff their pockets with your hard-earned money. All your investments finally end up with the liar and the fraud, not on the market, not on your illusory profit pile that the software shows. 
Stam Capital Invest Summary
Please take this Stam Capital Invest review as our warning against a bogus broker without a license and blacklisted multiple times. When a financial regulatory entity publishes a warning against a firm, it's a clear sign you're dealing with fraud. 
Financial swindlers are shameless, devious, and witty enough to perhaps convince you of their legitimacy. However, there isn't any better evidence of their business being illegal than when they get on a blacklist of a regulator.  
This broker isn't just an illicit brand. The people behind the website who are running Shenanigans Consulting Ltd are well-versed in manipulation, lies, and money abuse. So either choose your broker carefully before you plan to invest anything or say goodbye to your funds.
FAQs About Stam Capital Invest Broker
Is Stam Capital Invest a Legitimate Broker?

Stam Capital Invest is not a licensed firm with a trading certificate. They're an anonymous, illegal business from SVG.
Is My Money Safe at Stam Capital Invest?

This firm cannot guarantee you safety of funds, segregated accounts or protection of privacy and data.
Does Stam Capital Invest Charge for Deposits or Withdrawals?

The broker doesn't announce any charges on deposits and withdrawals but since they're cyber thieves they shouldn't be trusted.