May 04, 2023
Reading Time:
5
min
Storm Age Capital Review – Lies Behind This Scam Broker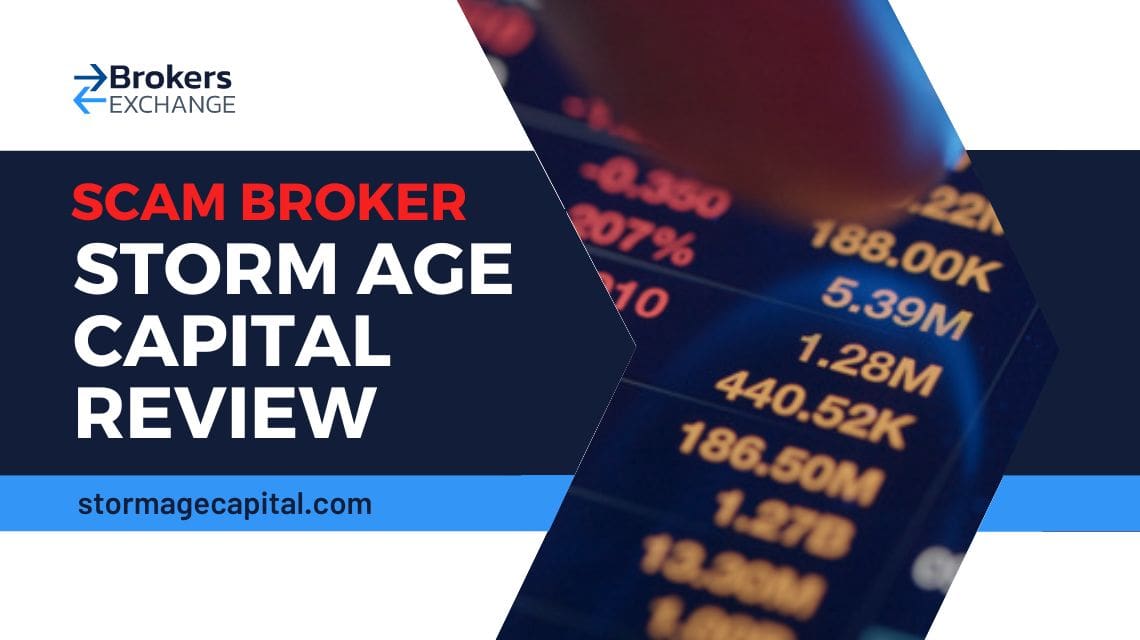 Storm Age Capital redefines anonymity. This level of shadiness is concerning enough never to motivate anyone to deal with this broker. Hoax broker at that, because all the info they offer is in the form of lousy attempts at convincing customers to invest. 
Even similar scammers nowadays display more effort when it comes to forging licenses. Knowing it's the most credible proof of their firm being legit, financial swindlers try to deceive clients in any way possible. 
This broker doesn't even formally mention any kind of regulation. That's why this Storm Age Capital review is here. We explore the services offered and the unscrupulous methods this bogus broker uses. 
Although the site is inaccessible at the moment because of the Gateway Time-out 504 error, they may reemerge anytime, so beware. 
Furthermore, we highly recommend that you avoid the scam brokers Novatech fx, Bullexo, and Fxy Trade.
| | |
| --- | --- |
| Company | Storm Age Capital Financial Pty Ltd |
| Regulation | Unregulated |
| Warning | N/A |
| Website | stormagecapital.com |
| Address | N/A |
| Email | N/A |
| Phone | N/A |
| Minimum Deposit | N/A |
| Leverage | N/A |
| Bonuses | N/A |
Regulation and Funds Safety at Storm Age Capital
It took us a bit to judge what would be the best starting point when examining this broker's regulation. Their licensing status is questionable, as the broker makes no mention of the regulatory body in charge of overseeing their actions. 
The website also lacks any intel on license numbers and a more precise company background. In that sense, except for a name, we can't even find out where the firm is registered, what its physical address is, and how to contact them. 
Regulation Warning
Because the company we're reviewing is so secretive about every last detail of their business, we had to take new measures. That's why we went to check the public registers kept by all the major financial authorities, such as FCA, ASIC, CySEC, IIROC, NFA, and FINMA. Not at all surprising, Storm Age Capital appears in none. Not even any warnings were published against this fraud. 
The fact that they do not own a license says a lot about the agency. First off, they have no reliable team leading the firm and they do not provide the highest security measures. The most important one of them is segregated bank accounts for the deposits. Next is the leverage cap of 1:30 for EU, UK, and AU and 1:50 for the US brokers. 
The broker also lacks negative balance protection, compensation funds, and transparency. When we go through all these regulatory standards, does Storm Age Capital even remotely sound like a heavily regulated brokerage? No, not in the least!
Trading Platform Overview
Even if you somehow manage to open an account with this broker, you won't get far. The trading platform is unavailable, be it for newcomers or existing customers. The absence of any kind of trading software has convinced us this broker operated solely to deceive and defraud customers. 
It was the final proof of Storm Age Capital being nothing but a fake broker without a functional platform for trading. They probably just snatch away all initial deposits and get done with customers before they notice anything wrong with Storm Age Capital. 
Deposits and Withdrawals
How utterly uncreative and see-through of the broker to only allow crypto payments. As a money transferring method, crypto depositing is the least favored among traders but most enforced by scammers. 
The transactions are swift and anonymous, so they allow the fraudster to get away with the entire pile of cash they've stolen. Since they're also final, it's next to impossible to recover the funds you've lost this way. 
Financial scammers like Storm Age Capital also tend not to disclose all the incurring fees and the exact commissions. The point is to get you to invest and then not let you withdraw a single cent. That is why Storm Age Capital is silent about the deposits and withdrawals. 
Account Types Available
Not a single step during the registration process has allowed us to choose the account type we wish. Instead, you will only get to input your basic info and get an unverified account which is useless without deposits. The broker forces you to open a live trading account so you would have to invest if you intend on doing anything. 
The broker hasn't published any data on what the account features, which trading parameters you pay for, and how much it all costs. You won't even get to know how much you're expected to invest!
| | | | | | | | |
| --- | --- | --- | --- | --- | --- | --- | --- |
| Broker | Storm Age Capital | FXTM | OctaFX | FPMarkets | XM Broker | HFM | FBS Broker |
| Minimum Deposit | N/A | $10 | $100 | $100 | $5 | $5 | $100 |
How the Scam Is Carried Out
Storm Age Capital could be expecting large deposit amounts, as nothing else works on the website. There's no trading platform at all. So you're probably getting robbed of your initial investment before you've realized anything was wrong. 
Many types of shams exist, yet many of them provide some sort of manipulated software so it at least looks like you're trading. That's not the case with Storm Age Capital. 
These scam agents will persuade you to invest by promising you huge profits and quick returns. When you've invested and realized your money was eaten by the scamming scheme, you'll attempt to take it back. 
Without much success though, as the crypto payments are definite, and even if you issue a payout request you will face extreme fees, commission, charges, and trading volume requirements.  
Suggested Forex Brokers
We couldn't find one valid reason for investing with Storm Age Capital no matter how hard we looked. However, there are more than a dozen reasons why not to choose this broker. This section of the review will give you just some of the numerous reasons why investing with our brokers of choice would be a winning move. 
Firstly, FXTM, OctaFX, FBS, and others are heavily regulated in all the areas of service. The licenses prevent them from making the mistake of being untransparent or dishonest with their customers. 
Compared to Storm Age Capital, these brokers also provide functional platforms and all kinds of trading instruments. Hardworking support agents are there to assist you with anything. And you can choose to start learning with any of the countless lessons, videos, tutorials, webinars or live lessons. 
| | | | | |
| --- | --- | --- | --- | --- |
| Broker | Country | Rating | Min. Deposit | Website |
| FXTM Broker | Cyprus, UK, Mauritius | 4.5 | $10 | Forextime.Com |
| OctaFX Broker | Cyprus, SVG | 4.4 | $100 | OctaFX.Com |
| FP Markets Broker | Australia, Cyprus | 4.7 | $100 | FpMarkets.Com |
| XM Broker | Cyprus, Belize, Australia | 4.7 | $5 | XM.Com |
| HFM HF Markets Broker | Cyprus, UK, South Africa, UAE, Kenya | 4.3 | $5 | HFM.Com |
| FBS Broker | Cyprus, Belize, Marshall Islands | 4.85 | $100 | FBS.Com |
Storm Age Capital
Summary
Nothing about this anonymous financial services provider is worth your time and money. Our Storm Age Capital review is proof of that. So instead of worrying about what will happen to your funds and if you'll profit at all because you've invested with a shady broker, make a better decision. 
We're aware that Forex is oftentimes full of fake offers from faux brokers to infamous recovery agents. But you can always refer to authorities, financial regulators, and us too for a piece of advice. 
FAQs About
Storm Age Capital
Broker
Is Storm Age Capital a Legitimate Broker?
Storm Age Capital is not a regulated broker because they lack a license of any kind and the site gives zero evidence of a regulation existing.
Is My Money Safe at Storm Age Capital?
No, your deposits are in grave danger with this scamming website. Do not invest in something you're unsure of as far as a license goes.
Does Storm Age Capital Offer a Demo Account?
When you register for an account, you're automatically opening a live trading account.