November 16, 2023
Reading Time:
4
min
TipRanks Review: A Shiny Star Among All Trading Tools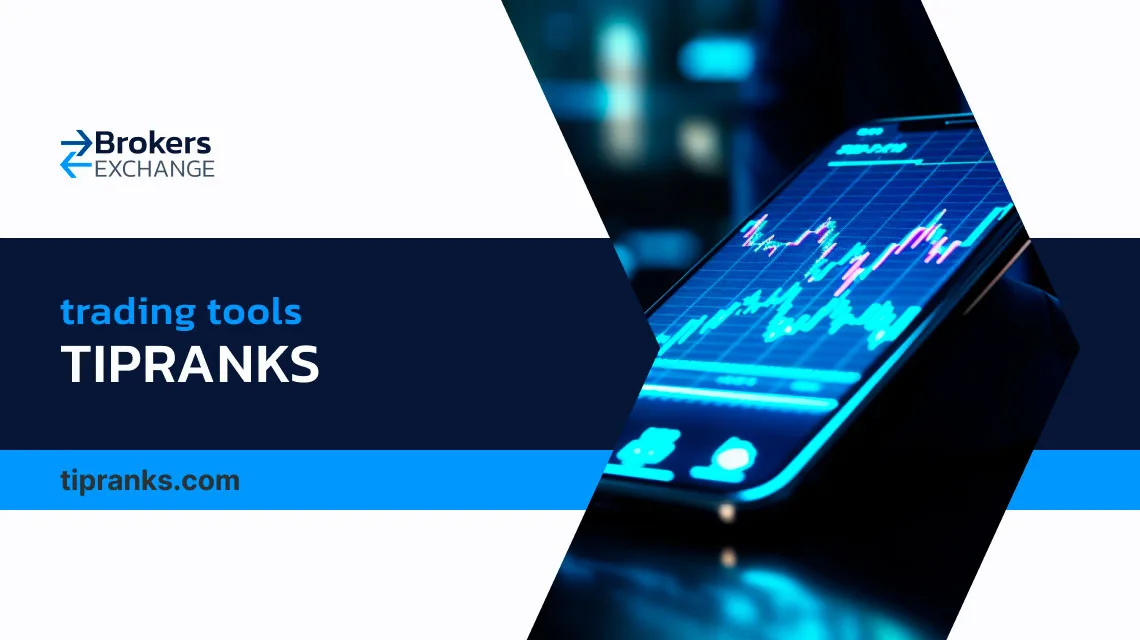 If you were looking for a shiny star among many trading tools, you've just found one in our TipRanks review. From amazing Trustpilot reviews and great customer feedback to valuable screeners and research tools, this company competes to be among the best ones. 
The TipRanks stock screener is very beneficial to traders and in addition to a variety of other screeners and tools, this company seems to have it all. Keep reading our TipRanks review to learn more about the company and its features in detail and make sure not to miss out on the latest information about Stock Rover. 
Who Is TipRanks?
TipRanks was established in 2012. It collects data from several sources and consolidates it into a user-friendly interface. It gathers data from Wall Street analysts, financial bloggers, hedge funds, corporate executives, individual investors, and financial advisors. 
It also aggregates and analyzes financial data online using natural language processing technologies. There are many positive reviews about this company, which makes them a reliable choice. Keep reading this in-depth TipRanks review to learn even more. 
The TipRanks API suite offers the MT4 and MT5 platforms, along with additional portfolio tools and crypto analysis. 
| | |
| --- | --- |
| Company Type | Trading Tools |
| Legal name | TipRanks |
| Regulation | Not expected |
| Registered in | Weizman 2, Israel, Tel Aviv, IL |
| Established | 2011 |
| Website | www.tipranks.com |
| Financial Authorities Warnings | |
| Contacts | |
| Fees | |
| If Active on Social Media: | Yes |
| Investor Protection: | No |
| Activity areas | United States, Canada, United Kingdom, Israel, Germany |
| Main threats | No android app  |
| Main perks | Great client feedback and reviews |
TipRanks Features
A variety of features is available to assist traders in overcoming the financial markets. At first, there are valuable insights offered with Investment Ideas. Those include TipRanks top 10 stocks, top score stocks, insider stocks, stock websites, dividend stocks, and even Chat GPT stocks. 
As for research tools, the available screeners include a stock screener, an ETF screener, a technical analysis screener, and a TipRanks penny stocks screener. Other research tools traders can use are comparing stocks and ETF tools, trending stocks, daily analyst ratings, and a daily insider trading tracker. 
There are also several calendars available, such as the earnings calendar, dividend calendar, economic calendar, IPO calendar, and market holidays. There is also a special section of Dividend features including stocks, a calendar, a calculator, and others. 
Furthermore, several calculators are also available to assist traders, including the dividend calculator, dividend yield calculator, options profit calculator, compound interest calculator, mortgage calculator, auto loan calculator, and student loan calculator. 
Stock prices for the TipRanks Smart Core Holdings Ltd. are available, along with many other companies such as Apple or Tesla. 
In addition to all of the above, there is also a variety of educational material available and several news sources so you can always stay up-to-date, such as TipRanks best stock to buy news. 
TipRanks Plans
There are only two plans on offer, Premium and Ultimate. Both include all features of TipRanks Plus and unlock additional features. The Premium plan is $30 per month and includes premium stock analysis, new investment ideas​​, smart portfolio research, premium research tools, daily expert insights​, ​premium expert access​, and priority support. 
The Ultimate plan is $50 per month and offers even more beneficial features, such as stock risk factor analysis, insiders' hot stocks​​, popular websites screener​​, research firm rankings​​, complete expert rankings, unlimited email alerts, PDF + CSV Export​, and VIP support. There are no TipRanks discount codes available at the time of writing. 
Traders Share Their Experiences
An overall score of 4.8 is impressive, especially since it's based on 1,411 reviews. The majority of the reviews on Trustpilot are favorable and speak highly about the company, however, 4% of the reviewers experienced a couple of issues. Several traders accused the company of fraud and fraudulent activities, however, there is no proof to back that up. 
We were able to find a helpful Reddit discussion about this company and the traders there believe that the company is a great and reliable choice. The free version is not that great since you are limited to accessing some features, so it's worth paying for the premium service.
Deposits and Withdrawal Methods
TipRanks uses bank-level encryption to connect your account. That means that you can safely make the payment without stressing about where your card will end up. The accepted methods include several credit/debit cards including Visa, Mastercard, American Express, and eventually PayPal. 
TipRanks offers a 30-day money-back guarantee on annual memberships. This 30-day money-back guarantee is also applicable to all subsequent annual membership renewals. This implies that you will receive the same 30-day money-back guarantee for the first 30 days of your annual renewals.
Weighing the Pros and Cons
Pros
Cons

IOS Mobile App

Impressive TrustPilot Reviews

Various Educational Material 

A Variety of Screeners and Research Tools

30-day Money-Back Guarantee

No Android App
Can I Make Money While Trading Online?
Making money while trading online is a tricky business that can't become successful without proper education, risk management, and additional tools that can help boost your chances. Even then, trading brings a huge risk and should be handled with caution. 
Mixing unreliable companies into risky trading can't do you any good so make sure to choose firms similar to this one or Quantconnect. There are thousands of alternatives you can choose from and other than that, we can recommend an amazing AI tool that will help you make profits. 
AI.F is a potent program that gathers billions of data points to aid you while fighting through the constantly shifting markets. It will provide valuable insight on whether to buy or sell and help you make informed decisions.  
We guarantee you will love our bot as much as we do and you will start noticing the difference as soon as you start using it! While profits can't be guaranteed because they depend on many things, we can for sure promise that your chances of making profits will be much higher after AI.F. 
FAQ Section
Is TipRanks App Free?
TipRanks offers free access, however, accessing some features is impossible with the free edition. To fully enjoy the tool, you must subscribe to the Premium plan.
Who Uses TipRanks?
TipRanks is a website that provides financial data, analyst ratings, and stock recommendations to help investors, financial experts, and people make informed investment decisions.
What is TipRanks?
TipRanks is a financial technology firm that provides an online platform with stock market analysis, research, and tools to assist investors in making data-driven investing decisions.