February 20, 2023
Reading Time:
4
min
TradaCoin Review – Scam Lies Behind This Broker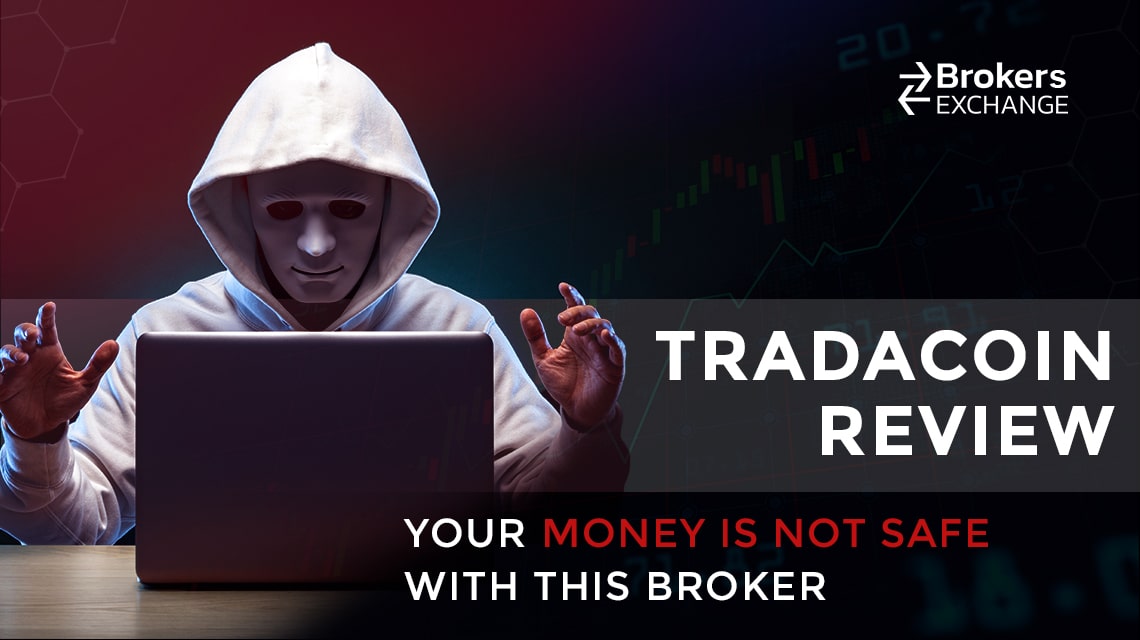 This TradaCoin review will tell you everything you need to know about this shameless broker. We have seen a lot of fraudulent brokers so far, but we have never come across someone that has put so little effort into their scheme. It's surprising how empty TradaCoin's website is. It's empty. You can't find any meaningful information.
One of the things that are very concerning about this broker is they don't mention their address or the license data. Also, we couldn't find who is the owner of this shady business. When you can't find essential information about some broker company, it's a sign you should run from them as far as possible.
On the contrary, you should avoid dealing with questionable brokers like Stellarfx, Equinox Markets, and Avex Capital.
| | |
| --- | --- |
| Company | TradaCoin |
| Website | Tradacoin.Com |
| Address | Not available |
| Email | [email protected] |
| Phone | Not available |
| Minimum Deposit | Not available |
| Leverage | 1:500 |
| Bonuses | Not available |
| Regulation | Unregulated |
| Warning | N/A |
Is TradaCoin Trustworthy? Regulation and Security
TradaCoin is not legit. They claim to have more than 500,000 trades a day, which does not add up to the fact that we don't know where are they located. Neither can we find their license data. There is no reason for a legitimate business to hide its references.
This is very dangerous because it means that no regulatory entity is supervising them. These financial bodies have a job to protect the customers and monitor the broker's activities.
It happens that we know several credible intermediaries that are operating by "the book", and don't perform these kinds of shenanigans. You can sit back and let them handle your money, without being worried whether they will steal it.
Always research before investing your funds in some broker. And always skip a non-transparent one.
TradaCoin Trading Software Overview
The only way to use all of the aspects of TradaCoin's software is to get verified, which asks for inputting a lot of personal and sensitive data. We don't advise you to go that road. It doesn't look very convincing, we will tell you that. Their trading platform is no different from the other things we have learned about this scam broker. It's manipulative.
You don't need to gamble and go with phony brokerages like this one. You can go the easy way and pick one of the best Forex brokers. They have reliable platforms like MetaTrader 4, and MetaTrader 5. It's a safe way to go.
Deposit and Withdrawal Method
TradaCoin claims to accept only Bitcoin and Ethereum payments. We can't say that's surprising since that's a common payment option for fraudsters. These kinds of transactions are irreversible, and you should never make cryptocurrency payments to an unreliable recipient.
Also, they have a 10% commission on transferring funds, but we can't say with certainty does this apply to deposits, withdrawals, or both. They have a single piece of information on their homepage, dedicated to that fact. As we have mentioned in the beginning, it is clear that they spent very little time and effort to make their website legitimate-looking.
One of the highly unusual things about them is there is no information about the minimum deposit. You don't see that very often. There is no mentioning the withdrawal, as well. However, scam brokers often have high withdrawal fees, which you find out too late about.
How the Scam Was Performed
Scam artists like to present themselves as one of a kind. They promise bonuses, high leverage, and other benefits that other traders don't.
The first step is to lure users in with click-baiting ads. As we have said, they promise things other trading companies don't. Then you leave them your data. In the call, they use small talk and try to convince you that they understand your problems, and want to help you. It's a classic scam technique.
After you make the first deposit, they will persuade you into investing more, and more. Until they squeeze you out.
Forex Brokers Suggested
This TradaCoin review should talk you out of the idea of looking for a broker company yourself. The thing is, it's more likely for you to come across phony agents than legitimate ones. Scammers are pushy and unscrupulous. They spend a lot of money on their advertising and they have a strong online presence.
Forex brokers we recommend have very high ratings, and many positive reviews. They have a regular minimum deposit, and most importantly, they have a financial body that's supervising them and making sure they are not doing anything illegally. That's why you should trust them.
They have benefits like negative balance protection, guaranteed funds, and segregated accounts. If you haven't heard of these terms, you should look into them, because they can save you money.
| | | | | |
| --- | --- | --- | --- | --- |
| Broker | Country | Rating | Min. Deposit | Website |
| FXTM Broker | Cyprus, UK, Mauritius | 4.5 | $10 | Forextime.Com |
| OctaFX Broker | Cyprus, SVG | 4.4 | $100 | OctaFx.Com |
| FP Markets Broker | Australia, Cyprus | 4.7 | $100 | FpMarkets.Com |
| XM Broker | Cyprus, Belize, Australia | 4.7 | $5 | XM.Com |
| HFM HF Markets Broker | Cyprus, UK, South Africa, UAE, Kenya | 4.3 | $5 | HFM.Com |
| FBS Broker | Cyprus, Belize, Marshall Islands | 4.85 | $100 | FBS.Com |
TradaCoin Summary
TradaCoin is an anonymous trading company that's scamming people. They don't provide us with any meaningful data, and there is no reason why we should trust them.
No legitimate business would hide its headquarters address, license information, or who owns the company. Also, why would a broker keep the minimum deposit a secret?
They set up a website in a very short period because they know their scheme won't last for long. This TradaCoin review has exposed this fake agent. Our conclusion is – it's a scam. Big time.
FAQs About TradaCoin Broker
Is My Money Safe with TradaCoin?

Your money is not safe with TradaCoin. They are an unregulated broker company, and they hide all the essential data.
Does TradaCoin Offer a Demo Account?

TradaCoin does offer a demo account. However, this doesn't mean anything. They are a fraud, and you should go with a different broker.
How Long Does it Take to Withdraw from TradaCoin?

We can't say for sure, because they don't provide that kind of information. The real question is, will you ever be able to withdraw a single penny? Probably not.