August 25, 2023
Reading Time:
5
min
Anonymous Trading Review – Promoting Anonymity As If It's A Good Thing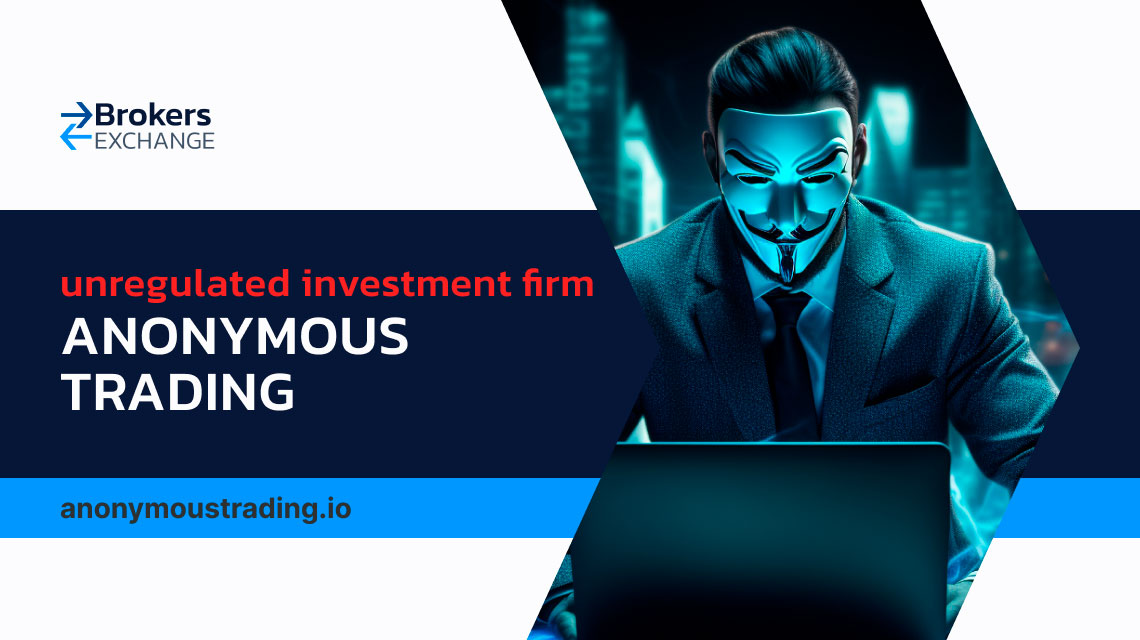 Anonymous Trading asserts that their company set its first digital footprint in the online crypto trading world at the end of 2009 thanks to the individuals that wished for anonymous trading or investing. The company the site refers to as AnonyFi allegedly strives to create a "fair, transparent and efficient environment". 
This is quite funny and in essence goes against their whole anonymity-promoting image. Read our take on this foolish scam in the following Anonymous Trading review.
Company Background
AnonyFi claims their founding partner was none other than Satoshi Nakamoto, who is believed to have developed Bitcoin. This is complete nonsense. Also, the lies about being established as far back as 2009 are easily rebuked after our discovery about the domain creation date being 2021. 
More disturbing is the fact that this unnamed bunch of criminals doesn't reveal a single detail about their company. The official headquarters physical location, phone number or registration number are completely opted out from the website. The only element mentioned is the courts of Seychelles being in charge in case of disputes. 
Not to mention that Anonymous Trading doesn't even mention anything about the license that is mandatory for a financial services provider.
| | | |
| --- | --- | --- |
| | Broker name | Reliable Broker Must Have |
| Legal name: | Anonymous Trading | Transparently displayed in the disclaimer or legal documents |
| Regulation: | Unregulated Investment Firm | Within your legal jurisdiction – local regulator |
| Registered in: | Republic of Seychelles | Your country or the country whose license applies in your legal jurisdiction  |
| Established: | 2021-08-18 | The older the domain – the higher the possibility the company is trustworthy |
| Website: | https://anonymoustrading.io/ | Domain should be from local or international zones, no .xyz etc. |
| Financial Authorities Warnings: | N/A | None |
| Contacts: | Online Form, Live Chat, Telegram | Phone, email, social media, web form |
| If withdrawal is possible: | Highly unlikely | Yes |
| Fees: | Hidden Fees | Transparent fees – list of spread and commissions |
| If Active on Social Media: | Vaguely present on Twitter | Often present on social media |
| Investor Protection: | None | Compensation fund |
No Regulation
As previously mentioned, AnonyFi is completely unregulated. Financial services providers of any kind need a reputable license to conduct bank transactions and sell their products and services. AnonyFi advertises crypto investment plans as their prioritized activity. Sadly, they're not licensed to provide such services. 
We made sure of it by checking several reputable registers for the potential license – FCA, CySEC, ASIC, NFA and BaFin. Being located in Seychelles makes this firm even more suspicious for operating from an offshore zone where regulatory standards do not exist. O at least not in the same measure as they do in highly developed countries. 
Investor protection doesn't exist, investments are easily lost and the swindlers do not answer to authorities for their crimes! Tradereview is just another one we add to the list of untrustworthy firms.
Poor Trading Offer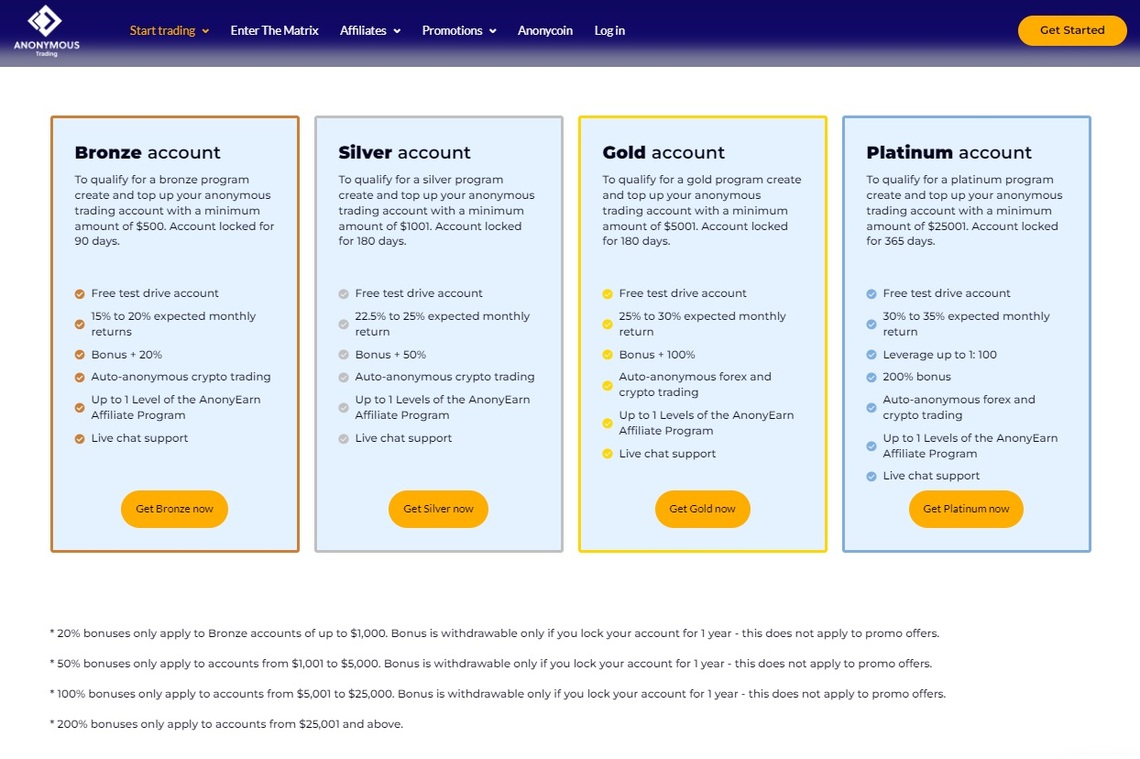 The poor choice of trading instruments and tools doesn't make Anonymous Trading look like a reputable service provider or anyhow reliable. Investment plans advertise utterly unrealistic returns with bonuses offered up to 200%. 
All of the funding operations are done via bitcoin and a few other crypto channels. Alleged trading of Crypto and Forex is conducted on a bogus software that is completely unresponsive and consists of Tradingview charts. 
To make their offer all the more attractive, Anonymous Trading even claims you can take a free test drive, but that is just another one of their fabrications.
Trading platforms:

Web trader

Account types:

Bronze – 15%-20% monthly return, initial bonus 20% – min deposit $500

Silver – 22.5% to 25% return per month, 50% bonus – min deposit $1,000

Gold – 25%-30% monthly return, 100% bonus – min deposit $5,001

Platinum – 30%-35% monthly returns, 200% bonus – in deposit $25,001

Financial Instruments On Offer:

Crypto (BTC, EHT, LTC, DOGE, DOT, SHIB, XRP, ZEC)

Forex (EUR/USD, EUR/JPY, USD/CHF, EUR/GBP)

Maximum leverage:

N/A

Minimum Deposit:

$500

Commissions/bonuses:

Up to 200%

Mobile app:

Not available

Desktop app:

Not available 

Autotrading:

Available

Demo account:

Not available

Education or Extra tools:

None
Anonymous Trading – Epitome of Risk
The list of red flags can go on forever. However, let us just warn you that the fact this firm operates without a valid license automatically deems them unworthy of your investment. 
By depositing with a company, you're agreeing to become subjective to their rules, which aren't in the least profitable for you. 
AnonyFi doesn't ensure your funds are properly protected and can access them anytime, which leads to thievery and financial manipulation. 
Due to the absence of a regulation, no Financial Ombudsman protects you in case of dispute and your lost capital cannot be reimbursed through compensation plans.
Traders Speak Up
The Trustpilot page for this firm has a poor rating of only 2.9 out of 5. What's more, they're nothing sort of a popular and preferred platform – only 9 reviews exist in total. Let us share some of them with you, so you get a clear idea about how this platform treats their customers:
"Major Scam. Do not put your money in this platform! They are no longer paying out but they will never tell you. You will put in your money only for you not to be able to withdraw. I found out when I could not withdraw my money, they told me my witdrawal will be processed in 24 hours but I got nothing, reached out to their support and they told me the same thing but nothing came."
"Game over! They won`t pay out anymore! I regret it, was a good opportunity."
Boiler Room Agents Lurk Social Platforms
Anonymous Trading doesn't have anything of value to offer to potential clients. They resort to desperate measures such as boiler room salesmen who are lurking social networks for their next unsuspecting victim. Once they acquire your contact, they will pester you for weeks and sometimes even months so you would invest. 
All the talk about the potential wealth awaiting you here is just empty promises. However, the less informed crypto investors may be ready to fall for a deal in which their engagement is minimal and others trade in trier stead. 
That's how the story with the investment plans is generally presented. Monthly return of up to 35% with a 200% bonus just sounds too good to be true, doesn't it? 
The list of countries where this scam is most active is the following:
United States

Germany

Austria

Canada

Spain
An unlicensed firm with a similar approach is Stam Capital Invest, so beware of their surprise calls and offers, as well!
Shady Account Funding Options
Once again this platform proves they're just an unscrupulous sham aiming for completing instant crypto transactions and remaining anonymous without legal consequences to pay. 
The only way to fund your account is via Bitcoin, Tether and Anonycoin – the platform's own crypto token with low popularity score, and recent registration. 
Needless to say, buying recently established digital currencies is extremely risky and not recommended to anyone. Especially when they're released by anonymous organizations that could go dark at any point and show no credibility!
Why Should You Say No
When approached by suspicious and sly dealer proposers, you should always question their regulation and how realistic their propositions are. 
Anonymous Trading is risky, without license to operate and located in a gray zone where financial supervision basically doesn't exist. Their platform, along with the hidden fees and other trading conditions is not a place for a crypto investor to strive. 
Our Final Verdict
Whether you're a rookie investor or an experienced crypto trader, we cannot recommend this service. Not even if they were the last platform on earth – which they certainly aren't. If you're looking for a properly regulated crypto service, we can help you with a piece of advice. 
Based on your personal preferences and expertise level we can provide detailed data on alternatives that you could actually profit with. Contact us for more info today, as our services are completely free!
FAQ Section
What Is AnonymousTrading io?
This is a bogus website that claims to provide crypto investment services, but has no license or regulation. Such schemes are dangerous and we'd gladly recommend far safer options for you.
Is AnonymousTrading io Scam?
Yes, this unnamed firm is a total scam. They lie about every single aspect of their conduct. Please refer to our support team if you need an alternative which provides the security of funds you need.
What Are The AnonymousTrading io's Bonus Rules?
There's allegedly no restrictions to withdrawing them except the maturity period, which is increased with the amount of bonus.