April 19, 2023
Reading Time:
5
min
Tradehall Review: Is Tradehall.Co Legit?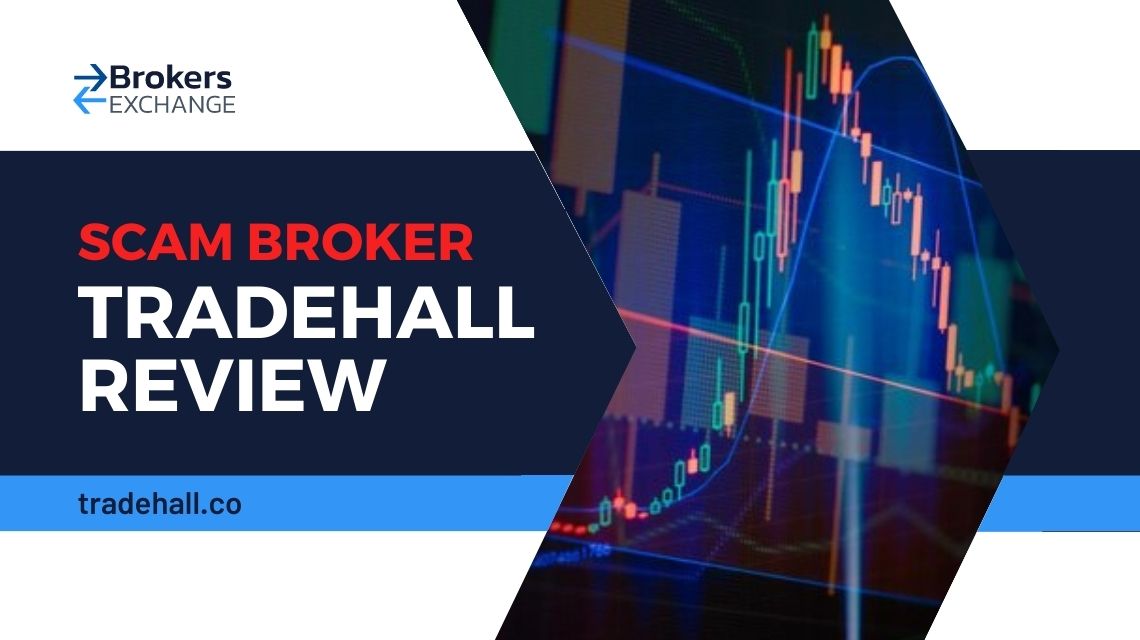 Tradehall Review, The concrete situation with this broker is quite complex. Are they real or appear to mimic an ASIC-regulated company – Tradehall Pty Ltd? Tradehall also claims to be an NFA member and owner of an SVGFSA license, which is false. 
Malaysian regulator – SC warns the public about this firm carrying on unlicensed capital market activities dealing in securities.
So many irregularities around the data Tradehall presents make you feel like you don't even know where to start. That's why we're here with a detailed report on this swindler. Read our Tradehall review as we uncover the hidden truth behind the confidence and pretentiousness of a potential fraudster.
What is more, we strongly advise you not to invest in SolidusX and Fxy Trade fraudulent brokers.
| | |
| --- | --- |
| Company | Tradehall Ltd/Tradehall Pty Ltd |
| Website | Tradehall.Co |
| Address | Australia (Uncertain) |
| Email | N/A |
| Phone | N/A |
| Minimum Deposit | $100 |
| Leverage | 1:500 |
| Bonuses | Yes |
| Regulation | Potentially unregulated |
| Warning | SC (Malaysia) |
Tradehall Reliability – Regulation and Security
Tradehall attempts to fake credibility with several fabricated licenses. The team behind the site claims to own an ASIC and an SVGFSA license. Additionally, they are alleged members of the American NFA. 
The first problem is that Tradehall possibly clones a regulated Australian firm that has been ASIC approved. There's no definite evidence from Tradehall Pty Ltd about having anything in common with Tradehall/ Tradehall Ltd except a similar name. 
Next is the fictional SVGFSA license. The problem with this statement is that FSA in SVG has altogether stopped licensing brokerage activities in the country. This issue has led to the mass expansion of scamming businesses that opened overnight. 
The most laughable aspect of the Tradehall license has to be the fabricated info on being an NFA member. Of course, after going to the NFA website and checking their public member list, Tradehall wasn't on it. 
Tradehall goes a little further than a common scammer. Inexperienced traders may even fall for the disguise. But we know Tradehall has a little predisposition for becoming a full-blown broker-dealer. 
In all honesty, Tradehall doesn't look like a company having a hefty capital to invest in its business. The website advertises leverage which is unacceptable by ASIC (1:30) or NFA (1:50). The lack of transparency, contact info, real location, and transactions reporting would hardly earn them a license either. If they were appropriately licensed, why would they not put the correct information on their website?  
Trading Platform Available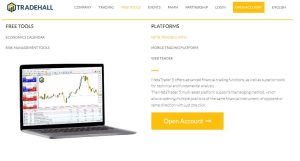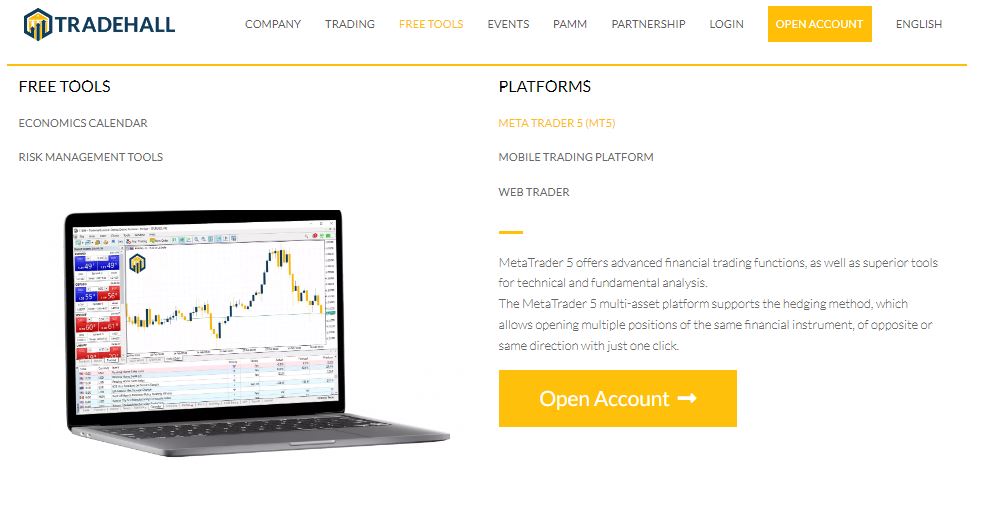 To our surprise, the broker offers the ultimate trading platform in the market today – MetaTrader 5. It's even supported on every platform – mobile, desktop, and web. Since Tradehall is still a suspicious website, we didn't trust their download to install it on our machine. 
But the web trader apparently worked. You can open a Demo account and get $100 000 virtual funds to trade and test the environment. 
Sadly, considering the broader picture and the fact that Tradehall is not regulated, they can't be trusted even if their software is functional. A common method most fraudulent brokers use is manipulating the terminal to show amicable results for the trader. Without a license, this may as well be the case with Tradehall too.  
Account Types Available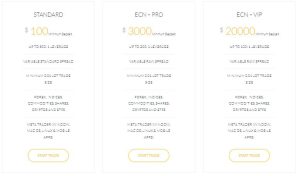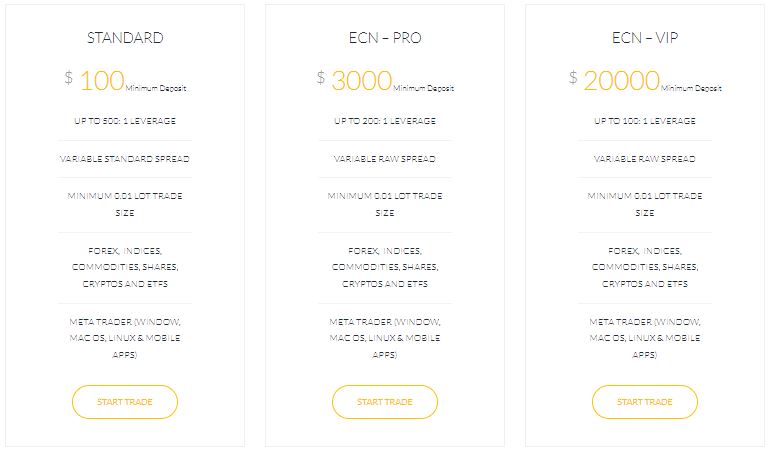 Two general types of accounts at Tradehall are live and demo accounts. A demo account offers the possibility of trading with $100 000 virtual funds for a limited time (30 days). Live trading accounts require investing real cash and these are the prices:
Standard -$100

ECN – PRO -$3 000

ECN – VIP -$20 000
From the poor accounts description, we'd say they do not offer anything different except leverage. The standard account supports leverage of up to 1:500, while the other two have slightly lower leverage ratios. Spreads aren't revealed. Nor is much of anything else at all. Wouldn't it be fair to show all the features to an investor of $20 000?!
Deposits and Withdrawals
The client area at Tradehall discloses several available money-transferring channels:
Wire transfers

Bank transfers

Several minor E-wallets

Crypto (USDT)
A bit strange for a regulated broker (that Tradehall claims to be) not to have credit cards available as methods of monetary transactions. We'd always advise you to choose credit cards over other payment sources such as Visa, MasterCard, Maestro and etc. allow a chargeback. 
What we found strange is that the only available currencies are those used in Thailand, Indonesia, and neighboring countries. It hints at Tradehall's potential real location and residences of the targeted customers. 
How is the Fraud Delivered?
The broker shows opposing information pertaining to their entire line of work. From awkward mistakes in displaying regulatory info to not full disclosure of the company's location, contact, and background. All this sloppiness makes them highly suspicious. 
Aside from keeping their anonymity safe to a certain extent and only showing the customers what is beneficial for the broker itself, Tradehall displays other warning signs. 
For instance, they offer bonuses. Contests are always present and ongoing. Every new customer can choose a starting package and acquire referral bonuses. These without exception come with strings attached. And that's the dreadful trading volume requirement we always warn you about. Tradehall doesn't disclose how much they demand you to trade before being allowed to withdraw anything.
Terms and Conditions are straight about the users being solely responsible and paying for all incurring fees. Tradehall also reserves the right to close positions, direct customers' funds, and other actions that are unallowed by the regulatory standards. 
Tradehall
Summary
Regulated or not, that is the question. Honest or a liar, transparent or a clone? Seems to us that Tradehall plays a game and waits for potential victims to take the bait. If you've been contacted by this broker or you're thinking of starting a trading career here, think twice. 
In the fickle Forex world, you have to doubt everything. And you constantly have to keep yourself updated and well-informed if you do not wish to make a wrong move.  We're here to help you on your way to becoming a successful trader. A piece of advice could mean a lot, so contact us to trade ideas and experiences. 
FAQs About
Tradehall
Broker
Is My Money Safe With Tradehall?
It's highly questionable due to confusing regulations and potential dishonesty from the broker's side.
Does Tradehall Offer a Demo Account?
Yes, you can open a demo account and trade on MT5 with up to $100 000 virtual funds for a period of 30 days.
Is Tradehall a Trustworthy Broker?
This isn't 100% certain. Since there are so many irregularities, we'd recommend you choose another broker instead.