October 03, 2023
Reading Time:
4
min
Trademote Review: Delving Deep Into the Security of Trademote.com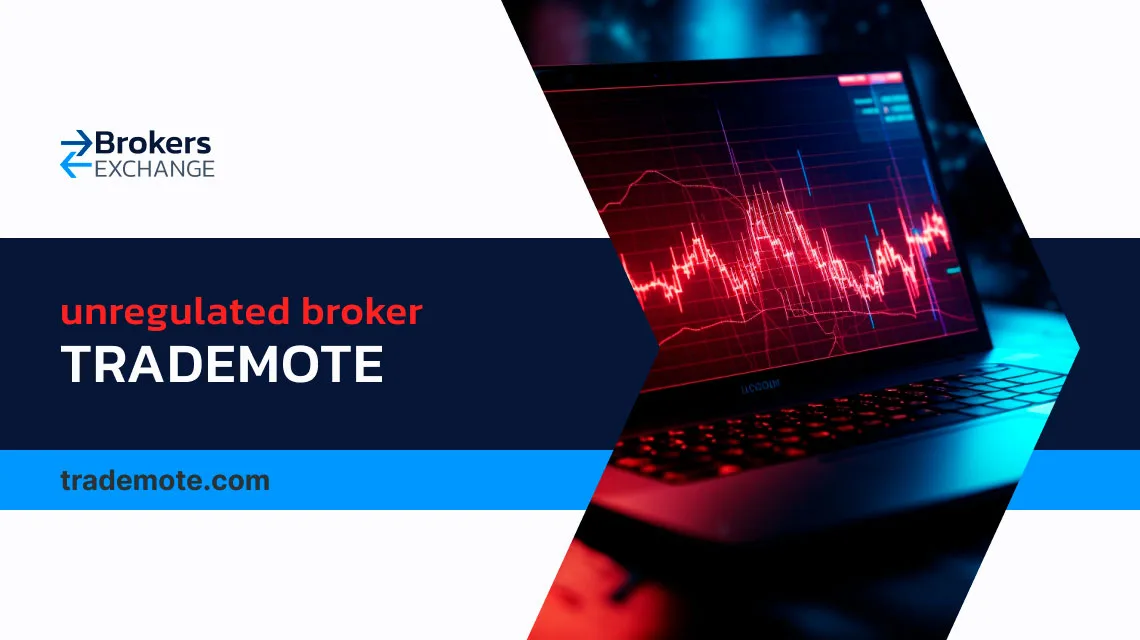 Trading with brokers who are not secure can only result in losing your funds. Why, you may ask? They are unregulated and more prone to scams because no one oversees the firm's operations. Our Trademote review covers the lack of regulation and transparency for this offshore St. Vincent and the Grenadines-based brokerage. 
To help you make informed decisions, we examined HastForex, which is just another scammer you should avoid. Now, without further ado, let's start with our in-depth Trademote review. 
Who Is Trademote?
Trademote is the trading name of Namelina Limited, a brokerage based in St. Vincent and the Grenadines. Both branches are shut down. However, the danger of them reappearing still exists. Offshore brokers like this one will always try new ways to operate, especially if they successfully scam investors. 
The worst part is that trading firms like RoiFX or Trademote have no shame and boundaries. They will go out of their way to try to persuade you to invest, and each time, they will ask for more. That is why research and due diligence is crucial. 
| | | |
| --- | --- | --- |
| | Trademote | Reliable Broker Must Have |
| Legal name | Namelina Limited | Transparently displayed in the disclaimer or legal documents |
| Regulation | Unregulated | Within your legal jurisdiction – local regulator |
| Registered in | Suite 305, Griffith Corporate Centre, P.O. Box 1510,  Beachmont, Kingstown, St Vincent and the Grenadines | Your country or the country whose license applies in your legal jurisdiction  |
| Established | N/A | The older the domain – the higher the possibility the company is trustworthy |
| Website | trademote.com | Domain should be from local or international zones, no .xyz, etc. |
| Financial Authorities Warnings | | None |
| Contacts | | Phone, email, social media, web form |
| If a withdrawal is possible | No | Yes |
| Fees | | Transparent fees – list of spread and commissions |
| If Active on Social Media | No longer operational | Often present on social media |
| Investor Protection | No | Compensation fund |
Regulation Info
While operational, Trademote was not regulated by any financial authority, indicating potential issues while trading with this firm. Investors should proceed with caution, especially since this offshore brokerage operates from nations such as Australia and the United States, where regulation is crucial. 
Firms offering investment services in the aforementioned countries need to be regulated by the U.S. Securities and Exchange Commission (SEC) and the Australian Securities & Investment Commission (ASIC). 
Trademote Broker Profile
Finding any information about this trading firm is challenging because even while operational, the firm was a mystery when it came to the information about its owner, year of establishment, or even trading conditions in general. Trading in forex, stocks, currencies, indices, and commodities was offered on the proprietary web trader. It was no surprise that the firm didn't offer popular platforms such as MT4 or MT5. 
Trading Platform

Web Trader

Account Types

N/A

Financial Instruments On Offer

Forex

(EURUSD, EURGBP, USDNOK)

Stocks

(Apple, Amazon, Microsoft)

Cryptocurrencies

(BTC, ETH, XRP)

Indices

(S&P 500 Index, Dow Jones Industrial Average, FTSE 100 Index)

Commodities

(Crude Oil, Natural Gas, Corn)

Maximum leverage

N/A

Minimum Deposit

N/A

Commissions/Bonuses

N/A

Mobile app

No

Desktop app

No

Autotrading

N/A

Demo account

No

Education or Extra tools

None
Was Trademote Legit?
Unfortunately, the Trademote scam is real and this firm is not legit. From the lack of transparency and regulation to bad client feedback, this brokerage is anything but reliable. Additionally, the mere fact they are closed says a lot about their practices. 
Legit companies would never make false promises of high returns and risk-free trading. That is why it's important to be aware of potential risks. Trading is a risk on its own and adding an unregulated broker on top of it can only result in losing everything. 
How Is the Scam Carried Out?
Scam brokers frequently make fake claims of returns that are assured or risk-free investing. They have the ability to manipulate traders' accounts to make it seem as though they are winning money while they are actually losing it. That is why there is less chance of getting scammed while trading on well-known platforms like MT4. 
Trademote is an offshore brokerage operating without a license in the United States, Poland, South Africa, Brazil, and Australia. If you are from any nations mentioned, keep in mind that the brokers you want to trade with need to be regulated by authorities in your jurisdiction. 
Deposits and Withdrawal Methods
Depositing your funds with brokers like Trademote is easy, however, withdrawing your funds is not. You can deposit quickly and hassle-free and scammers will even try to build a trusting relationship with you to make you deposit even more. After you stop and you want your funds withdrawn, that is when the real issues start. 
Your withdrawal will be delayed for as long as possible to stop you from filing a dispute. They will say how technical issues prevent them from returning your hard-earned funds or even sometimes persuade you that you violated a rule and the money is frozen with the account. In these cases, it's vital to remember not to trust them and take action immediately. 
Can I Make Money While Trading Online?
Trading is not an easy way to get money and if you are planning to use it as a quick-to-get-rich scheme, you won't make it far. The first step toward profitable trading includes educating yourself about the business and all potential risks that it brings. You also need the right tools and a good plan, which is something we can help you with.
Our innovative AI bot is here to make trading easier, without needing to rely on brokers and their personal managers. With its ability to predict future prices and offer guidance on when to buy or sell, it helps you make informed decisions much easier. This powerful tool will also collect historical asset prices and data from charts, giving you valuable insight. 
The best thing is if you are within the first 100 traders to reach out, you can try our bot for 14 days for free, with no commitment. Hurry up and call us to start trading profitably! 
FAQ Section
What is Trademote?
Trademote was an offshore brokerage company based in St. Vincent and the Grenadines.
Is Trademote Regulated?
No, Trademote is no longer operational and, therefore, unregulated.
How To Get My Money Back From Trademote?
Filing a dispute and reporting the scammer to authorities usually always works, however, if it doesn't don't stress. Reach out to us and we can get back what's stolen from you.