September 02, 2023
Reading Time:
5
min
TradeOnyx Review: A Broker Unworthy of Your Attention and Investments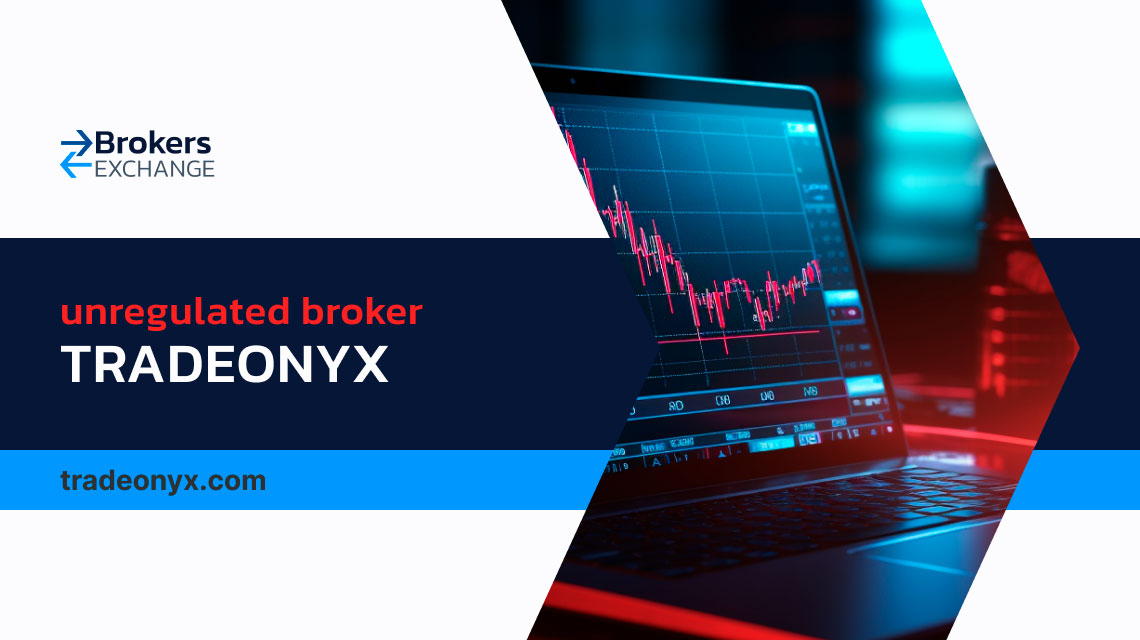 Scams are becoming more and more common and it's up to you to learn how to recognize and avoid them. Even regulated brokers can sometimes pose a threat to your investments, so researching the brokerage is crucial if you want to have a safe trading experience. That is why it's important to read our TradeOnyx review, so you can decide without wondering if you made a mistake or not. 
Unfortunately, TradeOnyx doesn't have the greatest reputation. The broker operates without a license but claims to be a great choice for traders. Just like ENS Invest, TradeOnyx is a dangerous broker and you shouldn't trust them with your investments. But without further ado, delve deep into this TradeOnyx review to uncover the truth hidden behind this broker's facade. 
Who Is TradeOnyx? All About tradeonyx.com
Trading with unregulated brokers is risky, especially if there are multiple warnings from financial authorities connected to them. TradeOnyx upholds its reputation as an unreliable brokerage and trading with them poses a threat to your investments. Transparency is also not their strongest quality and to make things even worse, every piece of information is hidden from the public. 
The year the broker was established is not available, however, the domain is less than six months old, meaning they are relatively new in the market. Any contact information or the country they are from is also hidden, making it impossible to consider them as a reliable choice. 
| | | |
| --- | --- | --- |
| | TradeOnyx | Reliable Broker Must Have |
| Legal name | TradeOnyx | Transparently displayed in the disclaimer or legal documents |
| Regulation | Unregulated | Within your legal jurisdiction – local regulator |
| Registered in | Geneva, Switzerland | Your country or the country whose license applies in your legal jurisdiction  |
| Established | N/A | The older the domain – the higher the possibility the company is trustworthy |
| Website | tradeonyx.com | Domain should be from local or international zones, no .xyz, etc. |
| Financial Authorities Warnings | | None |
| Contacts | Data is hidden | Phone, email, social media, web form |
| If a withdrawal is possible | Highly unlikely | Yes |
| Fees | | Transparent fees – list of spread and commissions |
| If Active on Social Media | No | Often present on social media |
| Investor Protection | None | Compensation fund |
Regulation Info
TradeOnyx is not regulated by any financial authority but that isn't even the worst part. Many authorities warned investors that the broker is operating without a license, advising them to stay away. TradeOnyx is aiming at clients from Canada, Georgia, and the UK, however, it's vital to note that to operate from these nations, the broker would have to be regulated by financial authorities such as the Financial Conduct Authority in the UK or IIROC in Canada. 
Autorité des marchés financiers (AMF) was first to warn investors about trading with TradeOnyx.
IOSCO followed up with the warning, providing a link to the AMF's website.
The Canadian Securities Administrators (CSA) also warns the public about TradeOnyx.
The last warning comes from us. Stay away from brokers like TradeOnyx or EuropeMarket so you can avoid a stressful trading experience. 
TradeOnyx Broker Profile
TradeOnyx is an unregulated brokerage company trading in forex currency pairs, cryptocurrencies, indices, and commodities. Leverage information is hidden, as well as any commission charged. The lack of transparency is evident and trading with TradeOnyx would only bring you stress. There are no educational resources available and the minimum deposit is not specified, which could indicate that there is no requirement. 
The broker is using the MT5 trading platform which is their only benefit so far, or you can use their web-based trading platform, depending on your preferences. It's important to note, however, that some platforms if not all of them can easily be manipulated.
Trading Platform

Tradeonyx web-based platform, MT5

Account Types

N/A

Financial Instruments On Offer

Forex

(EURUSD, EURGBP, USDNOK)

Cryptocurrencies

(BTC, ETH, XRP)

Indices

(S&P 500 Index, Dow Jones Industrial Average, FTSE 100 Index)

Commodities

(Crude Oil, Natural Gas, Corn)

Maximum leverage

N/A

Minimum Deposit

N/A

Commissions/Bonuses

N/A

Mobile app

Yes

Desktop app

No

Autotrading

Yes

Demo account

No

Education or Extra tools

None
Is TradeOnyx a Reliable Choice?
All things considered, trading with TradeOnyx is anything but safe. From the lack of regulation and transparency to hidden fees and information, the broker poses a threat to anyone who may use them. There are much better alternatives to consider that are both regulated and transparent, so make sure not to waste your time with brokers like TradeOnyx. 
Reliable brokers won't call you constantly asking for more money, and withdrawals are a peace of cake. You don't have to be afraid of wondering if you will ever see your money again if you choose a reliable brokerage. Reach out immediately to book your free consultation and we will find a transparent broker you will enjoy trading with. 
TradeOnyx Review: Traders' Thoughts and Opinions
Reviews of TradeOnyx on Trustpilot are unfortunately not sufficient. There are 4 reviews in total, giving the broker an overall score of 2.8. As you probably already guessed, all reviews are unfavorable, accusing the brokerage of a scam. Overall, staying away from TradeOnyx is the best you can do to ensure the safety of your investments. The traders know best and they warn you to run away from TradeOnyx:
"TRADE ONYX.COM is rotten he stole $14,443.00 and $1400.00 Canadian from me. They want me to pay to receive my money. Scam, don't do business with them. Beware because they must be on the eve of changing the name. They harass me by calling at least twice a day and yelling at me."
A Look at TradeOnyx's Traders They Serve
The broker is known for being pushy by constantly calling traders and asking for more money. Even if you only want to withdraw your investments, they will try to make you believe that in order to withdraw, you need to deposit more, before they completely disappear with your money. They will lock you out of your account, with no prior warning. 
TradeOnyx mostly aims at clients from Canada, the UK, and Georgia. As we mentioned before, to operate in these countries, brokers would have to be regulated by financial authorities in those countries, like FCA in the UK. However, the broker doesn't have a valid license from any regulator, making them unsafe to trade with. 
Deposits and Withdrawal Methods
Available payment methods at TradeOnyx include credit/debit cards, bank transfers, and popular e-wallets, such as Skrill and Neteller. Overall, if you get scammed by the broker, file a dispute with your bank and request a chargeback if you used a credit or debit card for depositing. If you used any other form of payment, don't worry. Stress creates a mess and the important thing to remember is that getting your money back is possible, one way or another. 
Withdrawals are not easy with TradeOnyx, according to traders' reviews. After you request a withdrawal, they will first call you, offering large profits if you cancel the withdrawal request. If you deny, they will ask you to deposit more money to be able to withdraw, offering lame excuses. If even that doesn't work, they will delay the process for as much as they can, until you give up and invest the money you planned to withdraw. Stay away from TradeOnyx. 
TradeOnyx Pros and Cons
Pros
Cons

MT5

Unregulated

Lack of transparency

Hidden fees

Poor communication

Pushy broker

Withdrawal issues

Hidden information

No social networks
Long Story Short
It's crucial to remember the differences between trustworthy and unreliable brokers, so you can get into trading without any worries. Instead of wondering whether or not your investments are safe, do research and evaluate the pros and cons of the broker before depositing any money. Research and due diligence is vital for a safe and profitable trading experience. 
If you have been scammed, don't be embarrassed. It can happen to anyone, especially now that scams are becoming more and more common. Getting your money back is possible, so reach out immediately to start the process. If you are just looking for a reliable broker on your side, we are the right way to go! There are many brokers suited to your preferences, just waiting to be reached. 
FAQ Section
What is Tradeonyx?
Tradeonyx is an unregulated brokerage company with an infamous reputation. Trading with them will only bring you stress, so it's advised to avoid them.
Is Tradeonyx A Legit Broker?
Tradeonyx is not regulated by any financial authority, making them unreliable to trade with. The broker is surrounded by scams, so it's not recommended to trade with them.
What Are The Trading Platforms Of Tradeonyx?
TradeOnyx is using one of the most popular platforms, the Meta Trader 5. Additionally, the broker has a web-based platform, Tradeonyx.