November 21, 2023
Reading Time:
5
min
TradesViz Review: A Platform With A Built-In AI-Powered Q&A Analysis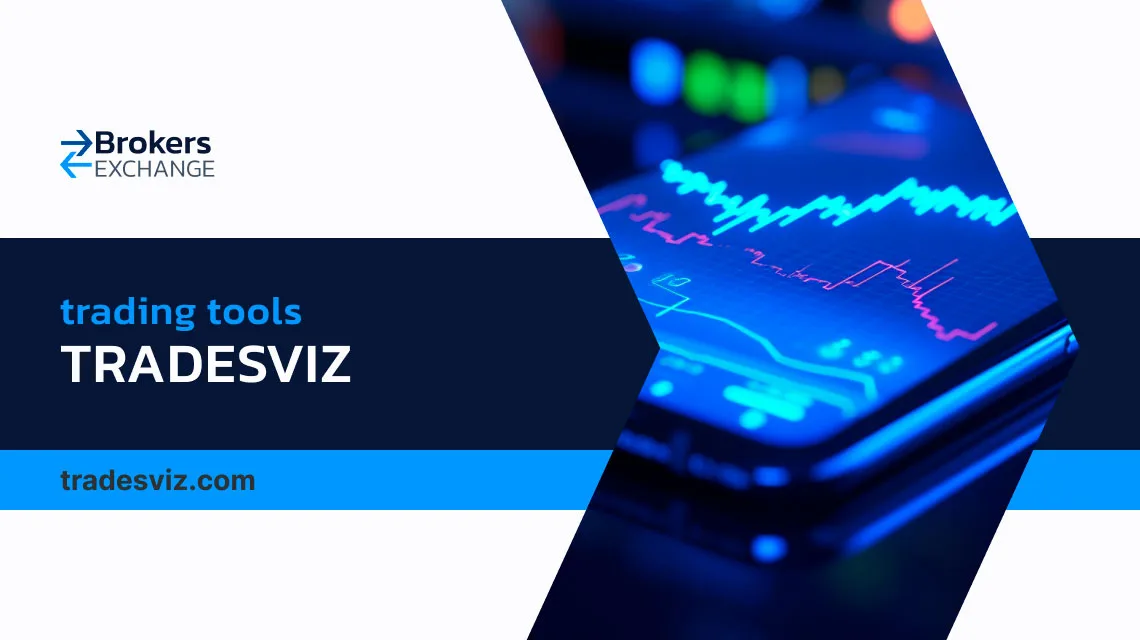 Trade analysis and research are this company's main areas of attention. Its website offers a variety of tools for this purpose, and getting started is simple. A collection of educational videos is offered, along with a free trial for plans you need to pay for and a free version as well.
To learn more about this company keep reading our TradesViz review, and make sure to follow us for more unbiased evaluations. Avoid brokers like Ultranovas, with whom profiting will be harder than expected. 
About TradesViz
TradesViz is the most sophisticated online journaling and analytics tool for traders. Over 500 charts and data are available to maximize your trading performance and experience. You can import from more than 30 foreign platforms and brokers as well as import from more than 100 brokers. 
The firm offers charting for forex, cryptocurrency pairs, global indices, and exchanges in CA, US, AU, and IN. There is not much that is known regarding the firm's owner, address, or history overall, which indicates a lack of transparency. Keep reading our TradesViz review to learn more about the plans and features they offer. 
Company Type
Trading Tool
Legal name
TradesViz
Regulation
Not expected
Registered in
California, US
Established
2020
Website
www.tradesviz.com
Financial Authorities Warnings
Contacts
Fees

Monthly Subscription 
Yearly Subscription

If Active on Social Media:
Yes
Investor Protection:
No
Activity areas
United States, India, Canada, United Kingdom, Germany
Main threats
Doesn't Support All Brokers
Main perks
Affordable 
TradesViz Features
There are various features to choose from and all of them are unlocked by subscribing to the Premium plan. With the free version, there is not much that's available and we can say that the free plan is not worth it. However, as soon as you subscribe to the Pro plan, more features get unblocked. The features include the following: 
Charting
Static and interactive charts with automatically plotted executions:
Technical Analysis Chart
Auto-generate Charts
Chart View
Trade Explore View
Statistics 
Over 400+ statistics and visualizations are available, some of them include: 
Custom Dashboard
Charts Overview
Statistics Guide
Exit Analysis
Options Analysis
Tabs
Every TradesViz tab is made to optimize effective insight collection. Some of the helpful tabs include: 
Trades Table
Day Explore
Notes
Calendar
Chart View
Other than the standard features we mentioned above, there are also available additional features. Those additional features are constantly updated, meaning new ones could emerge at any time. Those options include a trading simulator, seasonality charts, options flow analysis, options simulator, and an AI Q&A as a bonus. 
TradesViz Pricing and Plans
The plans are really affordable and if you don't want to pay, there is also a free version on offer. It is vital to note, however, that the features are limited and you only gain access to a limited number of executions. 
Free Plan:

You can import 3000 executions a month with the free plan and have more than 50 performance visualizations, basic auto-generated charts, and real-time options flow. In addition to the free plan, there is also a 7-day trial for both Pro and Platinum plans. 

Pro Plan:

For $15 a month or $125 a year, you are guaranteed unlimited imports with all asset type supports, more than 400 performance visualizations, multiple auto-generated and interactive stock charts, and multiple trading accounts. Additionally, the AI Q&A is also available as a bonus.  

Platinum:

With unlimited custom dashboards, you can enjoy an advanced options flow analysis, options flow scanner, exit analysis charts, and a trading simulator for stocks, options, futures, and forex. Furthermore, unlike other plans, commission-free trading with a built-in trading console is available with the Platinum plan. 

Recently Added for Platinum:

Platinum users only need to pay $20 a month or $188 a year to get all the features above and additionally, they receive pivot/grid charting, trade/day plans & checklist analysis, and 70+ indicators any symbol for backtesting. 
At the time of writing, you can enjoy an additional 30% discount with the code TVBF23. An additional $9.99 per month (or $4.99 per month with an annual membership) is charged for the stock screener. 
TradesViz Reviews
There are only 4 comments on Trustpilot about this firm and they are not looking good. 3 of the 4 comments are unfavorable and complain about customer support and buggy software. One review said the journal service is complex and claims that TraderSync is a better choice. 
After digging some more, we did find a TradesViz Reddit discussion where traders try to determine if TradesViz offers a good journal. One member recommended Stonk Journal and another one advised on how to import everything into TradingView. Overall, there are not so many reviews about this company that we could rely on.  
TradesViz vs. TraderSync
According to several traders, TraderSync seems better than TradesViz. We made a list of what each company offers so you can make an informed decision easier. Below you will see the differences and similarities of both companies to see which one would suit you better. 
TradesViz
TraderSync

No Mobile App

Free Version

$13 a month

2.9 Score on Trustpilot 

United States

To Access the AI Q&A Pro Tier is Required 

7-day Trial for Subscription Plans 

Fewer Features Offered

Offers a Mobile App

Free Version

$29.95 per month

4.5 Score on Trustpilot 

Canada

To Access the AI Reporting Elite Tier Is Required

7-day Trial for Subscription Plans

More Features Offered
Weighing the Pros and Cons
Pros
Cons

Free Plan

Free Trials for Other Plans 

Affordable 

Continuous Discounts

Multi-currency support

Various Analysis Tools

Licensing Partnership With TradingView

Doesn't Support All Brokers

No Mobile App

Stock Screeners Are Paid Separately
Can I Make Money While Trading Online?
To finally conclude our TradesViz review, it's time to finally say our thoughts. We need to agree with several other traders in saying TraderSync is better. Not only that it's better reviewed but they offer a variety of other features TradesViz doesn't even have in mind. Other than that, we do encourage you to try their free version or free trial before committing. 
That said, if you are looking for a prop firm, we recommend checking out Traderseed or eventually if you are looking to make money while trading online, check AI.F.  Our AI analysis bot is the ultimate trading engine, processing billions of data points with ease, including historical data, indicators, and news about the market.
Rather than relying on brokers, you can use AI.F's ability to optimize your profits. If that sounds interesting, give us a call today and try our bot for 14 days for free. With its unlimited power, you will be unstoppable. 
FAQ Section
Where is TradesViz Located?
There is no specific address that is provided for the company, however, we did notice on their LinkedIn profile that they are based in California, the United States.
Can You Actually Trade on TradesViz?
TradesViz is only compatible with Tradier for real trading. Nonetheless, deals from other brokers can be imported into the TradesViz platform for examination.
Is TradesViz Worth It?
If you look at the cost, it's definitely worth it. For only $10 a month, you have access to a variety of features and the firm is more affordable than its competitors.