May 30, 2023
Reading Time:
4
min
Our Tradiva Review Sheds a Bright Light on this Scammer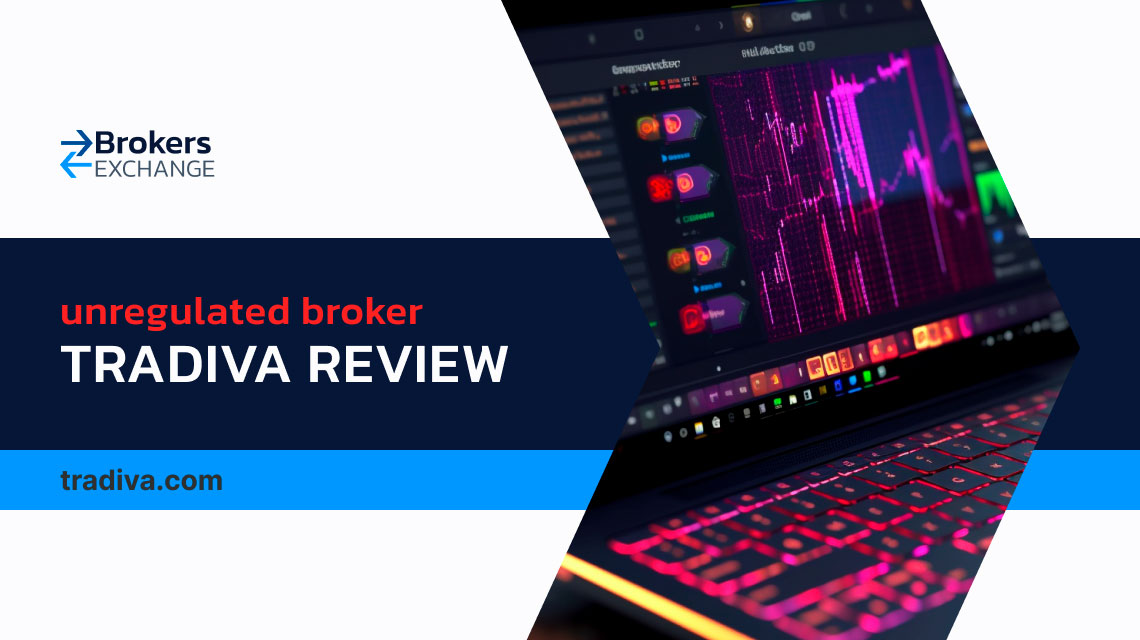 Suspecting Tradiva is a scammer, we had to do research and find if our hunch was right. And thus, this Tradiva Review was created. Here you will have all the information you need. Let's start, so you can see yourself.
Company

Tradiva

Regulation

Unlicensed Forex Provider/No Regulation

Warning

N/A

Website

tradiva.com

Address

Ajeltake Road, Ajeltake Island, Majuro, Republic of the Marshall Islands[1] 

Email

[email protected]

Phone

+44 203 808 8849 Great Britain (London)

+7 495 135 9263 Russian (Moscow)

Minimum Deposit

$250[2] 

Leverage

1:200

Bonuses

100%
Regulation and Fund Security
So, why did we say it's dangerous to go offshore? Well, Prometheus Ltd., the company behind Tradiva is based in Saint Vincent and the Grenadines (SVG), which is also where a great deal of offshore scammers come from. The first of many red flags.
When talking about regulation, you can find no information about licenses and registration on their website. This is a good enough sign to sound the alarm. A legitimate platform would make their registration number public, so you as a potential client could check it. As this is not the case, we can say that Tradiva is undeniably UNREGULATED.
And as far as fund security is concerned, you cannot count on it. Since this broker is not regulated in any way, it cannot guarantee the safety of your funds. In such cases, the best policy is to avoid investing in the first place.
Trading Software Overview
Tradiva has two trading platforms their customers can use.

The first one is MetaTrader 4, a well-known trading platform for people in the Forex world. This premium software gives its users invaluable features such as automated trading, multiple timeframes, live market reports, etc.
Tradiva also offers a second platform – WebTrader. However, it has significantly fewer features and is much inferior to MT4.
Account Types Available
When talking about Tradiva's account types, you can choose between:
     

Mini – $250

     

Standard – $5,000

     

Gold – $10,000

     

Platinum – $25,000
If we take a look at what you get with each account, we can see that the first two and the last two are more similar in what they offer.
Mini and Standard accounts are very limited in terms of what you get in return for investing. In both cases, you have an online chat option, with the Standard account offering access to all platforms on top of that.
 On the other hand, the Gold and the Platinum accounts provide you with a lot more such as a VIP manager, an individual direct telephone line and so on. With Platinum, you also get special promotions and personal reports on the stock market.
Deposits and Withdrawals Procedure
The payment methods available to Tradiva customers include:
     

Visa

     

MasterCard

     

Maestro

     

Wire transfers

     

Skrill, etc.
 As we mentioned above, the minimum deposit is $250, and the minimum withdrawal amount is $50. Additionally, this scammer generously gives its newcomers a 100% bonus, but that bonus has some hidden strings attached to it.
Although you do receive a bonus, you must trade in an extremely high volume with it if you want to withdraw your funds. Here's how they put it: "When receiving a bonus up to $10,000, the amount of trade must reach $10,000,000 per every $1000 of the received bonus means."
And the situation keeps getting worse. If you go through their Terms and Conditions page, you will find some alarming information. This broker reserves the right to institute limits on the amount you may withdraw, refuse to process withdrawal requests, etc.
How Is Fraud Carried Out?
Just like Beurax, DeltaFx, and many other scammers out there, it all starts with a phone call. You sign up, giving your email and phone number in the process, and then the brokers start calling, trying to convince you to invest. After the first investment, you are hooked.
The senior scammers then take over, telling you stories about making big money and luring you to invest even more. This, of course, is a trap, but many people come to this conclusion after it's too late. 
At a certain point, you realize you've invested way too much money and decide you want it back, so you make a withdrawal request. And then the real problems start 
The scammers will try everything to prolong this process because, after some time, you lose your chance to file a chargeback. You are then left with no means of getting your money back, and the scammers get to walk away with their pockets full.
Tradiva Summary
As you've seen in our Tradiva Review, dealing with unregulated brokers can have serious consequences. They are free from all responsibility, which leaves you at their mercy.
With this in mind, we need to think twice before taking any risks while investing money. Look for clues of scams every time you want to do business with a broker. See if they are regulated, if there are public warnings issued against them, and stay safe out there.
FAQs About Tradiva Broker
How Secure is the Tradiva Trading Platform?
It is not secure at all. This broker is completely unregulated, and you should avoid investing with them.
Does Tradiva offer a Demo Account?
No. Tradiva does NOT offer a demo account. They have four account options, with the minimum deposit being $250.