July 14, 2023
Reading Time:
6
min
Trassat Review: Why This Illicit Trading Platform Is Bad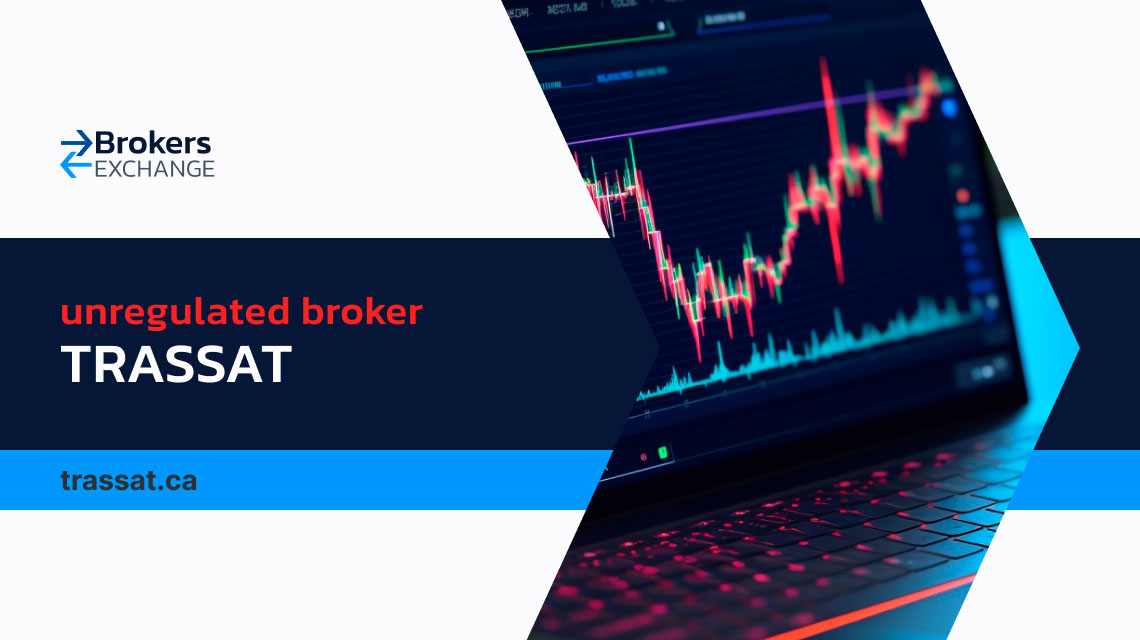 Trassat is a cutthroat spring trap for unsuspecting traders. This trading platform cannot be trusted and we will explain precisely why in our Trassat Review.
After several warnings from financial market regulators, it was easy to see right through the ruse that Trassat is running. Watch out for scammers such as this one and Brokers Park.
What Is Served On Trassat's Bogus Website
Trassat is allegedly a trading name of Shadlake LTD, a company based in Bulgaria. There are also claims of this being a US-based venture, which is an incredible lie. This entity has been blacklisted by multiple European financial market regulators.
This shady broker offers a web-based trading platform and multiple popular trading instruments such as Forex currency pairs, CFDs and crypto tokens. 
Broker name
Reliable Broker Must Have
Legal name:

Shadlake LTD

Transparently displayed in the disclaimer or legal documents

Regulation:

Unregulated Scam Broker

Within your legal jurisdiction – local regulator

Registered in:

Bulgaria (allegedly)

Your country or the country whose license applies in your legal jurisdiction 

Established:

2022-10-12

The older the domain – the higher the possibility the company is trustworthy

Website:

trassat.ca

 

Domain should be from local or international zones, no .xyz etc.

Financial Authorities Warnings:

CNMV, CONSOB, AFM, FSC

None

Contacts:

Phone, email

Phone, email, social media, web form

If withdrawal is possible:

Highly unlikely

Yes

Fees:

1.4 pips

Transparent fees – list of spread and commissions

If Active on Social Media:

Not active 

Often present on social media

Investor Protection:

No protection

Compensation fund
Regulation Info
As mentioned, Tassat is operated by the Bulgarian company Shadlake LTD. There is something you should know about this monkey business – several European financial market regulators issued warnings against Shadlake LTD, even the company's home regulator, the FSC!
The charge was led by the Spanish cnmv, which issued a warning on March 27, 2023. Regulators that also gave their warnings include the Bulgarian fsc and Dutch afm. A few months later, the Italian consob also flagged Shadlake LTD as a fraudulent scammer.
Note that these regulators blacklisted the company for deceiving traders on the Crystal Capitals platform but the essence is the same – Shadlake LTD cannot be trusted. Stay away from Trassat and similar unregulated hoax platforms such as Costa Markets. Instead, trust brokers that are regulated by reputable authorities like the ones we mentioned above.   
Top-tier regulators such as the FCA (UK), CFTC (US), ASIC (Australia), CySEC (Cyprus), CNMV (Spain), etc. require brokerage companies to possess a significant minimum operating capital (i.g. 730,000 EUR or 20,000,000 USD), offer clients negative balance protection, segregated funds, and even a compensation scheme (i.g. up to 20,000 EUR in Europe).
Trassat Profile
Trading platforms:

WebTrader

Account types:

Student, Standard, Islamic, Investor, Trassat VIP, Trassat VIP Platinum

Financial Instruments On Offer:

Forex currency pairs – EUR/USD, GBP/AUD, CAD/CHF…

Indices – S&P 500, DAX 30, CAC 40…

Commodities – gold, silver, oil…

Stocks – Apple, Google, Amazon…

Crypto – BTC, ETH, USDT…

ETFs – QQQ, INVESCO…

Maximum leverage:

1:200

Minimum Deposit:

250 EUR

Commissions/bonuses:

N/A

Mobile app:

Not available

Desktop app:

Not available

Autotrading:

Not available

Demo account:

Not available

Education or Extra tools:

Skype education, glossary
Trassat's trading platform is web-based. It features basic charting, graphs, and TA indicators. However, customization is not available and traders cannot utilize any automated trading tools. The platform is lackluster and not worthwhile.
There are many other licensed brokers that offer proper third-party software such as MT4, MT5, or cTrader, which are far superior to web platforms.
When it comes to trading instruments, this broker offers Forex currency pairs, cryptocurrencies, and CFDs on popular assets such as stocks, indices, and commodities.
The maximum leverage is pretty high – 1:200, which is a double-edged sword, i.e. you could win big but in most cases, people lost all their funds. The trading platform displayed a spread of 1.4 pips for the benchmark EUR/USD Forex pair. It's decent but you cannot trust a blacklisted company and an unregulated platform.
Trassat Trading Account Types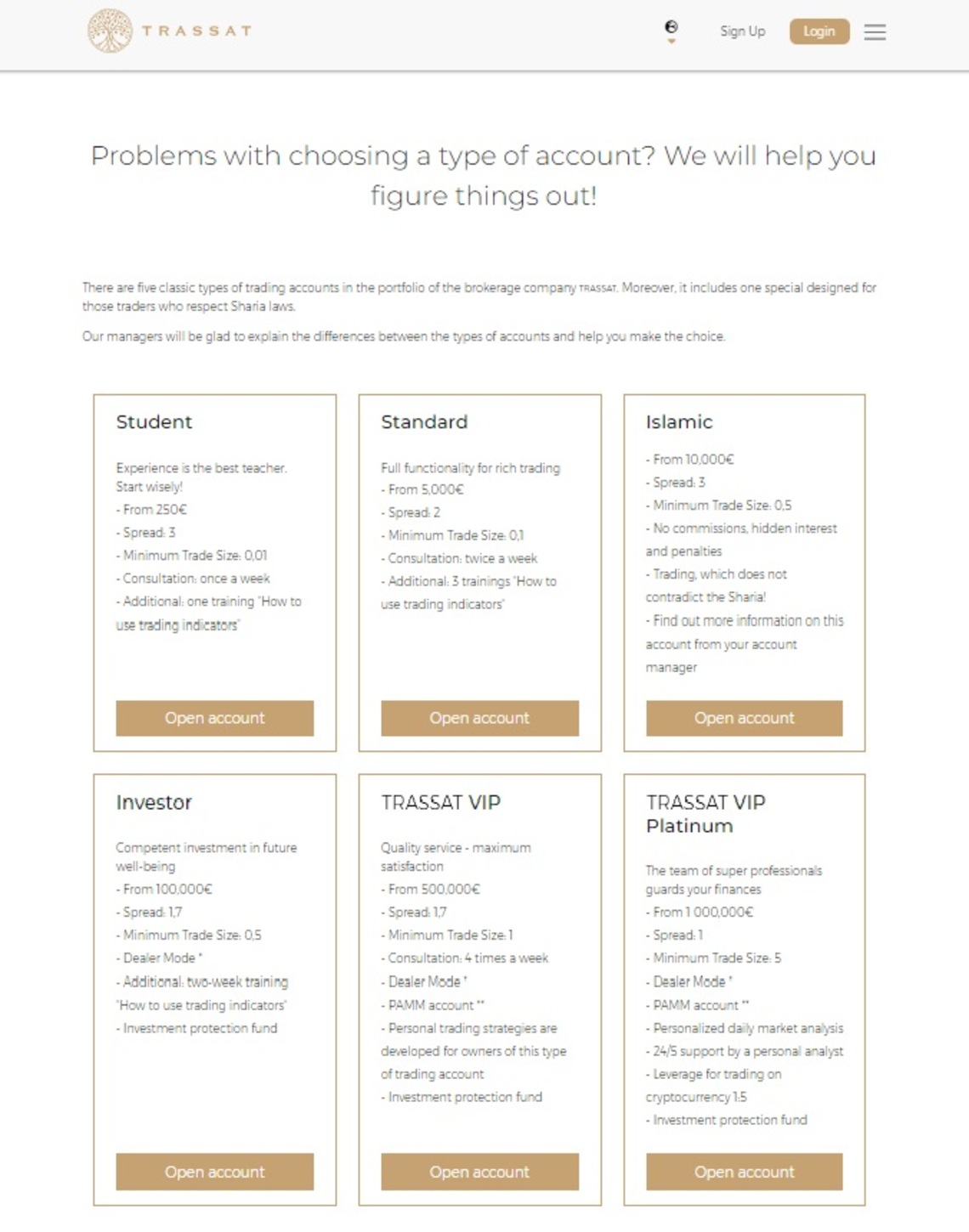 Here's an overview of Trassat's live trading account types:
Student – 250 EUR;

Standard – 5,000 EUR;

Islamic – 10,000 EUR;

Investor – 100,000 EUR;

Trassat VIP –  500,000 EUR;

Trassat VIP Platinum – 1,000,000 EUR.
The spreads are more favorable as tiers go up. However, charging traders 40 times higher than the regular price for an Islamic account is an insult to their religion and a discriminatory move. Also, there is no demo account option, which is a red flag.
Is This Broker Safe?
Absolutely not. Trassat is not licensed to provide trading services. To make matters worse, the company behind the brokerage landed on several blacklists. There is no financial market authority overseeing this platform, creating the perfect conditions for a scam.
Other reasons include extremely high leverage, suspicious spreads, a rigged web platform, and no risk-free demo account option.
If you are a victim of the Trassat Scam, we can help you recover your money. Book your free consultation with us today.
Trader Reviews – Sharing Experiences
We managed to find one review related to Trassat and guess what? It is a complaint stating that the broker trapped the trader's initial deposit and won't let go. It is exactly how we thought the scam works as we dealt with identical cases so many times. 
That is why we are exposing scammers such as Trassat and Fintegral. Please heed this warning and do not risk your money unnecessarily.
They were encouraging me to deposit more money for 2 months. After they got disappointed in me, my contact person disappeared and no one responded anymore. My initial deposit is gone too.
ForexBrokerz user, February 24, 2023.
How the Trassat Platform Reaches Clients and Who Are They?
According to godaddy.com/whois, the trassat.ca website domain was created on October 12, 2022. Since then, the financial swindler has mainly been targeting unsuspecting traders from the following countries:
Sweden;

Germany;

Norway;

Denmark;

Brazil.
It seems that the scammer is mainly interested in traders residing in Scandinavia and Germany. Fortunately, several European regulators noticed this cyber threat and issued warnings to traders about it.
Trassat provided only a phone number and an email so we assume that those tools are used for communication with potential victims. The fraudster is not active on social media and we are not sure about private WhatsApp chats or Telegram channels so be on guard.
Deposits and Withdrawal Methods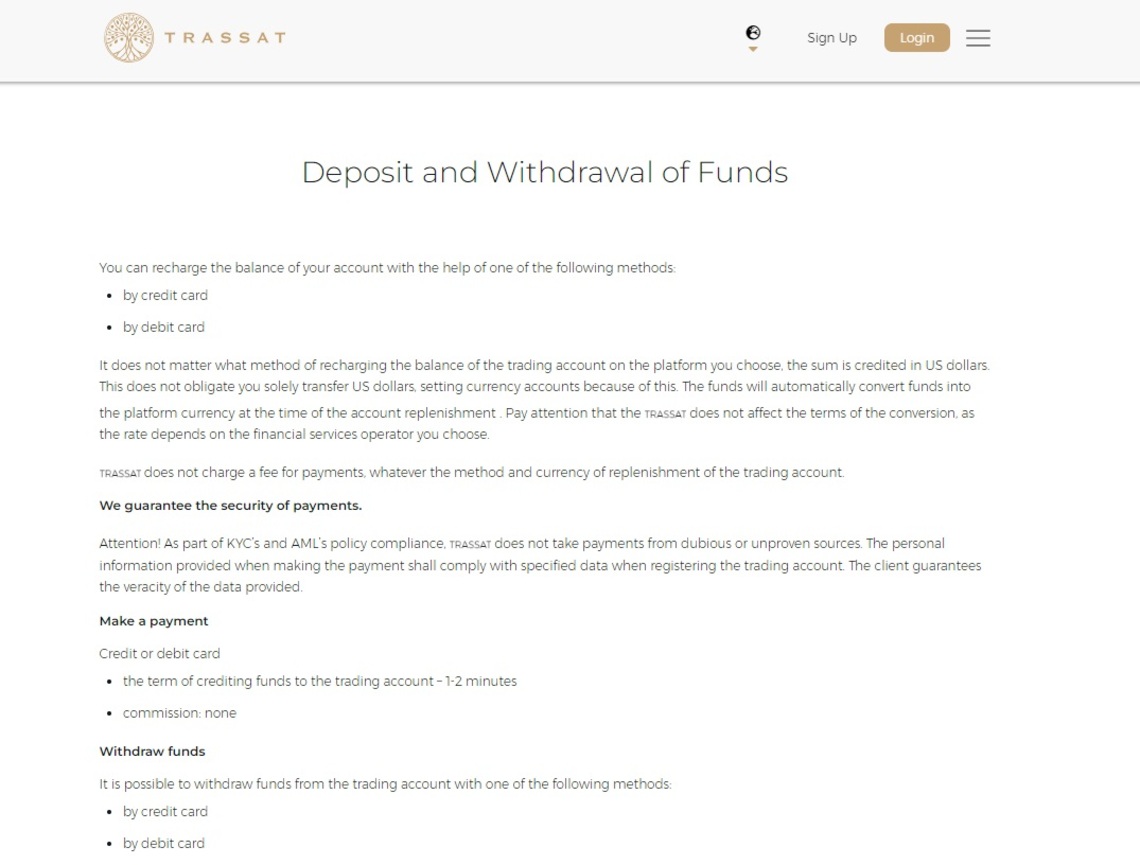 According to Trassat's website, deposits and withdrawals are made via credit/debit cards. The minimum deposit is 250 EUR and the broker claims that there are no withdrawal fees. Withdrawal requests allegedly take three to 10 business days to process.
The fact that the platform accepts card payments is actually a good thing since it allows you to request a chargeback. This process will reverse any card payment. It can be requested at the issuing bank within 540 days of the transaction.
Reasons To Avoid This Company
There is absolutely no reason why you should trust this platform. First of all, Shadlake LTD is a blacklisted fraud company and Trassat is just another in a series of cyber traps.
There is no demo account, meaning you cannot try out the platform for free. You have to invest real money right off the bat and thus risk getting scammed at the very beginning. Just recall how the unfortunate victim of the Trassat Scam lost money. 
Countless legitimate and licensed brokers are present online so you do not have to search for long. Trust a regulated and credible provider with your hard-earned money.
Having withdrawal issues with Trassat? We can help you retrieve your funds.
Our Safe Trading Experts' Opinion on Trassat
Trassat is a fraudulent trading platform associated with the blacklisted Bulgarian company Shadlake LTD. This broker has been active since 2022, offering alleged Forex and CFD trading services mainly to traders from Germany, Sweden, Denmark, Norway, and Brazil.
The platform is a scam, which is why we do not recommend you trade on it. If your funds are trapped and you cannot withdraw them, contact us for help by booking a free consultation with our team. We will gladly guide you through the chargeback process.
Book your free consultation today and start the chargeback process.
FAQ Section
What Is Trassat?
Trassat is a fraudulent web trading platform offering Forex and CFD trading services.
Is Trassat Good For You?
Trassat is bad for you; it's a scam. If you got defrauded by Trassat, you can contact us for help.
What Are Trassat Trading Products?
The Trassat platform offers Forex currency pairs, crypto tokens, and CFDs on assets such as indices, commodities, ETFs, and stocks.