April 18, 2023
Reading Time:
5
min
UKBTC Review: Don't Risk Trading with This Firm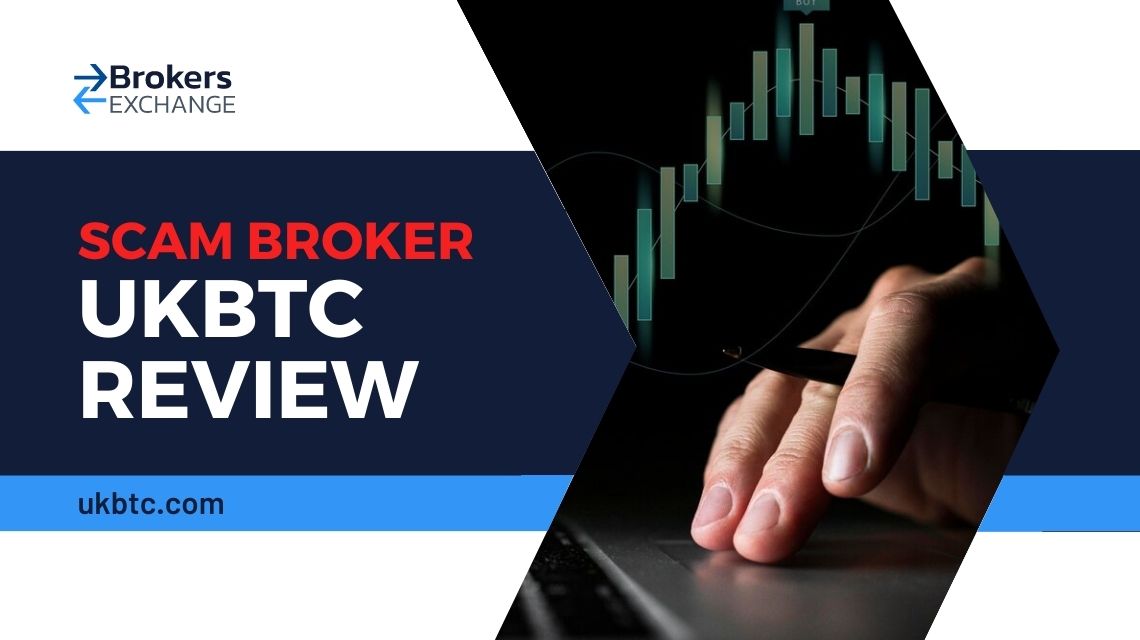 UKBTC Review, The website that was used as a gateway to the UKBTC scam is not functional anymore. Although it had a pleasing aesthetic that seemed to be made by a professional, it was full of punctuation errors and bad wording. 
The bad grammar on the website leads us to believe it was developed by someone who was not a native English speaker, and that the translation was generated automatically
UKBTC used to claim that they were a legitimate US company, but that they are an "Official United Kingdom Trading Market". The whole idea of a US company somehow being a UK official market is quite uncanny.
The UK's main financial regulator, the FCA has caught the wind of the scam. They have published a warning about UKBTC not being authorized. The authorities in Norway and Spain have forwarded the same warning through their regulators as well.
UK FCA Warning on UKBTC: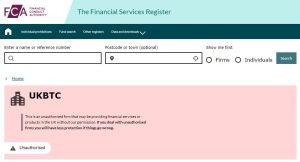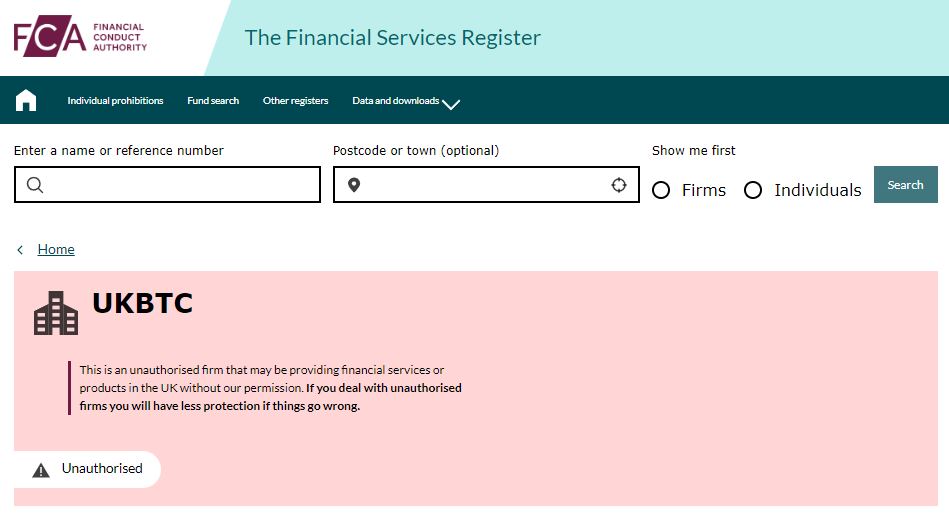 Norwegian Finanstilsynet Warning on UKBTC:


Furthermore, we highly recommend that you avoid the scam brokers Tradiso and Tesler.
| | |
| --- | --- |
| Broker Status: | Unlicensed broker |
| Regulated by:  | Unregulated |
| Operating Status:  | Offline |
| Scammers Websites:  | ukbtc.com |
| Blacklisted as a Scam by: | FCA, CMNV, Finanstilsynet |
| Broker Owner:  | UKBTC Financial USA Inc. |
| Headquarters Country: | USA (Alleged) |
| Foundation Year:  | 2012. |
| Online Trading Platforms: | N/A |
| Mobile Trading:  | N/A |
| CoinRise Minimum Deposit: | N/A |
| Deposit Bonus:  | N/A |
| Crypto Asset Trading: | BTC, XRP, USDT |
| CFD Trading Option: | N/A |
| Available Trading Instruments: | Cryptocurrencies |
| Maximum Leverage: | N/A |
| Islamic Account:  | No |
| Free Demo Account:  | No |
| Accepts US clients: | No |
UKBTC Reliability – License and Fund Security 
As we mentioned before, UKBTC claims to be a legitimate US company that operates in the UK. Both of these countries have very strict regulatory bodies. Their legal framework is very different when it comes to brokers, however.
In the US, a broker is required to provide at least $20,000,000 in starting assets. There is a leverage restriction of 1:50 in effect as well. The UK requires lower initial capital of £730,000, but the leverage must be lower, capped at 1:30. 
There are additional safety standards in the UK, like negative balance protection. Both nations require segregated bank accounts and regular financial reports. The UK's FCA has banned all bonuses, which are allowed for companies licensed under CFTC and NFA.
UKBTC did not accept clients from the US. Knowing how difficult it is to acquire authorization from CFTC and NFA, we can see why this claim is so absurd. The decision to offer to trade in the UK which has licensing terms so much different than the US is completely nonsensical.
We checked the databases of the NFA and CFTC, we found no information on UKBTC, to little surprise. The license number that UKBTC has provided on their site belongs to another company instead, HTFOX Financial USA Inc. Upon checking the UK's FCA register, instead of company information we found a scam warning! This made us dig a little deeper.
After checking with multiple European regulators, notably German BaFIN and Austrian FMA there was no data. The Spanish CMNV contained another fraud warning and yet another one with Norwegian Finanstilsynet! This settles it – UKBTC is an unlicensed company!
Trading Platform Overview at
UKBTC
One awkward thing about the website is that UKBTC has a number of links that should redirect you to a platform download page, but they don't work. Well, the website doesn't work nowadays at all, but these links never worked in the first place.
Where trading online is involved, a vast majority of brokers offer MT4 and MT5 for their client's needs. MT4 is an older app that works excellently on aging hardware but offers great versatility thanks to the many updates it received over the years. 
MT5 is a new beast, software for the new generation of computers. It features the fastest market execution speed of any trading platform, complete with automated trading.
UKBTC Trading Accounts 
Unfortunately, there is no information left on which account types UKBTC used to offer to their clients. We will instead take a moment to mention common scam accounts. If you see that a broker offers accounts that promise larger returns if more money is deposited, it's most probably a scam. Large deposit bonuses should also raise an alarm.
Regulated brokers that have the necessary licenses employ different strategies. They offer accounts that will have competitive market conditions. These accounts will be billed through commission, swap, or spread. Premium technologies like ECN are somewhat more expensive. All regulated brokers also offer a demo.
UKBTC Deposits and Withdrawals
Even when the website was active, there was no information on deposit and withdrawal methods. Scam brokers hide their financial channels from newcomers. They will usually only allow deposits through the trading application, which is missing from UKBTC.
One of the telltale signs of fraud is that the broker only accepts Cryptocurrency deposits. Many regulated brokers use crypto as well, but a client can also use Bank Cards, Bank Wire transfers, and e-wallet payments as well.
Scammers that only accept crypto do so because crypto transfers are anonymous, can't be traced, and therefore can't be charged back. They also use this strategy to hide their profits from the authorities in order to evade tax.
UKBTC Trading Instruments
UKBTC claimed to offer 100+ Cryptocurrency products. We tried our best to find out which ones, in particular, a client could trade on UKBTC, but to no avail. There was simply no information available prior to account creation, and this was impossible because the website does not work.
When trading cryptocurrencies, you should pay close attention to the leverage involved. Many nations have very low leverage limits. Japan, for instance, does not allow leverage above 1:2 on crypto.
How is the Scam Performed?
Frauds like UKBTC use the allure of incredible profits to attract their victims. The confusing nature of their website obscures much of the important information. Other crucial data is locked behind a paywall on purpose. 
This way victims are sent on a wild goose chase, trying to verify company credentials. The truth about these swindlers only becomes obvious after the money has already been deposited, but by this time it is usually too late.
UKBTC Summary
UKBTC is currently defunct. While the website was active, UKBTC was a cryptocurrency trading scam. There was never a lot of information about this scam broker. 
We can be certain that they were an unlicensed venue. Many financial regulators have published warnings about the fraudulent behavior of UKBTC. We advise our readers to always double-check the credentials of any broker company.
FAQs About
UKBTC
Broker
What Kinds of Accounts Does UKBTC Have?
We can't say for certain which accounts UKBTC used to offer. The website does not work anymore.
How is My Security Ensured When Using UKBTC?
This unregulated brokerage is an unsafe platform that has been blacklisted as a scam by at least 3 financial regulators.
What Funding Methods Are Accepted at UKBTC?
It is unclear which funding methods UKBTC accepted for their accounts.