August 18, 2023
Reading Time:
6
min
Ventezo Review: Diving Deep to Uncover the Truth Behind the Brokerage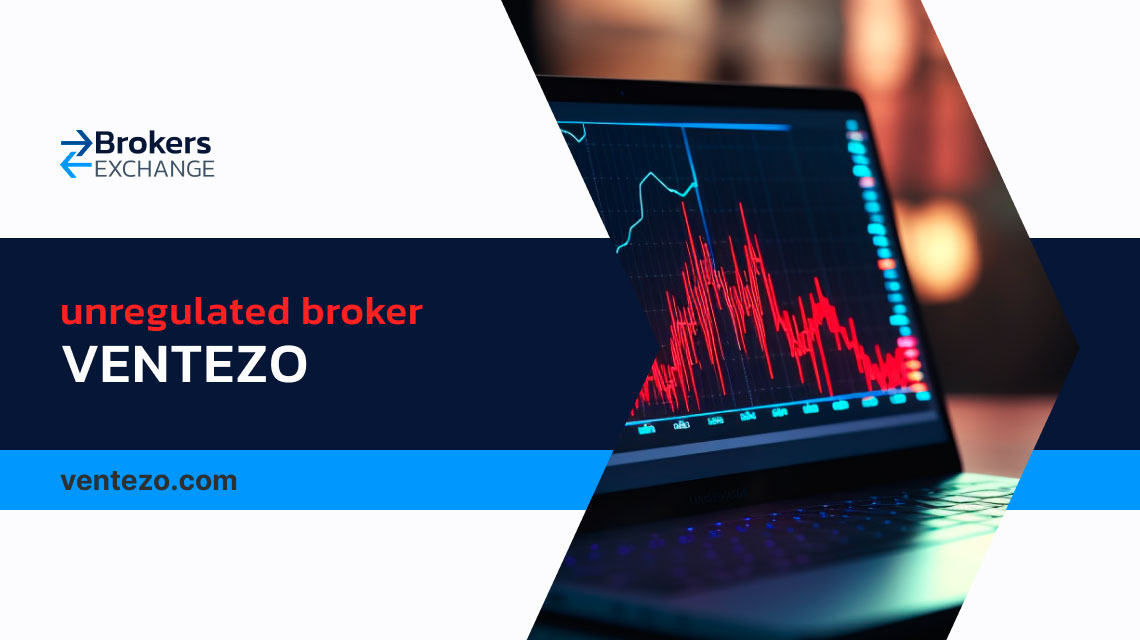 Like every other evaluation we do, our Ventezo review dives deeply into the broker's past and present to unearth even the minute facts and darkest secrets. The broker says he is licensed, but is he? We are available to respond to the query that has been posed. 
Similar to Wilton Option, Ventenzo has some fictitious favorable ratings that are alluring to traders. Those reviews, unfortunately, are just more of the broker's lies, but we're here to find out the real story behind this brokerage. 
Ventezo Exposed: All You Should Know About ventezo.com
The brokerage firm Ventezo Limited presents itself as a trustworthy option. At first glance, you can see that they are regulated, that they have positive reviews, and that you can start trading for as little as $10, making the platform usable by traders of all experience levels. Our Ventezo review is intended to demonstrate that the broker is the true example of how nothing is as it seems. 
Ventezo
Reliable Broker Must Have
Legal name
Ventenzo Limited

Transparently displayed in the disclaimer or legal documents

Regulation
Unregulated

Within your legal jurisdiction – local regulator

Registered in
Suite 305, Griffith Corporate Centre, Beachmont, Kingstown, Saint Vincent and the Grenadines

Your country or the country whose license applies in your legal jurisdiction 

Established
2018

The older the domain – the higher the possibility the company is trustworthy

Website
ventezo.com

Domain should be from local or international zones, no .xyz, etc.

Financial Authorities Warnings
No official warnings

None

Contacts

[email protected]

+1 (484) 673-7749

www.instagram.com/ventezo.official 

www.linkedin.com/company/ventezo 

Phone, email, social media, web form

If a withdrawal is possible
Highly unlikely

Yes

Fees
Hidden fees

Transparent fees – list of spread and commissions

If Active on Social Media
Yes

Often present on social media

Investor Protection
None

Compensation fund
Regulation Info
Operating under the brand name Ventezo is Ventezo Limited. It states that it is registered in Saint Vincent and the Grenadines (SVG), and that its main office is located in Beachmont, Kingstown, at Suite 305 of the Griffith Corporate Center. The company claims to have been incorporated by the Registrar of International Business Companies under registered number 22938 IBC and to have been registered with the Financial Services Authority of Saint Vincent and the Grenadines.
Ventezo's statements about regulation, however, were refuted by our study. Despite what they claim, no financial regulatory body has issued them a legal license. The fact that the broker is based in Saint Vincent and the Grenadines, a center for shady financial dealings, raises serious questions about his or her reliability and security.
Ventezo Broker Profile
A variety of trading choices are available with Ventezo, including FX, indices, commodities, and virtual currencies. These markets are accessible to traders via the MetaTrader 4 platform. The broker offers traders a variety of variable leverage options, from 1:1 to 1:1000, and is using floating spreads.
Trading Platform

MT4

Account Types

Mini, Standard, Premium

Financial Instruments On Offer

Forex

(EURUSD, EURGBP, USDNOK)

Cryptocurrencies

(BTC, ETH, XRP)

Indices

(S&P 500 Index, Dow Jones Industrial Average, FTSE 100 Index)

Commodities

(Crude Oil, Natural Gas, Corn)

Maximum leverage

1:1000

Minimum Deposit

10$

Commissions/Bonuses

5 USD per 1 standard lot traded/Deposit bonus

Mobile app

Yes

Desktop app

Yes

Autotrading

Yes

Demo account

Yes

Education or Extra tools

CFD Calculator, Liquidity Aggregation
Ventezo Account Types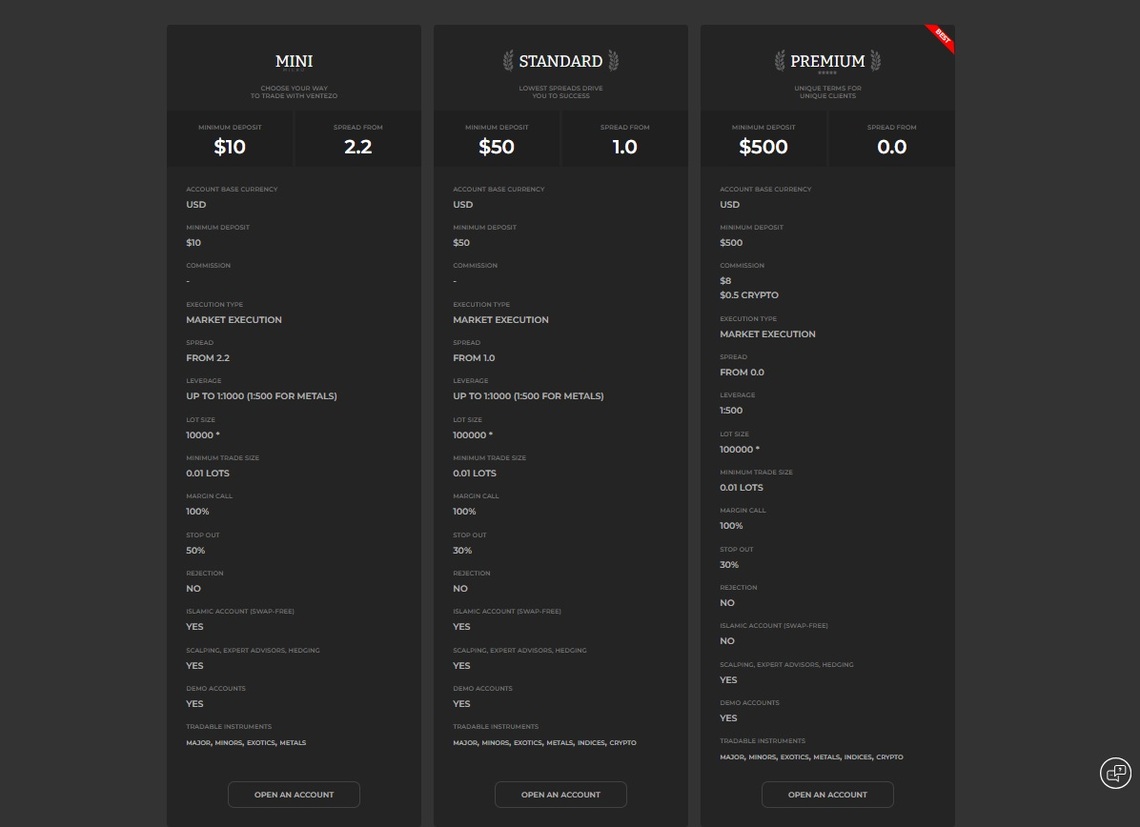 MINI Account:
Minimum Deposit: $10
Spread from: 2.2 pips
Commission: None
Leverage: Up to 1:1000 (1:500 for metals)
Lot Size: 10,000 units
Minimum Trade Size: 0.01 lots
Margin Call: 100%
Stop Out: 50%
STANDARD Account:
Minimum Deposit: $50
Spread from: 1.0 pips
Commission: None
Leverage: Up to 1:1000 (1:500 for metals)
Lot Size: 100,000 units
Minimum Trade Size: 0.01 lots
Margin Call: 100%
Stop Out: 30%
PREMIUM Account:
Minimum Deposit: $500
Spread from: 0.0 pips
Commission: $8, $0.5 for crypto
Leverage: 1:500
Lot Size: 100,000 units
Minimum Trade Size: 0.01 lots
Margin Call: 100%
Stop Out: 30%
A swap will be applied to any positions left open throughout the night (server time) if you have an MT4 regular account. If the order is open for more than five days, a swap-free commission will be applied overnight if your MT4 account is swap-free. 
Is Ventezo Safe To Trade With?
Unregulated brokers are not protected by a compensation fund or any other mechanism to safeguard your money. If the broker goes out of business, you are also out of luck. There is a chance that your investments will be lost, and you might even lose more than you started with. Because of this, trading with Ventezo is risky. We will concede that the broker has some benefits, but they are all moot after lying about being regulated when they are not. 
Although Ventezo makes it obvious in his disclaimer that it is regulated, the broker was nowhere to be found when we checked the license. It's one thing to be unregulated, but it's another to lie about it. Avoid brokers like Ventezo or Cryptocycle generally. If you get in touch with us, we can help you find a more dependable broker. 
Ventezo Review: Traders' Thoughts and Opinions
On Trustpilot, 32 people evaluated Ventezo, giving the broker an overall rating of 4.4. We were surprised to see so many positive evaluations, especially given the broker's lack of regulation. But because evaluations might be falsified, we had to verify the 6% of unfavorable ones. 
One review caught our attention, saying:
"Almost lost my entire portfolio to their shady plans and schemes. Don't trade with this scam." 
Although the evaluations of the brokers are generally positive, that doesn't necessarily indicate they are good. Any good they accomplish won't be able to compensate for any negative if there is no regulation in place. 
A Look at Ventezo's Traders They Serve
To draw customers, Ventezo creates a cunning illusion that gives the appearance of regulation and receives favorable feedback. On the surface, this broker appears to be exactly what it is not. Despite portraying themselves as regulated and reliable, Ventezo's actual activities, which include faking reviews and lying about regulation, expose a farce.
It's interesting to note that a sizable chunk of their customer base is from Malaysia, Brunei, Indonesia, India, and Nigeria. These traders from all backgrounds unwittingly fall prey to Ventezo's misleading strategies, emphasizing the value of careful consideration and due diligence before selecting a broker.
Deposits and Withdrawal Methods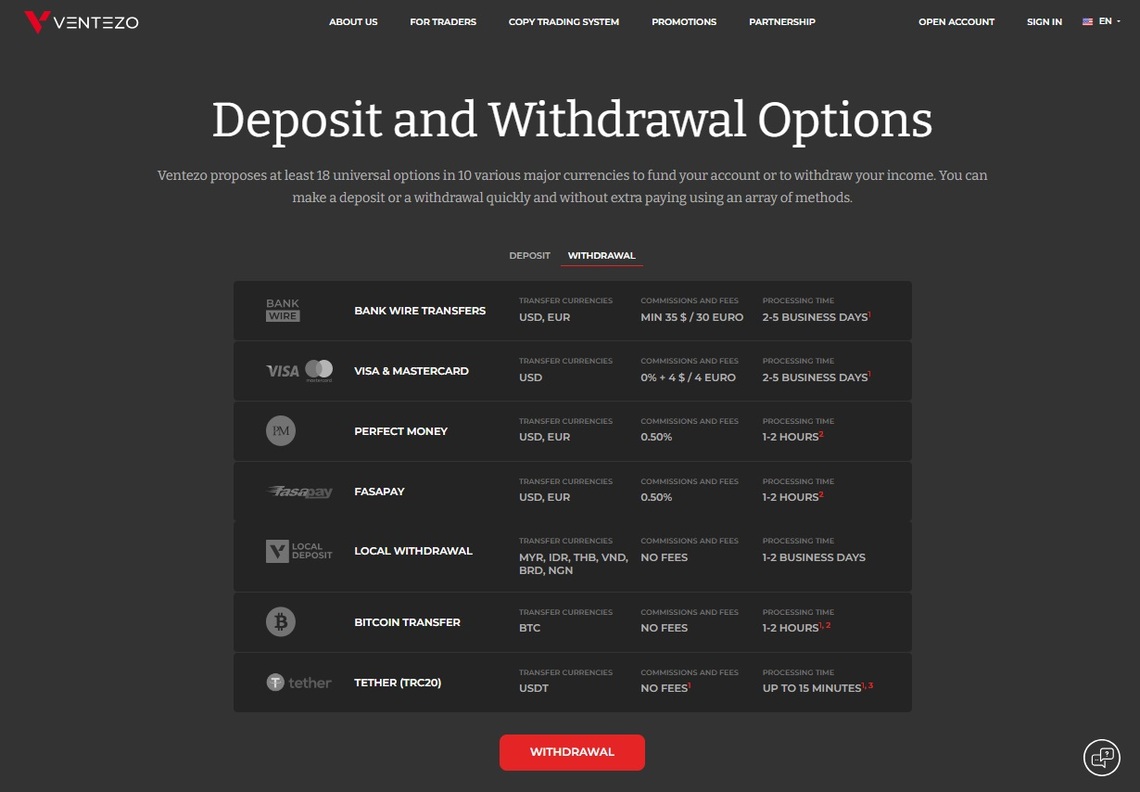 In addition to bank wire transfers, Visa and Mastercard, Perfect Money, Fasa Pay, Local Deposit, Bitcoin transfer, and Tether, Ventezo also provides a variety of easy deposit and withdrawal options. Processing times for local bank transfers are rapid, typically 5 to 30 minutes during business hours. The instantaneous nature of deposits made using FasaPay, Bank Card, Bitcoin, Thai QR Payment, and PerfectMoney allows for quick access to trade funds.
The Ventezo Financial Department typically processes withdrawal requests in 1-3 hours. Requests made after these hours will be processed the following working day. Once the request is handled, a notification email is sent to the clients to let them know.
It's important to note that Ventezo doesn't charge its customers any fees for deposits or withdrawals. In addition, the broker pays the deposit and withdrawal costs associated with using services like PerfectMoney and FasaPay. Although Ventezo aims to offer fee-free transactions, it's crucial to be aware that a few circumstances could incur small fees.
Ventezo Pros and Cons
Pros
Cons

Competitive spreads

MT4

Demo account

Unregulated

Hidden fees

Fake reviews

High leverage
Long Story Short – Ventezo
The unregulated nature of Ventezo makes it obvious that it should be avoided. A big red flag is raised when someone claims to be regulated when they are not. If you trade with Ventezo, your money is in danger. Furthermore, there is concern over possible hidden costs, and the company's positive evaluations raise some red flags. 
Finally, stay away from Ventezo and brokers that are similar to them. If you get in touch with us, we can improve your trading experience. Trading involves risk by itself; adding unlicensed brokers to the mix would be excessive. For you and your tastes, we have reputable brokers on speed dial.
FAQ Section
What Is Ventezo?
Ventezo forex is an ECN broker claiming to be located in St. Vincent and the Grenadines.
Is Ventezo Regulated?
Despite their claims that they are regulated by the Financial Services Authority of Saint Vincent and the Grenadines, Ventezo is not regulated.
What Are The Account Types Of Ventezo?
You can choose between three account types and each has its perks including Mini, Standard, and Premium.