April 26, 2023
Reading Time:
5
min
Vertex Market Review: Discover the Scam About This Broker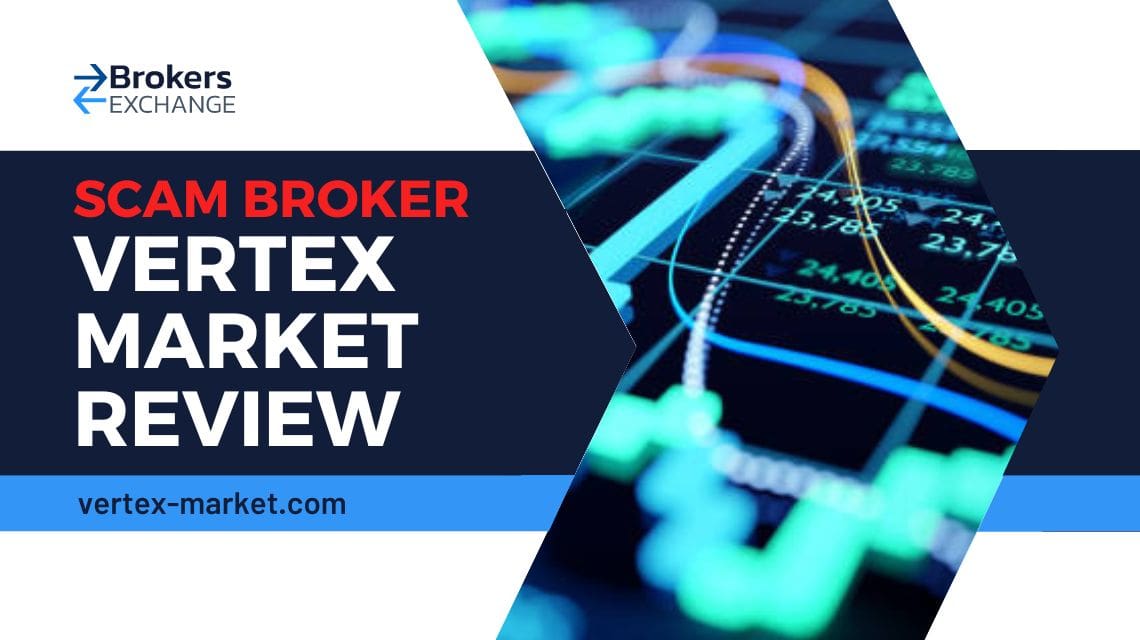 Vertex Market Review, Which is advertised as a pioneering brokerage with ''an enhanced trading experience and a customer-first approach'' is nothing but a foul business without regulations and credibility. Although claiming to be regulated in Europe, Australia, Japan, the British Virgin Islands, UAE, and South Africa, Vertex Market is operating under the radar. 
Absolutely no regulatory body oversees their activities and we can easily prove it to you, so keep reading our Vertex Market review. We will discuss why promises of safe trading and access to thousands of instruments via MT4 and MT5 are pure fabrication. 
15 years of experience?! Numerous customers and a huge user base? Nonsense. Stay with us and you will find out the truth behind this sloppy scheme. 
Furthermore, we highly recommend that you avoid the scam brokers Bullquote, ProfitiX, and FxmyTrades.
Company

Astro Tradex Ltd

Website
Vertex-Market.Com

AstroTradex.Com

Address

N/A

Email
[email protected]
Phone
+1 (409) 247 0388
Minimum Deposit

$ 1000

Leverage

N/A

Bonuses
No
Regulation
Unregulated
Warning

N/A
Funds Safety and Regulation
Vertex Market has a website that is an exact copy of another scam website – Astro Tradex. Apparently, the same company, Astro Tradex llc owns and operates both domains. 
Even the company description is the same and it doesn't reveal any useful information about the people behind these two brokerage agencies. The only hint on the potential location is the US phone number. There are no legal docs explaining anything about how this business is operated. 
So, based on the possible address, we searched the register of the NFA members. These are the CFTC-regulated brokers that have the necessary permissions to sell their products and services to US residents. Vertex Market is not on the list. 
Then we moved on to the public databases of regulators that Vertex Market claims to be approved by. European financial institutions like BaFin, CySEC, FINMA, CONSOB, and CNMV haven't issued a license to Vertex Market. Neither have ASIC (Australia), JFSA (Japan), FSC (British Virgin Islands), DFSA (UAE), and FSCA (South Africa).
We already anticipated these results, but we still had to be sure. Either way, Vertex Market has no guarantee of funds safety through segregated bank accounts. Their leverage is not limited to 1:30 or 1:50 (US) and they do not provide negative balance protection.
Moreover, customers can easily get indebted and lose huge amounts of money without any chance of getting compensation. Based on just these several crucial standards, it's clear that Vertex Market is a scam and utterly unsafe for investments. 
Trading Software Overview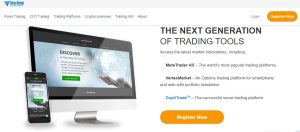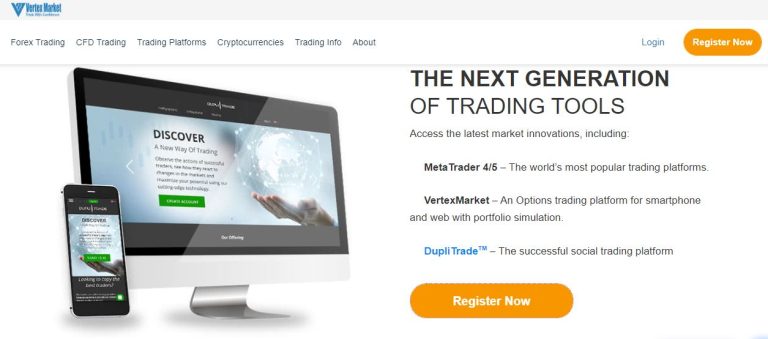 After going through the swift registration process, we gained instant access to the trading terminal. Unpleasantly surprised, we learned that the promise of MT4 and MT5 was just a hoax. The single available trading platform is a simple and borderline useless web trader. 
With nothing but several customization tools and a number of indicators, Vertex Market tries to fool you with how their software is all you need to get rich. Sadly, without proper tools that MT4 and MT5 do provide, that is hardly possible. 
Since we couldn't even place a trade without depositing first, we have strong reasons to believe this easily manipulated distribution only serves as another tool for deception. 
Account Types Available
We wish we could tell you how the broker has several account types, with quite a few beneficiary features with minimum costs. However, that is not the case with Vertex Market. Instead of account types, the broker refers to them as plans or levels. 
The more money they take from you, the sweeter-sounding promises you get. Some of them are signals, training with experts, huge bonuses of up to $3 000 and other completely fake options. The pricing is even worse compared to well-regulated brokers. Take a look:
Bronze Level – $1 000

Silver Level – $5 000

Gold Level – $10 000

Platinum Level – $15 000
Deposit and Withdrawal Process
Just as we feared, the single way of making deposits with Vertex Market is by sending crypto payments to the broker's E-wallet. Currencies accepted are Bitcoin, Ethereum, USDT, and BCH. Considering no precise document exists on the website that gives details on how these actions are processed, we have no idea about the conditions pertaining to account funding. 
There's a separate web page somewhat related to deposits and withdrawals but it's just a bunch of useless information and self-glorifying. Vertex Market only boasts about performing the safest and fastest money transfers so you wouldn't have to worry. That sort of mambo-jambo does little to convince us. Always expect hidden fees with brokers like these. 
How Did This Brokerage Carry Out the Scam?
Conveniently offering exceptional trading conditions and excessive bonuses the more you invest, Vertex Market lures you into their venomous trap. The claws close on you as you start spending more money and bonuses and promotions keep coming. What you don't expect but have to face when you issue a withdrawal request are the sudden fees, commissions, and unreasonable charges. 
The Broker will impose a trading volume requirement first. This means that you have to make a certain amount of cash before being able to request a payout. But the artificial setup of a trading environment will prevent you from accumulating profit at all. 
Then Vertex Market will demand verification docs and some more fees paid. It doesn't end with that and Vertex Market will attempt to extort money from you as long as you're able to pay. So be careful who you invest with!
Vertex Market
Summary
Vertex Market is not just suspicious and untrustworthy. This brokerage site scams customer out of their money for their own gain. They do so by promising fortune and quick cash, all while advertising unreal trading conditions and tools. 
Vertex Market doesn't actually equip you with anything you need to be a successful trader. Fraudster only feeds you lies so you would fall for the dream of becoming rich overnight. 
Don't become another one of their victims that has forever regretted even thinking of trying out Forex trading. Choose a broker based on their regulations, licenses and lawful behavior, as well as quality treatment towards their customers.  
FAQs About
Vertex Market
Broker
Is My Money Safe With Vertex Market?
Your funds are not safe from a common thief. No law protects you when trading with Vertex Market, so be careful when choosing a broker you want to partner up with.
What Is The Minimum Deposit for Vertex Market?
The client area shows the Bronze Level account costs $1 000, which is the lowest deposit required.
Does Vertex Market Offer a Demo Account?
You can open an account without depositing, but you can't do anything with it until you put in real cash. So the answer to that is no, there's no Demo account.