August 28, 2023
Reading Time:
5
min
Walton Chase Review – Fraudulent Domains Get What They Deserve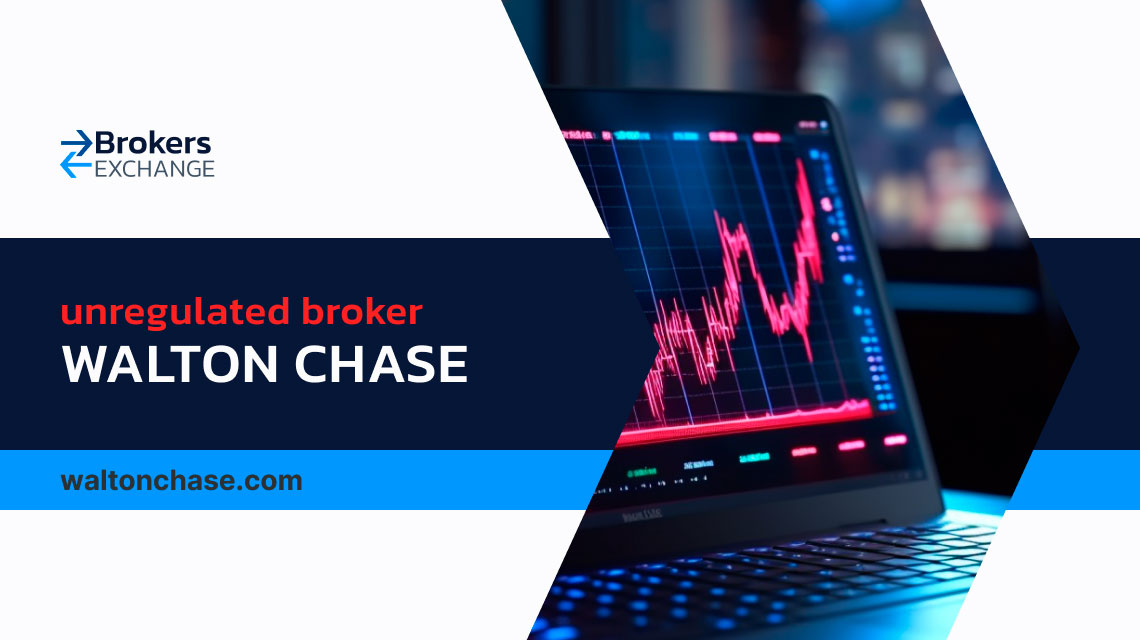 Walton Chase today is a blank domain, previously recognized by multiple authorities as a fraudulent entity. It seems that the broker couldn't really bring the Forex markets to your fingertips as previously claimed. The virtually anonymous firm – Walton Chase Ltd existed in no register. Our Walton Chase review gets to the bottom of this mystery, so read on. 
Dark Past of Walton Chase
Walton Chase Ltd continually declared to operate from Saint Vincent and the Grenadines – a tax haven, known for hosting hundreds of illicit brokerage firms. It's a question if this company existed at all – SVGFSA never had them imputed in their register of entities. Not to mention that the firm was completely unregulated. 
This has led to them being blacklisted by several reputable regulators. It seems that their fraudulent intentions were directed at traders from a number of countries across the world. This is not what a reputable broker does, so carefully choose your Forex provider. 
In that sense, we have to stress that Dizl FX Ltd is also dangerous to deal with.
| | | |
| --- | --- | --- |
| | Broker name | Reliable Broker Must Have |
| Legal name: | Walton Chase | Transparently displayed in the disclaimer or legal documents |
| Regulation: | Unlicensed Offshore Broker | Within your legal jurisdiction – local regulator |
| Registered in: | SVG (alleged) | Your country or the country whose license applies in your legal jurisdiction  |
| Established: | 2020-01-31 | The older the domain – the higher the possibility the company is trustworthy |
| Website: | http://waltonchase.com/ | Domain should be from local or international zones, no .xyz etc. |
| Financial Authorities Warnings: | FMA, AFM, CONSOB, BCSC, CSA | None |
| Contacts: | Phone number, email, online chat | Phone, email, social media, web form |
| If withdrawal is possible: | Highly unlikely | Yes |
| Fees: | Hidden Fees | Transparent fees – list of spread and commissions |
| If Active on Social Media: | Not openly active on social media | Often present on social media |
| Investor Protection: | None | Compensation fund |
Never Properly Regulated
All this broker ever had to confirm their legitimacy were their empty words. Walton Chase swore on being a reputable and trusty brokerage that provided all the safety conditions required by Tier 1 regulations. After consulting FCA, ASIC, CySEC, BaFin and a few other authorities, we established that all those were just products of imagination. 
Walton Chase was never even remotely legit and regulated. That made them untrustworthy and obviously dangerous for all investments. Deposits were not placed in segregated bank accounts – Walton Chase had clear access to them. What confirmed our doubts were the warnings issued by FMA, CONSOB, AFM, BCSC, and CSA.
On top of that, risky trading conditions (no negative balance protection and leverage 1:500) were an additional danger. All in all, firms like Walton Chase are never safe, please avoid them at all costs! You take upon yourself a huge risk if you invest with EU Finance, as well. 
General Trading Information
Walton Chase is one of those suspicious brokerage websites that provided unfair and non-transparent trading conditions to purposely push traders into immense risk. 
As the claims go, buying and selling of currencies, commodities, indices, stocks and crypto was supposedly done on a conspicuously defunct web trader. 
Furthermore, trading conditions following the already shady platform were:
Leverage of up to 1:500

No negative balance insurance 

No compensation fund 

Hidden fees and commissions
Walton Chase didn't bother much with designing specialized packages and account types, either. The single available account type was the live trading account. 
Trading platforms:

Web Trader

Account types:

One live trading account

Financial Instruments On Offer:

Forex (EUR/USD, EUR/CHF, USD/GBP, USD/JPY)

Commodities (Coffee, Soybean, Cotton, Sugar, Oil)

Indices (NASDAQ, Dow Jones, Nikkei)

Stocks (Disney, Ferrari, BMW, Porsche, Astra-Zeneca)

Crypto (BTC, ETH, LTC, DOT)

Maximum leverage:

1:500

Minimum Deposit:

$250

Commissions/bonuses:

Hinted but undisclosed

Mobile app:

Not available

Desktop app:

Not available

Autotrading:

Not available

Demo account:

Not available

Education or Extra tools:

None
Safety Issues With Walton Chase
Once again, we have to stress how important it is to trade only with acclaimed and adequately regulated brokers. Walton Chase is by no means a reliable site you could trade on. Due to all the red flags, it wouldn't be a surprise if no trading is possible at all. After all, the bogus platform only serves as a means of data manipulation. 
The biggest concern revolving around investing is that finances aren't respectfully stored in segregated bank accounts, which prevents the broker from accessing them. Walton Chase freely accessed and misused their clients funds for the purposes of their own gains. 
Furthermore, clients that have lost their funds in the process weren't protected by the financial ombudsman and could not ask for compensation due to the missing regulatory conditions. That's why licenses are so important, yet Walton Chase had none.
Negative Ratings Prevailed
Walton Chase had their Trustpilot page display a devastatingly low general rating of 1.9 out of 5. It is obvious that the clients were all dissatisfied with the treatment and quality of service. This is what the majority had to say about this broker dealer:
"Do BETTER AND STOP RIPPING PEOPLE OFF. Do not by any means trust them and hand over your hard earned money to this crooks they'll burn you out. You'd be surprised the lengths this fraudsters are willing to go in the bid to milk you of all you're worth."
"Walton Chase scammed me of all my life's savings down to $13. Stay away from them and don't believe anything they say. Beware!"
"This is a carefully and well thought out scam organization with their fake positive reviews. Their only interest is in running away with your money. Even after reporting to appropriate agencies i still wasn't able to get my money back."
Well Planned Scam
Communication method that Walton Chase mostly forced was phone calling and email spamming until their victims decided to start investing. That's all this swindler needed to achieve. 
To deceive their targets into putting their money into the scheme, Walton Chase received the help of persistent and obnoxiously demanding boiler room agents. These are so well trained they could sell anything. And that is what they did. 
Unfortunately, all their promises turned to dust, and defrauded investors were cheated and left empty handed in the end.
Victims reporting about being scammed out of their money were from the following countries:
United Kingdom

Australia

Canada

Israel
Shady Transfers
As we've already explained, without a license, Walton Chase had no permission to engage in bank transactions. Yet, in their cyber theft process, they performed these regularly and without submitting the reports to the jurisdictional authorities.
The two methods of transferring money to and from your Walton Chase account was through credit cards and bank wire. Commissions and fees applied were completely unknown and customers were also denied their payouts due to not meeting the trading volume requirements that bonuses brought. 
Please always make sure you use the safest of payment methods – credit cards. These allow a chargeback during the first 540 days since the transaction occurred. 
Company Not Recommended To Anyone
As attractive as some risky trading conditions may seem, sites offering them use these as scam tactics. That is what Walton Chase did shamelessly to fool investors into believing the lucrativeness of their platform. Even if any of their services were genuine, it's all worthless without a license to confirm the firm's credibility. 
Therefore, we could never recommend a firm like this to anyone. Instead, make sure you always check your broker's licenses and regulatory status before deciding to invest with them. We can help you with additional info or valid alternatives and recommendations.
What Our Forex Experts Recommend
In order to improve your complete trading experience, level-up your knowledge and choose a safe trading environment, you can contact us for help. All the services we provide are completely free, that's one. 
Another thing is that we can analyze your trading profile and suggest plenty of reliable brokers for you out there. All according to your trading preferences and expectations. 
So, do not waste your time with shady brokers – choose what is right for you! Our trading experts can help you by providing additional information and reliable suggestions.
FAQ Section
What Is Walton Chase?
Walton Chase is a proven scammer, as several reputable authorities have confirmed. Their domain is now dead, but plenty of companies like them still exist as a threat to honest traders.
Is Walton Chase Scam?
Yes, this firm functioned without being regulated by any licensing institution. We have plenty of recommendations for you, if you need reliable brokers to trade with.
When was WaltonChase founded?
The domain was registered in 2020, but didn't operate for long enough. However, they have collected public warnings quickly.
Where is Walton Chase located?
The company claimed to be located in SVG, but they never entered any register. It is more probable that the firm never existed in the first place. For better broker alternatives, contact our Forex experts.