October 23, 2023
Reading Time:
6
min
WunderTrading Review: is it as beginner-friendly as it claims to be?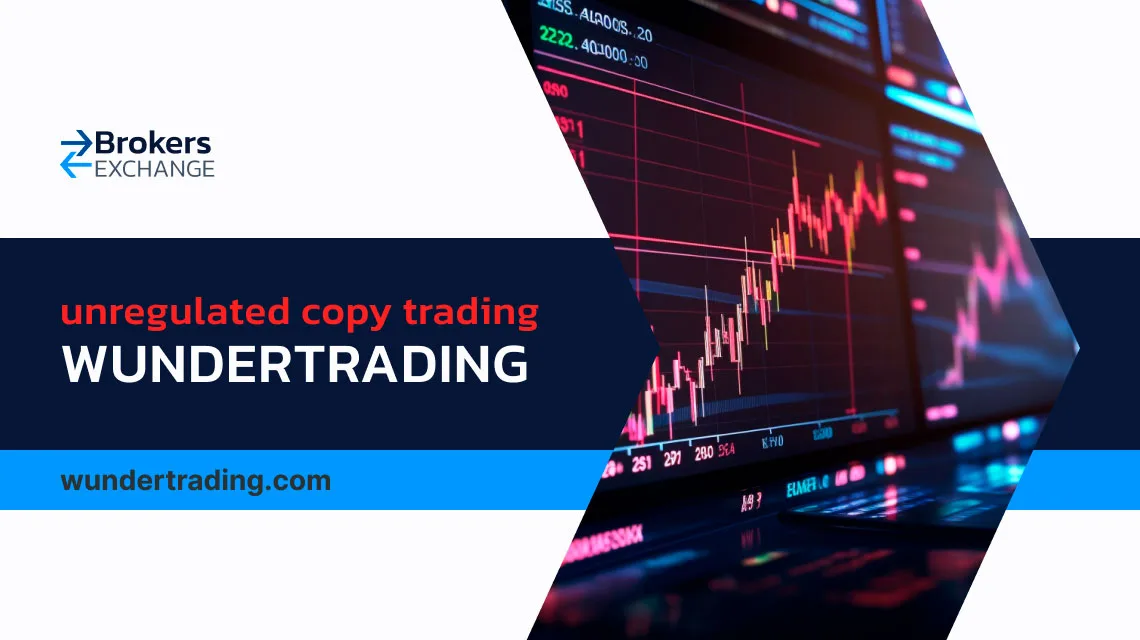 WunderTrading seems like a promising cryptocurrency trading platform with a variety of features that can be useful for both new and experienced traders. It is highly adaptable and customizable, executes precise trading strategies and supports popular cryptocurrency exchanges such as Binance, KuCoin, OKX, FTX, and Kraken. The platform's key features include:
Automated trading
Copy trading
Trading tools

for technical analysis, charting, and risk management, such as charts, indicators, and news feeds to make more informed decisions.
Let us have a more detailed look at each of these features.
Company type

crypto trading platform

Legal name

Wunderbit SIA

Regulation

Registered, unregulated

Registered in

Latvia

Established

2018

Website

https://wundertrading.com/en

 

Financial Authorities Warnings

No official warnings

Contacts

See Social Media

If withdrawal is possible

Yes, at a fee

Fees

$0 to $$89.95 depending on the subscription plan, additional costs may apply

If Active on Social Media:

Twitter / X:

https://twitter.com/Wunder_bit/

Telegram:https://t.me/wb_trading

Youtube: https://www.youtube.com/@WunderBit/featured

Investor Protection:

No

Activity areas

Turkiye; United States; Germany; France; United Kingdom

Main threats

Additional costs, lack of regulation

Main perks

Trading Bot and Copy Trading tools, Multiple Account Management, Portfolio Tracker, Referral program
WunderTrading Automated Trading Bot
AI tools have the potential to revolutionize the way cryptocurrency trading is done. Some of them, like AI Fundevity bot, give users top-notch analysis without the need for coding skills. 
WunderTrading bots may not be so beginner-friendly, but they are a great tool for advanced users looking to implement their trade strategies. Once the bot is created, users can activate it to execute trades based on the pre-defined parameters, including the time frame, tradable pairs, and the exchange on which to execute the order. The users must also have a sound trading strategy in mind, as they are required to define entry/exit points, risk amounts, and stop-loss levels.
WunderTrading is integrated with TradingView, which means that users can create an alert bot with TradingView's PineEditor and then turn it into a fully automated trading bot with WunderTrading. Thus users can backtest their trading bot strategies before letting them handle their funds.
WunderTrading bots offer a number of benefits, including:
Automation

, which can save traders a significant amount of time.

Risk mitigation

thanks to automated withdrawal parameters that can reduce risk.

Market opportunity capture

by automatically executing trades based on pre-defined parameters.

Portfolio growth

by automating the trading process and taking advantage of market opportunities even when users are not actively monitoring the market.
It's important to note that users need to activate these bots, as they operate solely based on preset parameters for a specified cryptocurrency. It is also always crucial to keep the following in mind:
Backtesting

any trading strategy before using it in a live trading environment is essential to identify any potential issues and make necessary adjustments.

It is important to have a sound

risk management strategy

in place when using WunderTrading bots. It should include setting stop-losses and take-profits.

Monitor your bots regularly

to ensure that they are performing as expected.
Copy Trading with WunderTrading
Copy-trading (aka mirror trading and shadow trading) means replicating and executing the trades of experienced traders with proven track records.
Ideal for crypto beginners looking for high-profit returns without the expertise or time to navigate market movements effectively, the Copy Trading tool enables users to mirror the actions of successful traders' in real-time and seamlessly integrate their strategies into automated trading bots.
How does it work?
WunderTrading's platform includes an in-built marketplace, which connects users with a network of experienced traders with a proven track record. Their trades are automatically copied to the accounts of all users who are following them.
Moreover, users can evaluate traders based on their profits/losses, percentage of profitable trades, trading volume, risk per trade, average time in a position, and even review a trader's past and live positions for performance assessment. This adds to the tool's transparency.
While the process of copy trading on WunderTrading is straightforward, it's important to note that most users charge a monthly fee for mirroring their trades. This is an additional cost to be taken into consideration.
Conversely, users can register at the marketplace, opening an avenue to earn income from those mirroring their trades. This makes WunderTrading.com an attractive platform for skilled traders seeking additional revenue streams.
It is important to note that copy trading is not a risk-free investment strategy. Users should always carefully consider their risk tolerance before using copy trading. To reduce copy trading risks:
Choose traders wisely

Diversify your portfolio

Set stop-losses

Monitor your trades regularly
Other WunderTrading Tools
Cryptocurrency Portfolio Tracker
WunderTrading's portfolio tracker provides investors with a transparent overview of their cryptocurrency holdings. It allows users to monitor their purchases, returns, and sales systematically. The tool can be populated manually or be connected to an exchange's API for automated portfolio management.
Multiple Account Management
This feature allows traders to efficiently oversee trades across multiple exchanges simultaneously through a single device. It can be a valuable tool for those who need to manage multiple portfolios or want to take advantage of varying pricing on different exchanges.
With WunderTrading's portfolio management tools, traders can seamlessly integrate several APIs into their accounts. Once the APIs have been added, users can select the exchanges they want to trade on and execute their trades concurrently on all selected APIs with a single click.
Arbitrage Trading
Arbitrage trading is a strategy that involves buying an asset on one exchange and selling it on another exchange for a higher price. To automate an arbitrage strategy, traders need to create a bot that defines the entry and exit points of the trade. Once the bot is created, users can select the exchanges they want to trade on, and it will automatically execute the trade when the price difference meets the set criteria.
As WunderTrading manages multiple crypto exchange portfolios concurrently, there is no need to execute strategies individually on each account through the terminal. The traders can thus capitalize on slight market price movements through arbitrage crypto trading.
Registration process and subscription plans
As is the industry standard, wundertrading.com requires all users to go through a verification process. Accounts without completed verification are limited to purchasing $300 worth of cryptocurrencies. Verified users get full access to trading features and services.
Membership costs vary from $0 for a free account to $89.95 for a premium account. Users can start with a free account and upgrade as needed, enjoying subscription discounts for longer-term commitments. As of October 2023, the offer is 30% off for 12 months. A 7-day free trial of the PRO plan (currently the most popular among customers) is also available.
Importantly, while basic registration is free, users must subscribe to a paid plan to access premium features such as bots and copy trading.
A minimum investment of €50 is required. Deposits can be made via debit or credit card or bank transfer. Commission fees apply for crypto purchases made on the platform, with the current rate set at $5 or 5% of the paid invoice. Withdrawals incur charges, such as a 0.0005 BTC fee for Bitcoin withdrawals, slightly below the industry average (0.0008 BTC).
A nice perk: WunderTrading offers a win-win referral program. Users can invite friends and earn a 20% commission on every purchase they make, while the referrals receive a 10% discount on any one-month subscription plan.
Reliability and transparency
On Trustpilot, the overall rating of Wunderbit.co, the related domain, seems positive with 4.2 out of 5 stars. Users highlight the platform's ease of use, its user interface and the trading experience. However, some negative reviews express concerns about customer support and technical issues. It is crucial to note that the reviews on Trustpilot may pertain to Wunderbit.co, not Wundertrading.com specifically.
There is a certain lack of transparency regarding WunderTrading.com as the website features no information about the company founders or executives. ScamAdviser alerts that the identity of the website owner is hidden, which always causes suspicion. It is even quite tricky to find out that the company is based in Latvia, in fact, various online reviews give contradictory information that the headquarters are in Estonia.
Similar concerns (lack of transparency and unclear geographical position) often signal that a website is a scam, such as Atomic Trade. The difference is that Atomic Trade received two warnings from Canadian authorities, while there are no official warnings issued to Wunderbit SIA.
At any rate, it is important to bear in mind that there is no cryptocurrency trading regulation in Latvia. Therefore, the Financial and Capital Market Commission (FCMC) of Latvia, where the company is registered, cannot regulate its activities. For a particular case of how regulations work and what kind of issues traders may have with the regulating bodies, check out our TradeZero review.
The verdict
In summary, WunderTrading positions itself as an all-in-one platform, offering top-tier portfolio tracking and management functionalities. It also has a comprehensive help center, including various resources on its social media channels. However, costs can accumulate rapidly, as essential trading features, copy trading, and pre-created bots are only available with a monthly membership fee.
Overall, WunderTrading is a good choice for experienced traders who are looking for a customizable and feature-rich platform offering various automation tools. However, it may be less satisfying for beginners or traders who are on a tight budget.
Disclaimer: Always keep in mind that cryptocurrency trading is a risky investment, and users should always do their own research before investing any money.
FAQ
What Is WunderTrading?
WunderTrading is a well-rounded cryptocurrency trading platform that offers a variety of features to help traders of all experience levels succeed. Its standout features include automation bots and copy trading tools.
Is WunderTrading Legit?
According to the Financial and Capital Market Commission (FCMC) of Latvia, Wunderbit SIA is a registered investment firm. However, the FCMC does not regulate Wunderbit's cryptocurrency trading activities, as cryptocurrency trading is not regulated in Latvia.
What Are The Available Features In WunderTrading?
The main features wundertrading.com offers are Copy-Trading, TradingView Automated Trading, Trading Bots, Trading Terminal, Arbitrage Trading, AI Trading Bot, Multiple Account Management, and more.