September 01, 2023
Reading Time:
5
min
Zoomtrader Review: A Shameless Broker With Many Faces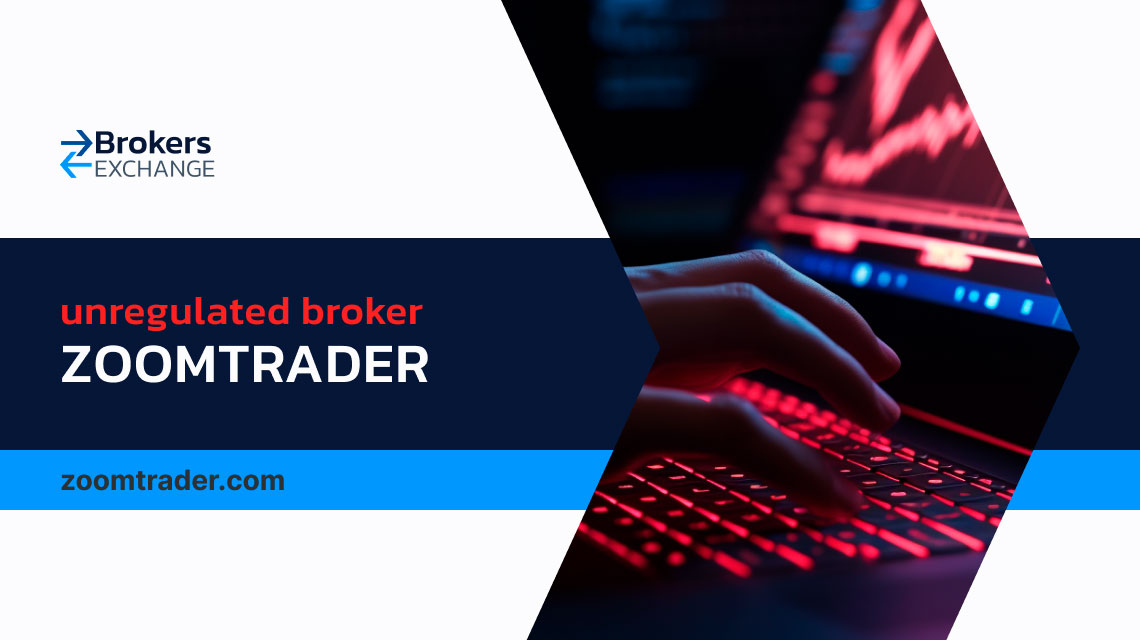 Welcome to our unbiased Zoomtrader review, where we expose the real face of the brokerage and its operations. Zoomtrader binary options broker started operating in 2012 and it didn't take long for them to become a well-known scam. They were hiding behind several different domains, trying to scam people as much as they could. The scam finally ended with Zoomtrader, however, the broker will start operating again under a different name for sure.  
Let's start this in-depth Zoomtrader review so you can learn about their tactics and how to avoid them in the future. But before we do, don't forget to read our AE Global Link review to meet another broker hiding their true intentions. 
Who Is Zoomtrader?
Zoomtrader is an unregulated brokerage company with many years of scams behind them. There are many different names that the broker was operating under and the main was Capital Force Ltd. The FCA even published a warning that Capital Force is trading as Zoomtrader, and both entities are unregulated. 
Gal Barak and Uwe Lenhoff were the owners of several names the broker was using, including Zoomtrader, XMarkets, Option888, Tradovest, and many more. Today, since Zoomtrader shut down, everything about their lies is out in the open, however, the possibility of them reemerging under a different name exists. 
Zoomtrader
Reliable Broker Must Have
Legal name
Zoomtrader

Transparently displayed in the disclaimer or legal documents

Regulation
Unregulated

Within your legal jurisdiction – local regulator

Registered in
British Anguilla

Your country or the country whose license applies in your legal jurisdiction 

Established
2012

The older the domain – the higher the possibility the company is trustworthy

Website
zoomtrader.com

Domain should be from local or international zones, no .xyz, etc.

Financial Authorities Warnings

None

Contacts
Data is hidden

Phone, email, social media, web form

If a withdrawal is possible
No

Yes

Fees

$40 for wire transfers
$40 for withdrawals made after the first of every month

Transparent fees – list of spread and commissions

If Active on Social Media
No

Often present on social media

Investor Protection
None

Compensation fund
Regulation Info
Zoomtrader was not regulated by any financial authority and neither were any of its subsidiaries. There were claims that the broker was regulated by CySEC, however, those claims were proven not to be true. Pay close attention to this section specifically, it's going to be a rollercoaster. 
First, it's vital to note that Capital Force Ltd was the main company trading under different names, including Zoomtrade. Having that in mind, the Zoomtrader global connect started with Capital Force so the first FCA warning is about Capital Force Ltd trading as Zoomtrade: 
The second FCA warning was about Capital Force Ltd trading as Option888. 
Then, FMA issued a warning about Capital Force trading as Option888.
After that, BaFin warned investors about them trading as Option888.
And last but not least, in their archive of warnings, CONSOB has Zoomtrader on the list. 
Even though some of these warnings are not directly connected with Zoomtrade, it's still concerning how quickly many financial authorities spoke up about this brokerage. Luckily for everyone, all of the broker's domains have been shut down. 
Zoomtrader Broker Profile
Zoomtrader was a binary options broker, additionally trading in stocks, currencies, indices, and commodities. The web-based platform didn't offer many benefits, besides real-time tracking, and even that was under question. The minimum deposit of $200 was requested immediately to start trading because the Zoomtrader demo account is not available. 
Leverage information, spreads, commissions, or any other fees are no longer available because the website has been shut down. The broker was well-known for offering large bonuses and then later avoiding paying them.
Trading Platform

Zoomtrader web-based platform

Account Types

N/A

Financial Instruments On Offer

Stocks

(Apple, Amazon, Microsoft)

Cryptocurrencies

(BTC, ETH, XRP)

Indices

(S&P 500 Index, Dow Jones Industrial Average, FTSE 100 Index)

Commodities

(Crude Oil, Natural Gas, Corn)

Options

(Digital, Turbo, Range)

Maximum leverage

N/A

Minimum Deposit

$200

Commissions/Bonuses

100% bonus

Mobile app

No

Desktop app

No

Autotrading

No

Demo account

No

Education or Extra tools

None
Is Zoomtrader Safe To Trade With?
Zoomtrader has been scamming people, each time pretending to be someone else. Many names were hiding behind Capital Force Ltd including Zoomtrader, and the mere fact that the broker is shut down today says a lot. Brokers like this will stop at nothing to get as much money as they can from you, by telling stories of high profits and enormous bonuses. It's vital to educate yourself so you can be prepared for these scam attacks and learn how to defend yourself. 
Knowing your possibilities is crucial, so make sure to remain knowledgeable at all times. If you believe you are getting scammed, reach out to us immediately. Whether it's for trading advice, locating a reliable broker, or getting your money back, we prioritize you and your investments so you can trade stress-free. 
Zoomtrader Review: Traders' Thoughts and Opinions
There are only four Trustpilot reviews for Zoomtrader, earning them an overall score of 2.6. As you probably guessed, all of the reviews are unfavorable, sharing their stressful experience with this brokerage. The web is full of Capital Force Ltd and its subsidiaries like Zoomtrader, so there are many forums and websites you can visit to educate yourself even more about this scam. 
"The unlicensed brokerage is operated by false characters, claiming to be expert traders. I invested a total of 5000 pounds and waited for my money to grow with them. I requested a withdrawal of my capital and profits after a month but to no avail. I eventually reported them to the FCA, from whom I learned about the company being fictional and a scam."
How Is the Scam Carried Out?
The broker has been operating since 2012, so it's not surprising to see how many people have fallen for their scam. Brokers can be very persuasive by calling traders constantly, offering large profits and returns. Zoomtrader was known for offering traders high bonuses and fake promises, including the 100% return bonus. The Zoomtrader affiliate program was also something that was getting them new clients, and without a demo account, there was no way to check any claims the broker made. 
Most of their clients come from Germany, Spain, the Netherlands, and the US. To operate in Germany, the broker would have to be regulated by BaFin, instead, BaFin warns traders to stay away from them. Overall, the broker was unreliable and if they ever reemerge, we doubt it will be better. 
Deposits and Withdrawal Methods
Payment options at Zoomtrader included credit cards, wire transfers, and many popular e-wallets such as Neteller, Skrill, UnionPay, WebMoney, Moneta, Yandex, and many others. There are no fees associated with depositing your money, however, it's difficult to believe anything this broker claims. 
Withdrawals, however, did have a $40 fee for every withdrawal requested after the 1st, meaning that withdrawals without fees were only possible once a month. Other than the aforementioned fees, nothing regarding withdrawals is explained, besides issues traders were having. As soon as you deposit the initial amount, it's over. Requesting for a withdrawal is useless. 
Zoomtrader Pros and Cons
Pros
Cons

None!

Unregulated

Operating under several names

Reported scams

Withdrawal issues

Suspicious trading platform
Long Story Short – Zoomtrader
The bonuses of 100% offered by brokers like Acuity Trades Fx and Zoomtrader are just as fake as they are. Legit brokers offer transparency and regulation and don't hide behind many subsidiaries like Zoomtrader. 
Be aware of the scam and we hope this Zoomtrader review taught you how to recognize and avoid scams so you can enjoy a more pleasant trading experience. If you have been scammed by this or any other broker, don't hesitate to reach out. Getting your money back is possible and we will do our best to assist you. 
FAQ Section
What Is Zoomtrader?
Zoomtrader was one of many subsidiaries of Capital Force Ltd. Zoomtrader was a binary options broker, established in 2012.
Is Zoomtrader Regulated?
No, Zoomtrader was not regulated by any financial authority.
What Is Zoomtrader's Domain?
The domain the broker was using is zoomtrader.com, however, the domain was shut down due to scam operations.