January 22, 2023
Reading Time:
3
min
Allinvestfx Review: Learn More About AllinvestFx.Com Broker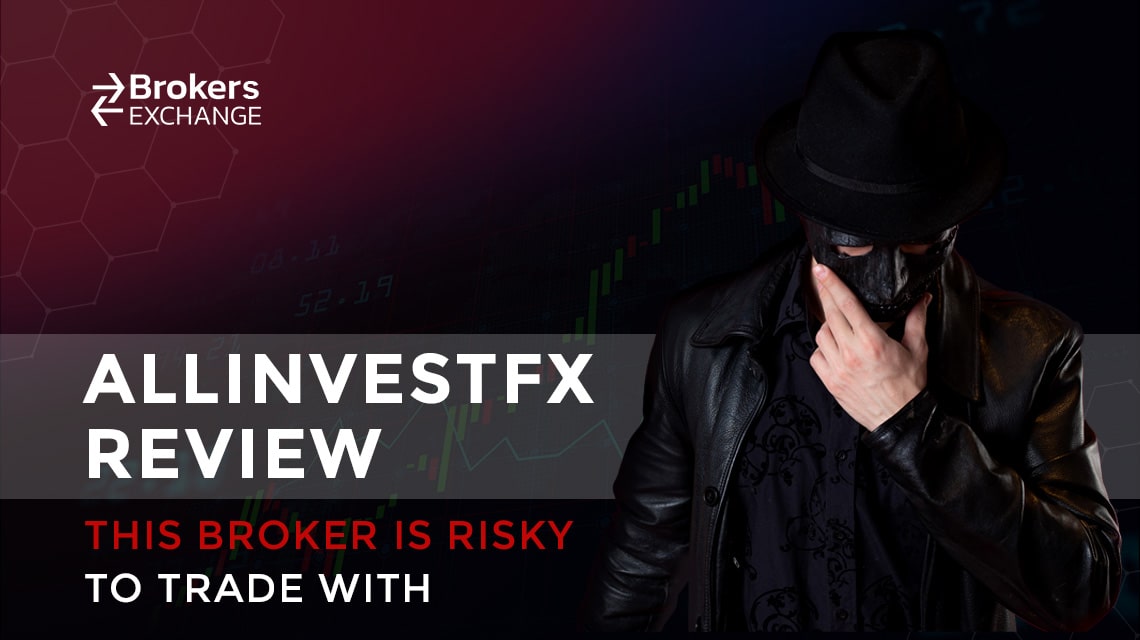 Allinvest is a brokerage website owned and operated by Plan B Ltd. The company is based in Bulgaria and offers various financial services. 
The firm's mission is to provide the best trading experience with the latest technology and advanced trading conditions. 
However, this broker fails to provide any confirmation about being regulated in Bulgaria. There's also no license by any other jurisdictional regulator where Plan B Ltd offers its services.  So please be advised to deal carefully with a suspicious broker like Allinvestfx.
Contrariwise, you should avoid doing business with suspicious brokers such as Nerostrade, Ranytrade, and Profitly Trade.
| | |
| --- | --- |
| Company | Plan B LTD |
| Website | Allinvestfx.Com |
| Address | Sofia, Bulgaria |
| Email | [email protected] |
| Phone | +46 317873366 |
| Minimum Deposit | N/A |
| Leverage | 1:5 |
| Bonuses | N/A |
| Regulation | Not regulated |
| Warning | N/A |
Is Allinvestfx a Reliable Broker? Regulation and Security
Allinvestfx does not even mention the existence of regulation. Since the owning company is based in Sofia, Bulgaria, we have checked the register of regulated entities there. 
The jurisdiction regulatory body in Bulgaria is the Bulgarian Financial Supervision Commission. FSC has not given a license to Allinvestfx to offer the financial services and do transactions it does.
While there exists a company named Plan B, Allinvest is probably taking their name and faking being owned by this firm. Another red flag for this shady broker.
To gain a license from some of the leading regulators, brokers have to first acquire funds to ensure their business will be stable and lasting. Furthermore, they have to keep clients' funds in segregated bank accounts. Measures for reducing the risk of loss are one of the standards to keep. These include negative balance protection and leverage restriction. 
In compliance with MiFID, licensed brokers are forced to report every transaction happening to keep records and prevent money laundering. 
The fact that Allinvestfx is unlicensed means they do not provide for certain any of the conditions mentioned above. 
Broker's Trading Software Overview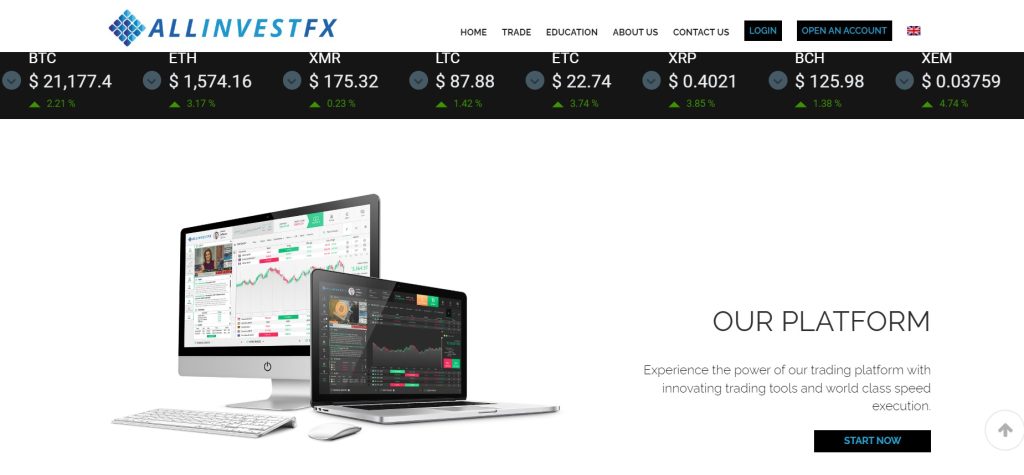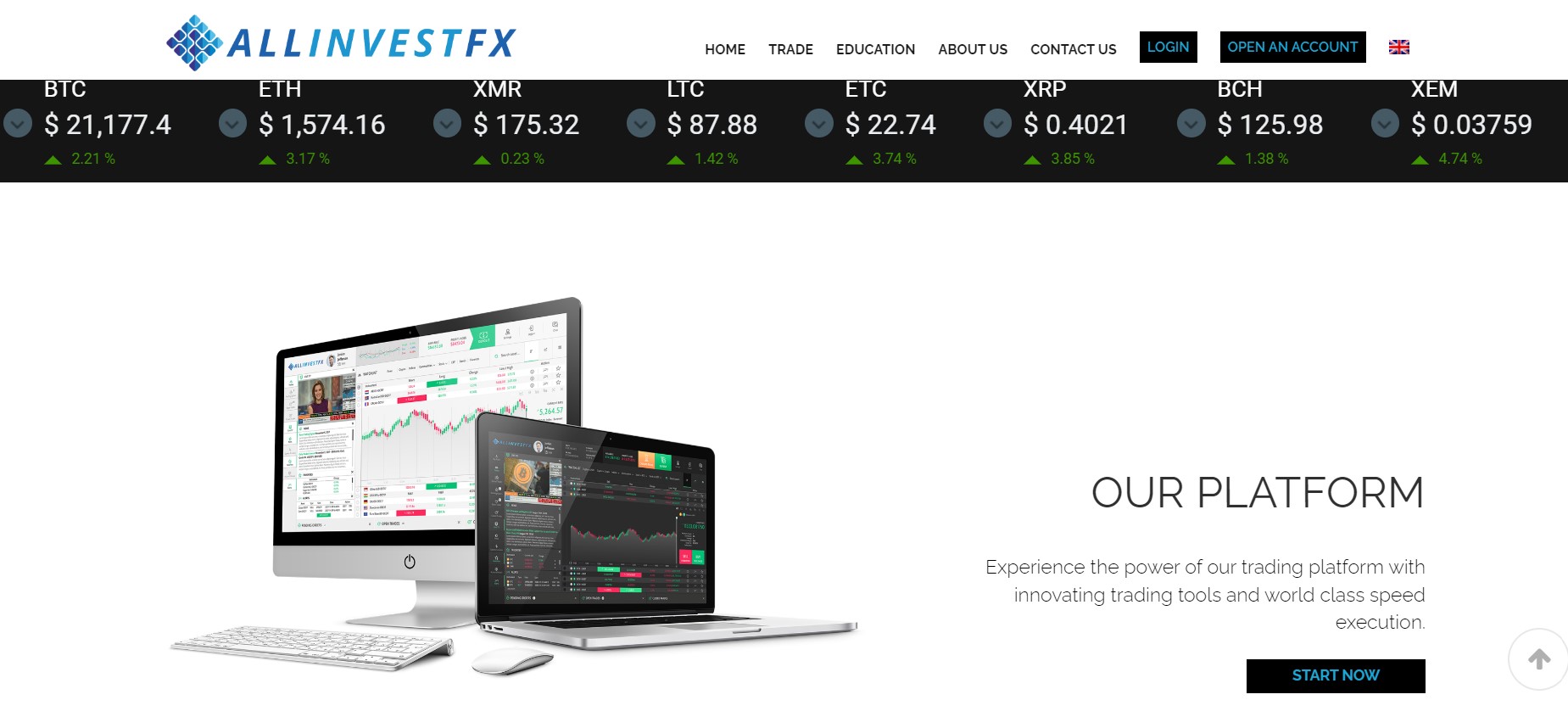 The only type of trading terminal offered by Allinvestfx is a simple web-based platform. There are a couple of basic options, but it is by far one of the simplest and least useful software we've seen.
It completely lacks any of the advanced features that industry-standard like MT5 provide. There are no complex charts, built-in indicators, or strategy testers. 
One single chart with the possibility of crypto buying and selling is all you will get to see from the Allinvestfx trading terminal. Highly unprofessional, so better stay away than deal with this bogus broker.
Deposit and Withdrawal Process
The deposit method accepted by Allinvestfx is wire transfer. Needless to say, regulated brokers would allow you to deposit funds through more than a few methods. 
The fact that this broker only sticks to one depositing method is another sign they are not transparent or licensed. The minimum deposit required is also not revealed. 
The withdrawal policy states that the minimum amount for withdrawal is $50. The processing time takes about 5 business days. 
The company keeps the right to decline the withdrawal request. Not much else is available to learn about the withdrawal.
How Does the Scam Implement?
Traders interested in buying and selling crypto products will probably be more attracted to this broker. With the shiny promises of extraordinary crypto trading conditions, they are more likely to pay attention to this broker.
However, do not be deceived by lies and stories of fast money gain. This strategy is a common way for scammers to get your attention. Any means conceivable is used to make you believe you are in for a remarkable trading environment and sure profit.
The illusion shatters once you attempt to withdraw your funds. You will quickly realize that the trading platform was an illusion of your funds growing and that your investments are in the fraud's pocket.
Allinvestfx Summary
As proven, Allinvestfx is an anonymous broker that operates without a license or regulation. 
Never invest easily with shady brokerage companies that offer overly attractive conditions. These are unrealistic and too good to be true from the start. The sole purpose of those dreams of wealth and easy wins is to get you to invest.
Regulated brokers will always be transparent and present you the realistic trading conditions as well as possible risks that online trading brings.
If you have any additional information about Allinvestfx that you would like to share with us, we strongly encourage you to do so! Every piece of info helps.
FAQs About Allinvestfx Broker
Is Allinvestfx Regulated?
Allinvest is an unregulated online trading scam operating without license or authorization. 
Is my Money Safe with Allinvestfx?
No investments are ever safe with an unregulated broker like Allinvestfx, so beware when dealing with them. 
Does Allinvestfx Offer a Demo Account?
No, test trading from a risk-free account is not available at Allinvestfx.