May 09, 2023
Reading Time:
4
min
AppleTrade Review: Is This Offshore Broker Legit?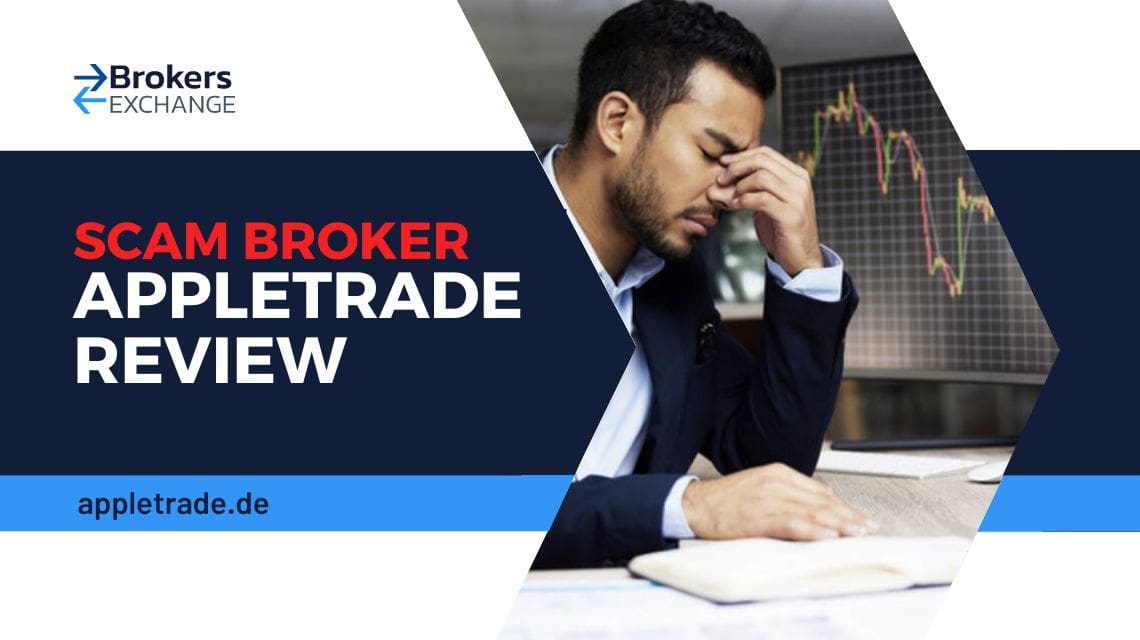 AppleTrade Review, Nobody expected that a domain that was previously used to resell used cell phones, appletrade.de, would become a notorious scam broker. In less than 2 years, the damage this unscrupulous broker has done warranted action from more than one of the financial regulators in Europe.
FMA Austria: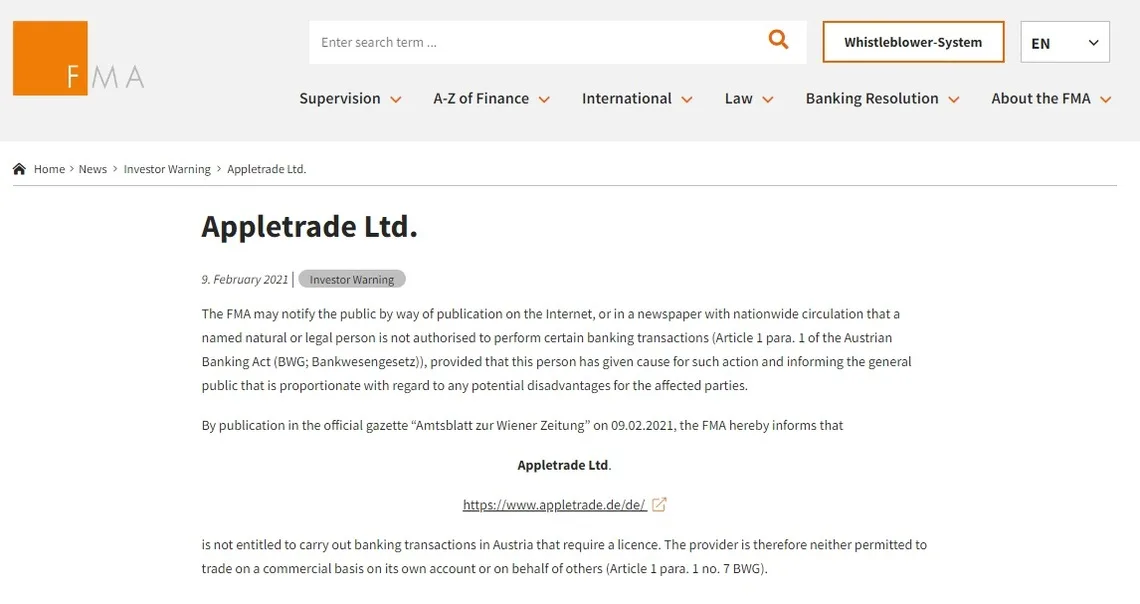 Currently, the domain that created so much friction is once again for sale. As it stands, it is used for advertisements for other, functional brokerages. But, how did it ever come to this? See the rest of our AppleTrade Review to find out more about how faux brokers operate.
| | |
| --- | --- |
| Company | Appletrade Ltd |
| Regulation | Unregulated |
| Warning | FMA, CNMV, CONSOB |
| Website | appletrade.de |
| Address | Ireland |
| Email | N/A |
| Phone | N/A |
| Minimum Deposit | $500 |
| Leverage | 1:888 |
| Bonuses | N/A |
AppleTrade Reliability – Regulation and Security
AppleTrade used to be an Irish company that used a German domain. Brokers that start their business in Ireland, under the supervision of the Central Bank of Ireland, are allowed to present their business in the EU thanks to the EU MiFID agreement. Because of this, they would not need to acquire a license from BaFIN in Germany, if they already have authorization from CBI.
This only applies to regulated brokers, however. Scammers do not care about the authorization, or licenses, or MiFID. The only thing they care about is how to best abuse their newfound position. For this reason, fraud brokers do not adhere to many of the safety standards that have been implemented across the world.
The importance of these safeties cannot be stressed enough. To understand the risks that these unscrupulous companies present, let's have a look at what CBI, and by extension other EU regulators, require from their brokerages:
Initial capital of 730 000€

Compensation fund of 20 000€

Maximum leverage of 1:30

Negative balance protection for client accounts

Segregated bank accounts

Bonuses are forbidden

Full transaction transparency is enforced by EU MiFID
We know that AppleTrade is not a licensed entity, seeing a warning by FMA and other regulators. But why are these safeties so important? For instance, the leverage restriction reduces the risk of rapid financial loss, by reducing the trader's exposure to the market. 
Negative balance protection is self-explanatory, and segregated bank accounts as well as compensation funds ensure that the client's assets are protected in case a broker goes under. Even if you are dealing with an honest broker, relinquishing these safeties puts you at significant risk.
Trading Platform Available at
AppleTrade
The scam websites like AppleTrade usually offer only one trading program, and that is an unsecured web software called Web Trader. Don't be deceived by the words you see on the scammer's website – these are a far cry from what they call innovative.
The Web Trader allows them to change the information about the trades, and make your calls unprofitable to easily bleed you of funds. Gitex Capital we reviewed previously is another example of such a swindler.
Your choice of broker should preferably include one that uses the industry standard MT4 and MT5 software. These programs are safe, reliable, and sport an excellent market execution speed. See our list of recommended brokers in this AppleTrade Review for more information.
AppleTrade Account Types
The account types at AppleTrade are equally shady as their trading program. These accounts are not charged on the basis of different technologies, spread, swap, or commission. They simply have exponentially larger minimum deposits. The scammers say that the more expensive accounts have a greater advantage over the cheaper ones.
These accounts were offered by the swindlers:
Bronze – $500

Silver – $1.000

Gold – $5.000

Platinum – $25.000
Unfortunately, we couldn't find any more information on the accounts than the fact that there was no Demo or Islamic on offer. This is reminiscent of another scam company, Cryptics, which we also reviewed. We'd also like to point out that many regulated brokers today offer Micro and Cent accounts that have a starting deposit of $10 or less.
AppleTrade Deposits and Withdrawals
Unfortunately, there isn't any data left on which deposit and withdrawal methods were available at AppleTrade. While browsing the user testimonies, we did find out that the scammer advertised Bank Cards, Bank Wire, and E-Wallet transfers, but this is an unreliable source of information.
You should be aware that scammers mostly use Crypto transfers lately, because of the untraceable nature of these digital currencies. That way, a victim has great obstacles to overcome when requesting a chargeback. Read the Withdrawal policy carefully with every broker. Scammers will usually charge insane fees and taxes for withdrawals, or deny them outright.
How is the Fraud Delivered?
The AppleTrade scam did not bring anything new to the table. They used a flashy website, promises of guaranteed success, as well as a world-class Web Trader platform to name a few. These claims were all false, of course.
Scam websites usually obscure the most important information, and employ pushy boiler room agents to coax money from their victims. Before long, the deposit is wasted on unsuccessful trades, and they come asking for more. If the victim tries to withdraw funds, frauds will charge expensive fees to try and keep the majority of the money for themselves.
AppleTrade
Summary
AppleTrade is a defunct website that was used for defrauding beginner retailers. This fraud broker did not have any license or authorization for their business. The company found its way to the warning lists of FMA, CONSOB, and CNMV in a short period of time.
The scammers might not use the same domain anymore, but that doesn't guarantee they are not waiting for another opportunity to swindle people. If you have lost money due to an online fraud like AppleTrade, feel free to contact our staff for more information.
FAQs About
AppleTrade
Broker
Is My Money Safe With AppleTrade?
No, AppleTrade is a known fraudulent entity, and many EU regulators have posted a warning about the group.
Does AppleTrade Offer a Demo Account?
There was no demo account with the AppleTrade broker.
Is AppleTrade a Trustworthy Broker?
AppleTrade is unregulated and untrustworthy.