April 01, 2023
Reading Time:
4
min
Cryptics Review: Do Not Deal With Cryptics. Cc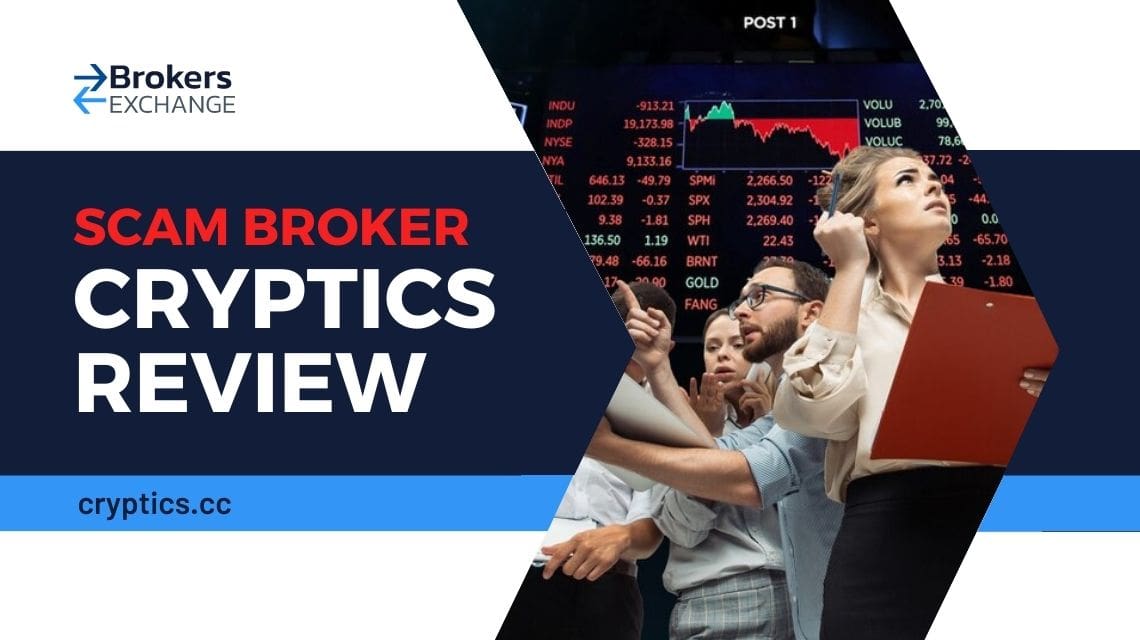 Cryptics Review, these offshore scammers are getting more sophisticated. Don't mistake this Cryptics broker for a legitimate provider, it's far from it. Cryptics is trying to present itself as a rather innovative forex broker, but in reality, it is not.
Cryptics is the regular shady broker waving all the red flags you could imagine. It's illegal, unlicensed, blacklisted by regulators, has poor trading software, and imposes highly unfavorable clauses in its Terms and Conditions that practically harm your account balance. In short, Cryptics is a scam you should avoid at all costs.
Also, we recommend you not to invest in the fraudulent brokers XpresTrade, Prime Investing, and UniGlobal Assets.
| | |
| --- | --- |
| Company | Cryptics.cc |
| Website | Cryptics.cc |
| Address | Estonia |
| Email | N/A |
| Phone | +442038852334 |
| Minimum Deposit | $500 |
| Leverage | 1:200 |
| Bonuses | N/A |
| Regulation | Unregulated |
| Warning | N/A |
Cryptics Regulation and Fund Security 
When it comes to regulations Cryptics has none. And they are officially exposed as a scam. The Spanish financial authority CNMV issued a warning against the so-called brokerage, confirming it's carrying out illegal business activities without authorization. 
They mislead customers by pretending that Cryptics is an EU-regulated broker, which it's actually not and that's a major red flag, and even without an official warning, we would still tell you that Cryptics is a scam. This is how most of these scam brokers work, they pretend they are registered somewhere to gain trust when In reality they are not registered at all.
Cryptics Trading Software Overview
Trading isn't important when you know that you are dealing with a scam. But it is important to see it and know how it works, because if it's a low-cost trading platform that can also be an indicator that you are dealing with a scam. So, the trading assets are Forex, Commodities, Crypto, Indices, Metals, and Stocks. This is a standard selection.
The trading costs are seemingly ultra-low and the EUR/USD spread floats around 0.1 pips and occasionally reaches 0.0, which is the best possible rate ever. It indicates that customers pay nothing or just $1 per lot traded, which is a highly favorable price for trading. But it means nothing since the broker is not legitimate
The trading risks are high as leverage is fixed at 1:200, and it's impossible to change. 1:200 is dangerous, so disallowing customers to reduce it if they want to implies that Cryptics create an overly risky trading environment where losses can easily occur. 
However, in this particular case, the most important thing is that EU regulators do not allow more than 1:30 leverage, which ultimately means that Cryptic's claims to be regulated are just lies.
Cryptics Account Types Offered 
When it comes to accounts, they offer three different account types. The first type is called a Standard Account and it costs $500 to be opened. And for that amount of money, it does not have everything unlocked. 
The next account is called a Prime Account and it costs $10000 to be opened. And the final account is called a Pro Account and it cost $50000 to open. With this type of account, you unlock everything that the site has to offer. And when it comes to demo accounts they do not have it.
Deposits and Withdrawals Procedure 
So as we said the minimum amount of money you need to invest is $500. This is a high demand compared to the regulated industry. Typically licensed brokers to ask for $100 on average. And some will let you open up an account for just 5 to 10 dollars.
So, the minimum withdrawal is $50 for Credit/Debit cards and $250 for Wire Transfers and these are unfair requirements. The fees are even worse, $35 for Credit/Debit cards and $50 for each Wire Transfer. And that's not all, as an additional 10% charge incurs if clients haven't reached 200 in turnover, which just screams that this is a scam. 
Furthermore, there is a dormant policy. So when an account becomes dormant after 6 months of inactivity it will be subject to a deduction of 10% each month. This alone is enough to see that you are dealing with a scammer because no legitimate broker will ever do such a thing.
How Is Fraud Carried Out? 
Yeah, you are getting scammed. But how do you prevent it from happening? Well you need to know how the scam works in order to avoid it. Forex scams are different from one another, but in most cases, the fraudulent scheme is practically carried out in the same way. Scam brokers are always unregulated and usually registered somewhere offshore, which helps scammers remain anonymous and untraceable. 
If you open an account with such an entity, you should expect endless phone calls. Scammers will constantly try to approach you and make you deposit money as quickly as possible. Remember that urgency is always a treacherous sign, so it's probably a scam if someone calls you twenty times per day, asking for money.
In the worst-case scenario, you'll deposit, and scammers will persuade you to trade instead of you. You'll soon see magnificent profits generated – false, of course, and you'll get excited, asking to take your money back. 
As you probably guess, they won't let you do so and will try to get another deposit from you, promising that much more lucrative gains are waiting. Or, they can ask for a false tax, saying that withdrawals are only possible if you cover the charge in advance.
Cryptics Summary 
Like many other fraudulent brokers, Cryptics claim to be regulated. But in reality, they are just poorly made scam that is out for your hard-earned money.
Although they claim to be EU based, after deeper investigation, we saw they are nothing more than another unregistered broker. So all in all you should stay away from them and many others alike.
FAQs About
Cryptics
Broker
How Secure is Cryptics Trading Platform?
Their trading platform is not secure because this broker is a scam.
Does Cryptics offer Demo Account?
No, it does not. The minimum amount of money need to open up an account is $500.
Are Payouts Subject to Taxes at Cryptics?
Yes they are and they are huge.