September 04, 2023
Reading Time:
5
min
AximTrade Review: Read It and Save Your Hard-Earned Money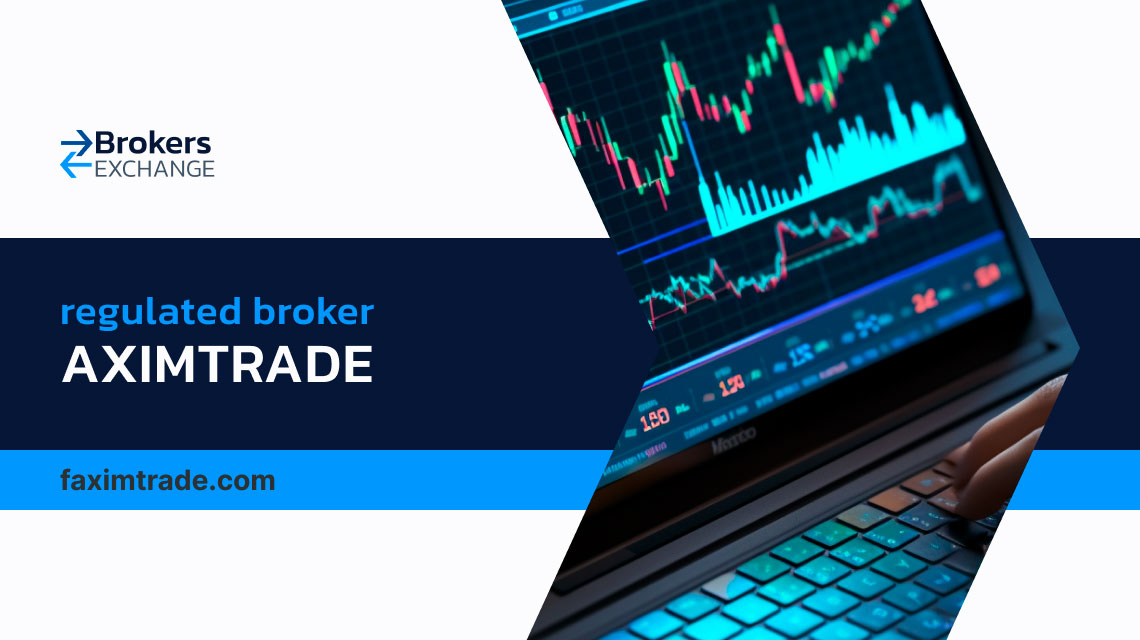 The saying one rotten apple can spoil the whole cart sometimes also applies to brokers. In the case of AximTrade, the rotten apple is their company branch in SVG, which brings their credibility down in our eyes.
In this AximTrade review, we will cover all the crucial data and tell you why you should consider a different broker. Without further ado, let's start!
Broker name
Reliable Broker Must Have
Legal name:

AximTrade Pty Limited

AximTrade LLC

Transparently displayed in the disclaimer or legal documents

Regulation:

Regulated (ASIC)

Within your legal jurisdiction – local regulator

Registered in:

Australia, SVG

Your country or the country whose license applies in your legal jurisdiction 

Established:

N/A

The older the domain – the higher the possibility the company is trustworthy

Website:

aximtrade.com

Domain should be from local or international zones, no .xyz, etc.

Financial Authorities Warnings:

SCM

None

Contacts:

Email:

[email protected]

Online form

Live chat

Phone, email, social media, web form

Is withdrawal possible:

Yes

Yes

Fees:

No (allegedly)

Transparent fees – list of spread and commissions

If Active on Social Media:

Facebook, Instagram, Twitter, LinkedIn

Often present on social media

Investor Protection:

With ASIC entity

Compensation fund
Regulation Info
The all-important item on every broker's list is their license. AximTrade seemingly passes this test with flying colors but if you look closer, you will see the situation is not that straightforward. We'll explain.
The broker claims to have a license from the Australian ASIC. It does not take much effort to check this and we can tell you their license is legit, which is good. However, AximTrade also mentions it has a second legal entity that operates from St. Vincent and the Grenadines. This is extremely alarming for several reasons.
Firstly, SVG is known for harboring all sorts of scammers. The country does not regulate the Forex market and, therefore, traders are exposed to extreme risk. Having a license is a must, but your broker must not have additional branches in extremely suspicious locations. 
Most AximTrade clients come from Malaysia, Indonesia, Thailand, Egypt, and Vietnam but the broker does not have a license to provide services in those regions. That, coupled with their SVG office makes them unreliable and we strongly advise you to avoid them at all costs!
What's more, the SC of Malaysia even put AximTrade on its blacklist, which is all the proof you need of their illegitimacy. 
AximTrade Profile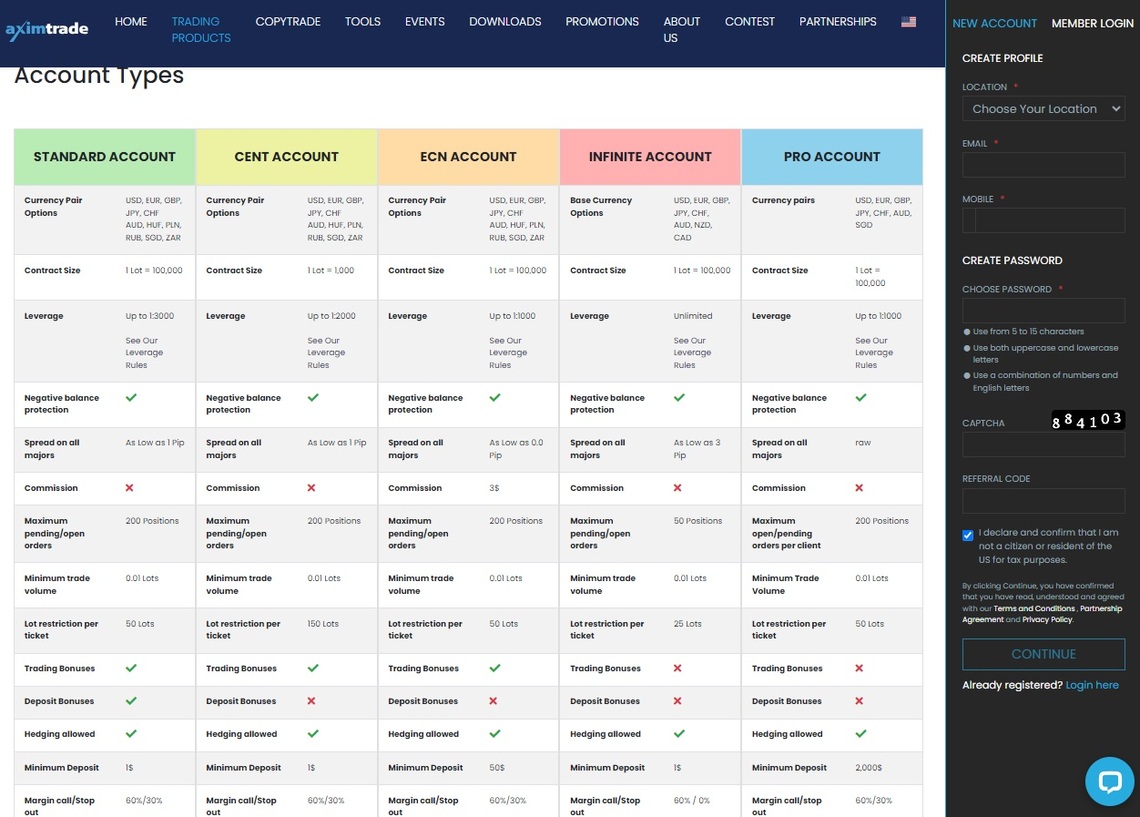 Found on aximtrade.com, the broker has a great offer in many respects. The first thing that caught our eye was the AximTrade MT4 platform. This has been one of the best trading software in the world and many traders love it for its simplicity and functionality, and we completely understand why. The AximTrade MT4 download is available to you for PC and all mobile devices.
Moreover, the account situation is tailored to traders on a budget. In line with the ASIC policy, the minimum deposit for most accounts is only $1. The accounts you can open with that amount include:
Standard

Cent and

Infinite
The ECN account comes with a $50 price tag and a $3 commission. The highest AximTrade leverage is unlimited and it only comes with an infinite account. As far as the AximTrade bonus is concerned there is no promotion currently, although you can see there have been some in the past. The AximTrade spread is low at 0.0 for the ECN account, 0.1 for Standard and Cent, and 3 for Infinite.
Trading platforms:

MT4

Account types:

Standard

Cent

ECN

Infinity

Financial Instruments On Offer:

Currency pairs (USD, EUR, GBP, JPY, etc.)

Maximum leverage:

Unlimited

Minimum Deposit:

$1

Commissions/bonuses:

Yes

Mobile app:

Yes

Desktop app:

Yes

Autotrading:

Yes

Demo account:

No

Education or Extra tools:

Yes
Is This Broker Safe?
No, AximTrade is not safe! Much like Central Margins, it has an office in SVG, which makes them untrustworthy. 
However, if that is not enough, an official regulatory body (SCM) warned the public against doing business with this firm giving you all the reasons you need not to approach them.
Trader Reviews – Sharing Experiences
User reviews on AximTrade are not flattering either. You can find the broker on Trustpilot with a 2.2 ranking and a total of 75 reviews. 
One of many dissatisfied clients said:
"I am an individual trader, and my account trades profitably. When I requested a withdrawal, Aximtrade used the absurd justification that they had arbitrarily taken the profit from this account of mine. I asked them to explain clearly and provide proof, but they did not respond."
People were so unhappy with the company that you can find user comments everywhere. One such trader posted a comment on the AximTrade wikifx review, saying:
"This is a scam company. They will not give you back your money. All your coins are gone within seconds. They are very terrible at responding to mail too."
How Does the AximTrade Platform Reach Clients and Who Are They?
As mentioned, AximTrade mostly targets the Asian market, especially Malaysia, Vietnam, Thailand, etc. However, user reviews also tell us that there are clients from other countries, like:
US

Germany

France

Bulgaria, etc.
If you are approached by AximTrade, do not respond to anything they are saying. Ghosting is not okay when it comes to people but trust us when we say that it is the best policy with AximTrade.
Deposits and Withdrawal Methods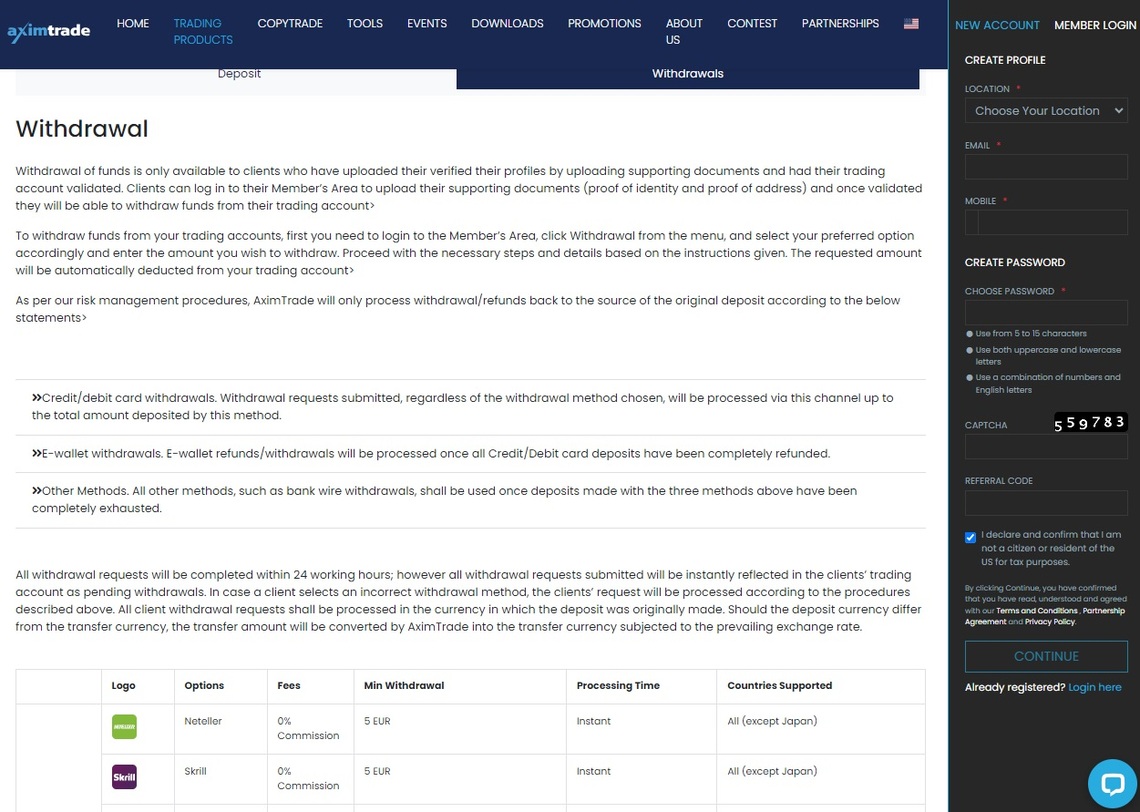 As far as the AximTrade deposit goes, the broker accepts many options:
Credit cards

Bank transfers

Skrill

Neteller

UnionPay

Crypto, etc.
With most of the methods, you do not pay a commission, except for crypto deposits where it varies depending on the exact currency you choose. AximTrade also claims you do not pay any withdrawal fees.
Reasons To Avoid This Company
There are several reasons why you should avoid AximTrade, none bigger than their SVG office. Yes, they have a legit ASIC license but that does not guarantee your money is safe because you might be transferred to the SVG branch which does not offer you any protection.
Their offer and trading environment are super enticing, but it is worthless because of their regulatory situation. In that, they are no different from Everrise Brokers as you cannot trust their true intentions.
Our Safe Trading Experts' Opinion of AximTrade
Having read our AximTrade review, we hope you realized how fraudulent this broker is and that you will not invest with it. However, do not beat yourself up if you misread the situation with AximTrade. 
You need a reliable broker that will be 100% transparent about its business, and lucky for you, we know where to find them. So contact us today, and let's set you up with a great broker that will make all your trading dreams come true!
FAQ Section
Is AximTrade Legit Or Scam?
AximTrade has an office in SVG, which means you cannot trust them with your money.
How do I get into Forex trading?
Firstly, you should become knowledgeable about the market. Learn what you can trade, how trading works, and how to do it safely. After that, you should find a reliable broker to partner with, and this is where we come in. Contact us, and we will provide you with a free consultation where we work together to find you the perfect broker for your needs.
How can you help me find a good broker?
The most important service we do for you is personalizing our recommendations. When you come to us, we consider everything – your needs, skill, budget, etc. and then form a list of what we think are the best brokers for you. And the best thing of all is that our consultations are completely free.