August 20, 2023
Reading Time:
5
min
BelFX Review: See Why BelFX is not the Broker for Your Needs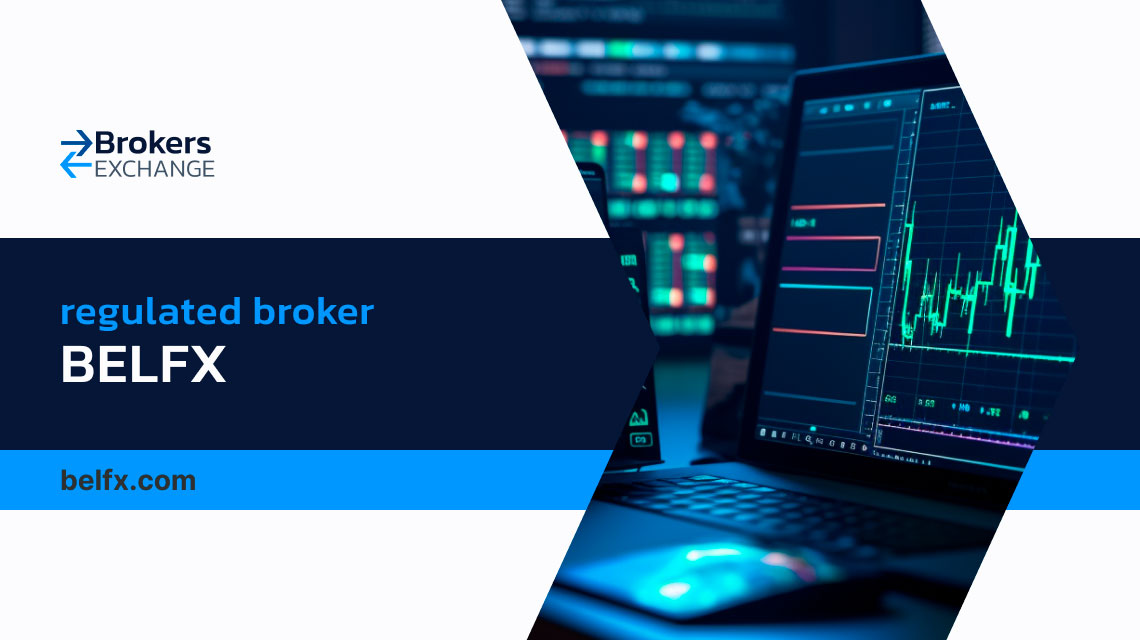 Traders pointed us to BelFX, and we had to take a closer look at them. We did not know what to expect, so we thoroughly researched them and were not satisfied with the results.
You can find all our thoughts in this BelFX review, where we covered everything from their license and trading environment to their client's experiences. Please, read it before investing even a dime!
Broker name
Reliable Broker Must Have
Legal name:

BelFX Limited

Transparently displayed in the disclaimer or legal documents

Regulation:

Regulated (Belize IFSC)

Within your legal jurisdiction – local regulator

Registered in:

Belize

Your country or the country whose license applies in your legal jurisdiction 

Established:

N/A

The older the domain – the higher the possibility the company is trustworthy

Website:

belfx.com

Domain should be from local or international zones, no .xyz, etc.

Financial Authorities Warnings:

No

None

Contacts:

Email:

[email protected]

Phone: +357 25836996

Online form

Phone, email, social media, web form

Is withdrawal possible:

Highly unlikely

Yes

Fees:

Hidden fees

Transparent fees – list of spread and commissions

If Active on Social Media:

No

Often present on social media

Investor Protection:

Yes (allegedly)

Compensation fund
Is BelFX Regulated?
The most important item on every trader's checklist is the license of their chosen broker. Without one, you should not even think for one second about engaging with a broker, as that entails extreme risk. However, contrary to popular opinion, any license is not better than no license either.
BelFX is a broker with registration in Belize and an IFSC license. Their location was the first thing that caught our eye, and not in a good way. Belize is not known for being trader-friendly, with its lenient attitude to Forex regulation, so an IFSC license does not mean much to us. And why do we say that?
Well, IFSC is not a strict regulator, meaning it does not require its entities to file regular financial reports and does little supervision otherwise. This attitude gives brokers the freedom to do whatever they want and puts traders in danger as a result.
Regulators that you should trust rule their area with an iron fist, and brokers obey them, which makes you as safe as you can be. The company needs Forex authorities approval according to where their clients come from, and that's:
United States

Japan

Mexico

Argentina

Cyprus
Since BelFX does not have a license from a reputable regulator, you should not trust it with your money.
BelFX Profile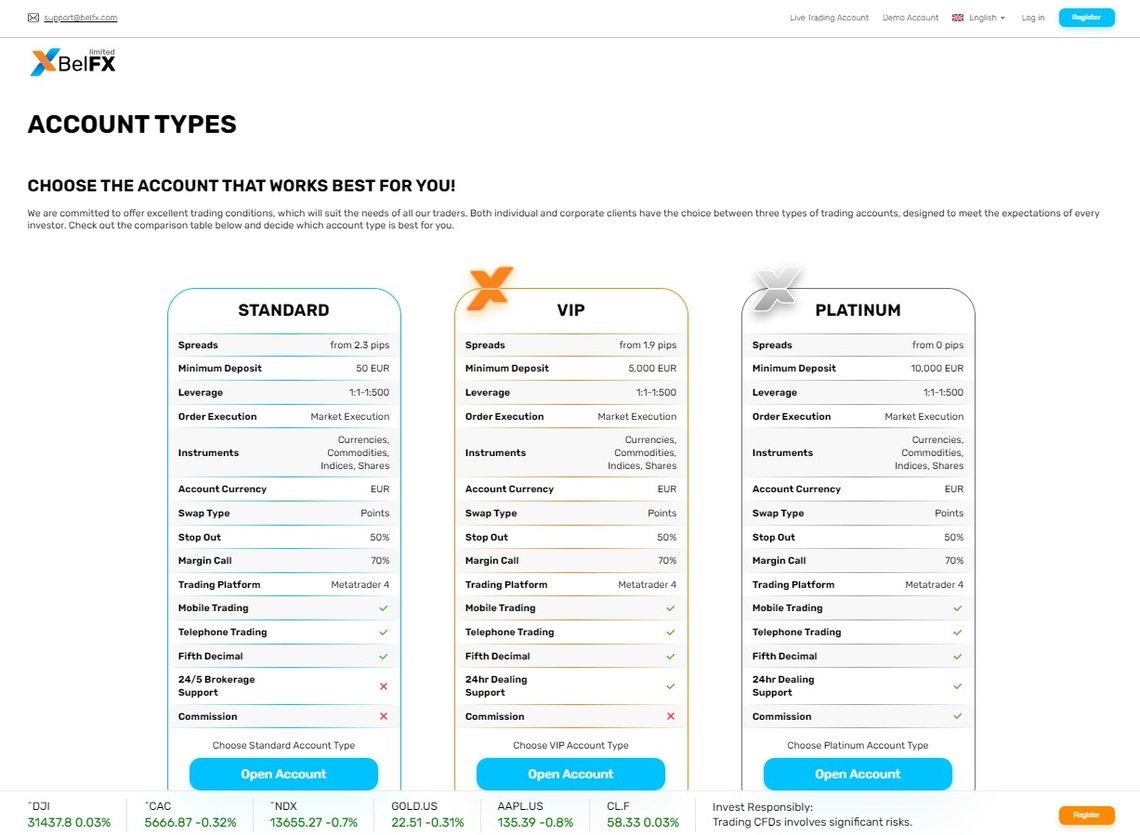 Found on belfx.com, this broker makes a compelling case for its services. The first enticing thing is their platform – MetaTrader 4. This software has been on top of the trading platform mountain since it came out, and only MetaTrader 5 can challenge it. With a jam-packed set of features, advanced tools, and a user-friendly interface, MT4 is a fan-favorite platform in the Forex community.
The next good selling point is the minimum deposit, which is only 50 EUR. This price tag is very low and affordable to traders of many skill levels. However, keep in mind what we said about their license. Nothing we say here, either the platform or the minimum deposit should sway you into investing with this broker.
The broker has three available account types:
Standard – 50 EUR

VIP – 5,000 EUR

Platinum – 10,000 EUR
The price exponentially rises after the Standard account, which is uncommon for legitimate brokers. The instrument offer includes your typical set of assets, including currencies, indices, commodities, and shares. Clients can trade those with the 1:500 leverage.
Trading platforms:

MetaTrader 4

Account types:

Standard – 50 EUR

VIP – 5,000 EUR

Platinum – 10,000 EUR

Financial Instruments On Offer:

Currencies (USD, EUR, GBP, JPY, etc.)

Commodities (gas, oil, sugar, etc.)

Indices (US100, TOPIX 100, etc.)

Shares (Tesla, Meta, Coca-Cola)

Maximum leverage:

1:500

Minimum Deposit:

50 EUR

Commissions/bonuses:

Only for the Platinum account

Mobile app:

Yes

Desktop app:

Yes

Autotrading:

Yes

Demo account:

Yes

Education or Extra tools:

Yes
Is This Broker Safe?
If it were our money, we would not invest. BelFX does not have a license from a reputable regulator, thus, we cannot trust them. Had they had FCA or CFTC trading authorization, it would have been a different story, but sadly, they do not.
However, there are many legitimate brokers, and we can help you find them. Contact us today, and we will get you on the right path to Forex success with our free consultations.
Trader Reviews – Sharing Experiences
Trader reviews are some of the most crucial segments in broker analysis. They can show you things you cannot find out on your own, like how trading with them is, how they treat clients, and much more. You can also see if there are major red flags, like withdrawal issues.
We found BelFX on Trustpilot, and it has a 3.5-star rating with only two reviews. Interestingly enough, the two are polar opposites.
The first was a 5-star review, and the trader said:
"Good people! Helped me make money, a nice office in Dubai, and good coffee in the office in Dubai. I love it!"
The client did not elaborate much about the trading environment or anything else noteworthy, so keep that in mind.
The other reviewer was not so pleased and gave BelFX only one star, saying:
"BelFX is operating illegally through South Africa, we will submit to FSCA that with Belize license (does) not allow (them) to trade here. Another name for them is olo fx. Watch out for their calls. They give you empty promises, especially their so-called account manager, so watch (out) for this scam that their team (is) doing in SA."
How Does the BelFX Platform Reach Clients and Who Are They?
With what we gathered from our research and analyzing the user reviews, we can say the broker mostly targets traders in the US, South Africa, and Romania. Be careful if you get a message from BelFX, as legitimate brokers do not reach out to random people directly. 
This review showed you all the red flags about this broker, and a private message from them would be the confirmation of a scam.
Deposits and Withdrawal Methods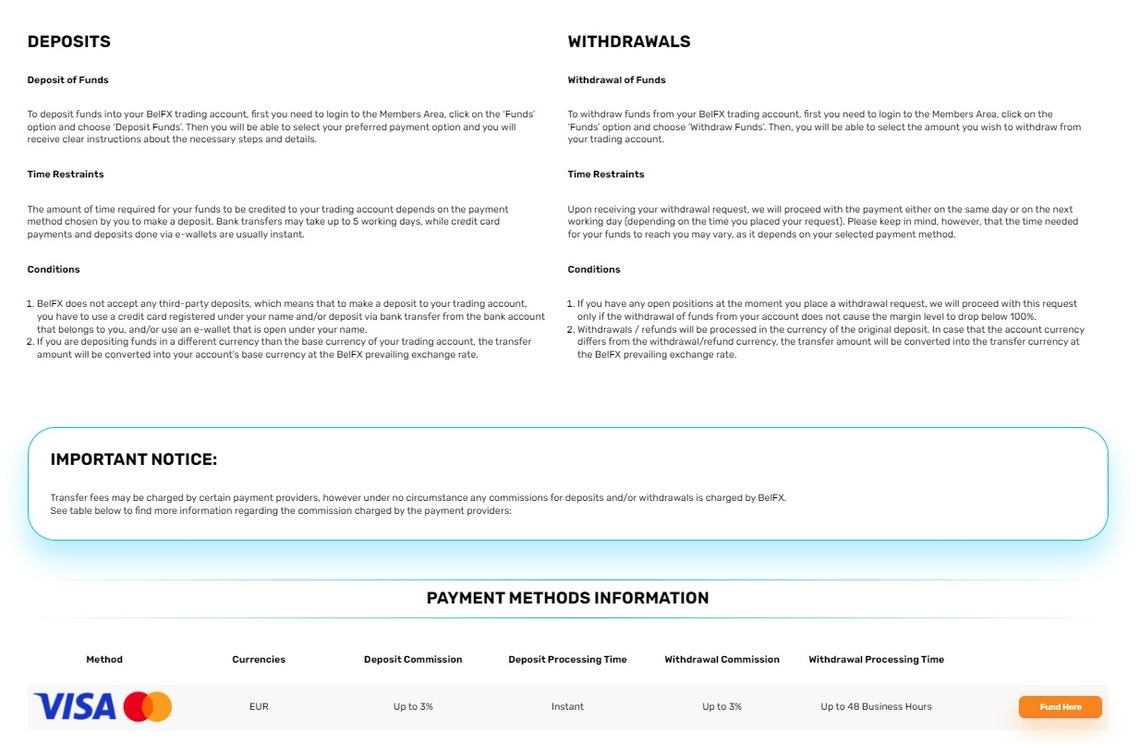 We do not know much about deposits and withdrawals at BelFX. The payment methods they accept are:
Bank transfers

Credit cards

Skrill

Neteller
We do not know if opening an account is free or do you pay any withdrawal fees. We only found that withdrawals supposedly take up to three business days.
Reasons To Avoid This Company
We wish we could recommend BelFX, but we simply cannot. The biggest factor for us is their license, specifically the regulator issuing it. We know IFSC is very lenient on its entities, which puts you as a trader at significant risk. Yes, BelFX has a great offer otherwise, but without a reliable license, you cannot trust them.
Our Safe Trading Experts' Opinion of BelFX
We want to conclude our BelFX Review by reiterating what we said throughout the article – do not invest with this broker. There are so many more reliable options out there, making BelFX pale in comparison. We can recommend Cobra Trading and TradeZero off the bat, but you can always reach out for a free personalized recommendation!
FAQ Section
Is BelFX Regulated?
Yes, but that is not the end of the story. It has a license from the IFSC, which is not famous for being a stringent regulator, leaving you at significant risk.
How do I get into forex trading?
Firstly, you should become knowledgeable about the market. Learn what you can trade, how trading works, and how to do it safely. After that, you should find a reliable broker to partner with, and this is where we come in. Contact us, and we will provide you with a free consultation where we work together to find you the perfect broker for your needs.
How can you help me find a good broker?
The most important service we do for you is personalizing our recommendations. When you come to us, we consider everything – your needs, skill, budget, etc. and then form a list of what we think are the best brokers for you. And the best thing of all is that our consultations are completely free.